Cheap! Tasty! Healthy! 6 Popular Shibuya Washoku Chains
Just what sort of Japanese cuisine can you find other than sushi, ramen and udon? Find out here as we bring you some popular chains in Shibuya.
From: "Kurashi-Jouzu" × MATCHA"Meat and Potato Stew (Nikujaga)"
You might be under the impression that all traditional Japanese food is pricey.
It is true that many washoku (Japanese cuisine) restaurants that serve sushi, tempura, eel and the like are high-end restaurants that you can't just walk into whenever you like.
That is why today we're going to show you 6 washoku chain restaurants in the Shibuya area that Japanese people love to dine at. Just what kind of cheap, tasty food do Japanese diners eat during their lunch breaks?
Tastes Like Home! Three Easy-Access Teishoku Restaurants
Teishoku is a type of set meal that the Japanese have been consuming for ages.
One set generally consists of rice, miso soup, a main dish, side dishes, and meat or fish served across several plates.
That is the basic form of washoku food, and as such is well-balanced for your daily nutritional needs. We'll show you some chain stores where you can eat tasty, affordable teishoku.
1. Ootoya
Ootoya is a very popular teishoku restaurant. The menu has many choices to suit your needs, from the incredibly satiating "Yongenton Katsu Teishoku" (895 yen; Yongenton is a brand of pork), to dishes for the health-conscious like "Char-grilled Mackerel Teishoku" (858 yen) and "Char-grilled Chicken Salad Teishoku (700 yen).
In particular, the fish-based teishoku sets are incredibly popular as they include freshly cooked fish from the Tsukiji Fish Market. Since the menu features a wealth of options, you'll never get tired of it no matter how many times you eat here. It is also very conveniently located close to both Shibuya station and Shibuya 109.
2. Negishi
Negishi is a popular restaurant specializing in beef tongue, with three stores set up in Shibuya. You can choose from several varieties including soft "white tongue" and crunchy "red tongue". Since they serve soft, juicy, easy-to-eat tongue as well, the restaurant is also popular with women.
Other feature items on the Negishi menu include tororo (*1) and mugimeshi (*2). You can enjoy a delicious, healthy meal by ordering the "White Tongue Negishi Set", which comes with beef tongue, mugimeshi, soup, tororo and vegetables.
*1 Tororo: is made from grated mountain potatoes. It is very sticky, and is often served on top of rice.
*2 Mugimeshi: is essentially rice with wheat (mugi) mixed in while cooking.
3. Yayoiken
Yayoiken is a teishoku chain restaurant where you can find an assortment of large teishoku sets. They serve lots of teishoku meals that many Japanese people would have at home such as "Ginger Stir-Fry Teishoku" (630 yen) and "Fried Chicken Teishoku" (780 yen). You can get second helpings of rice, so you can eat until you're completely full. One of the main appeals of Yayoiken is that it stays open from an early 5:00am till 3:00am the next day.
Since it is open so early, you can even go there for breakfast if you're an early riser. You can try a typical Japanese breakfast for a reasonable price with the "Fried Egg Teishoku" (460), which comes with rice, tofu, miso soup and of course egg.
Want to Eat Lots? Here are Two Donburi Restaurants!
Donburi meals are made by piling a large amount of rice into a device called a "donburi", and then piling meat and other toppings on top.
The best bit about donburi chains is that they are fast, cheap and serve large portions. They are very popular with businessmen who only have a short break between work to scoff down some food. Let's have a look at some cheap and tasty donburi chains.
4. Sutadonya
Sutadonya serves its own original donburi called the "sutadon". Sutadon is a donburi which features rice topped with pork meat cooked in a special garlic-based marinade.
The sutadon special marinade is made by flavoring soy sauce with garlic, so it's very good for settling your rumbling stomach. This marinade is a top secret recipe that only some of the employees know.
Besides the sutadon, they also serve a variety of other donburi such as the salty "Salt Sutadon" and "Beef Veggie Rice", served with stir-fried vegetables, so definitely check those out.
There are two stores in Shibuya: the Shibuya store and the Udagawacho store, and costs vary from store to store. The general price range is 500-1,000 yen.
5. Katsuya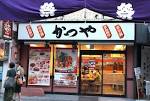 Katsuya is another affordable restaurant where you can eat Japan's beloved tonkatsu. Tonkatsu is pork cutlet coated in light breadcrumbs and then fried in oil.
Katsuya's main dish is the "80g Roast Cutlet Katsudon" (529 yen), which features rice topped with pork cutlet coated in a soy and sugar-based marinade and an egg on top. The sweet yet sour combination of the egg and katsu marinade balances well with rice.
All of the dishes served at Katsuya come in very generous portions, and the menu even includes dishes like "Katsu Curry" (637 yen), which features curry rice topped with katsu, and teishoku sets that come with tonkatsu, rice and miso soup. If you're feeling worn out from your trip, revitalize yourself with some katsu at Katsuya.
Other
There are tons of other washoku chains in Shibuya besides the ones in this article, but there's one last one we'd love to introduce, which is a nabe (*3) restaurant.
*3 Nabe: is a dish where you put ingredients like vegetables, meat and even noodles into a large pot filled with a soup base, cook it and share with several people. You then divide it into smaller bowls with marinade to suit each person's taste.
6. Nabezo
Photo Credit: Nabezo Official Website
Nabezo is a restaurant where you can try various nabe like Sukiyaki that's made with a salty-sweet broth, Shabu-Shabu made by boiling meat and vegetables in a concentrated beef and vegetable soup, and Spicy Kimchi Nabe made using a kimchi, spicy miso and vegetable stock soup.
What makes it even better is they are all all-you-can-eat. You can choose two of the five soups along with your time limit (the beef/pork course is 2,600 yen for 90 minutes or 3,100 yen for 120 minutes before tax), and then you can eat as much meat and vegetables as you want.
What's more is that Nabezo takes great care in selecting the freshest ingredients, and all their soups and marinades are additive-free, so you can rest easy knowing that you're eating healthily.
So what did you think? Give some washoku a shot while you're in Japan if you want a cheap, filling meal.
Information
Ootoya Shibuya Bunkamura
Address: Tokyo, Shibuya, Dogenzaka 2-25-12, Dogenzaka Kabuto Building B1F
Hours: 11:00am-11:00pm
Closed: Never
Access: 7 minute walk from Shibuya Station
Phone: +81-3-3780-1860
Website: Ootoya
Negishi Dogenzaka
Address: Tokyo, Shibuya, Dogenzaka 2-29-8, Dogenzaka Center Building B1
Hours: 11:00am-11:00pm
Closed: Never
Access: From Shibuya Station Hachiko Exit, follow Dogenzaka (the path on the right) for about 150m, it's in the basement of the building on the right
Phone: +81-3-3770-0227
Website: Negishi
Yayoiken New South Exit
Address: Tokyo, Shibuya, Shibuya 3-28-7, Shibuya Ao Builing 1F
Hours: 5:00am-3:00am the next day
Closed: Never
Access: 1 minute walk from Shibuya Station Southe exit
Phone: +81-3-5774-4581
Website: Yayoiken
Sutadon
Address: Tokyo, Shibuya, Dogenzaka 2-6-7, Dogenzaka T Building 1F
Hours: 11:00am-3:00am the next day
Closed: Never
Access: 2 minute walk from Shibuya Station
Phone: +81-3-6416-1587
Website: Sutadon
Katsuya
Address: Tokyo, Shibuya, Dogenzaka 2-9-2, Masami Building 1F
Hours: 7:00am-4:00am the next day
Closed: Never
Access: 5 minute walk from Shibuya Station
Phone: +81-3-5459-2481
Website: Katsuya
Nabezo Center-gai
Address: Tokyo, Shibuya, Udagawacho 31-2 Shibuya BEAM 6F
Hours: Lunch Mon-Fri 11:30am-3:00pm, Dinner Mon-Fri 5:00pm-11:00pm, Sat/Sun/Holidays 11:30am-11:00pm
Closed: Never
Access: 5 minute walk from Shibuya Station Hachiko Exit
Phone: +81-3-3461-2941
Website: Nabezo

The information presented in this article is based on the time it was written. Note that there may be changes in the merchandise, services, and prices that have occurred after this article was published. Please contact the facility or facilities in this article directly before visiting.