Iwate, Atami, and Fukuoka in Fiction! 3 Short Stories by Young Writers
Learn about local legends from Iwate, Atami, and Fukuoka through contemporary short stories by young Japanese writers! These stories are based on local folktales and reveal less-known sides of the regions where the action is set.
Available in English! Short Stories Based on Local Japanese Legends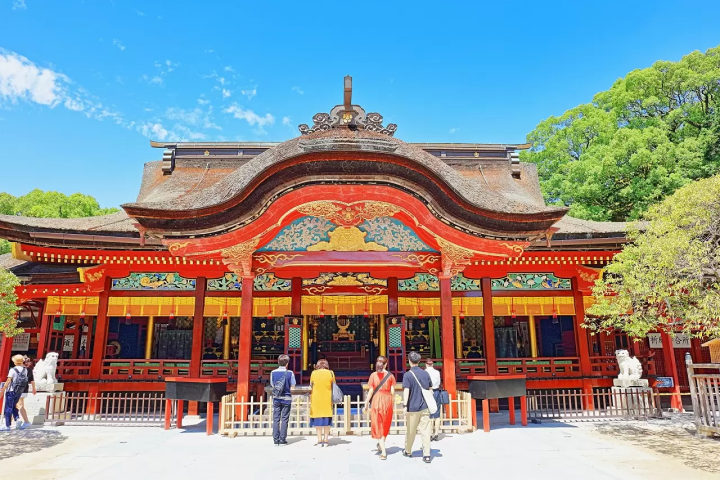 Daizaifu Tenmangu Shrine. Photo by Pixta
The Short Short Film Festival & Asia is an annual international short film festival featuring works from all around the world. The Creation of Stories All Around Japan is one of the projects of this festival developed in collaboration with Japan Cultural Expo.
The three stories created this year are set in Iwate, Atami, and Fukuoka and can be read in English here. They reveal the human side of regions that are usually regarded as popular travel destinations. Read on to learn more about these stories and the legends that inspired them.
Read the Three Short Stories in English
Stories Set in Iwate, Atami, and Fukuoka
Traditional house in Tono. Photo by Pixta
"Go for it," a short story by Masami Kakinuma, is set in a small town in Iwate Prefecture. When the protagonist visits his grandmother after many years, he feels the presence of a long-lost childhood friend. By simply listening to his sorrows, she unlocks his heart and even gives him the courage to bring a change into his life.
This short story draws inspiration from legends about zashiki warashi, child spirits that live in people's houses. Some of these legends were compiled by folklore researcher Kunio Yanagita in "Tono Monogatari," a collection of folktales from northern Japan.
"Go for it" offers glimpses of local lifestyles in Tono and what the people living there hold dear. It also shows how natural it is for folktales to blend with daily life in this part of Japan. Read the story here.
The Golden Demon monument in Atami. Photo by Pixta
"The Two of Us, in a Town with a View of the Sea," by Kento Norikane, is set in Atami, a city renowned as a hot spring resort. The main characters are two high school girls, Kanna and Miya, who have grown up together in this city.
Their friendship is put to test after they take a picture of themselves in front of the monument of the lovers from "The Golden Demon," a famous novel by Koyo Ozaki. Read the story here to see what happened in the end.
This short story reveals a different side of Atami than most of us experience as visitors. It shows how it feels to live and grow up in this city that is so close to the ocean.
The plum trees of Dazaifu Tenmangu Shrine in early spring. Photo by Pixta
"Jars of Amber," by Bin Sugawara, focuses on a young woman who relocates to Fukuoka where she had spent her early childhood. She had fond memories of her mother being happy here making syrup and wine out of ume plums, the local specialty; her mother had taken a few plum branches along when the family moved to Kyoto.
After losing her mother and living in Kyoto, then in Tokyo, the protagonist buys an old house in Fukuoka. When she starts to renovate it, she experiences new encounters and even discovers new things about herself. Among others, just like her mother, she brought a few plum branches from her home in Kyoto that she hopes to see blooming and filled with fruit again here in Fukuoka. Read the story here.
This story takes on the legends about Sugawara Michizane (845 -903), the scholar and poet who came to be regarded as the guardian deity of learning. It is said that when he was exiled, a plum tree that he loved in the old capital of Kyoto followed him all the way to Dazaifu and bloomed for him in this place. Sugawara Michizane is enshrined at Dazaifu Tenmangu Shrine, which features in every Fukuoka travel guide as a must-visit place.
One of the three stories introduced above will be made into a short film in 2023! We hope you'll look forward to this project, too.
Read the Three Short Stories in English
Learn More About the Places and Legends Behind These Stories
The three authors featured above took part in an online event that can be viewed with English subtitles. Watch this video to learn more about the places where the stories were set and the reasons why the authors selected these regions.

After listening to the stories behind the stories, Iwate, Atami, and Fukuoka will shine in a different light. When visiting these places, do try to seek the stories that breathe through the lives of local residents. Such stories will surely enrich the time you spend there and become treasured memories of your own.

Watch the Writers' Talk Online in English

Sponsored by The Committee for ShortShorts
Main image courtesy of Pacific Voice

The information presented in this article is based on the time it was written. Note that there may be changes in the merchandise, services, and prices that have occurred after this article was published. Please contact the facility or facilities in this article directly before visiting.