A Flower Valley of 20,000 Pink Petunias at Mother Farm in Chiba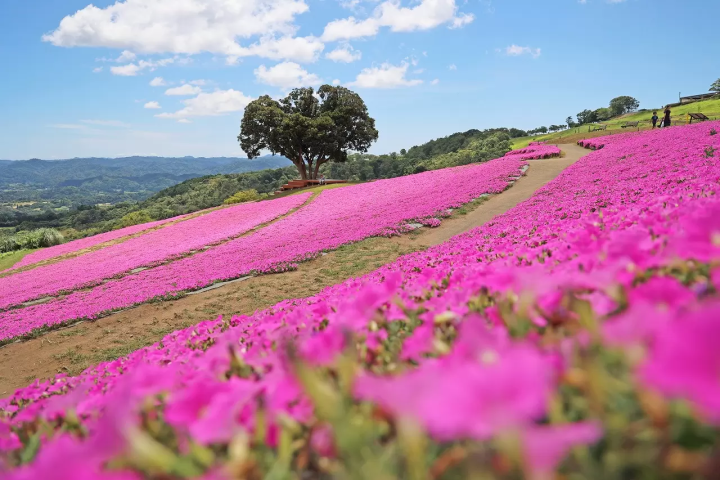 Mother Farm turns into a pink paradise at the end of summer! Around 20,000 vibrant pink petunias bloom across its vast landscape from July until early September. Guests can enjoy a wide variety of attractions coinciding with the flowers, from interacting with animals to ziplining and sweet treats.
Each year from early July to late September pink petunia flowers bloom across the landscape of Chiba prefecture's delightful Mother Farm. With around 20,000 petunias, visitors can enjoy scenic sky-high views of multiple layers of distant landscapes from an altitude of 300 meters.
Blossoming across 5,000 square meters at Mother Farm the Makiba area is a flower called Momoiro Toiki, a special type of petunia flower that originated in Chiba. Developed and cultivated in collaboration with gardeners from Minamiboso and Chiba University, the fascinating breed of Petunia has been acknowledged for its beautiful characteristics such as its bold pink petals and longevity.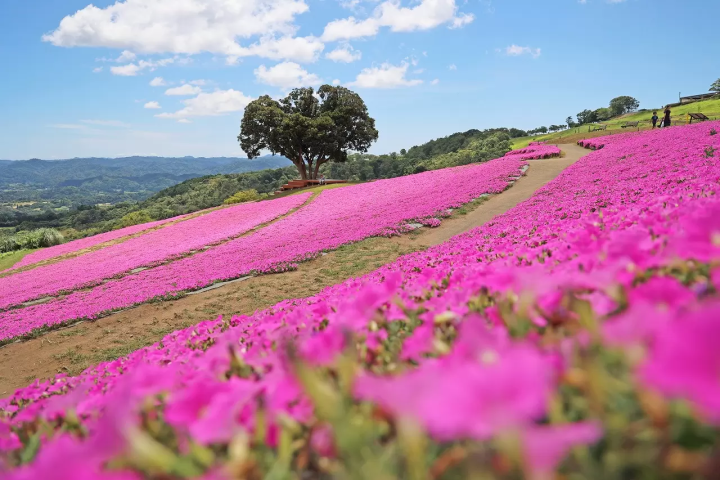 First planted at Mother Farm in 2014, this year marks the 10th anniversary of the flower's cultivation. The pink paradise of petunias within Mother Farm has been designed with rows of pathways so guests can stroll amongst the flowers, merging with the garden.
Visitors can experience a wide range of photogenic scenery that changes appearance depending on the viewing point and time. From clear sunny days to romantic sunsets softly illuminating the farm, this place is perfect for families, couples, and friends.
When gazing up at the tree on top of the hill, the pink flourishing flowers meet the beautiful skyline, creating an illusion of a pink sea with crystal clear skies.
Surrounded by 360 views of petunias, visitors can become part of the attraction while relaxing amongst a bed of flowers.
Perfect for photographs, the pathways are hidden when taken from a lower vantage point creating the illusion of a world of petunias. To get the best out of your visit we recommend visiting on sunny days due to the flower's ability to close its pelts for protection against rain.
Situated at the peak of the hill is an observation deck, overlooking a valley of flowers and forests. Visitors can take in beautiful wide views while relaxing in the shade provided by the charming large tree above.
The Kujukudani Mountain range serves as the perfect backdrop for photographers and nature enthusiasts, making this area the perfect vantage point for landscape photography.
Vanilla ice cream topped with frozen strawberries and whipped strawberry cream will be served for a limited time.
Inspired by the delicate growing petunias, a sweetly designed pink dessert has been created to help cool you down from the summer heat. Sold for a limited time at Tonton CAFE, the pink soft-serve ice cream (580 yen) will stop being served at the end of the petunia season in September.
Located on Mt. Kano in Chiba's Futtsu City, Mother Farm sits on 250 hectares of spacious land providing a variety of fun things to do--from ziplines to ranch gourmet and overnight stays at glamping facilities.
Guests can also interact with a variety of adorable animals such as ducks, capybaras, rabbits, sheep, alpacas, horses, and cows. If you are in Tokyo, why not come here for a day to relax amid flowers and animals?
Pink Breath Flowers at Mother Farm
Venue: The Makiba area "Hana no Tani" within Mother Farm
Period: Until Late September
Hours:
Monday - Friday: 9:30 - 16:30
Saturday -Sunday: 9:00 - 17:00
Location: Chiba, Futtsu, Tagura 940-3
Admission: Adults 1,500 yen, Children 800 Yen
Official Website:https://www.motherfarm.co.jp.e.apt.hp.transer.com/

Information and photo source:PR Times


Written by Kate_T

The information presented in this article is based on the time it was written. Note that there may be changes in the merchandise, services, and prices that have occurred after this article was published. Please contact the facility or facilities in this article directly before visiting.