[Autumn 2023] You can still make it! The tour to enjoy the autumn leaves in Kyoto privately!
This service includes sponsored advertisements.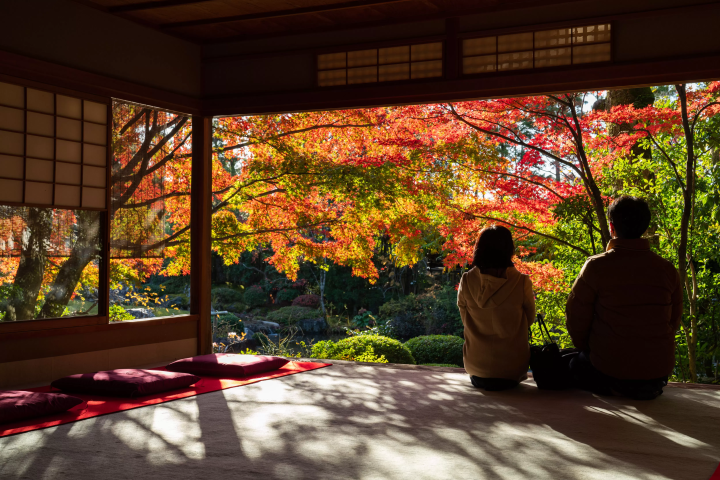 Autumn in Kyoto is crowded with many tourists. Everyone is looking for autumn leaves, and people find difficulty enjoying the moment because of the crowds. With this private tour produced by Kyoto Brighton Hotel, there is no worry about the crowds at all, and you can take beautiful photos in peace.
Autumn in Kyoto is a dream come true for everyone. We produce a special trip where you can enjoy the beautiful autumn leaves on a private basis
In Kyoto, you can see gorgeous autumn leaves everywhere. In particular, the autumn leaves at Arashiyama and famous temples and shrines in the Ohara area are spectacular. Our special tour will be held every day from November 20th to 30th, 2023, where you can enjoy the beautiful autumn leaves at famous temples and shrines in a small private group. Hotel staff will accompany you during the tour, allowing you to enjoy sightseeing with peace of mind both on the way and at the site.
Enjoy a small group private tour of a famous temple first thing in the morning
This is a very luxurious project where only participants of this tour from Kyoto Brighton Hotel are allowed to enter early in the morning before the gates open to the public. You can take your time to admire the beautiful gardens with no one around. Enjoy the changing colors of the autumn leaves without any queues or crowds.
You can also learn about the history and highlights of the garden
In addition to enjoying the gardens, you can also learn about the history of each temple, and you'll be able to experience the depths of Kyoto that aren't featured in guidebooks.
From famous temples in the Arashiyama and Ohara areas to hidden spots favored by locals, you can enjoy spectacular views of autumn leaves. Even if you are in a place that is inconvenient to access, there is no need to worry as we provide transportation.
Bishamondo Temple featured in numerous posters with stunning autumn leaves on the stone steps
A famous temple in the suburbs that enshrines one of the gods of fortune. The approach and stone steps covered in bright red autumn leaves are a sight to behold. During public viewing hours, it is crowded with people trying to take pictures of the scenery.
Kitano Tenmangu Shrine, where 350 maple trees turn bright red
A famous shrine worshiped as the god of learning. Approximately 350 maple trees grow wild on the vast grounds, and the autumn leaves turning red and yellow are a sight to behold. Why not seek out the many cow statues scattered around the shrine grounds and receive blessings from them?
Breakfast after the walk is a treat, waiting for you at the hotel
After walking around, we will return to the hotel and it is time for breakfast. Kyoto-style Japanese cuisine includes freshly cooked rice, grilled fish, and obanzai. Western food is a buffet style, so enjoy your favorite dishes such as eggs, fresh vegetables, and fruits.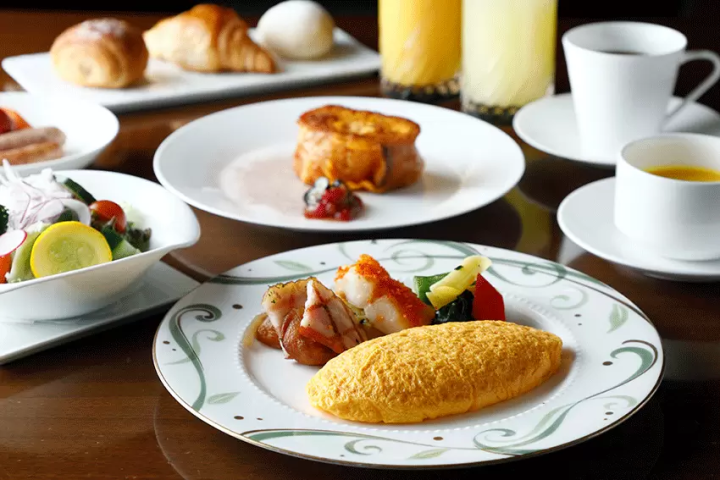 The guest rooms have enough space even if you spread out large suitcases
The guest rooms that surround the atrium lobby are spacious, ranging from 38 to 42 square meters. Please take your time to plan your trip or take a break until check-out at 12:00. We also recommend walking around the Kyoto Imperial Palace, which is about a 5-minute walk away.
If you want to enjoy the autumn leaves avoiding crowds, go to Kyoto Brighton Hotel.
In 2023, autumn leaves in Kyoto are expected to be crowded with many tourists. Why don't you wake up a little early and make a memorable trip in Kyoto, joining a luxurious tour that allows you to stroll through empty gardens? The tour is produced by the Kyoto Brighton Hotel, located near the Kyoto Imperial Palace. There are many long-established stores selling soy sauce and miso in the vicinity, so you can enjoy shopping. The number of participants is limited, so make your reservation now!
Written by
Kyoto Brighton Hotel is located in an area with excellent access to many World Heritage sites, such as Nijo Castle and Ginkaku-ji Silver Pavilion. There are many shops nearby selling Japanese ingredients, where you can enjoy buying soy sauce, miso, etc. It is about 5min walk to the Kyoto Imperial Palace, recommended for morning walks and running courses. In addition, the concierge knows well about Kyoto, where you can feel free to ask about sightseeing, restaurants, traditional crafts, etc. During cherry blossoms and autumn foliage seasons, there are special tours available for private viewing. The average size of guest rooms is 42 square meters, spacious enough to accommodate large suitcases, and equipped with comfortable sofas. There are a variety of restaurants in the hotel, including western food, teppanyaki (wagyu), traditional Japanese, Chinese, and a bar lounge. This is a hotel where you can arrange everything about Kyoto, including gourmet food and Kyoto-like experiences.

The information presented in this article is based on the time it was written. Note that there may be changes in the merchandise, services, and prices that have occurred after this article was published. Please contact the facility or facilities in this article directly before visiting. Some of our articles contain affiliate links. We kindly ask our readers to exercise careful judgement when making a purchase or booking a service online.

The contents on this page may partially contain automatic translation.