Meet Pokémon in Japan! 20 Exciting Places
This service includes sponsored advertisements.
Pokemon have taken over Japan! Cheery parades, mesmerizing street art, colorful jets, and adorable Pokemon regional ambassadors are just a few of the exciting ways you can meet Pokemon in Japan. Explore 20 exciting Pokemon things on your next adventure around Japan.
Photo by atpress
Pokemon, a worldwide famous animated series, has taken the world by storm since the 1990s and continues to impress. With Japan being the birthplace of Pokemon you can find an array of fun, adorable related Pokemon events, shops, and more!
From a parade of marching Pikachus to colorful street art, we introduce 20 exciting Pokemon things to do in Japan!
20 Electrifying Places to Meet Pokemon in Japan
1. Pokemon Parade in Yokohama: Pikachu Carnival Parade
2. Mihama American Village Okinawa: Pokegenic
3. Pokemon Mascot Ambassadors
4. Pokelids: Pokémon Manhole Covers
5. Pokemon Parks
6. Pokemon Vending Machines
7. Pokemon Centers
8. Pokemon Café
9. Pikachu Sweets Ikebukuro
10. Pokemon Wedding
11. Engagement Rings and Jewelry
12. Haneda Airport Vending Machine and Narita Airport Murals
13. Pokemon Jets
14. Pokemon Train
15. Slowpoke Hotels in Kagawa
16. Pokemon at Universal Studios Japan, Osaka
17. Pokemon Rooms at Mimaru Hotels (Tokyo, Kyoto, Osaka)
18. Pokemon Go
19. Mister Donuts
20. Pokemon Go Lab
1. Pokemon Parade in Yokohama: Pikachu Carnival Parade
Photo by PR Times
Japan's pop culture has been on the rise since the early 1990s, with Pokemon (or Pocket Monsters) being loved worldwide! Pikachu, in particular, is at the forefront of the scene; this adorable mouse has become a famous icon often representing Japan!
Due to Pikachu's adorable appearance and lovable personality from the anime series, Japan has just as much excitement and love for the famous Pokemon as the rest of us, often creating Pokemon and Pikachu events.
One of the most popular Pokemon events is the Pokemon Parade in Yokohama, which takes place usually in August. Each summer, hundreds of Pikachu march to the beat of fun music!
Coinciding with other events such as Pokegenic, festivals, and recently the Pokemon World Championships, the Pokemon parade attracts visitors from all over with its adorable displays and themes that change each year, making Yokohama the hotspot for Pokemon content!
Pokemon Parade official website
2. Mihama American Village Okinawa: Pokegenic
Photo by PR Times
Got to catch them all! Find all the Pokemon dotted around Okinawa's fun and colorful Mihama American Village, a well-established town originally used as an American military base now open to the public.
The village is full of attractions, food, and shops. Scattered around the town you'll find bright Pokemon art, from murals to signs and furniture. Feel free to snap a picture with your favorite Pokemon!
The Pokegenic project originated in Yokohama and now has permanent installations in Okinawa, with the goal of creating fun and interactive Pokemon artwork that everyone can enjoy.
The Okinawa Pokegenic originally coincided with the Pokemon companies Sora Fly Pikachu Project and Mensore Okinawa! Pokénchu Gathering Chew in Chatan, where an army of Pikachus took over the village. Fun photo props are available around the town for those who want to create special memories and unique photos.
The props can be rented from specific local tourism spots and hotels. To find out more about the art locations and rental spots see the official website.
3. Pokémon Mascot Ambassadors
Photo by PR Times
Pokemon are becoming Japan's official regional ambassadors! In recent years, many Pokemon can be seen working hard to bring joy and attract visitors to their region's hidden gems.
Helping the tourism industry, the Local Pokemon Act is a project performed by the current 8 Pokemon ambassadors, presenting and implementing fun Pokemon events and brand-new installments to the region.
Each Pokemon has been chosen due to its specific traits and personality that match the region. For instance, Sandshrew, a ground-type Pokemon that lives in the desert, striking with sand, is the perfect ambassador for Tottori, famous for its gigantic 100,000-year-old sand dunes.
The current Pokemon regional ambassadors are Vulpix (Hokkaido), Geodude (Iwate), Laprus (Miyagi), Chancy (Fukushima), Sandshrew (Tottori), Oshawott (Mie), Kagawa (Slowpoke), and Exeggutor (Miyazaki).
Every year more Pokemon events and attractions both temporary and permanent are being implemented. To keep up to date with each region's local news, bookmark the official Local Pokemon Act webpage, and don't miss out on fun updates! Who knows, maybe one day you will get the chance to meet one of the ambassadors in person!
Local Pokemon Act: https://local.pokemon.jp/en/
4. Pokelids: Pokémon Manhole Covers
Photo by PR Times
The Pokemon may be hiding where you least expect it! Japan started to design and implement manhole artwork across cities, creating unique designs and colorful art for both residents and tourists to enjoy.
The project originally started in the 1980s as a way to win over the residents with the upcoming expensive sewage updates due to the ban on infrastructural objects across the country. The colorful manhole covers created a more aesthetically pleasing environment for all and encouraged the creation of more beautiful designs, still being installed to this day.
Pokemon were not about to miss out on this unique idea. There are currently over 200 Pokemon-themed manhole covers in Japan with beautiful artwork that is well-loved by residents and visitors alike.
The Pokelids are constantly being installed and designed, from the recently newly added Pikachu lids in Yokohama to the Pokemon ambassadors receiving designs in their region. Moreover, the fun and beautiful Pokelids even have their own merchandise with a wide variety of colorful items. Pikachu and the local Pokemon ambassadors can be seen welcoming the new Pokelids across Japan, celebrating the stunning artwork being brought to the region.
To see the Pokelids locations by prefecture and merchandise please visit the official website: https://local.pokemon.jp/en/manhole/
5. Pokemon Parks
Photo by PR Times
The first ever Pokemon park installed in Japan was a Chancy park in Fukushima. Since then, three other Chancy parks have been created in the region. The first park was created in Namie, a small town that was impacted by the 2011 earthquake and tsunami. Namie is also the hometown of Pokemon creator Satoshi Tajiri's father, and his company donated Pokemon to the town to help with reconstruction and tourism in the region.
There are three other Pokemon parks in different regions: a Sandshrew park in Tottori boasting a gigantic sand pit, an adorable Slowpoke park in Kagawa, and a Geodude Park in Iwate full of rock-type Pokemon.
Next time you are traveling in Fukushima, Kagawa, Tottori, and Iwate, why not visit one of these charming parks?
6. Pokemon Vending Machines
Photos by PR Times
Walking around Tokyo, you may come across vending machines adorned with Pikachu. But did you know that in locations across Japan that have Pokemon ambassadors, you can find colorful Pokemon vending machines?
The Pokémon Local Acts have collaborated with ITO EN's disaster response vending machines to create seven cheery local Pokemon ambassador-themed vending machines, dispensing drinks for free in the case of an emergency created by a natural disaster.
The vending machines are a friendly reminder for residents to be vigilant of natural disasters and prepare in advance. They also create a safe haven in times of emergency. The Pokemon ambassadors on these machines are Vulpix, Geodude, Lapris, Chancy, Sandshrew, Slowpoke, and Exeggutor.
To see where ITO EN's disaster response vending machines are, follow the map on the official website.
7. Pokemon Centers
Photos by PR Times
A Pokemon goods paradise! Japan's Pokemon centers are a Pokemon fan's dream, selling hundreds of different Pokemon goods from teddies to accessories and homeware. Fans can find their favorite Pokemon stacked up on shelves in an exciting and busy environment!
Each center has its own unique design, layout, and attractions, including a gigantic Pokemon centerpiece as the shop's staple, making each Pokemon center a new and refreshing experience.
Guests can spot legendary Pokemon installments as well as the original 150 classic Pokemon, and play on games installed around the facility. Currently, there are 22 Pokemon centers across Japan, offering a dynamic shopping experience for fans. To see specific locations and the style of each shop, visit the official Pokemon website: https://www.pokemon.co.jp/shop/en/
8. Pokemon Café
Photos by PR Times
Dine with Pokemon in the world's first Pokemon cafe! The facility offers guests a chic, clean environment, full of happy Pokemon and charming dishes!
The cafe's infrastructure is decorated with pristine wooden walls and Pikachus recipes, creating a relaxing atmosphere for those who visit.
The menu comprises a variety of fun dishes that combine flavourful ingredients to create Pokemon art on a plate. After you enjoyed the meals, sweets, and drinks, why not head on over to the cafe's limited additional good sections?
The Pokemon Cafe now has two branches in Japan--the Tokyo Nihombashi Pokemon Cafe and Osaka's Shinsaibashi Pokemon Cafe. To see further information, please visit the official Pokemon cafe website:https://www.pokemoncenter-online.com/cafe/en/
9. Pikachu Sweets Ikebukuro
Photo by PR Times
Pikachu Sweets Ikebukuro is located by the Pokemon Center Mega Tokyo in Sunshine City, Tokyo's popular and fun Ikebukuro shopping center.
The shop offers colorful and cute delights. Customers can choose from an array of Pikachu-themed food, goods, and souvenirs. The shop is decorated from head to toe with bright, cheerful designs welcoming guests to indulge in the sweet delights.
There are fun Pokemon installments dotted around the shop such as Polteageist, a cute spooky Pokemon living inside a teacup.
The shop is take-out only making it a great place to stop by while shopping. Sunshine City has benches located throughout the shopping center so you can relax immediately with the sweets while sitting down. The shop also has a colorful Pokeball standing counter where visitors can stop to eat.
For more information on current goods and the menu check the Pikachu Sweets official website: https://www.pokemoncenter-online.com/cafe/pikachu_sweets/
10. Pokemon Wedding
Photo by PR Times
Planning a wedding can be stressful. Who to invite? What theme shall it be? No worries, Pokemon has got you covered!
Escrit, a wedding planning company, has teamed up with Pokemon to create an electrifying wedding package for brides and grooms for their special day. Unlike anything you have seen before, the package has been completely pika-fied! A Pikachu wedding cake, invites, an official marriage certificate, food, rings, and more are all included in this charming package.
Moreover, who else is better to invite to the wedding other than the adorable Pikachu themselves? As part of the package, betrothed Pikachus celebrate your marriage in a chic and beautiful wedding venue. From the wide variety of dazzling wedding venues offered across the country, we are sure one will capture your heart.
To find out more about the Pikachu wedding package and venue locations please visit the official website: https://pokemon-wedding.escrit.jp/ (Japanese)
11. Engagement Rings and Jewelry
Photo by PR Times
The best way to say I chose you! U-Treasure is a jewelry shop that creates beautiful accessories with anime and game motifs, perfect for fans of Japanese pop culture!
From Sailor Moon to Monster Hunter, guests can buy a range of jewelry made from a variety of high-quality materials such as the above Pikachu carat solitaire engagement ring in platinum x K18 yellow gold.
The Pokemon lineup includes necklaces and rings for all occasions and features popular Pokemon such as Gengar, Pikachu, Mew, Evee, Snorlax, Ditto, and Jigglypuff. U-Treasure has six stores in Japan, including Osaka and Tokyo branches as well as the option to ship internationally to most countries.
To discover more jewelry and shops please visit the official website of U-Treasure:https://u-treasure.jp/ (Japanese)
12. Haneda Airport Vending Machine and Narita Airport Murals
Photo by PR Times
Meet Pokemon as soon as you step off your plane! Starting off your Pokemon journey through Japan, Pikachu and friends are here to greet you upon arrival at Narita Airport!
Ideal photo spots, the Pokemon murals can be found in all three terminals at Narita International Airport and display different Pokemon with vibrant designs.
Photo by PR Times
Choose your Pokemon! The Pokemon stand is a vending machine full of Pokemon goods and teddies. Choose the Pokemon on the screen and interact with Pikachu to get special goods. The machine's goods change every year and are perfect for those who don't have the chance to visit a Pokemon store or are looking for a last-minute present.
There are several Pokemon stands dotted around Tokyo, with the most convenient for last-minute shopping being at Haneda Airport.
Pokemon Stand locations:
- Haneda Airport International Terminal (General Area) 5th floor
- Haneda International Airport Terminal, 3rd-floor Departure Area near Gate 107
- Haneda Domestic Airport Terminal 1, 2nd floor Departure Lobby, North Wing, at the back of Kids Corner.
- Aqua City Odaiba 3rd floor
- Ebina SA (up) 2nd floor
- Ashigara SA (down) 1st floor
13. Pokémon Jets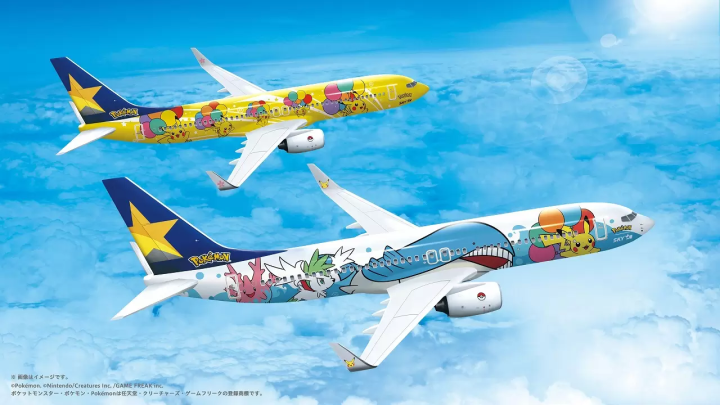 Photo by PR Times
Travelers can fly among the clouds with the Pokemon Jets, a range of different Pokemon-themed airplanes adorned inside and out with popular Pokemon from the franchise!
The Pokemon Jets travel on various routes, from domestic flights to different major cities in Japan to and from Okinawa's Naha Airport, to international flights to various locations in the USA, Europe, and Asia.
Travelers from all over the world can enjoy this unique experience. Onboard the plane, you'll be able to listen to Pokemon-related music and Pikachu can be heard making occasional announcements. Guests are served Pokemon-themed amenities and can purchase limited additional goods onboard and off-board.
For instance, the Vulpix Aircraft, also known as Rocon Jet Hokkaido, is a plane decorated with Hokkaido's official mascot, Vulpix. Flying to the Hokkaido region only, the plane takes customers to some of the best spots in Hokkaido.
To find out what types of Pokemon jets you can take across Japan and the world, see the official website: https://flying-pikachu.com/en/pika_jet/
Vulpix AirDo website: https://www.airdo.jp/information/rokonjet-hokkaido/#anchor-4
14. The Pokemon Train

A region that suffered so much heartache and widespread damage during the Great Earthquake of 2011, Tohoku has done an amazing job of restoring local attractions and offering beautiful scenery and delicious food for those who visit.
Spreading cheer to families, the POKÉMON with YOU Train was created in 2012 and has remained a popular and fun attraction ever since!
Crossing over the borders of Iwate and Miyagi prefectures, the vibrant yellow train travels between Ichinoseki Station and Kesennuma Station, stopping at seven stops in total and providing gorgeous scenery for those who board the train.
Great for families and Pokemon fans, the exterior and interior are the same playful yellow and brown colors as Pikachu. The train car interior is adorned with Pikachu designs from the chairs to the ceiling and floor.
The train is separated into two cars, one being a commuting area and the other a soft playroom for guests to play in. Visitors who have purchased the JR EAST PASS (Tohoku area), JR South East Pass Hokkaido Rail Pass, or the JR Tohoku- South Hokkaido Rail Pass can board the POKÉMON with YOU Train for free!
To see more about the POKÉMON with YOU Train, check the official JR website: https://jreast.travel/joyfultrain/pokemon.php
15. Slowpoke Hotels in Kagawa
Photo by PR Times
Kagawa is a Slowpoke paradise! The region's adorable Pokemon ambassador, Slowpoke, can be seen all around the prefecture, especially within the capital city, Takamatsu.
Takamatsu city has a wide variety of Slowpoke attractions, buses, a ferry, post box, taxis, Pokelids, and the list goes on! The port city offers stunning nature and scenic views of the Seto Inland Sea. There are many relaxing and peaceful spots to visit throughout the city such as the stunning Ritsurin Park, a Japanese national treasure.
Guests visiting Kagawa can enjoy exploring all the Slowpoke spots and gems that Kagawa has to offer, and what better way to relax here than Slowpoke-themed accommodation?
Kagawa has four hotels boasting adorable Slowpoke rooms. Guests can choose between Western-style rooms and traditional Japanese-style rooms with sliding doors and tatami mats, or a combination of both!
For Slowpoke accommodation options, check the four hotels' official websites:
- Takamatsu Tokyu REI Hotel
- Marugame Plaza Hotel
- Kotohira Onsen Kotosankaku
- Shodoshima Kokusai Hotel
16. Pokémon Attraction at Universal Studios Japan, Osaka
Photo by PR Times
Although currently there are no permanent installations or rides themed around Pokemon at USJ, the amusement park recently included performances such as the Pokemon Jumping Halloween Party with spooky Pokemon such as Gengar performing, as well as the park's No limit! Parade. The parade is formed from floats adorned with a variety of popular characters such as Mario and Pikachu.
The Pokemon float includes the legendary Pokemon Charizard breathing smoke, and the game series starter Pokemon, with a lively Pikachu as the star of the show!
USJ currently also has a variety of adorable seasonal snacks such as a Bulbasaur-shaped cup and a Wagging Tail Pikachu Pizza Bun! Visitors can also buy merchandise like the cute Pikachu head band making those who wear it look like they have Pikachu ears. To find out more about current events, please see the official USJ website.
17. Pokemon Rooms at Mimaru Hotels in Tokyo, Osaka, Kyoto
Photos courtesy of Klook
Right on the doorstep of Kyoto Station, Mimaru Kyoto Station Hotel is a fantastic place to stay due to its convenient location and beautiful accommodation.
All the hotel's rooms are small apartments hosting up to eight people at a time and offer a dining space, a kitchen, a shower, and bedrooms, making it the perfect place to relax with friends and family after a long day of traveling! Even more impressive, you can stay in a room full of Pokemon!
The Pokemon room is maxed out with Pokemon-themed art, furniture, and utensils, from the giant Snorlax peacefully sleeping on the bed to the art murals of flying Pokeballs with Pokemon mischievously popping out. Pokemon lovers are sure to enjoy their stay in Kyoto in this international-friendly hotel.
Pokemon rooms can be found at various Mimaru hotels in Tokyo, Osaka, and Kyoto.
18. Pokemon Go
Photo by PR Times
Pokemon Go is a free app bringing Pokemon virtually into the real world! An interactive game that combines real-life adventures and Pokemon into one, Pokemon Go is now popular all around the world.
Pokemon Go is nearly the same in every country with the exception of certain countries and regions having exclusive Pokemon! In Japan, you have the opportunity to catch Farfetch'd, Volbeat, Zangoose, Furfrou (Kabuki), Pansage, Uxie, Furfrou (Star), Floette (Blue Flower), and Solrock.
What better place to play the series than the birthplace of Pokemon? With of plenty Pokemon attractions alongside traditional Japanese architecture, players can enjoy a unique and authentic experience during their travels.
19. Mister Donuts
Photo by PR Times
Pokemon donuts!? Thats right! For the sixth year in a row since 2018, Mister Donuts will be enticing all with their delicious and adorable Pokemon Doughnuts.
With a new theme every year, these sweet Pokemon are often sold in winter, starting sales around November and ending in late December. Customers can enjoy a range of different flavored donuts, and collect limited additional Pokemon merchandise changing each year.
In previous years, the Pikachu Doughnut was pudding-flavored and filled with whipped cream. Other Pokemon to make their debut alongside Pikachu so far have been Evee, Chancy, Jiggly Puff, and soon Psyduck. If you are in Japan this winter, make sure not to miss out on these delicious delights.
20. Pokemon Go-Lab
The Pokemon Go-Lab is the first of its kind, being the only one so far in the world. Located in Ikebukuro's Sunshine City, a Pokemon hotspot due to its Pikachu Sweets and Pokemon Center, players gather to battle, trade, and buy goods. The merchandise in the lab is exclusively Pokemon Go-themed and has a statue of Professor Willow.
In the center, there is a giant pillar acting as a digital display. It turns colors depending on which team has conquered the Pokemon Go Labs gym, and the names and Pokemon appear of the strongest players and opponents.
The lab provides a great environment for Pokemon lovers to hang out, make friends, and socialize. If you are in Tokyo, we highly recommend Sunshine City due to the multiple shops here showcasing Pokemon goods.
Enjoy Pokemon Culture in Japan!
Photo by atpress
Japan has a variety of Pokemon events and is constantly creating new attractions each year. With already so many exciting places to visit, we hope that Pokemon fans will enjoy their time in Japan visiting these locations!

Written by
Hi! My name is Kate, I am from the UK and I have been living in Japan since 2018. I love traveling, photography, and exploring unique places in Japan. Let's explore the magic of Japan together! 

The information presented in this article is based on the time it was written. Note that there may be changes in the merchandise, services, and prices that have occurred after this article was published. Please contact the facility or facilities in this article directly before visiting. Some of our articles contain affiliate links. We kindly ask our readers to exercise careful judgement when making a purchase or booking a service online.