Edible Traditional Craftwork! Amezaiku Candy At Tokyo Skytree
"Amezaiku" is a type of traditional Japanese candy. At the Ameshin store in the Tokyo Skytree Town Solamachi, you can watch demonstrations of making amezaiku, as well as purchase these small, sweet treasures as souvenirs.
A Traditional Japanese Craftwork: Amezaiku
Amezaiku is a type of Japanese traditional candy that has been enjoyed by people for over 1000 years. It is created by heating sugar into liquid candy and quickly shaping it into an animal or a flower.
At present, there are fewer craftsmen than there used to be, and to be able to find one has become a rare opportunity. Today we will introduce the Asakusa Amezaiku "Ameshin" (Tokyo Skytree Town Solamachi store) which is a workshop-integrated store where you can watch the process of making amezaiku up close, and even purchase some of this gorgeous candy if you like.
Introducing Ameshin's Beautiful Amezaiku Works
Tokyo Solamachi is a large shopping complex at the base of Tokyo Skytree. The fourth floor is an area for Japanese souvenirs. This is where Amezaiku Ameshin is located.
First, let's look at some of the amezaiku works that are sold here. You will be amazed at their beauty and at the fact that they are made of candy.
1. Amezaiku Products - Giving You the Feel of Japan
This is an amezaiku modeled after an uchiwa fan (*1) (600 yen). A cute traditional Japanese pattern decorates the whole surface, making it a clear and refreshing design.
*1 uchiwa: a fan-like item used to cool down.
This is a goldfish amezaiku (2980 yen). The carefully finished details make it so realistic that you wouldn't even be surprised if it started moving. It really is a work of art.
There are also amezaiku in the shape of cats and dogs, frogs, or even pandas. The shape and pattern of each amezaiku candy, even those of the same type, are all slightly different. You really ought to check them out in person!
2. Amezaiku With Unique Designs
Did you realize that one of these Coca-Cola bottles is an amezaiku? If you can't tell the difference in the picture, you will need to check it out at the shop in person.
This mitsu ame (from 450 yen) is a handmade syrup that goes well with toast or pancakes.
As you can see, efforts are made at Ameshin in order to innovate the amezaiku craft. Making completely original candy sounds fun too, as they have custom-made amezaiku available also.
Watch Master Craftsmanship Right Before Your Eyes
This is a demonstration of Ameshin's amezaiku candy in the making. Only here can you observe the fine skills of an amezaiku craftsman right in front of your eyes.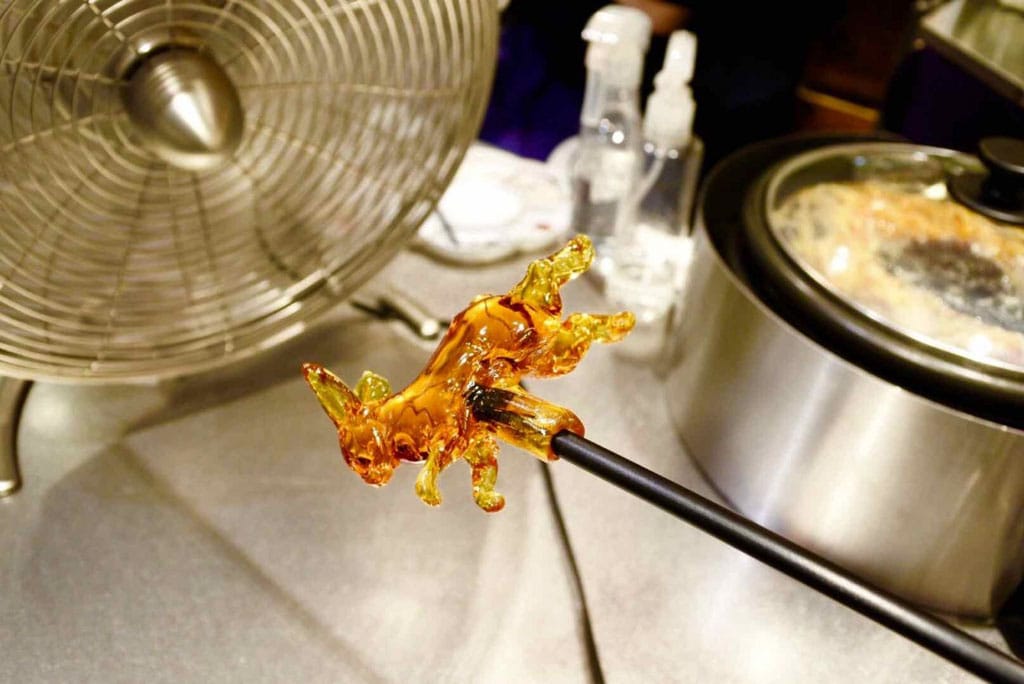 They say that the rough shaping of a goldfish or a bunny will take about 5 minutes, but the hard part is creating and painting the detailed lines and textured surfaces. Some even take up to 30 minutes. They are all made by hand, which means the craftsmen can finish only around 30 to 50 pieces each day... Each one is a precious work of art.
All amezaiku products are sold exclusively at the Tokyo Skytree Town Solamachi Store. The head office is located in Asakusa, where you can experience making amezaiku (Japanese only, reservation required), but you can watch craftsmen making amezaiku only here at the Tokyo Skytree Town Solamachi Store. Demonstrations aren't done all the time, so you should check the official website schedule (Japanese only) before you go.
The main purpose of amezaiku is decorative, but after all, it's candy so you can eat it as well. Now you would surely want some traditional Japanese amezaiku as a souvenir for your family and friends, wouldn't you?
Information
Asakusa Amezaiku Ameshin, Tokyo Skytree Town Solamachi Store
Address: Tokyo, Sumida ward, Oshiage 1-1-2; Tokyo Skytree Town Solamachi 4F
Hours: 10:00 - 21:00
Closed: Same schedule as the Skytree Town
Wi-Fi: -
Credit cards: Tōbu, Mitsubishi UFJ Nicos, JCB, UC, American Express, Diners Club, Saison, Discover
Languages: -
Menus in other languages: -
Nearest station: Tokyo Skytree station on the Tōbu Skytree Line, Oshiage Station on Toei Asakusa Line, Keisei Oshiage Line and Tokyo Metro Hanzōmon Line.
Access: 7-minute walk from Tokyo Skytree station Exit 1, direct elevator from underground passage of Oshiage station
Price range: Uchiwa 600 yen, goldfish and others 2980 yen
Religion: -
Phone number: -
Official website: Asakusa Amezaiku Ameshin

The information presented in this article is based on the time it was written. Note that there may be changes in the merchandise, services, and prices that have occurred after this article was published. Please contact the facility or facilities in this article directly before visiting.