Canned Food Bar "mr.kanso" by the Doton-bori River
It is located in tranquil Minami-horie area of Osaka, a little west from Doton-bori.
Now we have arrived at the Canned food bar "mr.kanso".
What is Canned Food Bar?
Here, you can choose your favorite can and ask the staff to cook it. Then, enjoy the taste with a glass of alcohol. Isn't it simple? This is the oldest of the 30 canned food bars that you can visit in Japan.
You might get astonished by the number of cans at the first sight.
You can try some unique ones like Japanese festive red rice can, curry can... and for some courageous guys, edible insect series are there on the shelves.
38 seats in total. There are both tables and counters.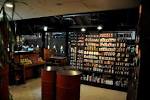 Night view along the Doton-bori River and calmness far away from the City wrap you up.
Choose your Favorite
The color of stickers on each can shows how much it costs.
red: 200yen
yellow: 250yen
pink: 350yen
dark green:500yen
light green: 650yen
light blue: 800yen
purple: 1000yen
gray: 1500yen
black: 2000yen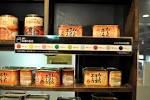 After you've chosen your can and paid for it at the cashier, they'll arrange it nicely. For example, they might heat it, or top some sliced onions, or dress it with mayonnaise.
I asked for the world's first "Japanese omelette can"  and "Takoyaki can". It costed 550 yen each. The "Potato salad can"(350yen) seemed also unique, so I added it to the first two.
Staffs heated the omelette, and served them with Pon-zu sauce(Mixture of citrus juice, soy sauce, and vinegar).
Takoyaki was also heated too, with chopped seaweed and dried bonito shavings topped on. Of course, there was mayonnaise dip to go, as well!
There were numbers of cans to choose from, and it took me quite a long time. There also were bread cans, cutlet cans, pickle cans... I don't think you can challenge them all in single night.
They also sell cans to take home. Those might become unique Osaka souvenirs for your friends, perhaps?
Information
mr.kanso main store
Address: Osaka Nishi ward Minamihorie 1-5-26 Canal terrace Horie 2F
Opening Hours:17:00~29:00、Mon.~Sat. 17:00~25:00
Closed Days: None(Except the new year's holiday)
Wi-Fi: None
Language: Japanese only
Access: Metro Yotsubashi line Namba Station 3minutes walk
Price: 200yen~
Phone: 06-6536-1333
HP(Japanese only): http://www.cleanbrothers.net/kanso/shoplist_honten.html

The information presented in this article is based on the time it was written. Note that there may be changes in the merchandise, services, and prices that have occurred after this article was published. Please contact the facility or facilities in this article directly before visiting.