"Little Twins Star Cafe" at Parco Shibuya: be Enveloped in Colors
Gentle pastel colors of pink and sky blue. Sprinkled motifs of stars and ribbons.
A little unique cafe just opened this spring at Parco Shibuya Part1 Floor7. "THE GUEST cafe & diner" is the informative cafe to send out culture and information through a limited-time collaboration with various matters and people.
The first collaboration project on schedule now is "Kiki & Lala Cafe".
What is Kiki & Lala?
Kiki & Lala are characters from SANRIO CO., LTD, well known for Hello Kitty or My Melody. The twins are a pink-haired girl, Lala, and a blue-haired boy, Kiki. The two is also called as "Little Twin Stars", loved by all Japanese girls for decades since its debut on 1975.
Those two might not stand out as much as Hello Kitty, but there aren't any other characters like Kiki & Lala that are stuffed with what girls love, don't you think so?
The popularity of Kiki & Lala also comes from their profiles and original episodes. Kiki can fly with the big star on his back, but cannot control which way to go unless his sister's Star Rod is with them. So they are always together.
"Not Kitty, or My Melody. Let's go on with Kiki & Lala!" This collaboration project started with the manager's strong love towards Kiki & Lala, especially towards their story.
Many Girls Everyday! Even from Overseas
"Kiki & Lala Cafe" is literally filled with the characters. Inside the cafe, on the table...
About 800 people visit here everyday, and today too, there were a long line before the cafe was open. During their busiest hours, sometimes you have to wait for up to 4 hours to enter.
Not only Japanese people come here. Many visitors from overseas, especially those from Asia such as China and Taiwan. Once there were even visitors from Europe, dressed up in Lolita fashion as well.
■
Kiki and Lala welcome you at the entrance. Many visitors take photos with them. You can ask the waiter to take it for you.
The menu is of course in pastel pink.
Delicious and Cute Dishes to Satisfy You
Why not eat plenty of dishes! The MATCHA female team (the cafe manager said they were just like Kiki & Lala) will report the details!

■Little Twin Stars Hamburger Plate 1,350 yen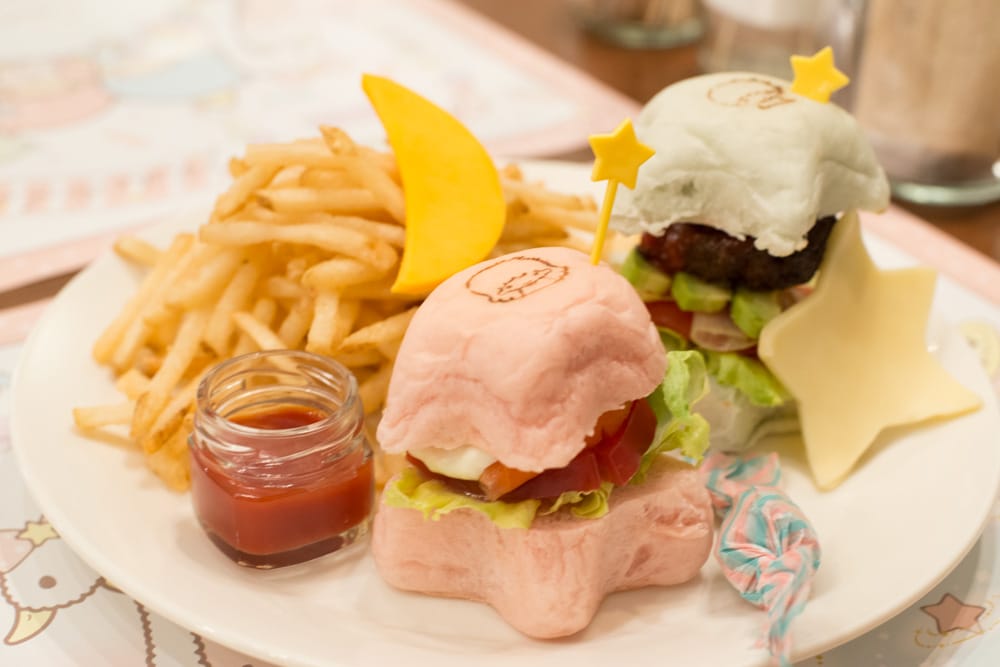 Kiki & Lala is printed on the buns. How cute! Kiki's beef burger has avocado inside it.

■Soft Omelet with Rice ~White Curry Sauce~ 1,330 yen
This popular new menu appears during the latter half of this collaboration term. Inside the soft omelet, pink-colored rice peeks out! It's colored by natural beet roots.

■Kiki & Lala's Fruity Luxurious Crepe 1,230 yen
This menu also appears just recently, for the latter half of the term. This original crepe has colorful fruits and plenty of whipped cream on. Drip it into the chocolate sauce from the mug, and you can enjoy it twice as much! The macaron of Kiki & Lala was too cute to eat...!

■Kiki☆Latte / Lala☆Latte 650 yen Each
With Kiki & Lala latte art on the top of each mug, these are also too cute to be drunken. Dip the star rod candy to the mug and the latte becomes sweeter.
Those menus for girls have excited us a lot. Not just the looks, but they tasted wonderful, too. Gourmet lovers better visit here as well.
"Kiki & Lala Cafe"'s Three Things to Know
The Cafe is cute in every corner. We introduce three points to enjoy it more!

1: Place mat can be brought home

The place mat on the tables can be brought home if you'd like! If you spill something on it, ask the staff for a new one.
What's more, you can get one of five original coasters when you order a drink.

2: You can buy limited goods at the store inside the cafe and diner

If you visit the shop that's just a foot inside the cafe, you do not have to stand in long lines. You can get various limited goods here. Just peeking inside might be enough to feel the world of Kiki & Lala, perhaps?

3: Look at the staff's nails

We found Kiki & Lala on the nails of the waiter! Pastel colored and cute, isn't it?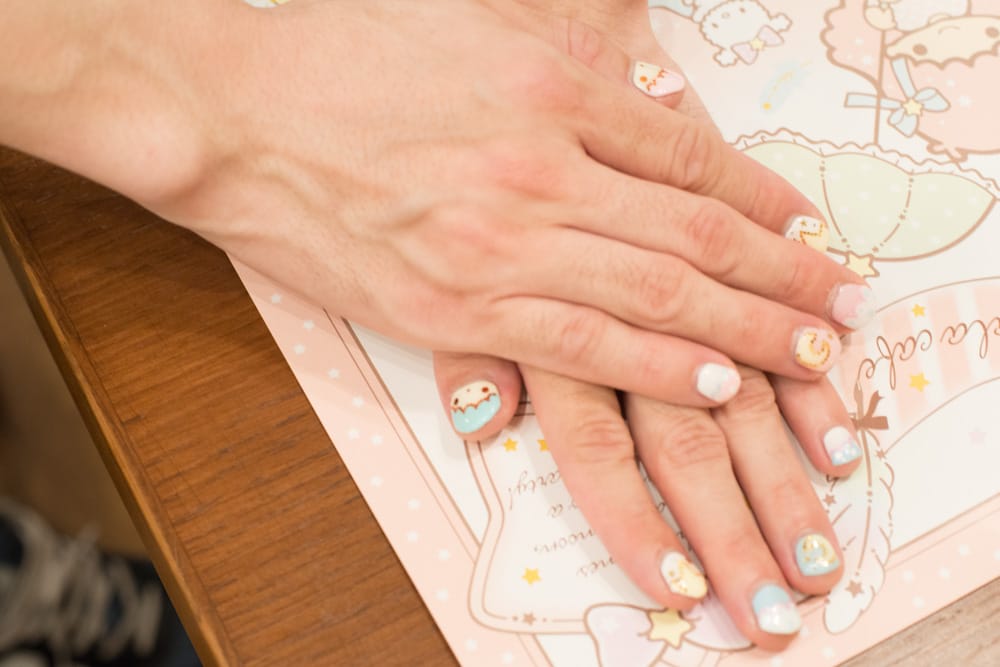 Photo above is the hand of Ms. Egawa, the manager of this cafe. Go and check how others' nails too with your own eyes!

"Kiki & Lala Cafe" is open until 7th of July. Enjoy the world of Kiki & Lala at Shibuya Parco!

(Photo:

Miki Takeshita )
Information
Kiki & Lala Cafe
Place:THE GUEST cafe&diner (Shibuya Parco Part1 7f)
Address:Tokyo Shibuya-ku Udagawacho 15-1
Term:21/3/2014(Fri)~7/7/2014(Mon)
Opening Hours:11:00 ~23:00 (Food L.O. 22:00 / Drink L.O. 22:30)
Closed Days:None
Credit Cards:Available
Nearest Station:Shibuya Station
Access:JR Shibuya Station Hachiko exit(ハチ公改札) 5 minutes walk
Phone:03-3477-5773
HP:http://www.the-guest.com/
Twitter:https://twitter.com/THEGUESTcafe
facebook:https://www.facebook.com/THEGUESTcafe
Kiki & Lala profile HP:http://www.sanrio.co.jp/character/kikilala/
Kiki & Lala Blog:http://ameblo.jp/kikilala2011/

The information presented in this article is based on the time it was written. Note that there may be changes in the merchandise, services, and prices that have occurred after this article was published. Please contact the facility or facilities in this article directly before visiting.