Views Exclusive To Japan! Japanese Heritage And Culture - With Video!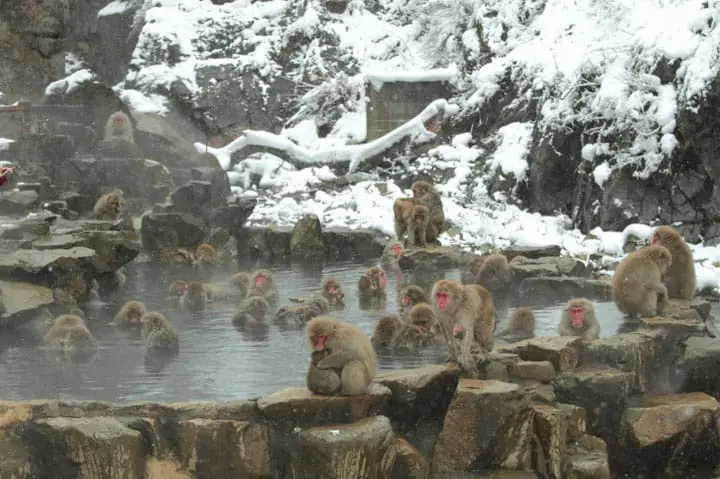 Have you ever seen a monkey bathing in a hot spring? Have you seen the beautiful view that Mt. Fuji and Lake Yamanaka create? There are many scenic views and cultural sites that can only be seen in Japan. In this article, we'll be introducing what's so g
There are many views and cultural heritages that can only be found in Japan. In recent years, many travelers from overseas come to visit Japan to see and experience these Japan-exclusive sites and cultures. In this article, we will be introducing the great view from Mt. Fuji, hot spring-bathing monkeys, a historic world heritage candidate site, and an event where visitors can enjoy a collaboration of Tokyo Tower and one of the popular autumn foods - saury.
Mount Fuji And Lake Yamanaka
On a clear and quiet winter morning, the snow on Mt. Fuji turns bright red as time passes. When the sun is up into the sky, the impressive reflection of the mountain can be seen in the Yamanaka Lake, one of the Fujigoko (The Five Lakes around Fuji). This site is known as the southernmost spot where swans pass the winter.
The evening view is a perfect match with the lake surface. An impressive and captivating view can be found here. Mt. Fuji and Lake Yamanaka offer a different view throughout the day. It is said that they are most beautiful from autumn to winter.
Information
Address: Yamanashi Minamitsuru-gun Yamanakako
Website: Lake Yamanaka (Japanese)

©UTY
Jigokudani Yaen Koen (Monkey Park) - Snow Monkey
Nearly 1,300,000 hot spring fans from in and out of Japan visit Yudanaka Onsen in Yamanouchi, Nagano, every year. Part of this onsen, Jigokudani Yaen Koen (Monkey Park), attracts many visitors eager to see "onsen-bathing Japanese macaques (Snow Monkeys)", which can only be seen in the cold snowy season.
This site is located at an elevation of 850 meters, and is covered in snow 1/3 of the year. Because of its steep landscape and rising steam, it has been called "Jigokudani" (Hell Valley). However the place is a relaxing "paradise" for the monkeys, as they can get warm in the hot springs. Visitors will be able to see monkeys bathing in the onsen here at Jigokudani.
The monkeys use the hot springs to get warm, so you can't count on them to always be bathing in the onsen. Also, Yaen Koen is a spot where visitors can enjoy seeing wild animals up close throughout the year, so seeing monkeys in the hot spring is actually a rare sight. Monkeys originally don't like getting wet, but at Yamanouchi, Nagano, there is a severe atmosphere so cold that makes them want to bathe in the hot springs.
Jigokudani Yaen Koen has been a popular spot for tourists from around the world since its opening over 50 years ago. Everyone wants to have a look at the "Snow Monkeys". It's not every time that you will be able to see them in the onsen, but if you want to see the wild monkeys making use of the hot springs to survive in this severe atmosphere, you should prepare yourself with the right equipment and clothing to step into the world of wild animals.
Information
Address: Nagano Shimotakai-gun Yamanouchi Hirao 6845
Website: Jigokudani Yaen Koen

©SBC
World Heritage Candidate Site with Christian History
The Agency for Cultural Affairs decided on nominating the "Churches and Christian Sites in Nagasaki", which includes the Sakitsu Village in Amakusa, Kumamoto, for registration as a UNESCO World Heritage Site. The beautiful cityscape consisting of cultural properties like Nagasaki's Oura Church and Amakusa's Sakitsu Village tell the history of Christianity developing in Japan since the 16th century. It became a candidate site once last year, but was pointed out by UNESCO's advisory body ICOMOS that "the protected history in the time of Christianity being oppressed should be focused on". The government will submit a nomination to UNESCO by February 2017, and its registration as a World Heritage Site will be considered in the summer of 2018.
The fishing port area where the church stands was chosen as one of Japan's 100 Top Shores as the "Christian Village Sakitsu" in 1996. In 2001, it was chosen as one of Japan's 100 Top Scent Views as "Kawaura Sakitsu Tenshudo and the Sea". In 2011, the fishing village of Sakitsu, Amakusa, was designated a national Important Cultural Landscape.
Information
Address: Kumamoto Amakusa-shi
Website: A World Heritage Site from Nagasaki

©RKK
Tokyo Tower Sanma Matsuri
The Sanma Matsuri (Saury Festival) is held at Tokyo Tower. The festival was held for the 7th time in 2015. 3,333 fresh sanma (saury) are brought from Ofunato, Iwate, charcoal-grilled, and served for free. This event started because of Tokyo Tower's connection with the number 3 ("san" in Japanese), as it was opened in the year Showa 33 (1958) and is 333 meters high. It is so popular that about 500 people are already lined up by 7 AM in the morning. Visitors can enjoy the traditional Japanese autumn taste while admiring the impressive Tokyo Tower. The only place where you can enjoy the Tokyo-symbolic Tokyo Tower and the Japanese taste of fall together is at this event.
Information
Address: Tokyo Minato-ku Shibakoen 4-2-8
Dates: Thursday, September 22, 2016, 9:30-16:30
Website: Tokyo Tower

©TBS
In Conclusion
What do you think? You can probably see why these spots and events are so popular through the videos. Did the videos make you want to actually visit the places yourself? If you're visiting Japan, we recommend traveling during the best season of your destination, and when events are being held.

The information presented in this article is based on the time it was written. Note that there may be changes in the merchandise, services, and prices that have occurred after this article was published. Please contact the facility or facilities in this article directly before visiting.