8 Stunningly Beautiful Beaches On Chichijima Island
A remote island from Tokyo, Chichijima is a registered World Heritage Site with a very pleasant climate all year round. The island has plenty of natural scenery to enjoy and of course, some stunning beaches you have to see to believe!
Chichijima is an island in the Ogasawara archipelago located roughly 1000 kilometers south of Tokyo. It takes an entire day by ferry to get to this remote island. Ogasawara is said to have subtropical weather and the slight difference in temperature through its areas preserves the clearness of the ocean waters and creates a beautiful blue see-through ocean.
Of all the beaches found on this island, today we'll look at eight that are known for their simply stunning views. We will also mention how to reach them and share other appealing points that they have.
5 Beaches You Can Easily Reach Via Public Transportation
1. Sakaiura Beach is a Ten Minute Walk from Town
First is Sakaiura Beach. Out of the beaches you can get to using the village bus, this is an easy one to visit. It's a six minute bus ride and a three minute walk from the bus stop.
View Information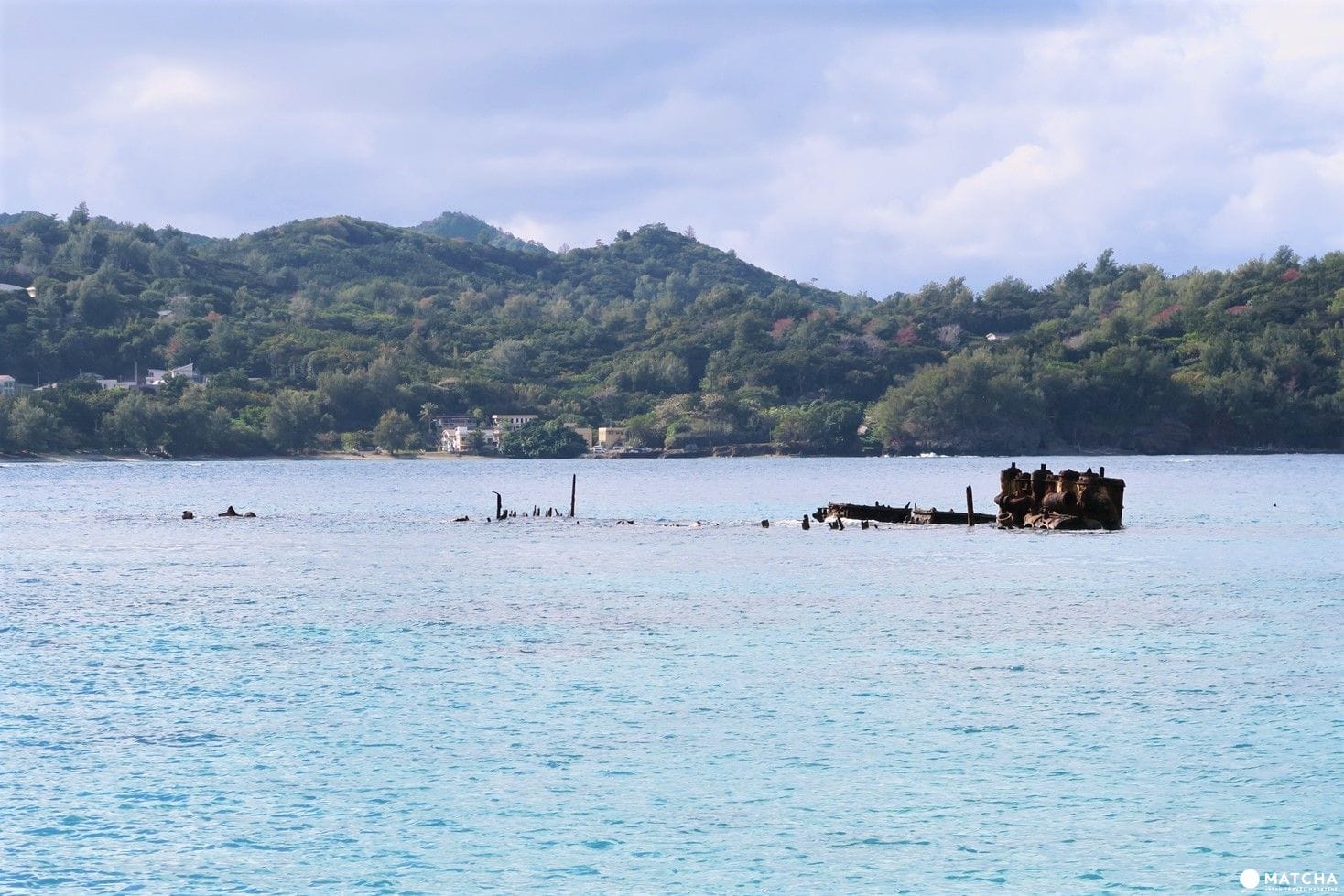 It's a beach with calm waves, but offshore is the stranded Hinkomaru, which sank during the Pacific War.
Corals and fish have taken over the ship, making it a recommended snorkeling spot.
2. Ogiura Beach is Connected to a Bus Stop
In the center of Chichijima Island is Ogiura Beach, a beach that's right in front of the parking lot. This beach has a parking lot, a bathroom and shower facilities in the break room. It's a beach where you'll want to relax in the water or lay out and take an afternoon nap on the sand.
View Information
3. Kominata Beach is Appealing for its Wide Sandy Area
If you ride the village bus until the last stop, you'll arrive at Kominata Beach. There's a large tree at the bus stop and around it are dense thickets of beach bushes.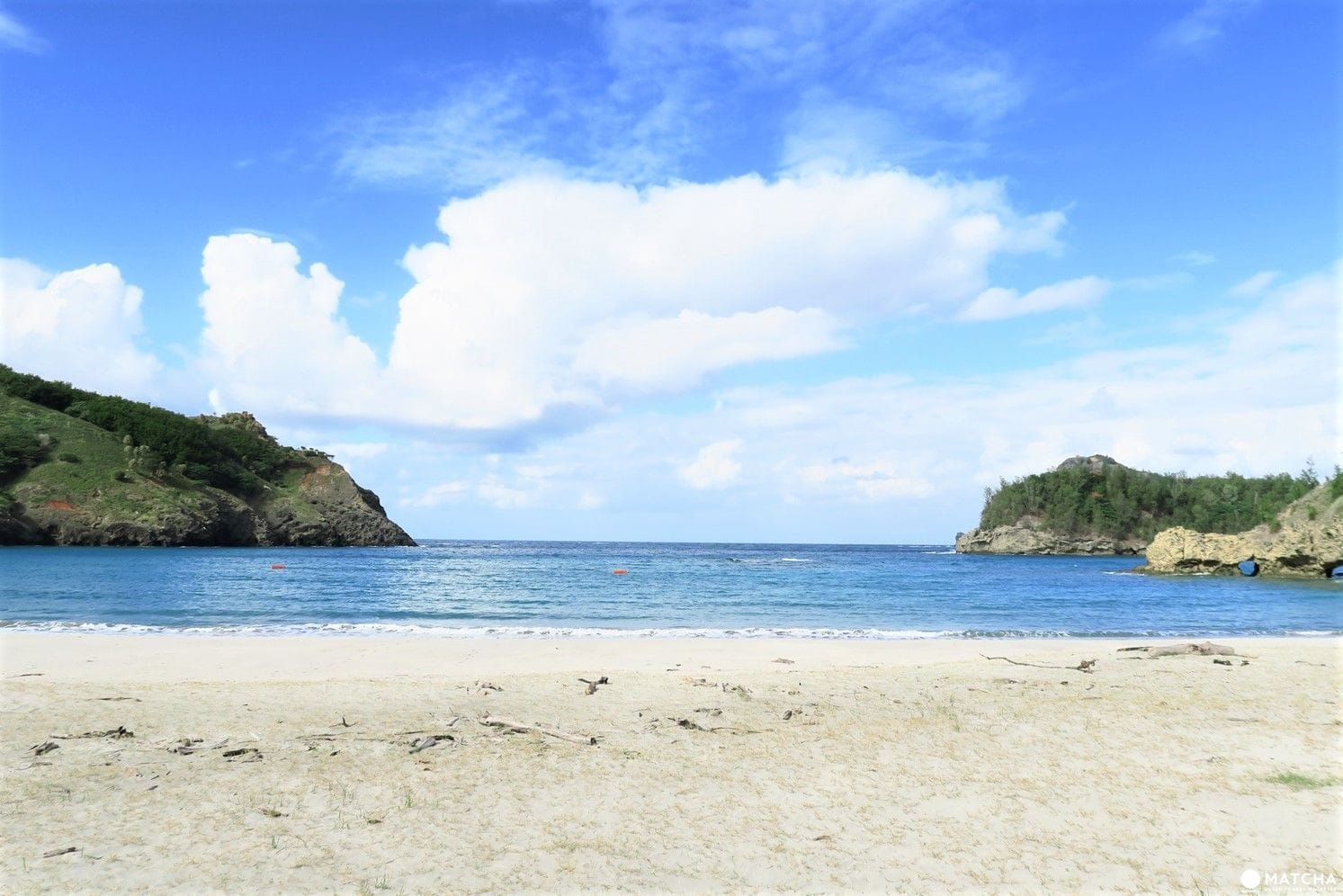 If you walk past the bushes for two minutes, you'll reach a spacious white sandy shore and a cobalt blue shallow beach. The waters of Kominata Beach are on sandy land, so there aren't many fish around. The spacious sandy shores are perfect for enjoying the beach at your own pace.
View Information
4. Kopepe Beach with its Splendid Coral Reefs
If you swim for about twenty minutes from Kominata Beach or walk along a promenade for twenty-five minutes, you'll get to Kopepe Beach, a hidden out of the way beach. There are four different kinds of corals growing here and it's a sight to see the fish that live in this area.
View Information
5. Walk on Top of the Water at Miyanohama Beach
All the previous beaches were facing the southwest or southern direction of the island, but Miyanohara Beach is on the northern part of the island. It's a ten minute walk from the bus stop and you can see Anijima Island across from the beach.
View Information
There are a lot of corals growing at this beach, making it an ideal spot for snorkeling. There's a promenade bridge over the shallow waters and you can feel like you're walking on top of water.
Fishing Spots Where Subtropical Fish Swim
6. Suzaki Beach, Where the Islands Living Things Gather
Suzaki Beach is located in the center of the island and takes fifteen minutes by car from town. This beach was used as an airport during the Pacific War. The rocky beach is geared towards surf (rock) fishing.
View Information
A Place for Advanced Snorkelers
Tsurihama Beach Has the Island's Only Underwater Scenery
Tsurihama Beach is highly rated by advanced snorkelers and is a five-minute drive from town. Located in the northern part of the island, it has a high level of clarity to its waters, even for Chichijima Island. You can easily see the fishes' shadows from the surface. The current becomes very strong even if you head just slightly beyond the beach, so don't stray too far from shore and keep a close eye on everyone in your group as you enjoy the views here.
View Information
A Secluded Beach the Locals Love
8. Hatsuneura Beach - Paradise After Going Down a Sudden Cliff
I asked a local what's a beautiful beach around here, and they replied Hatsuneura Beach, but said that it's a hard place to get to!
We challenged ourselves to get there in order to enjoy this breathtaking beach for ourselves.
The reason it's so hard to get to is that you have to cross a mountain path.
It's best to have comfortable clothes and walking shoes on here because the beach is at the bottom of a sudden slope from the mountain path. The path is a protected ecosystem area, so you must wipe the dirt off from your shoes on the mat before entering the mountain. Additionally, put the same amount of rocks as there are hikers into the box, so they'll know how many people you are traveling with.
The path to the beach is rather a mountain path than a regular path! On your hike, you'll hear bird cries and see plants that are unique to only Ogasawara. It makes it seem even more like a jungle.
It takes 50 minutes to go down the suddenly steep slope. The pure white beach and the clear blue sea pop out at you, while you are still surrounded by steep mountains.
Most people don't bother coming through this steep path, so we were able to have this huge beach to ourselves. The awesomeness of this beach is worth the difficult route it takes to get here.
View Information
How to Have Fun at the Beach
Even at a maintained beach, the sea itself is nature so don't be careless with your actions or things.
When going into the waters, go with at least two people and be careful not to be swept by the waves and tides when swimming. Areas with fast tides have a buoy. It's dangerous to go further out than the buoy, so please don't go there.
Many coral reefs are growing out on Chichijima's beaches and these can be sharp, plus the sun's UV rays are strong year here round, so please be sure to have appropriate clothes, sunscreen and even shoes to wear in the water to protect yourself.
In Conclusion
What did you think of Chichijima's surprisingly beautiful beaches? The waters here are really clear, which makes this a great place to both swim, snorkel, and more. Please enjoy what the beaches of Chichijima Island have to offer to your heart's content.