Must-Do Activities On Chichijima Island! Whale Watching, Snorkeling And More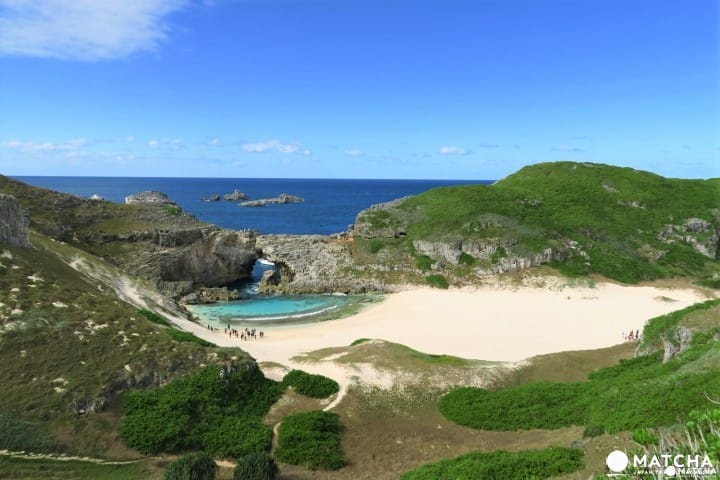 Come and enjoy all that nature has to offer at Chichijima, an island in the Ogasawara Archipelago, a UNESCO World Heritage Site located 1000km from Tokyo.
Chichijima Island of the Ogasawara archipelago is 1000 km south of Tokyo prefecture and a day away by ferry from the city center. This natural paradise is known as the Galapagos of the East thanks to its unique flora and fauna.
Today let's take a closer look at some of the recommended activities you can only take part in on Chichijima Island, such as visiting an uninhabited island, whale watching, snorkeling, and more.
1. An Uninhabited Island Shaped by Massive Rocks
To the southwest of Chichijima Island is Minamijima Island, a recognized national monument of Japan, which can be easily reached by taking a short boat trip from by Chichijima Island.
One of the charms of this tour is its exclusivity; you cannot land on Minamijima Island without a Tokyo Nature Guide traveling with you. Only 100 people a day are permitted to land on the island, and may only stay on the island for a maximum of two hours. These strict rules are in place in order to protect the natural landscape of the island as well as the creatures that call it home. Furthermore, for three months during the winter this island is completely off-limits, in order to allow the plants to grow in peace.
Although the whole island is quite stunning, Ougi Lake is one of the best scenic spots on Minamijima Island. Ougi Lake opens up into a beach surrounded by rocks that have been interestingly shaped by natural erosion over time. During the summer months, if you are lucky, you can see baby sea turtles hatch and make their way into the ocean from here as well.
The topography of the sharply pointed limestone here, known as the rapier, has also been designated by Japan as a natural monument. During the spring and winter you can see gannets and other sea birds raising their young on the cliff walls.
Half fossils of snails that went extinct over 1,000 years ago are buried on the sandy shores of the island. These can be freely viewed, but visitors to Minamijima Island are not permitted to take home, and should not even touch, the fossils, animals, plants, eggs, shells, or any other matter from the island. Please be sure to leave the island as you found it.
Inyo Lake is a rare lake - located almost in the exact center of Minamijima Island, it is a brackish lake composed of both salt and fresh water.
From the peaks of Minamijima Island you can also look out at both John Beach and Ginny Beach on Chichijima Island. If you are interested in this tour, Pink Dolphin, the company which runs the Minamijima Island Landing Tour can meet your needs in English. Visit their English website to find out more. A half day tour starts from 5000 yen.
2. Whale Watching in the Whale-Filled Waters
During the winter, whales gather in the Ogasawara Archipelago to breed and raise their babies, which makes Chichijima Island an excellent place to view the whales. They can be seen from the shores and the plateau of the island, but if you would like to see them up close, you can take part in a whale watching tour instead.
Both humpback whales and sperm whales can be seen here every year from winter to early spring, so you have plenty of chances to see the whales when visiting this island.
The whales' playground is protected by an island imposed ruling that the tours will not come within 100m of the creatures. The tour we participated in brought us within a reasonable distance to an entire family of humpback whales that were swimming about.
There are dolphins that live in the area all year round, which means that on days when the waters are calm, you can see plenty of dolphins jumping through the waves from the boat, and even swim with the dolphins as well.
For more information about this tour, check out Pink Dolphin's English website.
3. Enjoyable Sea Activities in Clear Blue Ocean Waters
The Chichijima Islands are surrounded by clean, transparent waters, which makes them ideal for sea activities, especially scuba diving. If you aren't quite ready for that, but would like to try snorkeling, then this is the perfect place to go. It's an activity that can be enjoyed without an oxygen tank, and that doesn't require any special licenses.
Snorkeling gear is sold at shops throughout the town, but you can also rent some from Ogasawara Kanko (Japanese), with prices starting from 1100 yen for a 3 hour rental.
On the Seihyo Beach near Futamiko (Futami Harbor) of Chichijima Island you will find a colony of coral reefs. The sight of the orange, pink, blue, and other colorful corals of the same species make it a breathtaking sight.
You can see the corals and many fish swimming around them on Miyakore, Tsuri, and Kopepe beaches of Chichijima Island.
If you want to experience authentic snorkeling, then Ani Island, located to the north of Chichijima Island is just perfect. A protected marine park, the waters are extremely clear and you'll be able to enjoy the superb view of various different kinds of coral, as well as tropical zone filled with colorful fish.
It's included in the Minami Island landing package and the whale watching tour, so make sure to take the time to enjoy this experience if you're going to participate in a tour.
On Chichijima Island you will also find Futami Bay, which is a large bay with calm waters where even absolute beginners can kayak or canoe with ease. Reservations for this can be made online via the Shanti Bungalow English website. Prices start from 5000 yen for half a day.
Being able to see the small islands up close, inspecting the rocky piers, and passing through the narrow caves are just three of the exciting things you can do as you canoe or kayak about in the bay.
In Conclusion
What do you think? Doesn't a trip to Chichijima Island sound exciting? There are so many activities that you can only experience in the Ogasawara Archipelago, from visiting an uninhabited island to whale watching, and more. Although it might sound a bit expensive at first, these are all worthwhile experiences that shouldn't be missed. If you have the chance to visit Chichijima Island, then by all means, please enjoy its natural splendor to the fullest through a tour such as those introduced in this article.

The information presented in this article is based on the time it was written. Note that there may be changes in the merchandise, services, and prices that have occurred after this article was published. Please contact the facility or facilities in this article directly before visiting.