The National Treasure On Kisogawa, Aichi: Inuyama Castle Guide
Built beyond Kisogawa river at the top of a hill during the Sengoku era, Inuyama Castle in Aichi prefecture is a national treasure that exemplifies Japanese castle building traditions. We introduce the highlights of this castle.
What is Inuyama Castle?
Inuyama Castle, located in Inuyama, in Aichi prefecture, was built in 1537 during the Sengoku era by Oda Nobunaga's uncle, Oda Nobuyasu. At present, only the castle tower still remains, but it has been designated as a National Treasure as a result. Inuyama Castle is the oldest remaining wooden castle tower in all of Japan.
Rising up from the banks of the Kisogawa river, the stairs that ascend upwards into Inuyama Castle are called, from bottom to top: Matsunomaru (pine enclosure, Kirinomaru (paulownia enclosure), Tatenomaru (vertical enclosure), Suginomaru (cedar enclosure), and Honmaru (main enclosure).
Within the castle grounds there is also a now-withered sacred tree, known as O-sugi-sama as well. Located on the eastern side of the castle, this tree stood taller than the castle itself and was unfortunately struck by lightning during the 1959 Isewan Typhoon. It ultimately withered away in 1965, but part of it was preserved and enshrined at the castle, in gratitude for its sacrifice.
Basic Information on Inuyama Castle
Inuyama Castle is closed from December 29th-January 3rd for the New Year's holidays, but is otherwise open all year round from 9:00-17:00, with the last admission being at 16:30 every day.
The entrance fee is 550 yen for adults and 110 yen for elementary/junior high school students.
The Highlights of Inuyama Castle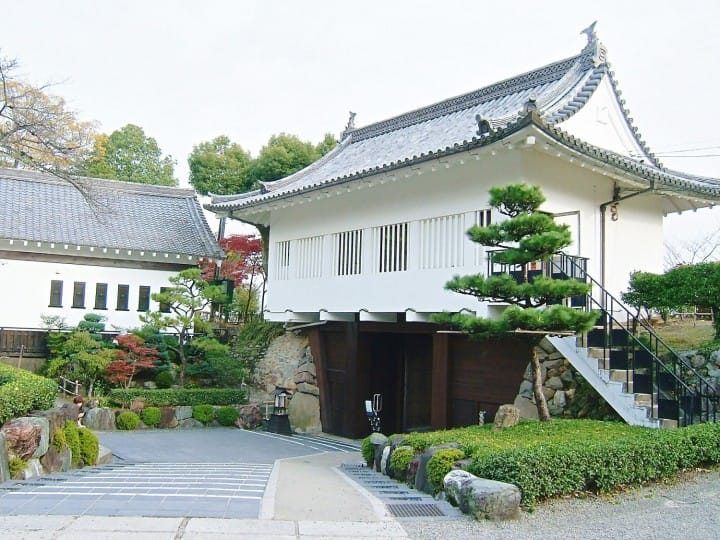 One of the main highlights of Inuyama Castle is its construction. Built during the Sengoku periodu, also known as the Warring States period (1338-1603), feudal leaders could never be certain of when an attack on their lands may occur. This is part of the reason for the great number of traps in Inuyama Castle.
First, castles had to be devised in such a way that they could not easily be reached by one's enemies. Although you can enter Inuyama Castle from the front gate, it's quite difficult to see the castle itself. A winding road continues through the grounds until you finally reach the castle and ticket sales gate at the top of a hill. Then you will finally be able to see the castle itself, which is very dignified and beautiful to behold.
There are devices inside the castle to deceive the enemies too; one of note being the stairs. They are at a steep incline, and if you climb one span, the direction will suddenly change 90 degrees and you will be forced to climb up another set of stairs instead. Beside these stairs, there are also turrets located on the sides of the castle entrance from which to attack any enemies that approach it, and plenty of hiding spaces for soldiers to fight from and protect the castle.
How to Get to Inuyama Castle
Whether you're heading to Inuyama Castle from either the Tokyo or Osaka direction, you will still have to travel to Nagoya Station by bullet train.
It costs 10,360 yen and takes an hour 40 minutes to get to Nagoya Station from Tokyo Station, while it costs 5830 yen and takes an hour 20 minutes to get there from Shin-Osaka station.
Get off at Nagoya Station and follow the route to Meitetsu Nagoya Station, which will take about four minutes. Here, you will switch to the Meitetsu Inuyama Rapid line train, and get off at Inuyama-yuen Station. It costs 600 yen. Head out of the West exit, and it is a 15-minute walk from the station to Inuyama Castle.
For more on how to get to Nagoya from Tokyo, please take a look at Ways To Travel From Tokyo To Nagoya! A Thorough Comparison.
Inuyama Castles Seasonal Events (2017 Inuyama Festival)
Photo courtesy of: Inuyama Tourism Association
The biggest event at Inuyama Castle, the Inuyama Festival is held every year on the first Saturday and Sunday of April. In 2017, it will be held on April 1st-2nd. Inuyama Festival has been designated one of Japan's Important Intangible Cultural assets and it's worth was recognized by UNESCO in 2016. Inuyama Festival was registered by UNESCO as a Intangible Cultural Heritage.
One of the most distinctive parts of the Inuyama Festival are its three storey high yama, or wooden floats. The word yama can mean mountain or parade float, depending on which kanji character is used, and it is said that these floats, which can reach eight meters in height, are themselves mini mountains.
Karakuri dolls are displayed on the float and a karakuri puppet show unique to the Inuyama region is also held during this event. There are a total of 13 floats that participate in the Inuyama Festival, which are paraded about the castle town.
Sightseeing Spots Around Inuyama Castle
The view from Inuyama Castle's tower is splendid thanks to its location at the top of the Kisogawa river hill, but the view looking up from the river is incomparable as well. If you would like to see this sight, then your best option is to take part in a cormorant fishing tour.
Cormorant fishing is a traditional Japanese fishing method, where you light a fire at night and use domesticated cormorants (a type of water fowl that comes from the pelican family and lives in Japan) to catch fish. It usually occurs at night, but is now also available as part of a tour during the day as well. The true traditional atmosphere is somewhat lost during the day, but the positive of this is the stunning views that these tours grant you of Kisogawa's river landscape and of Inuyama Castle.

The cormorant fishing tours are held on Tuesdays, Wednesdays, and on weekends from June 1st-October 15th, and last for two and a half hours. For more information on these experiences, see Inuyama Tourism Information Kisogawa Ukai (Japanese).

The information presented in this article is based on the time it was written. Note that there may be changes in the merchandise, services, and prices that have occurred after this article was published. Please contact the facility or facilities in this article directly before visiting.