Aichi Travel Guide – Top Spots In Nagoya, Inuyama, Toyota, And More
Enjoy several distinct features of Japan in Aichi Prefecture—home to the country's major automobile producer and historical sites! The area has been gaining popularity ever since the 2005 World Exposition was held here. Read on to find out about popular tourist spots in Aichi by area!
Travel in Aichi Prefecture
Photo by Pixta
Aichi Prefecture is part of the Chubu and Tokai regions of Japan, roughly situated at the center of the Japanese archipelago. To the west, it is bordered by Mie Prefecture, which is famous for the Ise Grand Shrine. To the north lies Gifu Prefecture that is known for Hida Takayama and the village of Shirakawa-go. Lastly, Shizuoka Prefecture, home to Mt. Fuji, is located to the east.
Aichi is scattered with historical spots like Nagoya Castle and Atsuta Shrine. There are also restaurants where you can taste unique Nagoya cuisine along with shopping spots, filling the prefecture with unique charm.
Each city in Aichi has its own character, making it fun and fresh to travel here. This time, we introduce sightseeing spots in Aichi in Nagoya, Inuyama, Gamagori, and Toyota.
Top Spots in Nagoya
Nagoya, located in western Aichi, is one of the three major cities in Japan, alongside Tokyo and Osaka. You'll find many popular sightseeing spots here, including the Nagoya Castle, Atsuta Shrine, and the Toyota Commemorative Museum of Industry and Technology.
Nagoya Castle
Photo by Pixta
A landmark of Nagoya, the Nagoya Castle is a stunning structure, ranked as one of Japan's top 100 castles. The golden shachi (a Japanese mythological fish creature) on the roof of the tenshukaku (*1) are so iconic that many people in Japan are reminded of these when talking about the Nagoya Castle.
On the castle grounds, you'll find the Honmaru Palace, constructed with the most advanced technology during the Edo Period. There's also the Ninomaru Garden, the largest palace garden in the country, and the Southwest Corner Tower, which has existed since the castle's construction in 1612.
Additionally, as the tenshukaku has been under renovation since May 2018, be aware that entry is not permitted until the end of 2022 (as scheduled).
*1 Tenshukaku: the tallest structure built on a Japanese castle. It is the castle's symbol.
Atsuta Shrine
Photo by Pixta
Atsuta Shrine in Nagoya is famous for enshrining Kusanagi no Tsurugi (a legendary Japanese sword) in its main shrine. This sword, revered as one of the Three Sacred Treasures of Japan (*2), also appears in Japanese mythology.
The shrine is commonly known as "Atsuta-san" among the locals. Throughout the year, over six million people visit the shrine to seek blessings for prosperous crops, romantic relationships, pregnancies, and safe childbirth.
Various spiritual spots are also dotted throughout the shrine. This includes the road leading to the shrine, the Spiritual Path, and paths surrounding this sacred site. The Shimizu Shrine, where you can receive blessings to recover from eye trouble, and Yang Guifei's Pagoda, which is said to make your wishes come true, are popular spots here as well.
*2 Three Sacred Treasures of Japan: three treasures that appear in Japanese mythology. It is the general term for the mirror Yata no Kagami, the jewel Yasakani no Magatama, and the sword Ame no Murakumo no Tsurugi (more popularly known as the Kusanagi no Tsurugi).
Toyota Commemorative Museum of Industry and Technology
Photo by Pixta
The Toyota Commemorative Museum of Industry and Technology is a museum operated by the Toyota Group, the famous car manufacturer. The exhibitions are separated into the Automobile Pavilion and the Textile Machinery Pavilion. This is where you can also learn about the history of Japan's automobile and textile industries.
What is not widely known about Japan's biggest automaker is that Toyota did not begin in automobile manufacturing, but rather in textile machinery. In the Textile Machinery Pavilion, you will find an automatic loom invented by Sakichi Toyoda, the founder of the Toyota Group, alongside 100 of the latest textile machines on display.
Automobile parts, including Toyota engines from previous generations, are exhibited at the Automobile Pavilion. Regardless of age, deepen your knowledge about cars and have an enjoyable time at the museum!
Tokugawa Garden
Photo by Pixta
Tokugawa Garden is a 4.4 hectare Japanese-style garden. It is a chisen-kaiyushiki (*2) garden, which makes it possible to admire the beautiful garden landscape while on a stroll. The main attraction is the seasonal flowers, such as peonies in the spring, irises in the summer, red spider lilies in the autumn, and camellia sasanqua in the winter.
*2 Chisen-kaiyushiki: a Japanese garden with a pond at its center. It can be enjoyed by admiring the garden landscape while walking around the pond.
Photo by Pixta
Tokugawa Garden is also a famous spot for fall foliage. 300 maple trees and winged burning bushes change in color and create a splendid contrast with the Ryusen Lake, the pond at the garden's center, during autumn. The autumn leaves festival is annually held from November to December, which also includes illuminations of the foliage at night.
Top Spots in Inuyama
Photo by Pixta
Inuyama, located in northern Aichi, is a place that once flourished as the castle town of Inuyama Castle, where Japan's oldest castle tower stands. During ancient times, the city was called Little Kyoto (its townscape was thought to be as elegant as Kyoto), and there are spots that still remain today that convey its history.
It is about an hour's drive from Nagoya to Inuyama. If you'll be boarding the train, take the limited express from Meitetsu Nagoya Station and alight at Inuyama Station. Travel time will be about 25 minutes and will cost 910 yen.
The Museum Meiji-Mura
When it comes to recently trending Inuyama spots, the Museum Meiji-Mura is what comes to mind. A theme park with a Meiji Period concept, it gives off a retro ambiance through its reconstructed Meiji structures.
You can catch a glimpse at what life was like during the Meiji Period by renting Meiji-style garments and walking around the park or taking a steam train actually from the period. In recent years, the park also holds collaboration events with the popular animated series "Rurouni Kenshin"—garnering popularity from fans of the series.
Inuyama Castle
Photo by Pixta
Inuyama Castle is an unusual structure that was privately owned until 2004. Built in 1537, the castle tower is said to be one of Japan's oldest towers and has been designated as a National Treasure of Japan. An unobstructed view of Inuyama can be seen from the castle tower, making it popular place to take pictures.
The castle town stretching below Inuyama Castle is also brimming with tasty food to try. Relish in castle town dishes like dango or dengaku, grilled tofu coated in miso, while walking about the town.
 
Top Spots in Gamagori
Photo by Pixta
Gamagori, located in southeastern Aichi, is a scenic city surrounded by the Mikawa Bay and mountains. It is famous for its breathtaking nature and hot springs that are just an hour's drive away from Nagoya. If you're riding the train, it will take 40 minutes by the JR Tokaido Main Line from Nagoya Station to Gamagori Station. The one-way fare costs 970 yen.
Gamagori Onsen
Gamagori Onsen is Aichi's largest hot spring resort. Accommodations sit along the coastline, making it possible to gaze at the beautiful ocean while soaking in the therapeutic onsen. What is visible across the waters is Gamagori Takeshima Island. This uninhabited island in Mikawa Bay is connected to the mainland by a 387-meter long bridge.
Photo by Pixta
Located at the center of the island is Yaotomi Shrine, a historic shrine constructed in 1181. It is known to give blessings for good fortune, safe childbirth, and marriage. It is a spot that is visited by those seeking to attract luck.
Top Spots in Okazaki
Photo by Pixta
Okazaki in east Aichi is a great place for experiencing Japan's culture and history. It's home to spots adored by history buffs like Okazaki Castle. This is the castle where Tokugawa Ieyasu, the founder of the Edo Bakufu ((Tokugawa Shogunate), was formed.
Okazaki is one hour from Nagoya via car. If you're riding the train, you can reach Okazaki Station in about 30 minutes by the JR Tokaido Main Line from Nagoya Station, which will cost 620 yen.
Okazaki Castle and Okazaki Park
Photo by Pixta
Although Okazaki Castle is the birthplace of Tokugawa Ieyasu, its present structure is a reconstruction from 1959. The castle's surroundings are maintained as Okazaki Park.
Okazaki Park is a renowned cherry blossom spot that was selected as one of Japan's top 100 cherry blossom spots. Annual events such as the Ieyasu Procession—a parade with over 700 participants dressed in traditional ware—and cherry blossom illuminations are held during the Cherry Blossom Festival in April.
Top Spots in the Chita Peninsula
There are two peninsulas in Aichi: the Atsumi Peninsula, seen in the south from Nagoya, and the Chita Peninsula in the west. The Chita Peninsula is where you'll find gorgeous beaches along with delicious kinds of seafood to devour.
It takes about an hour drive from Nagoya to the Chita Peninsula. From Nagoya Station, it requires about 30 minutes to reach Chita Handa Station via the Meitetsu Tokoname Line. The one-way fare costs 660 yen.
Beaches
Photo by Pixta
Beaches like Sunset Beach and the Utsumi Beaches are dotted throughout Minamichita Town on the southern tip of the Chita Peninsula. The beaches are popular swimming spots during the summer.
Octopus, sea bream, eel, and pufferfish are some of the delicacies caught in these waters. You can enjoy the fresh bounty of the sea at many restaurants in town.
Tokoname Pottery Path
Photo by Pixta
Tokoname, located on the west bank of Chita Peninsula, is most famous for Tokoname ware. This type of pottery is made with red-hued shudei clay that contains iron collected from the region. The clay is characterized by its smooth texture and warm, rustic color.
In the city, you'll find the Tokoname Pottery Path (Japanese), a walkway crafted from pottery and adorned with artworks. Here, you can see and enjoy various types of Tokoname wares.
Top Spots in Toyota
Toyota, located in east Aichi, is considered to be the center of Japan's automobile industry. It is about an hour's drive from Nagoya.
Toyota Kaikan Museum
Photo by Pixta
Created by the Toyota Motor Corporation Group, the Toyota Kaikan Museum is one of the most famous spots in Toyota City. Various Toyota models from the previous generations to the latest vehicles are exhibited here. You can learn about innovative automobile-related technologies and take a tour of the manufacturing plant as well.
Entry is also free, so be sure to visit if you're a car enthusiast.
Korankei Valley
Photo by Pixta
The Korankei Valley in Toyota is the best scenic spot in the Tokai region. Maple trees line both banks of the river and change synchronously in color come autumn, allowing visitors to enjoy the brilliant fall foliage. From spring to summer, the valley is also reputed for being adorned in green maple leaves.
Top Spots in Toyokawa
Toyokawa is a city in south Aichi situated in the Higashi-Mikawa area. It is about a one hour and fifteen minute drive from Nagoya.
Toyokawa Inari
Photo by Pixta
Toyokawa Inari, a temple ranked among one of Japan's Three Great Inari Shrines, is a famed sightseeing spot. The Reiko-zuka, located in a corner of the temple, is a hill lined with 1,000 stone fox statues of varying sizes.
These stone statues were dedicated by worshippers who either made a wish or had their prayers granted. This spiritual spot is believed to grant blessings for prosperous businesses, good health for one's family, and luck in happiness and prosperity.

Aichi's Gourmet Food
In Aichi, you can eat a type of cuisine called Nagoya Meshi. This delectable category is filled with dishes unique to the region such as hitsumabushi—soy-flavored eel fillets doused with dashi broth—and misokatsu, a type of tonkatsu eaten with a miso-based sauce.
Hotels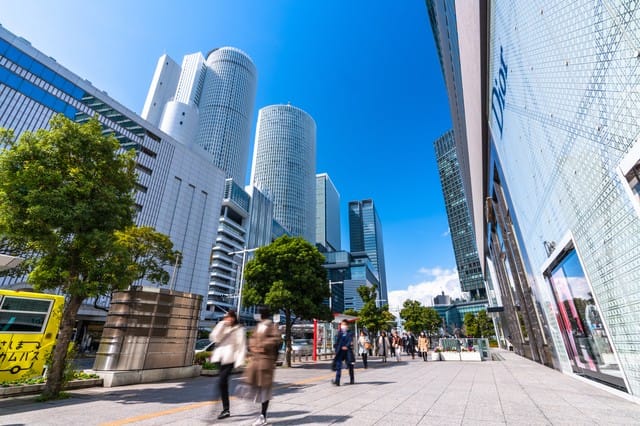 Photo by Pixta
We suggest booking a hotel in Nagoya for all of your Aichi travels. The Tokai-Kanjo Expressway and the Tomei Expressway make it easy to access the entire prefecture from within Nagoya. Because this will require a car rental, be sure to settle your travel arrangements beforehand.
If you are only sightseeing in Nagoya, you will need to take conventional lines such as the JR Line and subway system. Make sure to secure a hotel in front of Nagoya Station to ease the stress of traveling on public transportation.
Access
Chubu Centrair International Airport  Photo by Pixta
We introduce how to get to Nagoya in Aichi Prefecture.
From Tokyo by Air
You will be flying from either Narita or Haneda Airport to the Chubu Centrair International Airport (Centrair). The flight takes about 60 minutes and costs between 7,000 to 20,000 yen.
It takes seven minutes on foot from Centrair's Terminal 2 to Chubu International Airport Station, the nearest station. If your return flight is scheduled from Centrair, we recommend moving swiftly.
From Tokyo by Shinkansen
Take the Tokaido Shinkansen from Tokyo Station to head to Nagoya Station. The travel time will vary on the shinkansen service. It requires roughly an hour and 40 minutes on the Nozomi or two hours and 40 minutes on the Kodama, which stops at each station. Ticket fares begin at 10,360 yen (unreserved seats).
From Tokyo by Express Bus
We recommend boarding the bus from the Kajibashi Parking Lot at Tokyo Station or Shinjuku Expressway Bus Terminal at Shinjuku Station. Travel time to Nagoya Station will take approximately five hours and 50 minutes. Night buses are also available, so consider this option if you wish to use your time effectively. Travel fares will be between 2,000 to 8,000 yen depending on the date and time.
Visit Aichi Prefecture
Aichi Prefecture is full of spectacular sights to see. We suggest taking your time to travel over the course of two or three days. If you're pressed for time, it would be best to primarily travel around Nagoya—which is easily accessible from both the shinkansen and airport.

The information presented in this article is based on the time it was written. Note that there may be changes in the merchandise, services, and prices that have occurred after this article was published. Please contact the facility or facilities in this article directly before visiting.