Tenjin Matsuri In Osaka 2020 - Festival Events, Schedule, And Access
Tenjin Matsuri is a summer festival held annually in Osaka on July 24 and July 25. The festival includes traditional parades, Shinto shrine-related events, and a spectacular fireworks display. Learn how to get to the festival from Osaka Station and what to expect. The festival is canceled in 2020.
All About Tenjin Matsuri
© (Public goods) Osaka Sightseeing Association
Please note that the Tenjin Festival is canceled in 2020 due to the effects of the COVID-19 outbreaks. Religious services, however, are scheduled to be conducted.
Tenjin Matsuri is a festival held every year on July 24 and 25 at Osaka Tenmangu Shrine in Osaka. This festival is considered one of the most famous in Japan due to its size and long history, along with Kyoto's Gion Festival and Tokyo's Kanda Festival. In 2019, the festival events fell on Wednesday and Thursday. In addition to daytime events, there are spectacular fireworks in the evening.
The Tenjin Festival is held to show the prosperity of Osaka and for the people of this city to pray for business prosperity and their health. The Tenjin Festival is particularly famous for its grand parade of participants wearing historical garb and elegant boats, flowing down Osaka's Okawa River.
Continue reading to learn the festival schedule, how to get to Tenjin Matsuri, and what you can enjoy.
Tenjin Festival Schedule
The Tenjin Festival is canceled in 2020 due to the effects of the COVID-19 outbreaks. Religious services, however, are scheduled to be conducted. Below is a summary of the festival in 2019:
Major events of the 2019 Tenjin Festival schedule are listed below.
Major Events on July 24
Yoimiya Yasai (7:45 - 8:30)
At Osaka Tenmangu Shrine, a Shinto priest prays for the sound health of all through a ceremony involving the use of a pike. This ritual is called hokonagashi shinji in Japanese.
The Hokonagashi Procession (8:30 - 8:50)
In this procession, priests and the people dressed in traditional Japanese garments head from Osaka Tenmangu to Hokonagashi Bridge, where the ceremony is held. It's a smaller parade than the procession on July 25.
Hokonagashi Shinji (8:50 - 9:30)
Hokonagashi Shinji is where priests drop sacred pikes and human-shaped paper into the river to wash away any impurities of the soul. This part of the festival takes place by the Hokonagashi Bridge.
Shishimai Lion Performances (12:00 - 12:30)
Traditional shishimai (lion dance) performances at Osaka Amenity Park and inside the Imperial Hotel Osaka.
Major Events on July 25
Honmiya Festival (13:30 - 14:30)
During the Honmiya Festival, a priest prays for the city's peace and prosperity at Osaka Tenmangu Shrine.
The Rikuto Parade (15:30 - 18:00)
Tenjin Matsuri's Rikuto Parade includes around 3,000 participants wearing traditional garb and yukata from the Heian period and Edo period departs from Osaka Tenmangu Shrine carrying mikoshi, or portable shrines. The procession moves around the city through a three-kilometer road including Oimatsucho, Shinmidosuji, and the northern side of the municipal office to Tenjinbashi.
Boat Crossing (18:00 - festival end)
During the boat crossing, a variety of vessels start down the Okawa River carrying festival participants. Observers can watch the boats from Hyobashi Bridge and Tenjin Bridge. Some boats have taiko drums on board as well.
Tips and What to See at Tenjin Festival
To make the most out of Tenjin Matsuri, it is recommended to see the parade and boat crossing, in addition to other events listed above. The fireworks at night are also spectacular and a must-see.
Procession
© (Publicly available) Osaka Sightseeing Association
The procession starts at 15:30 on July 25 with people dressed in elegant costumes as well as those carrying an omikoshi around the town. In this large parade, there is a mikoshi thought to be carrying the spirit of Sugawara Michizane, a deity at Tenmangu Shrine.
Some of the other legendary and historical characters that make their appearance are Sarutahiko (*1) wearing a tengu (*2) mask and women called uneme wearing light green veils. There are kids wearing festival costumes and a festival float that imitates a large monkey called shojodashi. It's an extremely lively parade, making it a must-see for anyone in the area.
*1 Sarutahiko: a god in Japanese myth said to have lit up heaven and hell. It's characteristics are its high nose, white hair, and monkey-like face.
*2 Tengu: a humanoid monster said to live in the mountains. It has magic powers and can even fly.
Boat Crossing on July 25
© (Publicly available) Osaka Sightseeing Association
The climax of the festival is the river crossing on July 25. Observers will see different boats--boats with the men rowing to the beat of drums onboard, a boat carrying the mikoshi, and others carrying drum players. After departing separately from Hishobashi Bridge, which is upstream the Tenjinbashi on the Okawa River, these boats come and go along the river, almost blocking the river entirely. The light from the decorations on the boats plus the magical fireworks display is simply stunning and draws visitors from all over every year to Osaka.
This portion of the Tenjin Festival sees over one million people every year, so if you would like to get a good spot to watch the festivities from, we recommend arriving at the riverside at least an hour before the start of the festival.
Tenjin Matsuri Festival Dedication Fireworks Display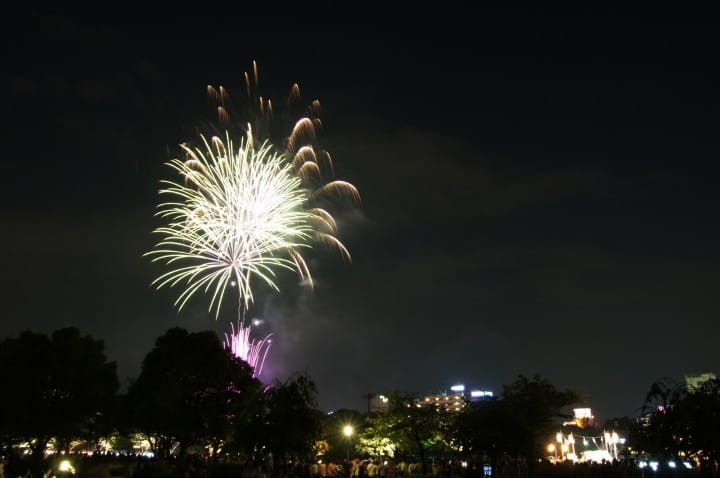 Photo courtesy of PIXTA
In 2019, the Tenjin Matsuri fireworks display is from 19:30 to 20:50 on July 25. As one of the largest fireworks displays in the Kansai region, many people come to this event. Be sure not to miss the stunning displays and technical artistry of classic Japanese fireworks.
You can watch the fireworks for free and just enjoy the traditional, festive environment, but if you purchase tickets in advance, you can secure an ideal viewing spot. Please see the official website (Japanese) for more details.
How to Get to Tenjin Matsuri
The main events of Tenjin Festival are held at Osaka Tenmangu Shrine, a prominent Shinto shrine in Osaka. Easy-to-use public transportation makes this a very accessible festival to see. The closest station is Osaka Tenmangu Station on the JR Tozai line, or Minami-morimachi Station on the Osaka Subway Tanimachi line.
If you are using JR lines, walk south from Osaka Station to Kitashinchi Station. At Kitashinchi Station, get on the JR Tozai line on a train bound for Kizu, and get off at Osaka Tenmangu Station. It's about a two-minute ride and costs 120 yen. Osaka Tenmangu Shrine is a three-minute walk from the station to Osaka Tenmangu Shrine.
For subway riders, first, walk from Osaka or Umeda Station to Higashi Umeda Station. Get on the Tanimachi line bound for Tenmanbashi. The ride is two minutes and costs 120 yen. The shrine is around four minutes by foot from Minami-morimachi Station.
View Information
Tenjin Festival
| | | |
| --- | --- | --- |
| | Address | Osaka prefecture, Kita ward, Tenjinbashi 2-1-8 Osaka Tenjinmangu and other locations |
| | WiFi | Not Available |
| | Accepted Credit Cards | Not Available |
| | Languages | Japanese |
| | Nearest station | Osaka Tenmangu Station, JR Tozai line |
| | Access | 3 minute walk from Osaka Tenmangu Station |
| | Telephone number | +81-3-06-6353-0025 |
| | Website | http://www.tenjinmatsuri.com/ |
*All information contained in this article is based on data from various official websites and is accurate as of July 2019. This information is subject to change.

The information presented in this article is based on the time it was written. Note that there may be changes in the merchandise, services, and prices that have occurred after this article was published. Please contact the facility or facilities in this article directly before visiting.