Amazing Public Baths In Asakusa And Ueno
Did you know you can discover Japan's bathing culture right in Tokyo? Take a break and relax these three recommended baths that are easy to access from Ueno!
Free Services at Kotobuki Yu
Located two minutes from
Inaricho Station
on the Tokyo Metro Ginza Line, you will find the
Kotobuki Yu
bath. An average of 500 people visit every day and not only locals, but tourists also come and use this facility as well.
One of the reasons for its popularity is the free amenities you can use.
- Shampoo Conditioner
- Body Soap
- Toner
- Lotion
- Hair liquid
- Hair tonic
- Tissues
- Cotton swabs
- Hair dryer
- Cell phone charger
- Internet (for 15 minutes)
All of these can be used for free! These are handy services for customers.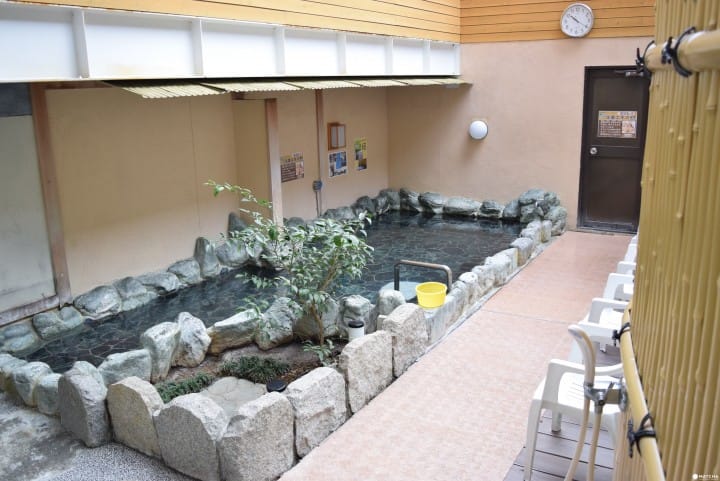 This is the men's open-air bath. It is very open and you can bathe while gazing up at the sky.
This is the women's open-air bath.
The resting space is also very large with drinks and snacks that are perfect after a bath.
Bath Made of Rocks from Mt. Fuji at Tsubame Yu
Tsubame Yu is located four minutes from Okachimachi Station on the JR Yamanote Line or Ueno Hirokoji Station on the Tokyo Metro Ginza Line. The baths are a recognized Cultural Property of Japan and are made of rocks formed by the lava of Mt. Fuji. The baths also are known to be open early at 6 AM.
The reason behind its early hours dates back to the Showa period when many businessmen journeyed from afar to Ueno and Ameya Yokocho street. In order to allow the businessmen to relax and bathe before a long day, Tsubame Yu opened its doors early and the tradition still lives on today.
The baths are constructed in the traditional method and are not too big. But the rock baths are impressive! The waters are around 47-50 degrees Celsius in the morning and 46 degrees Celsius in the late afternoon, which is a little higher than average. For those who do not like hot baths, with certain medical conditions or people with young children should take caution here.
On the second floor of Tsubame Yu, there is a family-owned Hawaiian Jewelry shop, WAIOLI (Japanese). They carry personalized wedding rings and casual rings that are handmade by an artisan. For those who are interested should take a look.
Pointers at Public Baths
Rules may vary according to each facility you visit, but it is necessary for you to follow the basic rules at a public bath. It is a shared space with others, so it is best to know the rules in order enjoy bathing too. For more details, please read Bath Culture In Japan: What Every Visitor Should Know Ahead Of Time.
Relax at a Bath in Tokyo
Both Inaricho and Okachimachi are very easy to access from Asakusa and Ueno. Why not take a dip in a relaxing bath during your visit in Japan?
** Please note, most public baths will not allow guests with extensive/uncoverable tattoos to use their facilities, as clothing may not be worn inside the springs.

The information presented in this article is based on the time it was written. Note that there may be changes in the merchandise, services, and prices that have occurred after this article was published. Please contact the facility or facilities in this article directly before visiting.