Fukuoka's Tenjin Area - 5 Sweets To Sweep You Off Your Feet!
Fukuoka's Tenjin Area - 5 Sweets To Sweep You Off Your Feet!
Tenjin is the largest shopping area of Kyushu region and is located at Fukuoka's Chuo district. Today we will introduce some of the tastiest desserts of this area, such as cheese tart, apple pies, taiyaki, and matcha parfait, so let's get started!
2. Ringo's Custard Apple Pie
What you can expect to find at Ringo, the store that specializes in right-out-of-the-oven custard apple pies, is precisely that – these delish apple pies only. One will cost you 399 yen after tax, and one person is allowed to buy up to 4 portions. The great news is you can get yourself this wonderful dessert without much trouble and time-consuming transportation – this store, too, is located at Tenjin Chikagai.
To make the buying process run as smoothly as possible, the staff will ask you about the number of pies you wish to purchase while you're waiting, then give you the appropriate number tag, with the preferred number of portions written on it. However, bear in mind that once you've decided on the number and have been presented with the tag, there is no changing your mind afterward – no matter how good-looking a pie is waiting for you at the end of the line!
What'll sweep you off your feet are the numerous layers of this special custard apple pie that create an irresistible crunchy sensation in your mouth. The apple with its sour kick, the sweet, smooth custard cream, and the crunchy base make a golden combination that is bound to linger in your mind for a long, long time.
Beware the crunchiness of the outer layer of the pies though – our advice is to avoid putting them in your purse or bag and to bring them home after purchase in the store's bag, or else it might crumble or get crushed.
You'll find their stores at four places around the country, in Fukuoka, Osaka, Kawasaki, and Ikebukuro, so should you be visiting one of these places sometime soon, don't miss out on the opportunity to try Ringo's superb custard apple pies.

3. Mutsugoro's Mucchan Manju
The name of the store "Mucchan" is derived from the name of a fish species that inhabit the sea of Kyushu, the so-called mutsugoro fish. This fish-shaped delicacy earned its place on this special list of ours for its delicious taste – Mucchan's manju is, in fact, a taiyaki-like delicacy shaped as mutsugoro fish.
What makes it stand out of the crowd is the filling – you'll discover a variety of fillings in different flavors, sweet and not sweet, in place of the regular sweet bean paste. To make the explanation more picturesque, let us tell you about the newest offer on their menu – the surprising takoyaki manju!
The no.1 choice of their loyal customers seems to be the ham and eggs flavor, one for 160 yen after tax. The charming filling is a winning combination of special mayonnaise, soft-boiled egg, ham, and cabbage, and it is said to have enchanted the local students the most – they buy it after school as a delicious snack in between the meals.
And since the store has a reputable history of 30 years to its name, this savory manju might just have become someone's nostalgic reminder of their happy school times.
The sweet-sour Japanese-style mayonnaise with ham, eggs, and cabbage, make this squishy delicacy a well-balanced, nutritious bite of happiness! And if you get addicted to the tasty custom-made mayonnaise, no need to despair, for you can buy some right at the store.
4. Tagashira Tea Shop's Matcha Parfait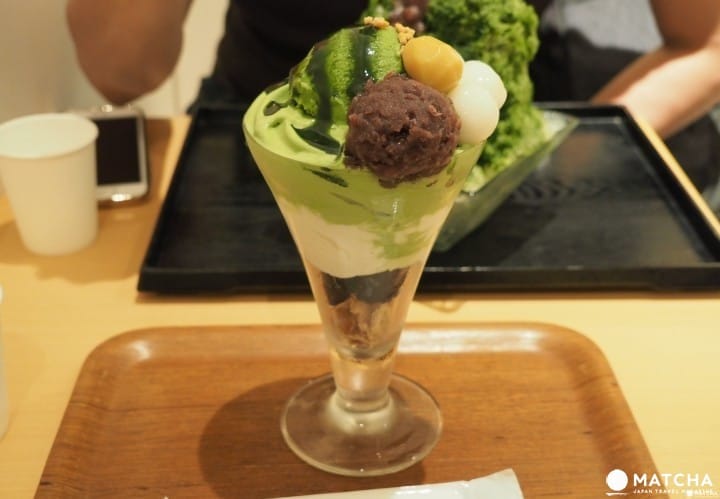 You might have heard of the veteran tea store established 80 years ago in the city of Kure in Hiroshima prefecture, the respected Tagashira Tea Shop. In their Tenjin IMS Store, you'll not only find the finest tea leaves for purchase, but delicious matcha sweets, too, that go perfectly with a cup of tea.
Of course, you can already pretty much take a guess what is their absolute winner of the sweet menu – why, yes, it is matcha parfait (918 yen after tax), made from the country's very finest matcha brands, Uji matcha and Yame tea.
One look (or bite) at this divine dessert ought to tell you how lavishly they've thought of the ingredients and their proportioning – on top of the not-too-sweet adzuki beans and chestnut, rice flour dumplings and matcha ice-cream, there is a gorgeously refined matcha sauce. And for those who like to indulge in their sweet moments in the comfort of their home, there is a take-out option as well, so you can take your time and relish this green cup of rich comfort!

5. Ito King's Dorayaki, Doraking Ace
Ito King store's expertise is sweets made from strawberries, and they are quite devoted and passionate about their work, as their Ito King Farm studies and produces their own strawberry brands.
At their Tenjin store, you'll find the products for purchase situated on the 1st floor, and on the 2nd floor, a space reserved for relishing their precious desserts on the spot. The most adored item of the store's menu is dorayaki-type of a dessert, the so-called doraking ace (390 yen after tax).
It is a magnificent piece of dessert art with five layers of pure enjoyment – the combination of rich and creamy white mousse and strawberry mousse, together with refreshing strawberry jam and adzuki beans, makes a mouth-watering filling wrapped in a soft and squishy layer of cake. It goes without saying that this delicacy is ambrosia for the strawberry enthusiasts! This dessert is both a classic and the main star of the shop that is available for purchase all year long.

Yummy Japanese Sweets in Fukuoka
You might have noticed that among well-known Japanese sweets there are a variety of flavors that aren't exactly sweet, and they are certainly gathering much attention with customers from other countries. The ones that we introduced today you can find in the heart of Tenjin, and it shouldn't take up much of your time and effort to pay a visit to each of the stores.

Although you might be surprised when you get to the stores and realize you have to wait in line to get your hands on those exquisite desserts, take our advice and spare some time for the next time you're visiting Tenjin – we assure you won't regret one minute of it!

*This is a translated version of an article originally written in Simplified Chinese.

The information presented in this article is based on the time it was written. Note that there may be changes in the merchandise, services, and prices that have occurred after this article was published. Please contact the facility or facilities in this article directly before visiting.