Banna Park In Ishigaki - Okinawa's Breathtaking Forest With Ocean Views
Banna Park is a beautiful nature spot in Ishigaki, Okinawa. Here you can explore Okinawan nature and visit several observation points which will allow you a breathtaking view over the island and the surrounding ocean.
The Banna Park - A Park, a Forest, and an Experience
The Banna Park is located on the foot of the just 230 meters high Mt. Banna in Ishigaki. Ishigaki is the second largest Island of the Yeayama Islands in Okinawa.
The Banna Park itself is divided into five different zones:
1. The Observation of Nature Forest: Several paths, bridges, and staircases let your walk through Banna Parks incredible nature.
2. The Forest Passeo: A mainly grassed area where you can observe the park's abundance of butterflies.
3. The Skyline: It will lead you around the top of the mountain with several observation points including an egg-shaped bird watching tower.
4. The Stone Monument Forest: The area surrounding Banna Park where multiple stone monuments are on display
5. The Children's Square: An area of Banna Park including BMX track and an adventure playground surrounded by beautiful Okinawan nature.
Today we will head to the Observation of Nature Forest part of Banna Park to observe Okinawa's unique nature. Let's go!
How to Get to Banna Park?
Ishigaki Island is such a small island that the airport bus is the only public transportation. Unfortunately, it doesn't stop anywhere near Banna Park. If you visit Ishigaki it is highly recommended to rent a bicycle or a car. Another way to get around on the island is by taxi. I recommend having the taxi telephone number handy if you choose this option as taxies just driving around are also very rare on the island.
Don't Stray from the Paths
One thing to note before you start exploring Banna Park is that you should stay on the path meant for walking. The obvious reason why you wouldn't want to do that is that you might destroy some of the plants in the area. However, another reason is that you might be unlucky and encounter a "habu". The "habu" is also known as yellow-spotted pit viper and they live on the Yeayama Islands.
Yellow-spotted pit vipers are not very aggressive and prefer to stay away from people but they might bite if startled or hurt. If the bite isn't immediately treated, it can be life-threatening. However, if you stay on the paths, watch your steps and walk in daylight you should be safe as these vipers hate broad daylight and prefer to avoid people. 
You should be extremely careful if you find a sign stating "ハブに注意" (habu ni chui) because this means beware of the yellow-spotted pit viper. This means that many of them have been spotted around this area.
Enjoy the Tranquility of Nature
Even though I visited the Banna Park on a Saturday there where barely any people inside or around the park. All you will hear are the sounds of nature that break through the silence.
I entered through the south entrance. If you take the same path as me you might think that aside from a couple of tropical plants this still looks like a normal park. But if you listen and look closely you might hear and see things you will only be able to encounter outside of Okinawa.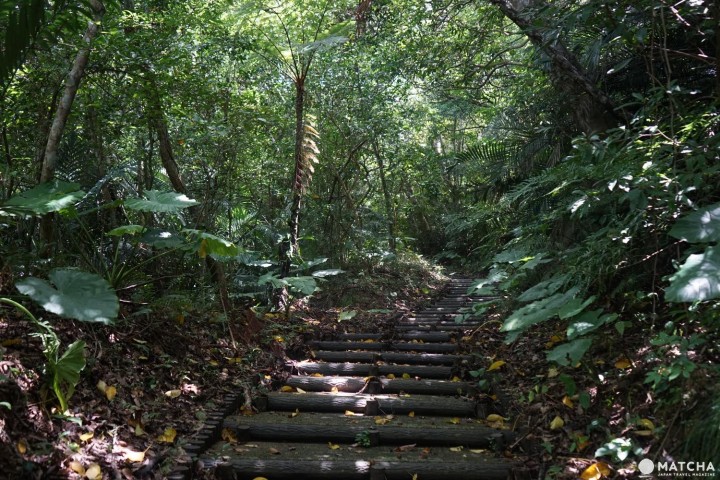 If you follow the path it will lead you out of the park again for a short distance but after a short distance, you will see a couple of steps to your right. These steps will lead into the forest part of the park.
The Observation of Nature Square 
The area that leads you through the forest is also known as Observation of Nature Square. As it gets very humid inside the forest I recommend bringing a lot of water with you as well as some bug spray to re-apply if you go in Summer. Don't forget to take plenty of rests at these hut shaped nature observatory spots.
You can choose many different paths in the forest area of the park. As long as you stay on a path meant for traveling you will find plenty of signs showing you different options in the form of signs along the way. Don't be afraid to explore the forest as much as you want, you will always be able to find your way out.
If you are lucky you can see Okinawa specific frogs in the artificial pond. But even if you don't see any frogs, the sound of the flowing water is very relaxing.
Birds, snakes and even big fruit bats can be found in these woods. However, you are more likely to find the last two during the night and while bats are harmless, you probably wouldn't want to encounter a viper in the dark woods.
Local butterflies and lizards can also be found at Banna Park during the summer time. Butterflies come in all kinds of sizes, shapes, and colors at Banna Park.
I only encountered two kinds of lizards. One was a tiny brown lizard that seemed to like sitting one twigs and leaves.
The other one is very quick and very shy but incredibly beautiful. He has a golden body and a blue tail and is unique to Okinawa. You will see this kind especially on staircases at the park, so be careful not to step on them.
The Emerald Sea Observation Point
The "Emerald Sea Observation Point" is a great final destination after exploring the forest. But even if you don't walk through the forest, I highly recommend it!
You can take the forest way but this choice will be very exhausting. It consists of an endless flight of stairs and you should take many breaks in between just to make sure you don't exhaust yourself too much.
Once you reach the "Emerald Sea Observation Point" you might realize that many people come by car from the other side of the forest and it just takes them a couple of stairs to have the same stunning view.
Whichever way you choose, the view is absolutely worth any effort. From here you can see the endless emerald sea, as well as the close by Taketomi Island and Ishigaki city.
There is a vending machine at the observatory, so why don't you pull yourself a cold drink and enjoy this once in a lifetime view?
Choose Your Own Path Through Banna Park
As mentioned before there are many places to explore in Banna Park. It will be impossible to see everything on just one day, especially if you don't have a car. It is best to make a list concerning your priorities and then work yourself through the list.

Why not truly embrace the peace, unique nature and stunning views you can encounter while exploring the beautiful Banna Park?

The information presented in this article is based on the time it was written. Note that there may be changes in the merchandise, services, and prices that have occurred after this article was published. Please contact the facility or facilities in this article directly before visiting.