Top 5 Places To Run In Tokyo Off The Beaten Path
In a big city like Tokyo, it can be difficult to figure out where to run outside of around the Imperial Palace. Listed are the best, slightly off-the-beaten-path places in Tokyo to go for a jog, as well as some general tips on route planning.
Where to Run in Tokyo - Jogging through Scenic and Local Routes
Picture from The Imperial Palace Running Route: Get Fit And Enjoy Tokyo's Scenery
When it comes to running in Tokyo, the 5-km route around the Imperial Palace is by far the most popular running course in the center of the city.
Finding a place to run that is decent and less crowded can be a daunting task. Thinking about which roads to take, what sort of hills you might encounter, how many traffic lights you'll hit—pretty soon you will be so overwhelmed you may not even get yourself out the door.
Below are five of the best, slightly off-the-beaten-path places in Tokyo to go for a jog. At the end are some bonus tips on general route planning in case you don't live in Tokyo or are in need of switching things up.
1. Tamagawa (Tama River)
The Tama River starts from Yamanashi Prefecture and flows through Tokyo, spanning over 138 km (86 mi) and serves as the dividing line between Tokyo and Kanagawa prefectures.
Given that the river is lined with paths on either side, it's a fantastic place for flat, uninterrupted runs. If you live in or are staying in Southern or Western Tokyo, you are likely not far from the river.
Since the trail is quite flat and straight, it tends to get monotonous after a few runs. To switch things up, you can go across one of the many bridges and run along the other side of the river.
Some sections of the path are gravel or dirt—try running on that! It will be uncomfortable at first, but it's good for your feet and forces you to focus on the run.
If you head down towards Ota Ward, there is even a running track in Rokugo that is accessible 24/7 with no reservations needed! It is highly convenient for speed workouts, given the lack of public tracks in Tokyo.
Naturally, Tamagawa is my go-to for long runs. There's no need to think about where to turn or how to avoid as many red lights as possible—just run until you hit your goal.
Closest Stations to Tamagawa:
There are many stations that are close to this river, but the major ones are:
Tamagawa Station (Tokyu Tamagawa Line, Toyoko Line, Meguro Line)
Futako-Tamagawa Station (Tokyu Den-en-toshi Line, Oimachi Line)
Keio-Tamagawa Station (Keio Sagamihara Line)
2. Rinshi-no-Mori Park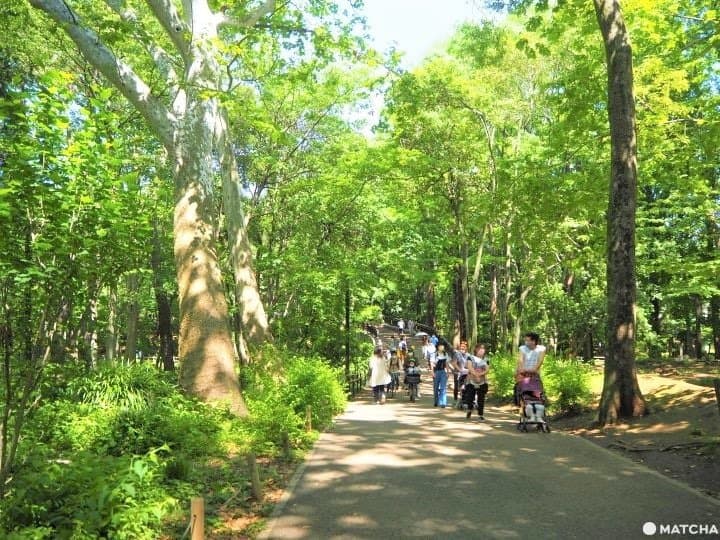 Located near Musashi Koyama Station, Rinshi-no-Mori is a beautiful park with lush trees, hills, and trails. There is also plenty of open space if you want to throw in a strength workout as well.
It's not very large (about 1 mi or 1.6 km around), so you may have to do a few loops for a longer workout. However, the park has many different landscapes, so you will not be bored.
The atmosphere can be quite lively, especially if you come on the weekends. The park is often filled with kids playing, friends picnicking, and fellow exercisers running. It can get a bit crowded at peak times, but it's still one of my top picks due to its beauty and ambiance.
Closest Station to Rinshi-no-Mori Park
Musashi-Koyama Station (Tokyu Meguro Line)
3. Oi Central Seaside and Heiwajima
The Shinagawa seaside, the industrial part of Tokyo, is not a well-known area to most. Even if you live in Tokyo, chances are you've never heard of it, let alone been there. However, it happens to have some of the city's best natural hidden gems.
For a short workout, I recommend Oifuto Central Seaside Park Nagisa Forest (0.7 miles/1.1 km) followed by Oifuto Ryokudo Park (.75 miles/1.2 km).
Oifuto Ryokudo Park is fantastic and contains narrow, dirt trails in the middle of a forest with a busy highway right beside it. Dirt trails are very hard to come by in Tokyo, so it's great if you're looking for unpaved paths.
For an extended adventure, head over to Heiwajima, just two miles south of Oifuto. From there, you can loop around Heiwa-no-mori Park. Just down the street from the park is Omori Furusato-no-Hamabe Park with a nice path along an artificial beach.
The full route would be Oifuto Central Seaside Park to Oifuto Ryokudo Park, then Heiwa-no-mori Park, and ending at Omori Furusato-no-Hamabe Park.
Closest Stations
Oifuto Central Seaside Park and Oifuto Ryokudo Park: Oikeibajo-Mae Station (Tokyo Monorail)
Heiwa-no-mori Park: Heiwajima Station (Keikyu Main Line)
Omori Furusato-no-Hamabe Park: Omorimachi Station (Keikyu Main Line)
4. Komazawa Olympic Park
Located in Setagaya Ward, Komazawa Olympic Park is a large park in Tokyo.
With a 1.3 mi (2 km) marked track, with separate lanes for cycling and running, it's the perfect place to get some speed work in. I recommend going in the mornings, as it can get a bit crowded in the afternoon (especially on weekends).
Aside from running and cycling, you can also play soccer, baseball, and tennis.
There is also a public fitness center that costs just 450 yen for 2 hours. It comes with free weights, weight training machines, and fitness classes.
Along with exercising, this is a terrific park for relaxing and picnicking. They sometimes even hold festivals and events in the large sports ground in the middle of the park.
Closest Station to Komazawa Olympic Park:
Komazawa Daigaku Station (Tokyo Den-en-toshi Line)
5. Kinuta Park
Kinuta Park is another beautiful park in Setagaya Ward with a paved running course as well as a dirt trail course. The paved course is about 2.4 mi (4 km), while the dirt course is about 0.8 mi (1.4km), making it even larger than Komazawa Olympic Park.
It's slightly less popular than the parks mentioned above, so it's ideal if you are trying to avoid dodging in and out of people. The park is also quite close to the section of the Tama River near Futako Tamagawa Station, so you can head over to the river for an extended run.
Closest Station:
Yoga Station (Tokyu Den-en-toshi Line)
General Planning Tips for Running in Tokyo
1. Look for the green on your map
Open up your maps app and look for green areas—that's where you want to go. The bigger the green, the better! Even if it appears far away, try going there anyway. You can run, cycle, or train over. The journey there can turn out to be the most interesting part of the whole thing.
2. Rivers or train tracks are often great for running
Often times, even the smallest rivers are lined with paths that make for nice, uninterrupted runs. There are also quite a few dried up rivers in Tokyo that are lined with paths.
Train tracks, like rivers, are also a superb choice. There is usually less or no traffic along them.
3. Use online tools
Strava route builder- Choose the area that you want to go, and Strava will build a route based on user popularity. You can also use Strava to log and share your workouts.
Map My Run, Plot A Route: Map out your route ahead of time to plan for distance, ascent, descent, and other .
While Tokyo is an urban jungle, there are plenty of beautiful parks to clear your head and sweat it out. I hope you are inspired to explore! Remember—you never regret a workout!

The information presented in this article is based on the time it was written. Note that there may be changes in the merchandise, services, and prices that have occurred after this article was published. Please contact the facility or facilities in this article directly before visiting.