Komazawa Olympic Park - Tokyo Nature Hub For Sports And Families
Komazawa Olympic Park is perfect for sports-enthusiasts and families. Cafes, running courses, sports fields, picnics, children's playgrounds, cycling - coming to this local hub of nature means a well-spent sunny day out in Tokyo!
Komazawa Olympic Park, built in 1964 for the Tokyo Olympics, is a must visit for fitness and nature lovers alike. There are few other Tokyo parks that offer this unique combination of serenity, family-friendliness, and public sports facilities.
Only a 6-minute train ride from Shibuya Station on the Tokyu Den-En-Toshi Line, Komazawa Olympic Park is wonderfully convenient for getting some air, and exercise, away from the bustle of city sightseeing.
Komazawa - A Neighborhood with a Refreshing, Local Atmosphere
While offering the same level of accessibility for English-speakers, including English maps and signposts, as more tourist-frequented parks in Tokyo, Komazawa maintains a refreshing, local charm.
It has plenty of shady benches and tree-filled green expanses for leisurely strolling, reading, and picnicking, which makes this park a neighborhood favorite.
Entrance is free and the main park is open to the public day and night. For food, there are cozy refreshment cafes at the West Entrance and a snack shop near the Skate Park. However, you may spot more than a few locals eating McDonald's take-out as picnic fair. If you have a canine friend, don't forget to bring them along to play in Komazawa's 1,200 m2 Dog Run.
2.1 Kilometer Outdoor Running/Cycling Courses and Indoor Training Room
In between Komazawa Olympic Park's picnickers, you'll find runners and sports teams working up a sweat. As it was officially established in 1964 to serve as the second site for the Tokyo Olympics, the park is an exercise paradise of ball fields, tennis and basketball courts, athletic fields, gymnasiums, and more. So, if you haven't gotten your fitness fix trekking between Tokyo cultural landmarks, this is the place to break in your sneakers.
One of the most popular features of the park is its 2.1 kilometer jogging and cycling courses. Side-by-side courses marked by color, blue for bicycles and yellow for joggers, wrap around the park. Everyone, from casual exercisers to experienced enthusiasts, is welcome, so don't hesitate to take a lap. Just move with the flow and step off to the side to rest, and you'll fit right in
For those who would rather exercise indoors, there's also a training room with weight machines, yoga mats, treadmills, and showers to refresh afterwards. Generally open to 9:00 am to 9:00 pm, it costs a 450 yen fee for 2-hours. Be sure to bring your indoor tennis shoes, though! Like most indoor sports facilities in Japan, Komazawa's training room asks that you wear shoes that have not been used outside.
After a workout, you can also take in a bit of sports history at the free Tokyo Olympic Memorial Gallery in the Gymnasium, open 9:30-17:00 most days, across the way from the Stadium.
Cute Animal Themed Children's Parks and Family Rental Bicycles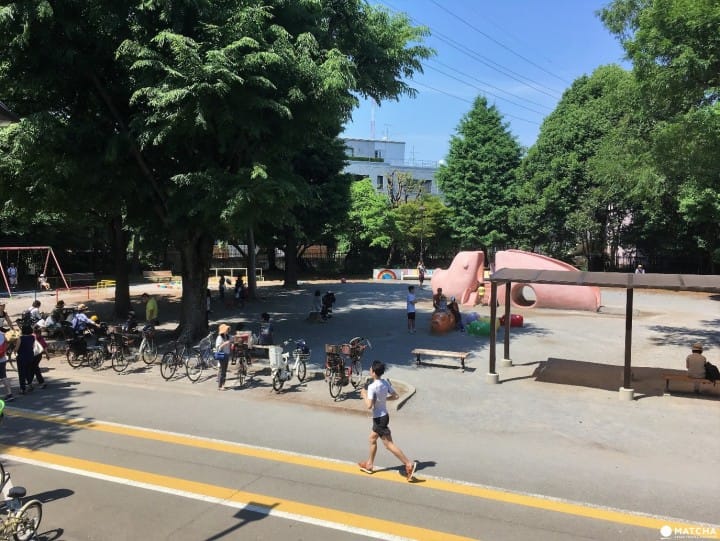 Komazawa Olympic Park's neighborhood and fitness feel is topped only by its family-friendliness. There are three animal themed children's parks, Uma (Horse), Buta (Pig), and Risu (Squirrel) Parks, which are the height of cuteness. Easily located along the jogging track at regular intervals, each has animal-inspired, colorful equipment. Public toilets are also directly off to the side of these areas for convenience.
There are also select children's courses and rental bikes for small cyclists. Located west of the Stadium, a short distance from the Park Management Center, are the Chiririn Course and Chiririn Plaza for children 3 and under. Bicycles are available for rental at the Chiririn Center on weekends and holidays at 100 yen for the first hour. The Ting-a-ling Course, nearby the Chiririn Center, is recommended for older children, from 4 to 6. Bicycles can also be rented here at 100 yen per hour. Adorable mascot signs will welcome you to the courses, making them easy to find.
Should the family want to ride together, there is also the unique PairPair Family Course. Up to six people can mount and peddle together around a scenic route that wraps the Skate Park for 210 yen per two loops.
Beer Festival, Flea Markets, Hanami, And Other Seasonal Events
Last, but not least, be sure to check the website (available in both English and Japanese) when you plan to visit to see if anything special is happening.
Komazawa Olympic Park's Stadium and Gymnasium are often sites for student sports games, and in the Plaza you'll find seasonal events. Although they vary by year, a few re-occurring events include nighttime hanami (cherry-blossom viewing) in early Spring, a Beer Festival in late Spring/Early Summer, flea markets, and running events.
All in all, Komazawa Olympic Park is a well-rounded, impressive park with fitness and family on the mind. If you're looking to stretch your legs and take in a Tokyo neighborhood, this is the place for you!

The information presented in this article is based on the time it was written. Note that there may be changes in the merchandise, services, and prices that have occurred after this article was published. Please contact the facility or facilities in this article directly before visiting.