A Day In Sakaiminato - With GeGeGe no Kitaro, Fresh Seafood, And Sake
A Day In Sakaiminato - With GeGeGe no Kitaro, Fresh Seafood, And Sake
Sakaiminato, located in western Tottori, is known for being the hometown of Mizuki Shigeru, the creator of the popular manga "GeGeGe no Kitaro." Enjoy a day on Mizuki Shigeru Road, a street where you can meet all the fascinating characters created by him.
Sakaiminato - The City of GeGeGe no Kitaro and Delicious Seafood
© Mizuki Production
Have you ever heard about the manga and anime "GeGeGe no Kitaro"? It is the story of Kitaro, a yokai (monster) possessing supernatural powers to fight the evil in the world along with his friends.
"GeGeGe no Kitaro" is a popular manga series adored by people of all ages, and as of 2019, six anime series have been created based on it since 1968. The author, Mizuki Shigeru, hails from Sakaiminato, a city located in the western region of Tottori Prefecture. Mizuki Shigeru Road, a street created in his honor, displaying yokai statues, has become a popular sightseeing spot for tourists from all over the world.
Sakaiminato, a port city, is also famous for its excellent seafood dishes and sake. In this article we introduce a recommended itinerary for a day trip to Sakaiminato starting from Yonago Kitaro Airport.
Around 12:00 -- Arriving at Yonago Kitaro Airport
Yonago Kitaro Airport, also located in western Tottori, serves as a gateway for the visitors to this region. Direct flights from Hong Kong and South Korea, along with a large number of flights from Tokyo, arrive here daily.
On the arrival floor, there is a statue of a boy standing on top of a small airplane. This is Kitaro. A photo spot where visitors can take pictures of themselves with Kitaro is located on the second (departure) floor, so don't miss it on your way back.
After exiting the arrival floor, turn right and head for the Yonago Airport Station of the JR Line.
13:00 -- From Yonago Airport Station to Sakaiminato Station
The train ride to Sakaiminato Station, where visitors are greeted by yokai monuments, takes about 13 minutes.
Sakaiminato is one of the Japanese cities with a prominent fishing port, boasting a wide variety of restaurants serving delicious seafood dishes. The articles listed below should help you find a good place to enjoy lunch.
14:30 -- Shopping on the Mizuki Shigeru Road
© Mizuki Production
Mizuki Shigeru Road stretches for approximately 800 meters starting from Sakaiminato Station, with 177 statues along the way. Each statue has a QR code, which can be read with a smartphone, providing information in multiple languages.
© Mizuki Production
There are other unique monuments along Mizuki Shigeru Road, such as streetlights which look like eyeballs.
This streetlight is designed after Medama Oyaji, Kitaro's father. Worried about his son even after death, Medama Oyaji resurrected himself by placing his soul inside an eyeball.
Taxis carrying Medama Oyaji on top are running through the streets of Sakaiminato, so keep an eye out for them.
© Mizuki Production
There are several souvenir shops along the street handling Kitaro items. Most of the shops close around 17:00, so be sure to buy your favorite items on sight.
Mizuki Shigeru Road offers great nighttime views, but first, head for Mizuki Shigeru Museum, another popular sightseeing spot.
15:00 -- Mizuki Shigeru Museum
© Mizuki Production. From Mizuki Shigeru Road In Tottori - The Door To GeGeGe No Kitaro's World!
Mizuki Shigeru Museum is located about 10 minutes away on foot from Sakaiminato Station along the Mizuki Shigeru Road. The museum displays Mr. Mizuki's works, as well as information about his life.
© Mizuki Production. From Mizuki Shigeru Road In Tottori - The Door To GeGeGe No Kitaro's World!
While Mizuki Shigeru is famous for creating GeGeGe no Kitaro, he has produced various types of works, including a manga series about his experiences as a soldier in WWII, as well as studies regarding the monsters in the Japanese folklore known as " yokai". the museum is filled with his books, along yokai displays.
Audio guides in English, Chinese and Korean are available, so visitors from overseas can be sure to enjoy the exhibits. Special items, including Mr. Mizuki's books, can also be purchased.
To learn more about the author and the museum, please read the following article.
17:30 -- Mizuki Shigeru Road at Night
© Mizuki Production
The yokai statues on Mizuki Shigeru Road are illuminated at night. Only the eyeball streetlights are turned on, so the statues look as if they would come alive.
© Mizuki Production
Shadowgraphs of various yokai are being projected on the sidewalk.
© Mizuki Production
While visitors may be spooked walking the dark streets filled with yokai, the sight of merry little creatures playing is a soothing one.
© Mizuki Production
These two figures seem to be enjoying a drink. Why not join them?

18:00 -- Chiyomusubi Sake Brewery
Chiyomusubi Sake Brewery was established in 1865, and its main store, Okasora Honten, is located on Mizuki Shigeru Road. A sake bar, cafe and a souvenir shop are attached to the store and the facility is bustling with tourists.
The store also handles yokai-themed liquor and other items.
A Japanese garden, which is illuminated at night, can be seen from the sake bar.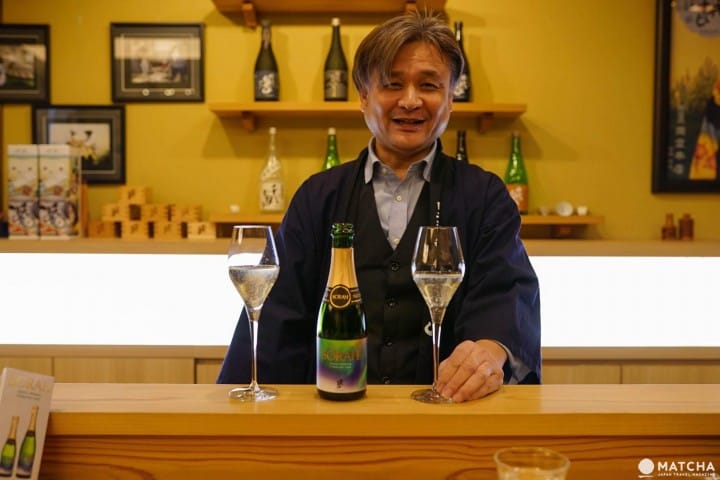 The bar serves a wide variety of Tottori-made sake, along with a sparkling sake titled "Sorah." This Japanese-style sparkling liquor was made by Chiyomusubi Sake Brewery to celebrate the 2020 Tokyo Olympics.
Those who are not familiar with sake should try the umeshu, a fresh-tasting plum liquor with a low alcohol content. There are also non-alcoholic beverages such as amazake, which comes in two types of flavors: plain and lemon. How about giving it a try?
Some of the seafood restaurants on Mizuki Shigeru Road are closing at 18:00 or 20:00, so be sure to check the closing time in advance if you plan to have dinner in the city.
20:00 - A Refined Stay at an Onsen Hotel: ONYADO NONO
After an exciting day visiting the yokai spots in Sakaiminato, how about spending the night at ONYADO NONO, a hotel located near Mizuki Shigeru Road? ONYADO NONO is a hot spring hotel with a beautiful Japanese-style interior.
The floor of this hotel is covered in tatami, therefore guests need to take their shoes off at the entrance. After a long day, the tatami will make the guests feel as if they were walking on a cloud.
Photograph courtesy of ONYADO NONO
Bathe in the onsen, get a good night's sleep, and taste their buffet-style breakfast. There is a wide variety of seafood to choose from, so guests can make their own kaisen-don (a bowl of rice topped with fresh seafood). Enjoy a hearty meal and continue your journey!

Enjoy the World of "GeGeGe no Kitaro", a Widely Loved Japanese Manga
A new anime series of GeGeGe no Kitaro started broadcasting in 2018, showing the strong popularity of the story and characters created by Mizuki Shigeru. The manga is filled with the strange appeal of the yokai while teaching the values of friendship and peace. If you happen to be a fan, or are just interested in yokai, visit Sakaiminato!

The official Tottori Prefecture website offers a diverse selection of other travel destinations: http://www.tottori-tour.jp/en/

Remember to take a look at MATCHA's special feature on Tottori.

The information presented in this article is based on the time it was written. Note that there may be changes in the merchandise, services, and prices that have occurred after this article was published. Please contact the facility or facilities in this article directly before visiting.