Enjoy Beauty - A Hakone Day Trip Full Of Nature And Art
Hakone is considered the perfect travel destination for those who love art thanks to its many beautiful art museums. By using the convenient Hakone Freepass, you can visit the art museums in Hakone along with the scenic nature spots in the area.
From Shinjuku Station to Hakone-Yumoto Station
Today we'd like to introduce a sightseeing course that takes advantage of the Hakone Freepass. By using this pass, you can travel within the Hakone area economically, and also receive discounts at merchants, attractions, and other locations (some exceptions apply). Unless otherwise mentioned, you can utilize all the transportation free of charge.
Let's begin our Hakone excursion by hopping aboard a bus and enjoying our trip the smart way!
We recommend using the Limited Express Romancecar, which leaves from Shinjuku Station, to get from Tokyo to Hakone. It's only 73 minutes one-way, so it's a relaxing ride and the fastest method of travel to Hakone from Tokyo.
The train ticket to Hakone-Yumoto Station (OH51) is included the Hakone Freepass. All you need to do is pay an extra 1,090 yen for a special express ticket.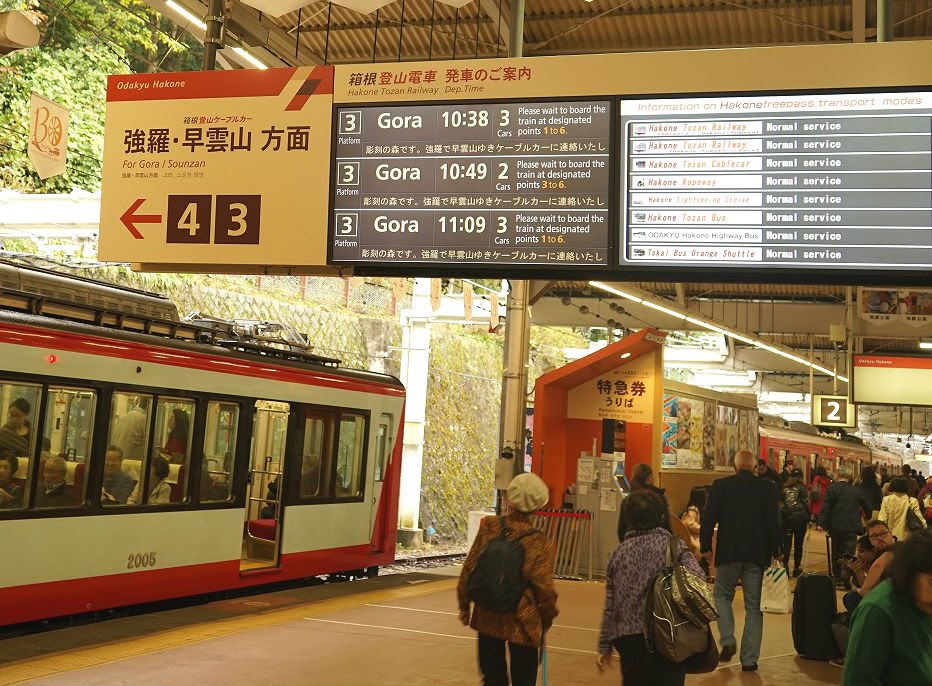 So without further delay, let's go and explore Hakone's great outdoors and art!
Our first destination is the Hakone Open Air Museum, where the artwork is displayed outside.
Getting to Chokoku-no-Mori Station (OH56), the nearest station, will require a 40 minutes' ride on the Hakone Tozan Train from Hakone-Yumoto. The museum is a 1 minute' walk from Chokoku-no-Mori Station.
11:20 - See Amazing Art at the Hakone Open Air Museum
The Hakone Open Air Museum is an art museum that opened in 1969. The sculptures are on display outside, so you can see the artwork up close as you enjoy a leisurely walk.
Famous sculptor Henry Moore once said, "Sculpture is an art of the open air. Daylight, sunlight, is necessary to it, and for me, its best setting and complement is nature."
True to his words, the museum's green space is filled with works from the leading artists of contemporary art, including Niki de Saint Phalle, Taro Okamoto, and Arnaldo Pomodoro, and bronze works from Henry Moore himself. They shine brilliantly on the museum grounds under the rays of the sun.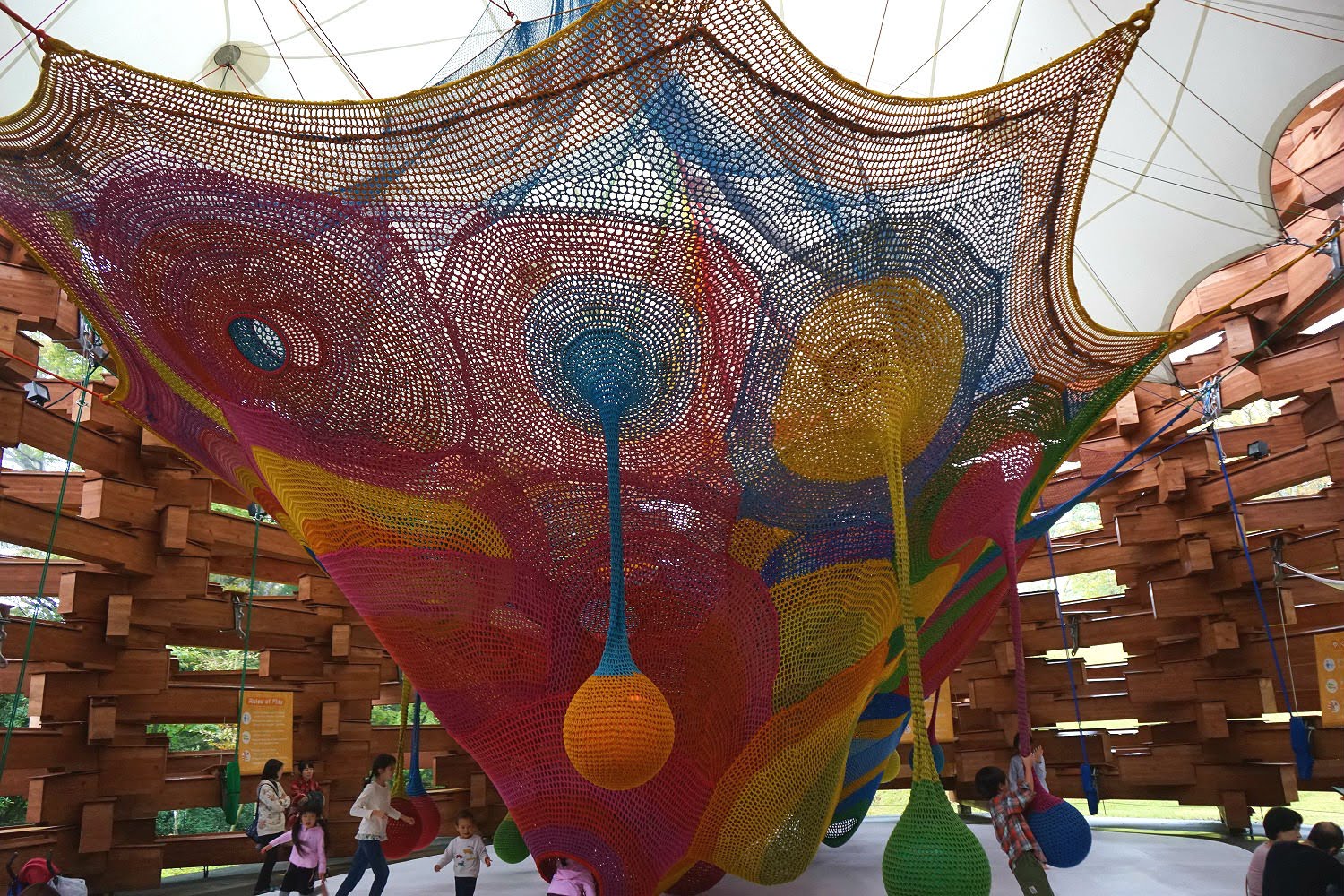 Woods of Net
There are exhibits like "Woods of Net" and "Curved Space Diamond Structure" where children can go inside and interact directly with the work of art, so this is a place where families can have a fun time together.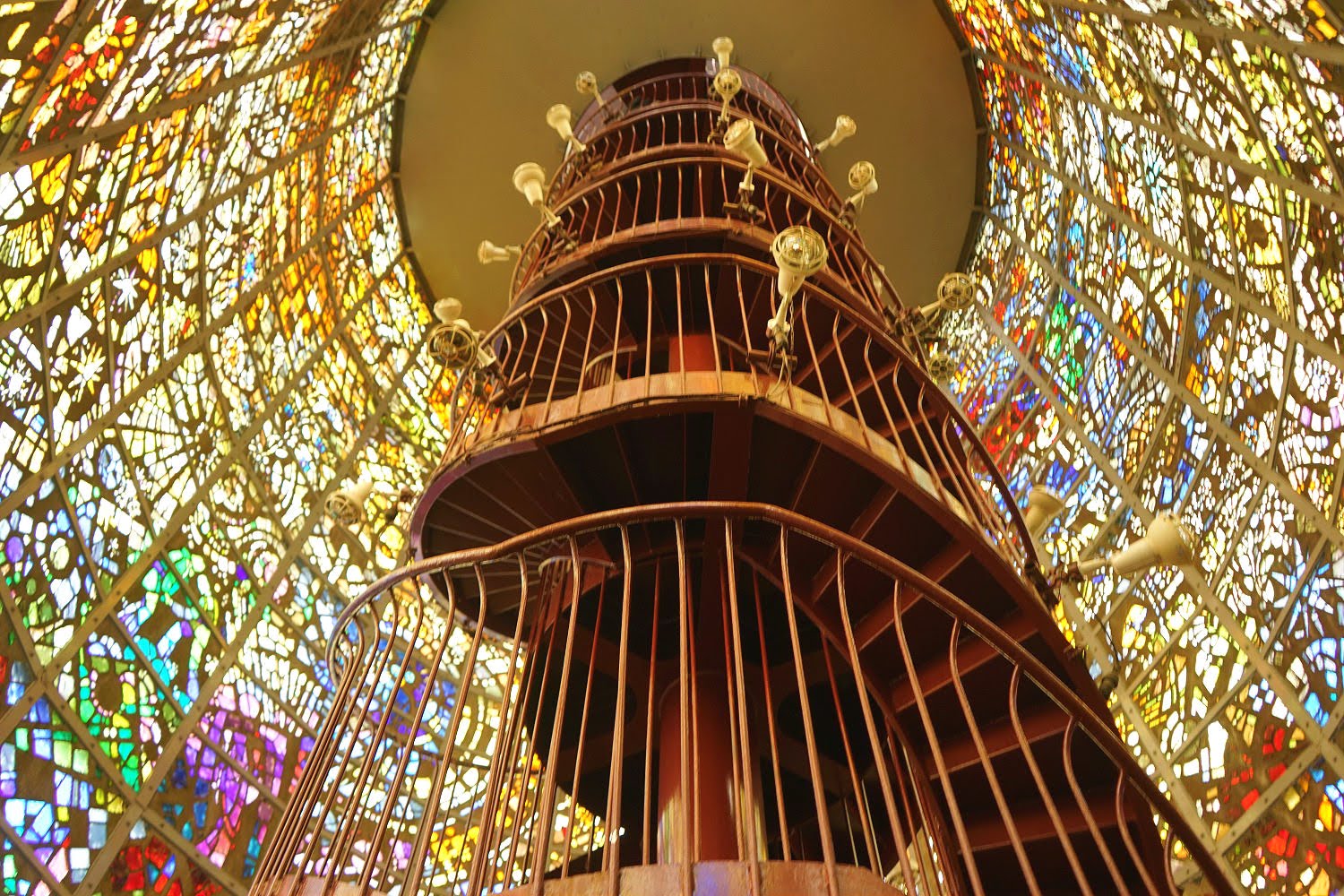 Symphonic Sculpture
Standing outside in the middle of the museum grounds is "Symphonic Sculpture," a piece that is sure to excite visitors regardless of their age. Made with stained glass sections, the pictures are a pictorial representation of a dream world. You can even take the spiral staircase to the very top!
Museum admission for adults is 1,600 yen, high school and university students are 1,200 yen, and elementary school and junior high school students are 800 yen (all prices including tax). When you show your Hakone Freepass, adults receive a 200 yen discount, and all other visitors receive a 100 yen discount.
The Hakone Open Air Museum
https://www.hakonenavi.jp/international/en/spot/65
13:30 - GORA BREWERY & GRILL - Enjoy an Elegant Lunch and Craft Beer!
Now let's go for lunch. From Chokoku-no-Mori Station go just one stop to Gora Station (OH57), and from here it will be a 10 minutes' walk to GORA BREWERY & GRILL, our recommended lunch spot.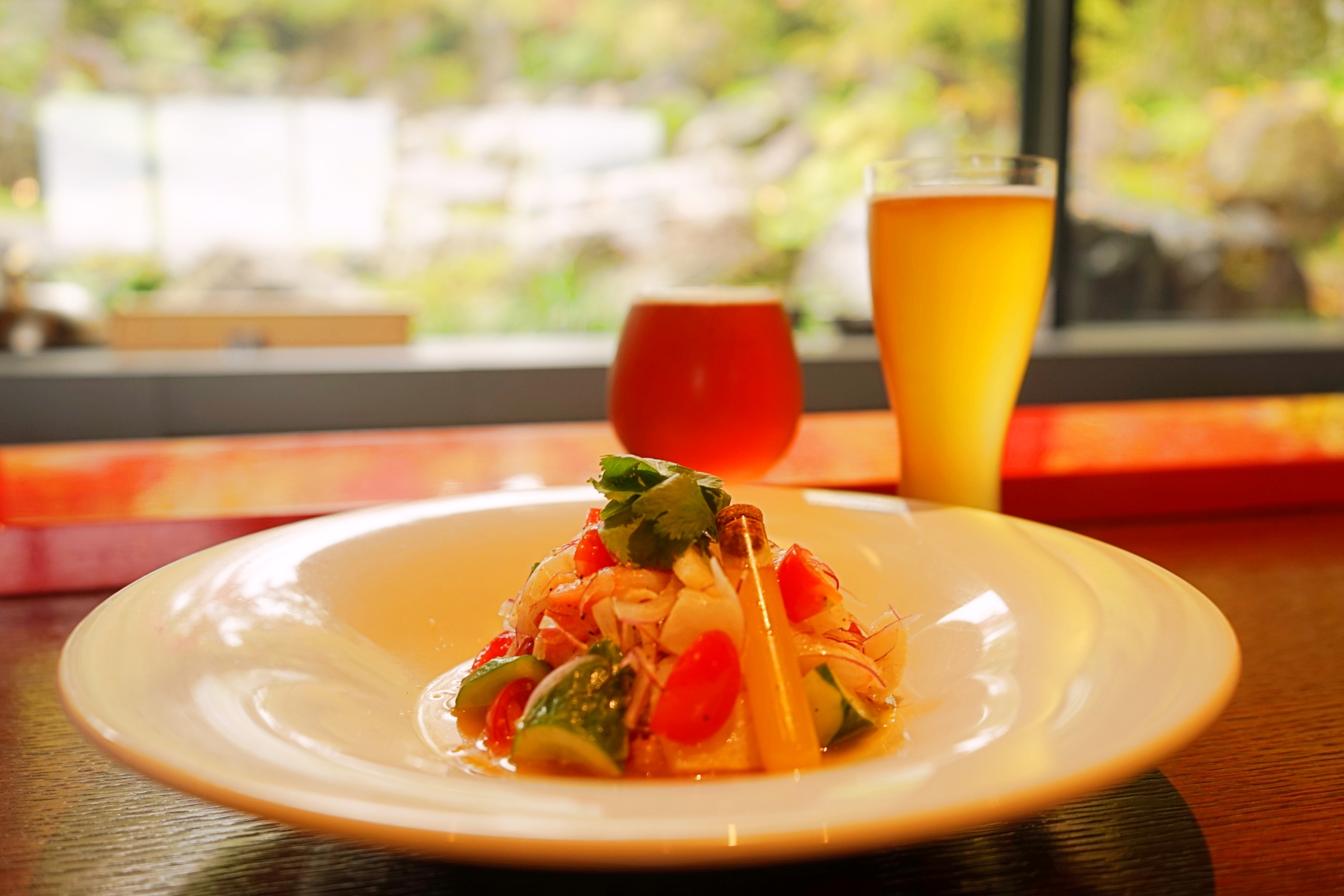 The menu offers an extensive selection of items, including sushi and sashimi plates, grilled entrees, Japanese Wagyu Black Beef-filled gyoza, and also a wide variety of salads. All entrees are prepared with carefully selected ingredients.
The photo above features the Seafood and Tomato Ceviche (1,944 yen including tax).
From the counter seats, customers can watch the chefs as they prepare the food with the utmost care and attention.
If you're a beer lover make sure to try one of the four different kinds of original craft beer, all brewed on the shop premises.
Urushi has a well balanced and distinct flavor and pairs well with all of the menu items. Kohaku, which recently won the gold prize at an international craft beer competition, is also highly recommended.
Though all the beer are usually 864 yen (including tax), every day from 13:00 to 16:00 during Happy Hour, visitors can enjoy beer and all other drinks for just 540 yen (including tax).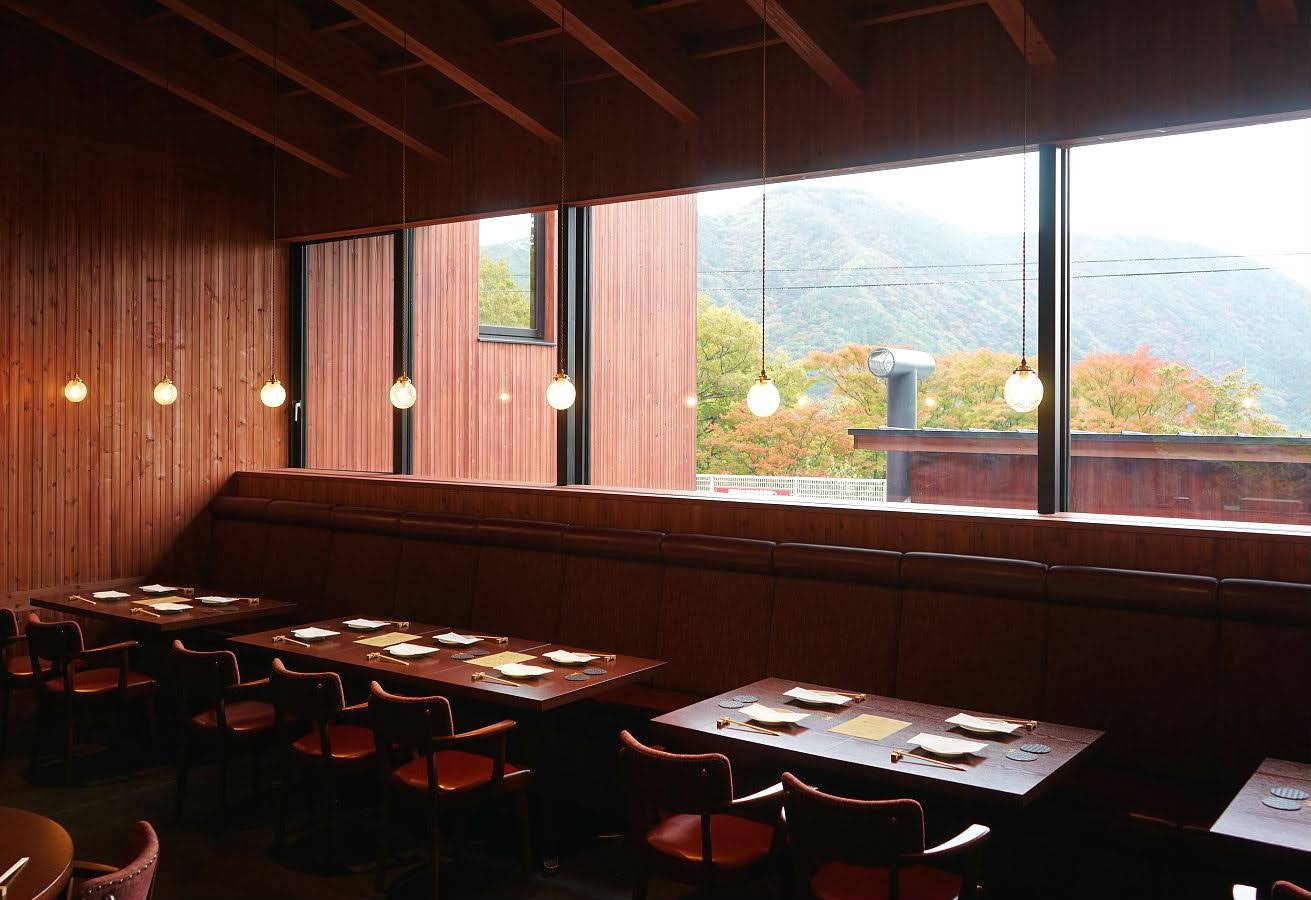 The restaurant interior has a relaxed and comfortable atmosphere, and you can get a view of the exquisite garden through the window behind the counter.
There's also a foot bath at the shop's entrance. As you sip on a beer, how about relaxing your feet in the soothing bath?
GORA BREWERY & GRILL
https://www.hakonenavi.jp/international/en/spot/697
15:15 - See a Lesser-Known yet Superb View of Hakone at Chisuji Falls!
After indulging in a delicious meal, how about doing some light hiking in the woods?
From Gora Station (OH57), go to Kowakidani Station (OH55), and then from there walk for about 20 minutes. After you pass through a residential area and walk along a forest path, you will arrive at Chisuji Falls (Chisuji-no-taki) a hidden spot with stunning scenery.
These waterfalls are very wide. Hakone is a region blessed with an abundance of water resources and is a source of pure spring water.
In contrast to most falls in which water comes cascading down from high above, this is a quiet set of falls where numerous strands of spring water flow gently down from the top.
The area has a refreshingly cool climate. Your soul and spirit are sure to have a soothing experience surrounded by the sound of the water and the encompassing green space.
From Chisuji Falls, we'll go back through the residential area and make our way along the slope. In about 10 minutes we'll arrive at the Okada Museum of Art.
Chisuji Falls
https://www.hakonenavi.jp/international/en/spot/168
15:40 - Okada Museum of Art: Enjoy the Large Mural as You Relax in the Foot Bath
When you go through the main door of the Okada Museum of Art, you will be greeted at the entrance by a large mural depicting a wind god and a thunder god.
This large wall painting, 12 meters in height and 30 meters in length, is entitled "Wind/Time". It's the creation of contemporary artist Fukui Kotaro. The mural was inspired by "Wind God and Thunder God," a masterpiece by Tawaraya Sotatsu, an artist who was active around the year 1600.
Fukui's work of art took about five years to finish.
While relaxing in the foot bath cafe outside the museum, you can enjoy looking at the powerful and large-scale mural of the Wind God and Thunder God.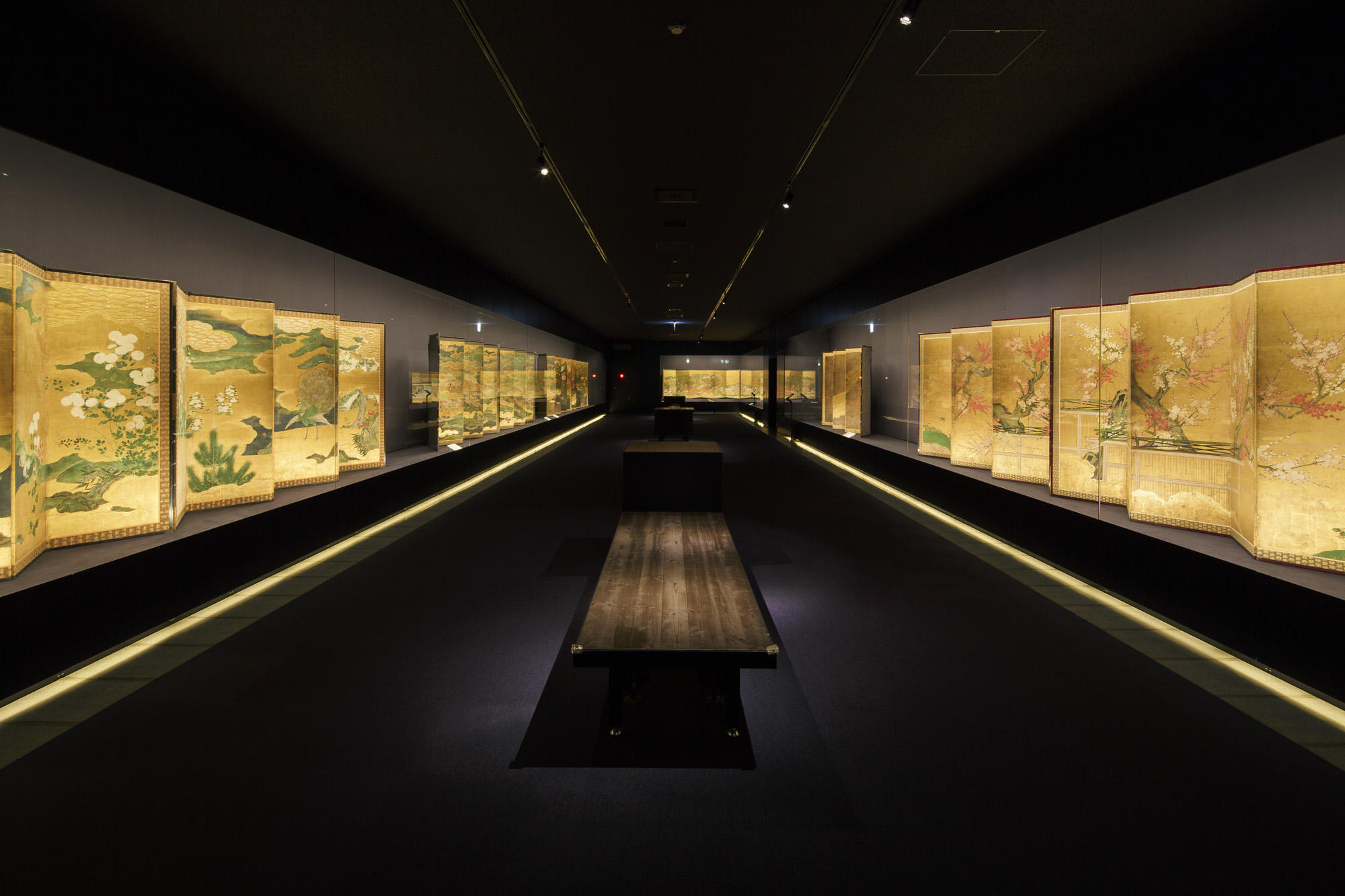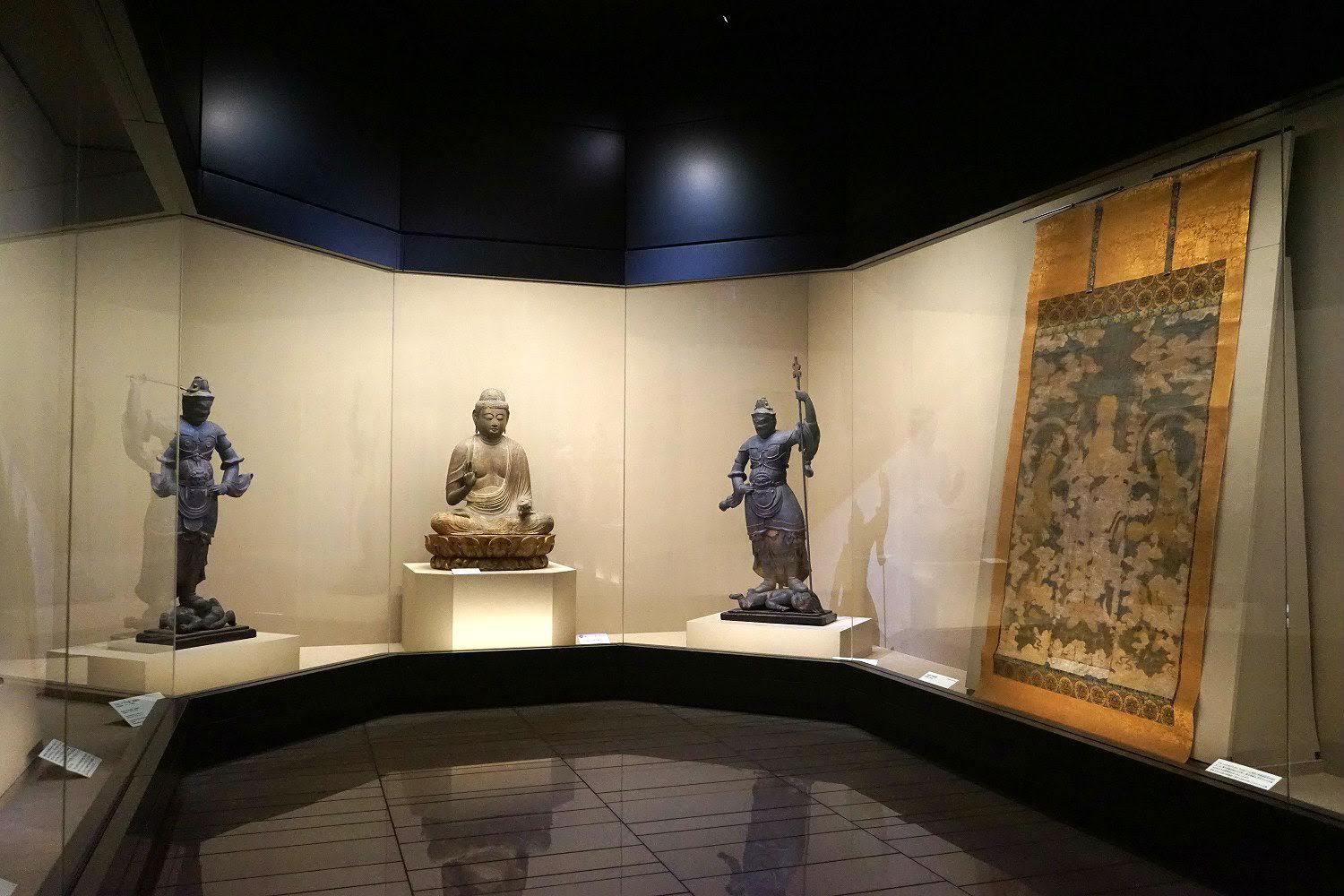 The gallery space, covering five floors of the museum, is the largest in the Hakone area. It houses about 450 pieces in its permanent collection. Art objects and precious artifacts from ancient times to modern day from both inside and outside of Japan are on display.
Organized according to time period and genre, the various works are thoughtfully presented. Visitors interested in Japanese fine arts will have a very satisfying experience here.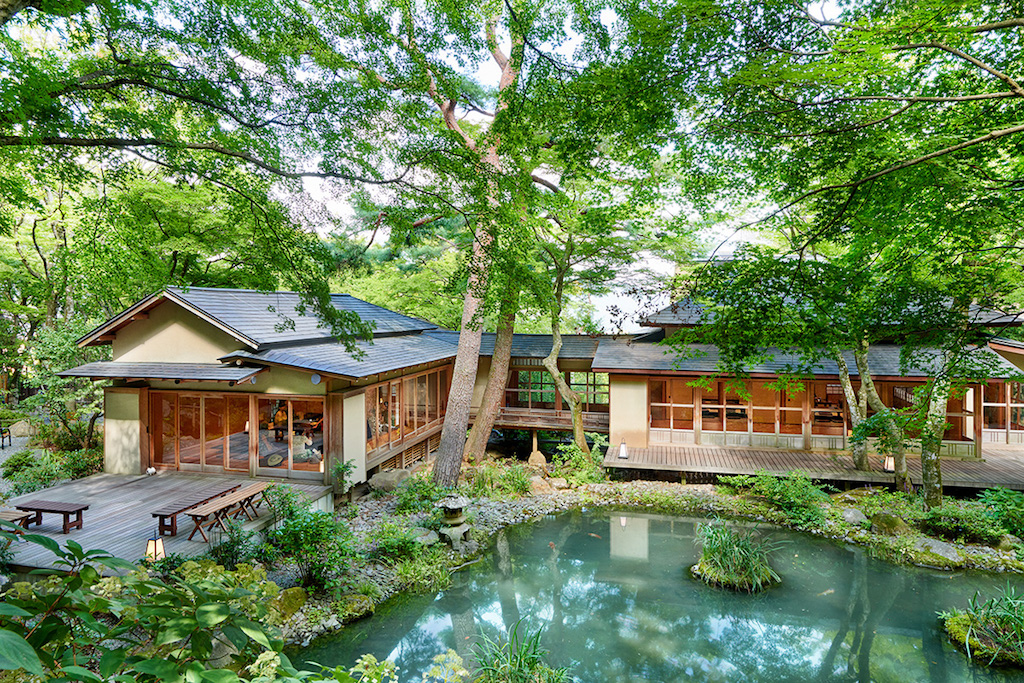 A traditional Japanese garden is outside, as well as a gorgeous building that includes places to eat and a refurbished tea house. From here you can view the Japanese-style scenery in each season.
Regarding admission to the Okada Museum of Art, adults and university students are 2,800 yen, elementary school, junior high and senior high school students are 1,800 yen (all prices including tax). Show your Hakone Freepass and you'll receive a 200 yen discount on your admission price. Admission to the Japanese garden is an additional 300 yen.
Okada Museum of Art
https://www.hakonenavi.jp/international/en/spot/229
18:00 - Have a Delicious Sushi Banquet at Restaurant Katsura in Yumoto Fujiya Hotel
After a satisfying trip that included the beauty of Hakone nature and art, it's only fitting to end the day with some Japanese kaiseki (*1) cuisine. These dishes are visually appealing and also delicious.
From Kowakien (137), take the Hakone Tozan Bus (H route) for 18 minutes. After getting off at Hakone-Yumoto Station (OH51), it is a 3 minutes' walk to Yumoto Fujiya Hotel. Katsura is a restaurant inside the hotel, where you can enjoy various kinds of Japanese entrees, including seafood kaiseki cuisine.
*1 Kaiseki: A traditional multi-course Japanese dinner held at banquets and at restaurants.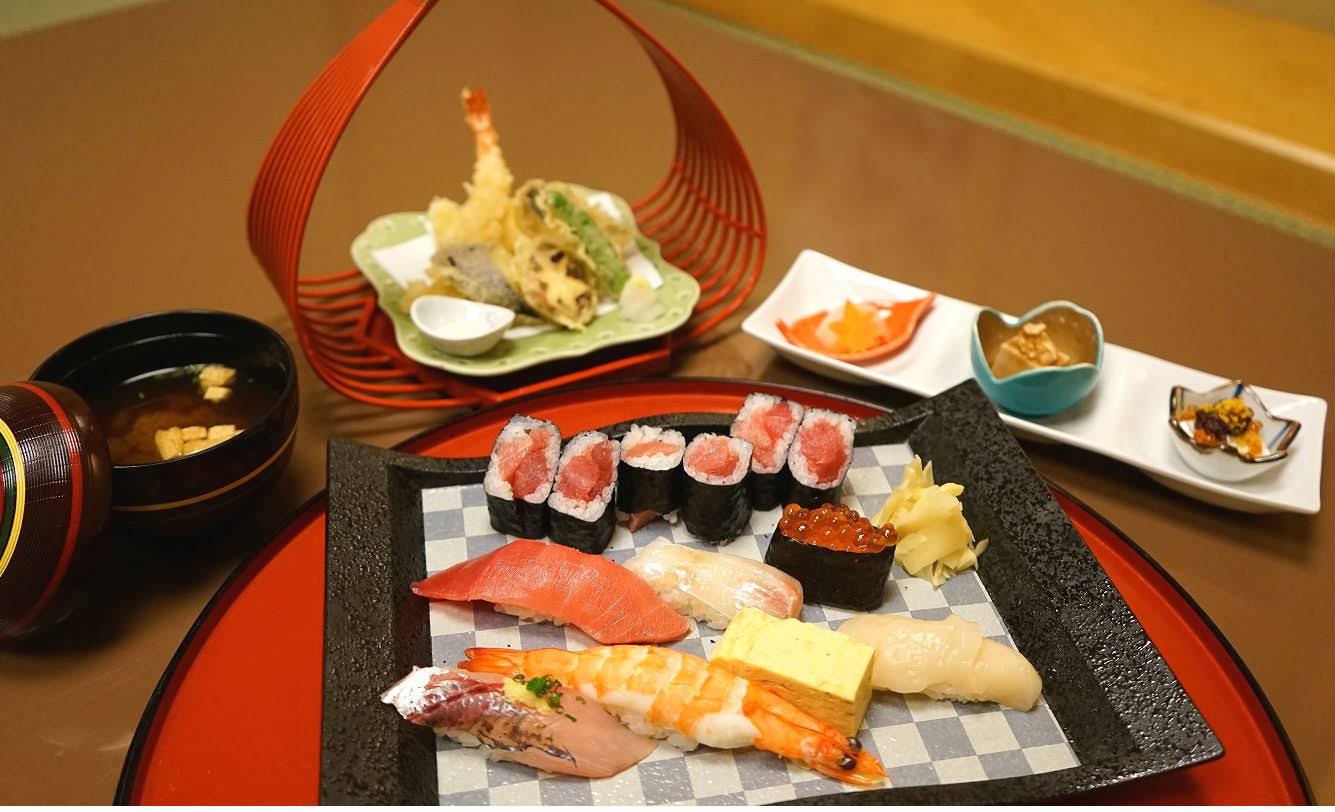 Pictured above is the recommended "Irodori" Course (5,194 yen including tax). You can sample three different appetizers, fresh nigiri-sushi, and tempura made with locally grown Hakone vegetables. It also includes miso soup, an integral part of Japanese cuisine, and a dessert using fresh fruit (ingredients change depending on the season).
Yumoto Fujiya Hotel
https://www.hakonenavi.jp/international/en/spot/322
Enjoy Hakone's Beauty to the Fullest!
Whether it's breathtaking natural scenery, impressive art, or even Japanese cuisine, Hakone is a place filled with stunning sights.

With the convenient Hakone Freepass in hand, embark on a journey to encounter this beauty for yourself!

*Restaurant menus, admission fees, and other information are all subject to change.

https://www.hakonenavi.jp/international/en/

Sponsored by Odakyu Hakone Holdings Inc.

The information presented in this article is based on the time it was written. Note that there may be changes in the merchandise, services, and prices that have occurred after this article was published. Please contact the facility or facilities in this article directly before visiting.