Intellectual Fun In Hakone: A Thrilling Day Trip Filled With Art
In Hakone, you can enjoy art museums in addition to hot springs and scenic spots. This travel plan takes visitors on a tour of two museums in the area, including the Lalique Museum and the Hakone Museum of Art.
Let's Start Our Hakone Trip Using the Economical Hakone Freepass!
Hakone-Yumoto Station
In this article, we will outline a one day trip itinerary that utilizes the Hakone Freepass. By using this pass, you can travel within the Hakone area for a reasonable price, and also receive discounts at merchants, attractions, and other locations (some exceptions apply).
Unless otherwise mentioned, if there are buses available, you can utilize all the transportation free of charge.
First, let's board the Hakone Tozan Bus (T route) at Hakone-Yumoto Station. Stay on the bus for 30 minutes until you get to Sengoku Annaijo-mae (247).
11:15 - See Glasswork Masterpieces at Lalique Museum, Hakone
At Lalique Museum, Hakone, the works of famous French jewelry and glass designer, René Lalique, are on display.
The museum is well known for its special exhibit of the Orient Express, Europe's long distance passenger train. Lalique assisted with the design of the carriage interior. The Orient Express (built in 1929) ceased operations as a passenger train and it is now the centerpiece of the Lalique Museum Hakone.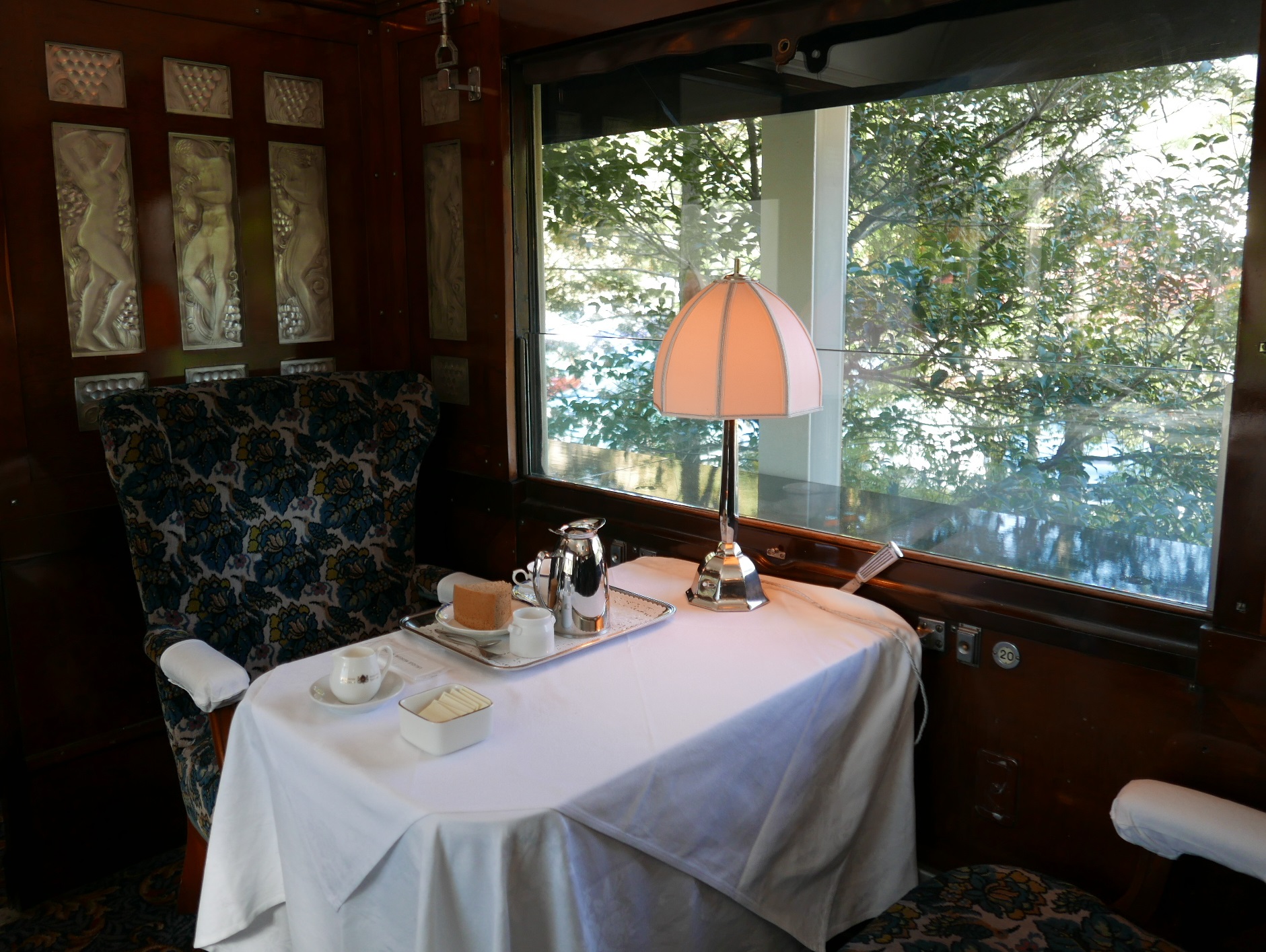 Inside the train you sit on the original chairs and enjoy luxurious afternoon tea here. Make your reservation when you go the museum. The price is 2,100 yen including tax (includes tea and dessert).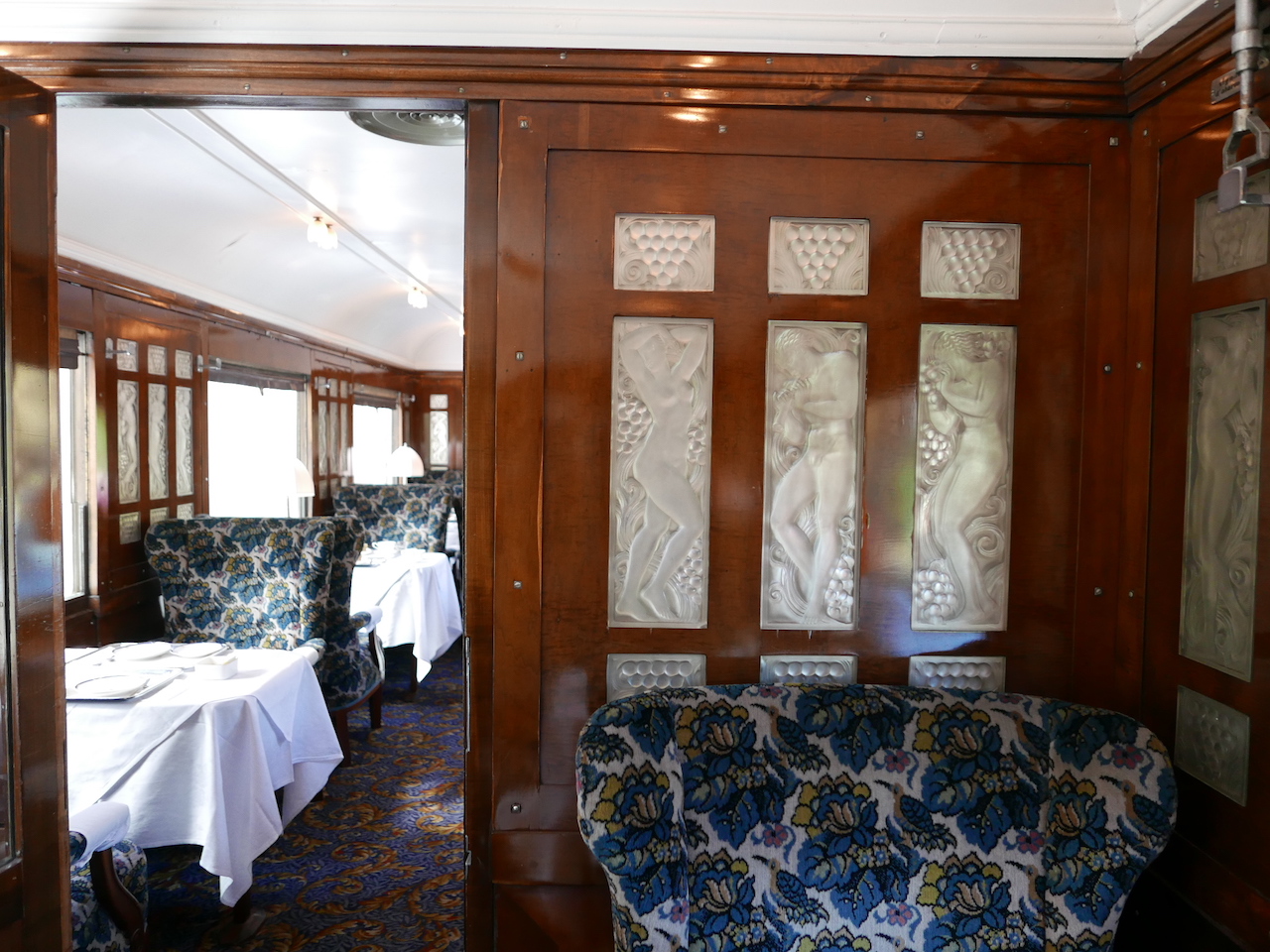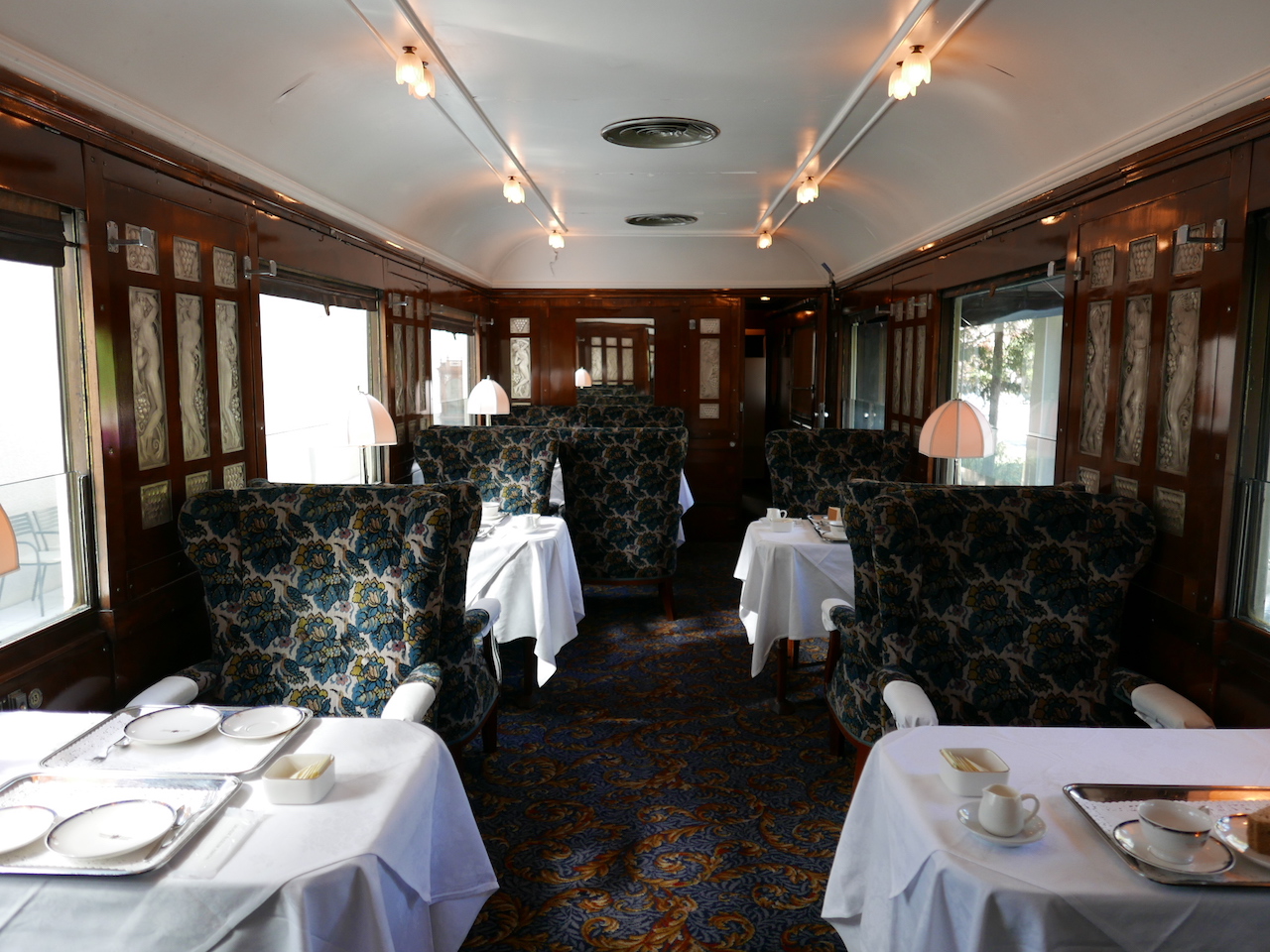 The inside of the carriage is made from mahogany. The train was in service for many years, so it has a tasteful and distinctive atmosphere.
More than 150 of Lalique's glass panels decorate the inside of the car. The shades change color when the interior lights shine over them, or when the sunlight filters in through the windows.
The chairs, with their graceful and elegant floral designs, are the original pieces that have been used since 1929.
Lalique's glass panel design (upper photo) above the flower-patterned chair represents a bountiful harvest, with images of grapes and a man and woman. It is entitled "Carved Figures and Grapes."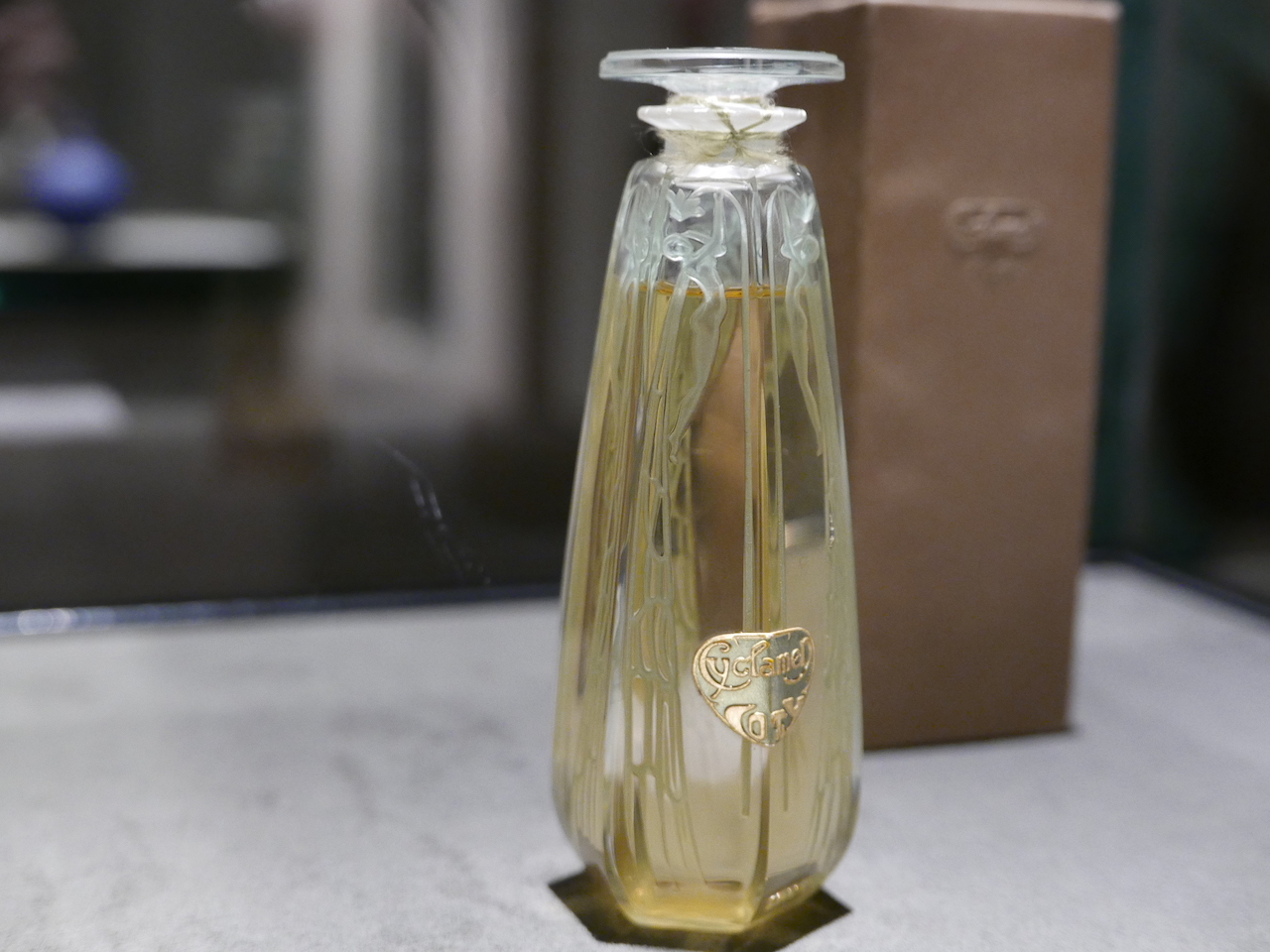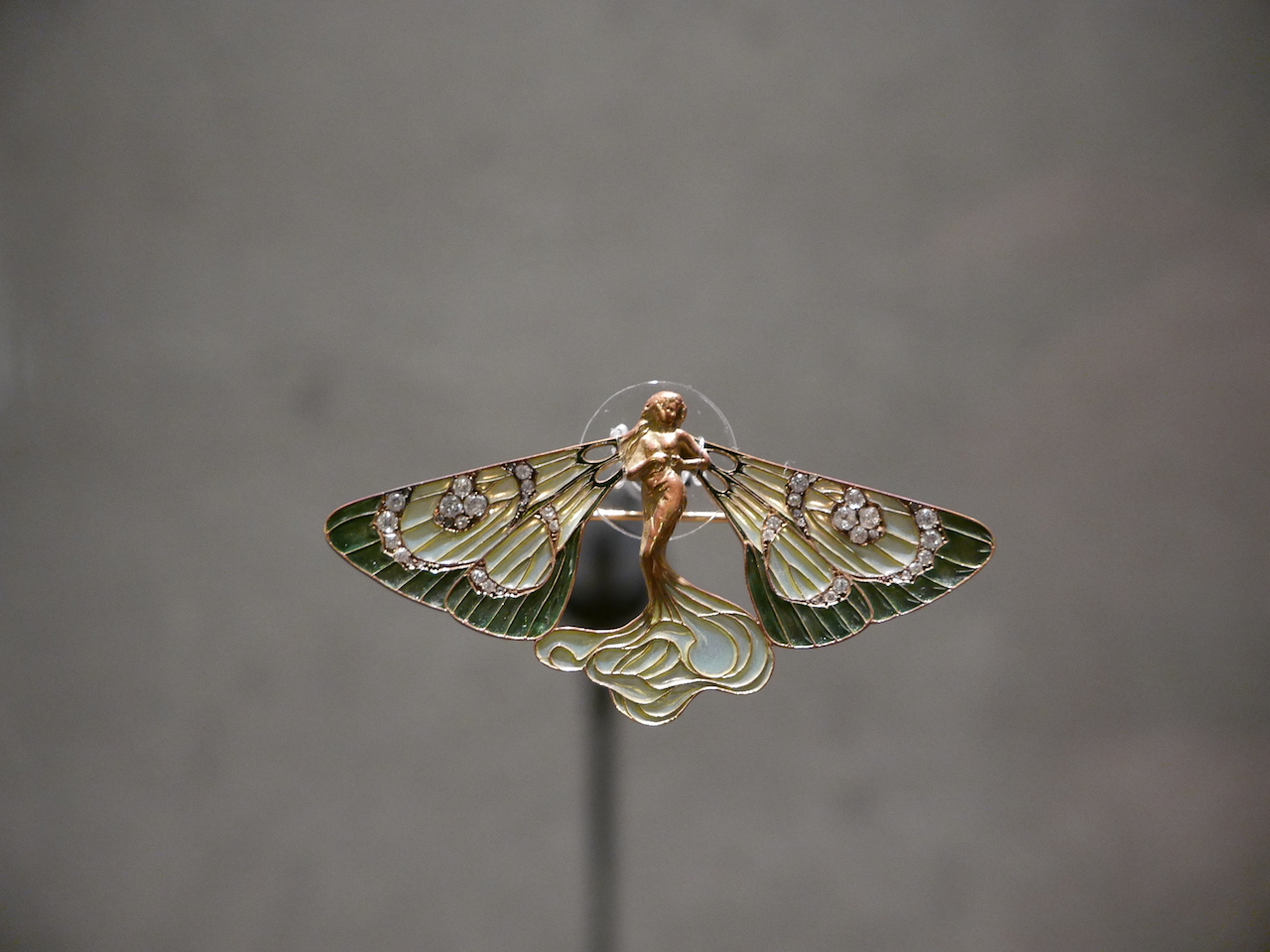 Lalique Museum, Hakone houses approximately 1,500 pieces of Lalique's artwork, and of these, around 230 pieces are permanent exhibits.
Lalique first began his career as a jewelry designer. His reputation as an artist became firmly established after being commissioned to design perfume bottles. Up until then, perfume was usually kept in medicine bottles. However, Lalique put his design ideas to work, and perfume bottles became much smaller in size. Small, intricately-detailed perfume bottles, like the ones you see today, soon spread in popularity around the world due to his innovation.
After this Lalique switched over to glasswork, and continued to create exquisitely designed pieces of art one after the other.
At the museum you can immerse yourself in the elegant and graceful world of Lalique's art masterpieces.
Admission is 1,500 yen for adults, 1,300 yen for senior high school and university students and also those 65 years and up, and elementary school and junior high school students are 800 yen (all prices including tax).
You will also receive a discount when you present your Hakone Freepass (discounted prices depend on the season).
Lalique Museum, Hakone
https://www.hakonenavi.jp/international/en/spot/86
12:00 - Sample Seasonal Cuisine on the Open Air Terrace
There's also a restaurant with large windows within the museum premises. On sunny days the terrace seats are popular. Surrounded by trees and greenery, you can taste sensational dishes made with fresh, seasonal ingredients.
The picture above features one of their lunch plates, which is 1,950 yen including tax (a drink is an extra 300 yen).
Ingredients change depending on the season, but the dish we enjoyed featured a stew with beef cheek and mushrooms, sanma (Pacific saury fish) confit in which you can even eat the bones, and many other entrees.
We are sure this will be a satisfying experience for your taste buds!
Before heading back, don't forget about visiting the souvenir shop. Visitors will find a full selection of gifts, including items with Lalique motifs and carefully selected miscellaneous goods.
14:00 - Hakone Museum of Art: See the Beautiful Gardens Each Season
Next let's get on the Hakone Tozan Bus (S route) at Sengoku Annaijo-mae (247), and head in the direction of Gora. Get off the bus at the Hakone Museum of Art (433).
The Hakone Museum of Art has Japanese earthenware and haniwa (human and animal clay figures) dating from the Jomon period (about 10,000-400 BC) until the Edo period (1603-1868), and is an art museum with a collection focusing on ceramics and pottery.
The museum's present site was once covered with large rocks after a Mount Sounzan eruption. After all the boulders were removed, and 230 different varieties of moss and about 200 Japanese maple trees were planted, creating a lush, green Japanese-style garden.
Nowadays it's one of Hakone's major sightseeing spots, attracting many photographers.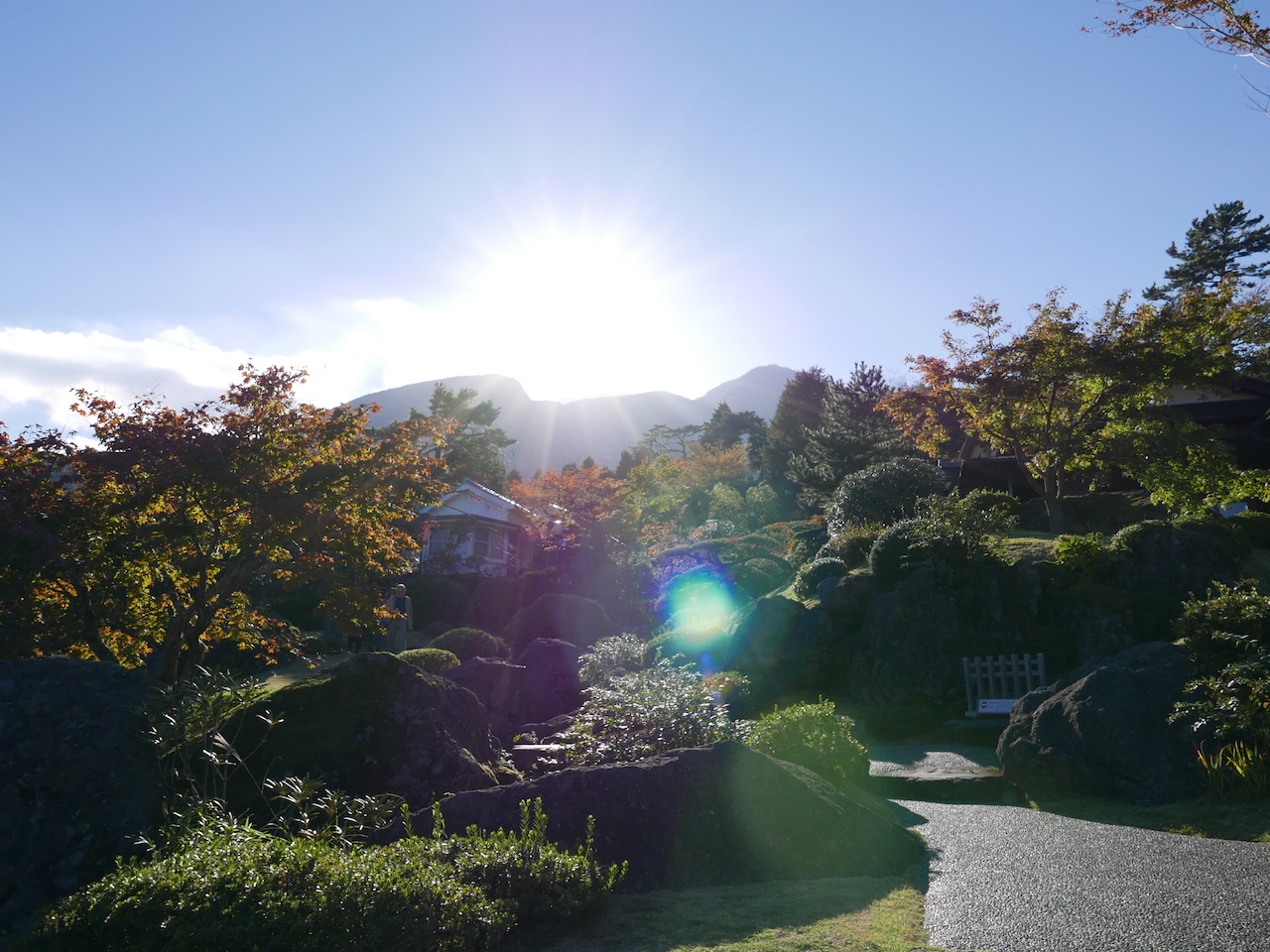 Many people visit every year when the leaves change color in the fall. At other times of the year, the Yamazakura cherry trees, azaleas, gold-banded lilies, camellias, and other plants are in full bloom.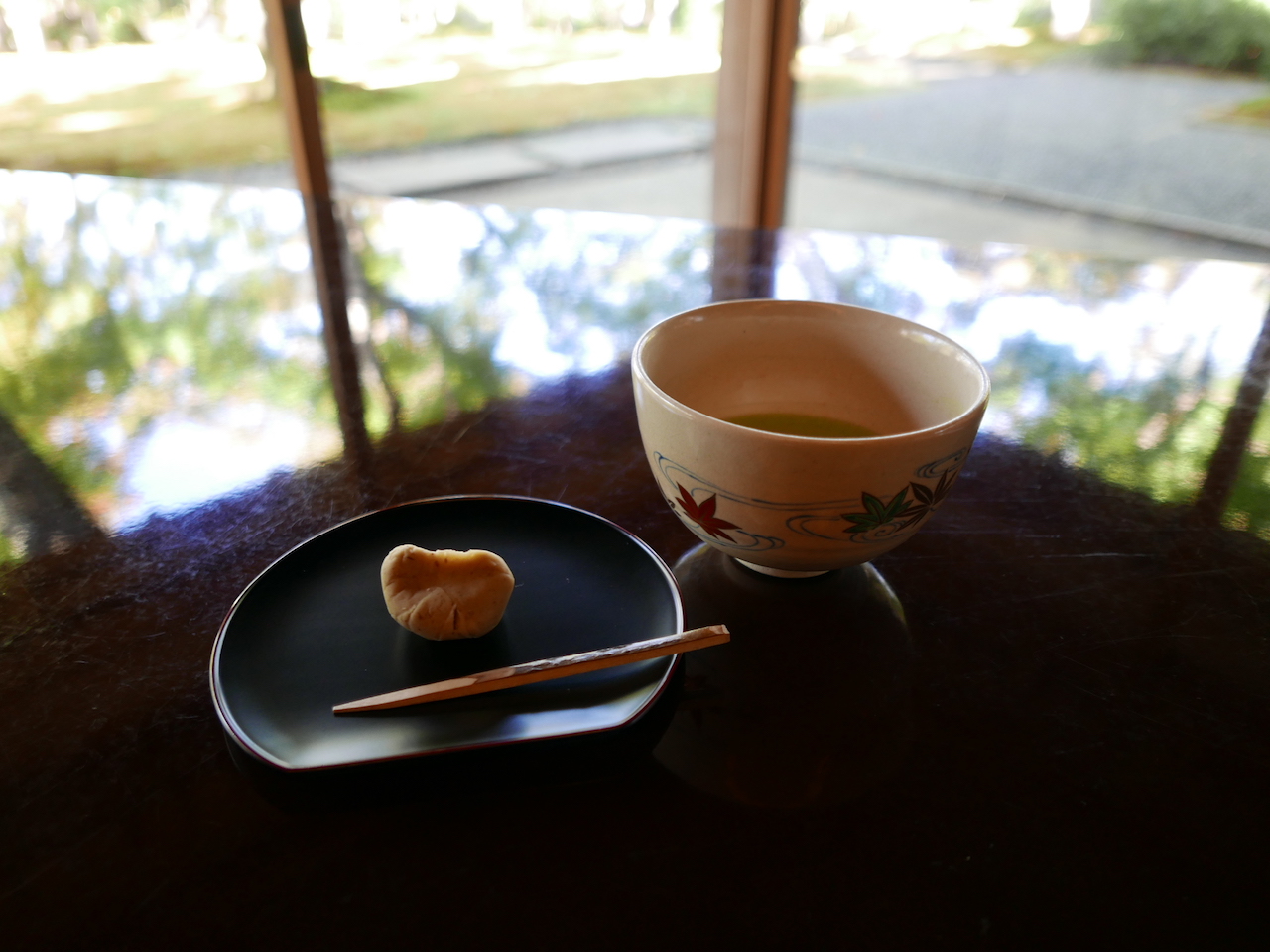 Chaya Shinwatei is a tea house with a view of the beautiful moss garden. Try their organic matcha tea and seasonal Japanese sweets set (700 yen including tax), and you'll surely feel relaxed and at ease here.
Admission to the Hakone Museum of Art is 900 yen for adults, 400 yen for high school and university students, and free of charge for junior high school age and under (all prices including tax). If you present your Hakone Freepass, adults are just 700 yen and high school and university students are 350 yen.
Hakone Museum of Art
https://www.hakonenavi.jp/international/en/spot/74
16:00 - Studio Cafe Shima - A Cafe in a 100 Year Old Photo Studio
Picture courtesy of Photo Studio Shima
Our last stop on this journey is Studio Cafe Shima, a café managed by a photo studio. It is just 7 minutes on foot from the Hakone Museum of Art.
You may wonder why a photo studio is operating this café. Apparently, the photo studio is a long-standing shop that was established in 1919.
However, with the popularity of cell phones and digital cameras, their darkroom was no longer needed. In an effort to effectively use the leftover space, the space was transformed into a café.
The café is currently located is in the hilly Gora district, where there are few places for visitors to take a rest break. Upon recognizing this, the photo studio owner, along with his mother, decided to learn how to brew coffee. They then proceeded to renovate the darkroom and re-open it as a coffee shop.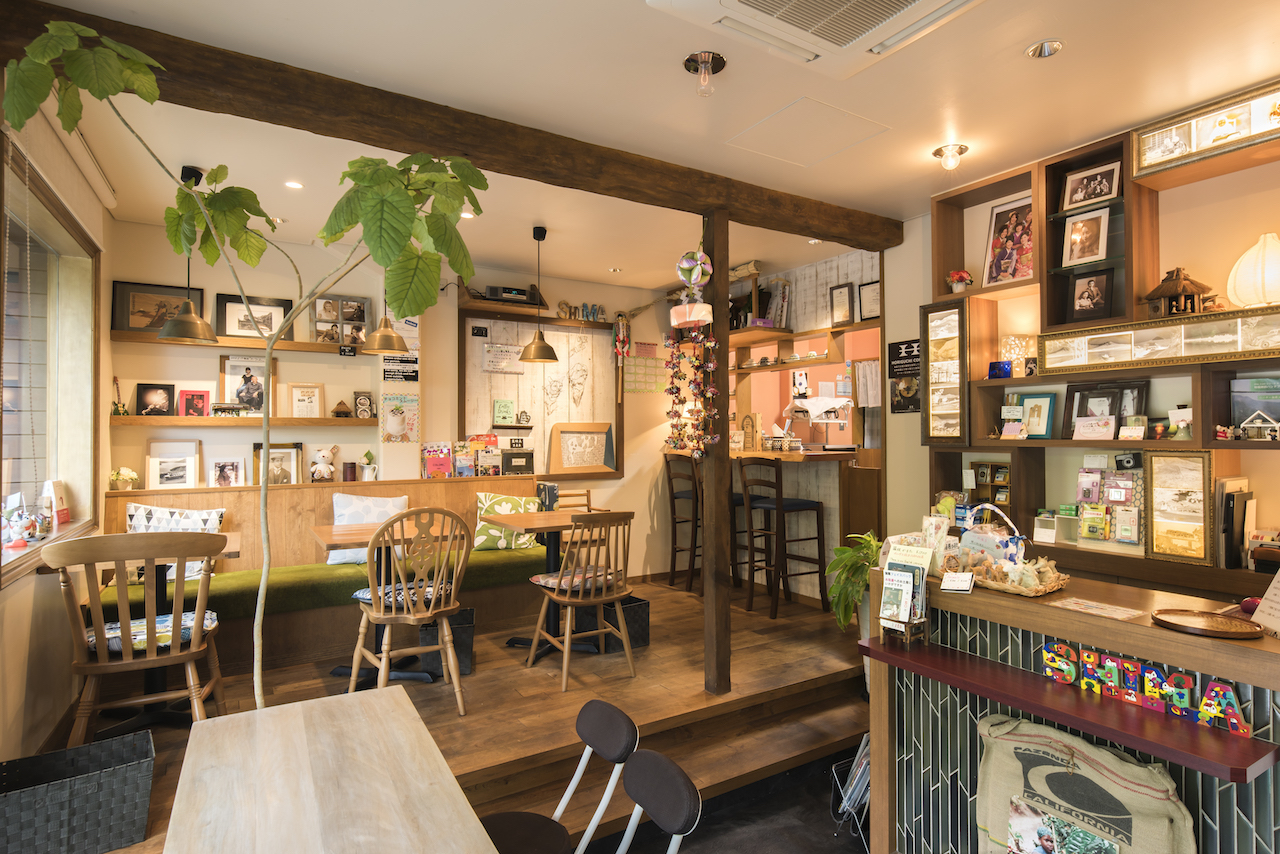 Picture courtesy of Photo Studio Shima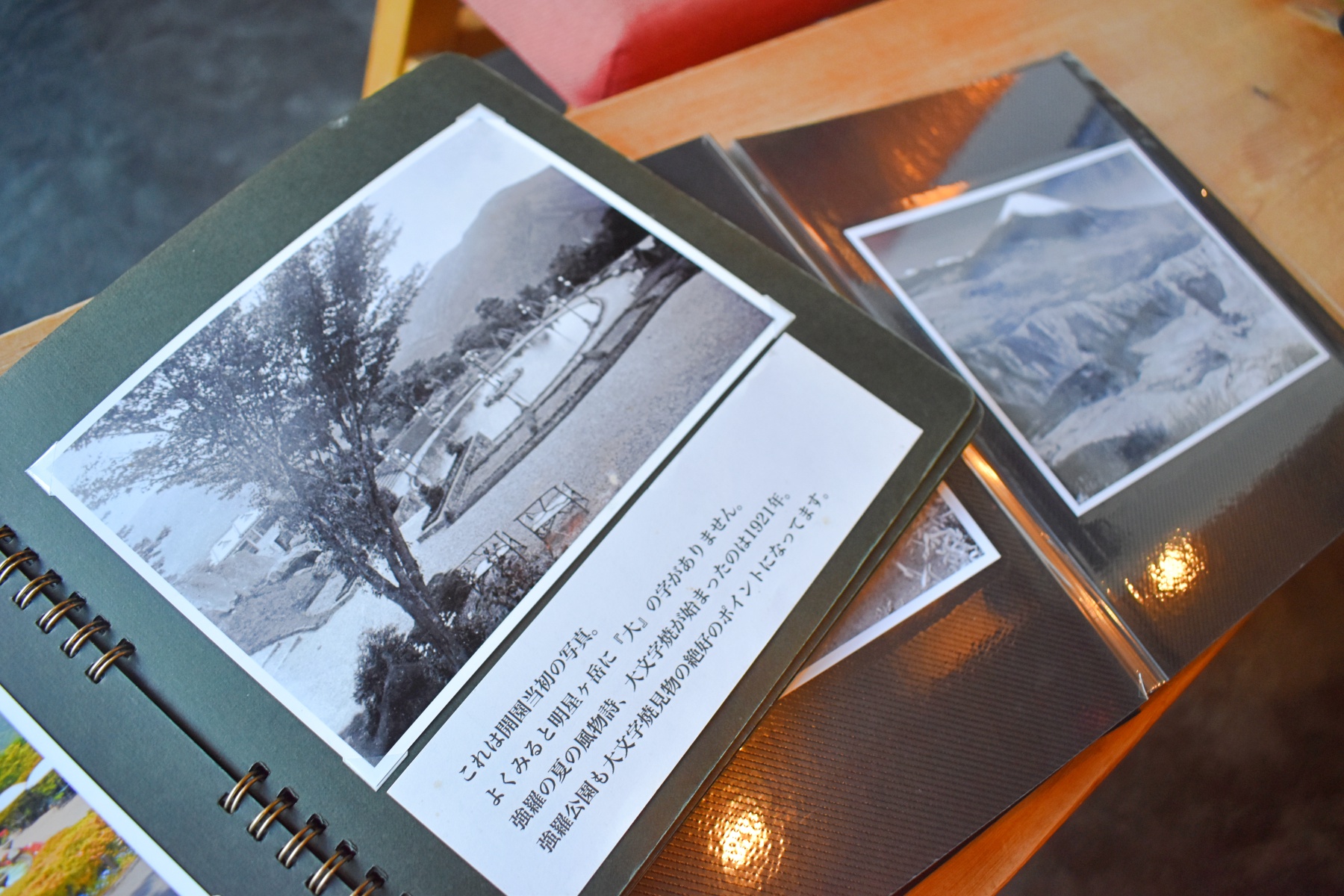 The café has a friendly atmosphere, and feels almost as if you're at a friend's house for a visit.
The inside of the café is decorated with antique photos of Hakone, taken by the owner's great-grandfather. Viewing the photos will take you back in time and give you glimpse of Hakone's history.
In addition to the freshly hand-brewed coffee, there's black tea, parfaits, and even homemade ginger ale and ginger milk that will warm your body.
Picture courtesy of Photo Studio Shima
All sweets served on the premises are homemade by the shop owner's mother.
One of their top-selling items is the Tokotoko Tozan Train Pound Cake, a fun dessert.
It was originally created for Children's Day, a Japanese national holiday on May 5. However, it became very popular on the Internet and has since become a regular menu item.
We'd especially recommend this dessert for those visitors who took the Hakone Tozan Train to Gora. The cheesecake is also highly popular.
Half of the shop still remains a photo studio. You can also get your portrait taken by a professional and have something to remember your trip by.
Studio Cafe Shima
https://www.hakonenavi.jp/international/en/spot/87
Leisurely Explore Hakone's Intellectually-Stimulating Side
Have you ever had limited time on a trip and then end up rushing around from place to place right up until the end?

Our travel plan is a little different from the usual Hakone sightseeing course and gives participants a glimpse into Hakone's artistic and cultural side.

By taking your time and going sightseeing in a relaxed manner, you'll be able to fully experience the charms of Hakone!

*Restaurant menus, admission fees, and other information are all subject to change.

https://www.hakonenavi.jp/international/en/

Sponsored by Odakyu Hakone Holdings Inc.

The information presented in this article is based on the time it was written. Note that there may be changes in the merchandise, services, and prices that have occurred after this article was published. Please contact the facility or facilities in this article directly before visiting.