All The Must-Visit Hakone Spots In One Day! From Owakudani To Outlets
What's the best route to take on a one day trip to Hakone so you can enjoy local food and visit shrines and other beautiful places? We introduce an itinerary from Shinjuku to several representative places to visit n Hakone.
7:30 – Depart from Shinjuku Station! A Pleasant Ride in the Romancecar
Our departure point is Shinjuku Station. Travel directly to our destination Hakone-Yumoto Station (OH51) via the Limited Express Romancecar. The inside of the train cars are comfortable and you can enjoy the view from the windows.
The ticket we'll be using today is the Hakone Freepass! This pass allows you to take the Romancecar (*1), Hakone Tozan Train, Hakone Tozan Bus, Hakone Tozan Cable Car, Hakone Ropeway, and the Hakone Sightseeing Cruise, a pleasure cruise on Lake Ashi (some exclusions may apply).
*1: Riding the Romancecar with the Hakone Freepass from Shinjuku Station to Hakone-Yumoto Station requires a separate fee (1,090 yen).
9:20 – Arrive at Hakone-Yumoto Station and Go to Owakudani!
After arriving at Hakone-Yumoto Station (OH51), take the Hakone Tozan Train (pictured top right) to Gora Station (OH57).
Transfer to the Hakone Tozan Cable Car (pictured bottom left) at Gora Station, get off at Sounzan Station (OH62), then change to the Hakone Ropeway (pictured bottom right) to travel to Owakudani (OH63). During the ride, the elevation gradually increases and the temperature will also begin to decrease.
Although there are many stations, they are located adjacent to one another so there is no need to worry about losing your way.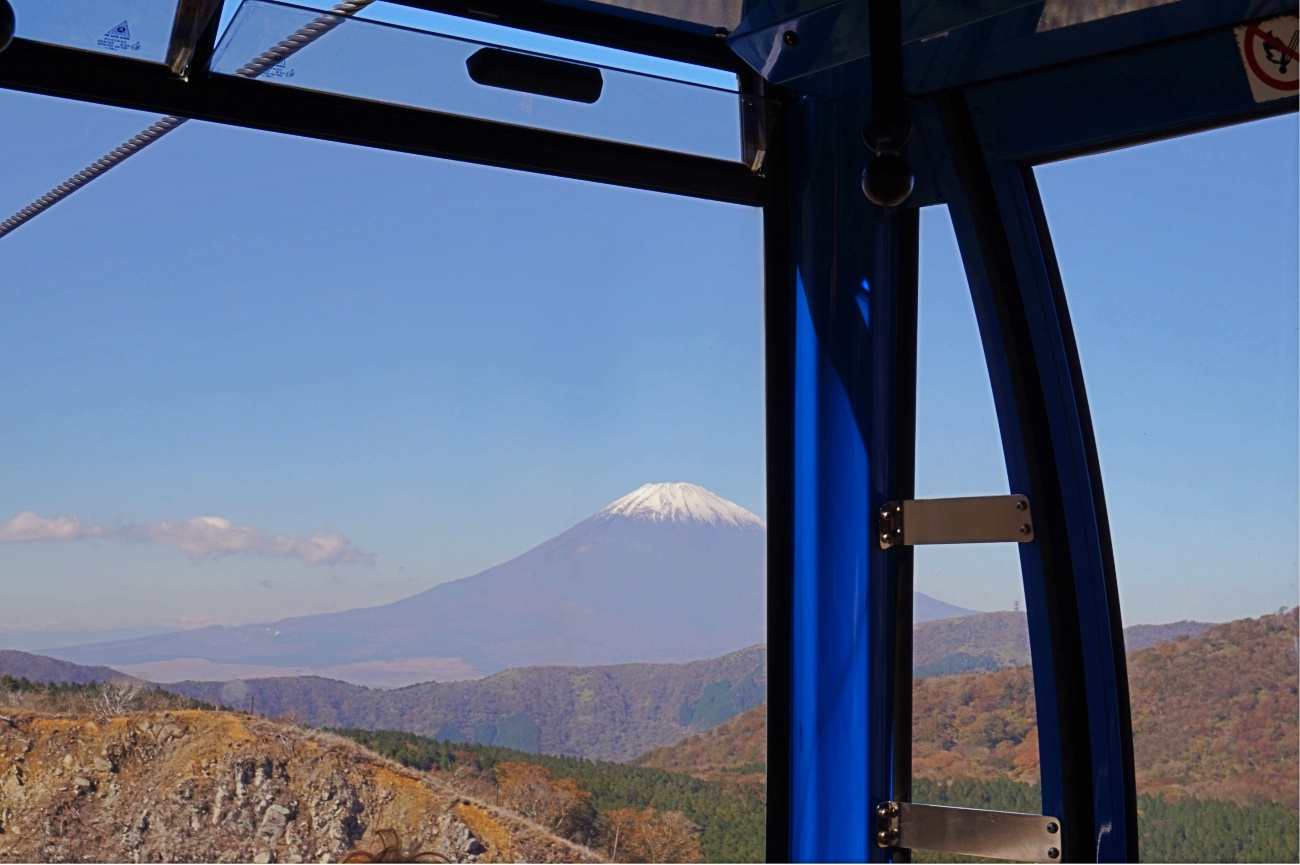 The Hakone Ropeway gondola lift has a 360° glass window that provides a view of the magnificent surrounding scenery. During the fall on clear days, you'll see brilliant autumn leaves together with Mount Fuji like pictured above. If you want to get a good view of the Mount Fuji's majestic figure, then please sit by the door.
Hakone Ropeway
https://www.hakonenavi.jp/international/en/spot/506
10:45 – Owakudani's Scenery and Black Boiled Eggs!?
Owakudani was created by an eruption about 3,000 years ago. Even to this day smoke continues to rise from the nearby volcano.
The contrast between the clear blue sky and yellow smoke is spectacular. The sulfuric smell hanging in the air gives a sense of realness to its volcanic activity.
Owakudani
https://www.hakonenavi.jp/international/en/spot/99
A Single Egg Prolongs Your Life by Seven Years!?
If you visit, don't forget to try the famous kurotamago, or black eggs! It is said that eating one of these pure-black boiled eggs, cooked with the heat of the volcano, will prolong your life by seven years.
The eggs can be bought at Kurotamago House where the kurotamago art statue is found (five eggs for 500 yen including tax).
Kurotamago House
https://www.hakonenavi.jp/international/en/spot/73
The Souvenir-Lined Owakudani-eki Shop
Get your hands on Owakudani souvenirs at the Owakudani-eki Shop inside the Hakone Ropeway station. The shop carries an abundant variety of souvenirs, including kurotamago-inspired sweets and chocolates in the shape of Mount Fuji. If you're looking for something traditionally Japanese, we recommend the Yosegi-zaiku (*2), a Hakone handicraft, keychain.
Owakudani-eki Shop
https://www.hakonenavi.jp/international/en/spot/482
*2 Yosegi-zaiku: a woodworking craft made by combining several types of wood into a design.
12:40 – Gaze at Mount Fuji and Red Torii Gates on a Cruise
Use the Hakone Ropeway again to reach Togendai Station (OH65) from Owakudani Station (OH63). Once you've arrived at Togendai, take the Hakone Sightseeing Cruise.
On the ship's third floor is a deck from which you can get a view of the entire lake.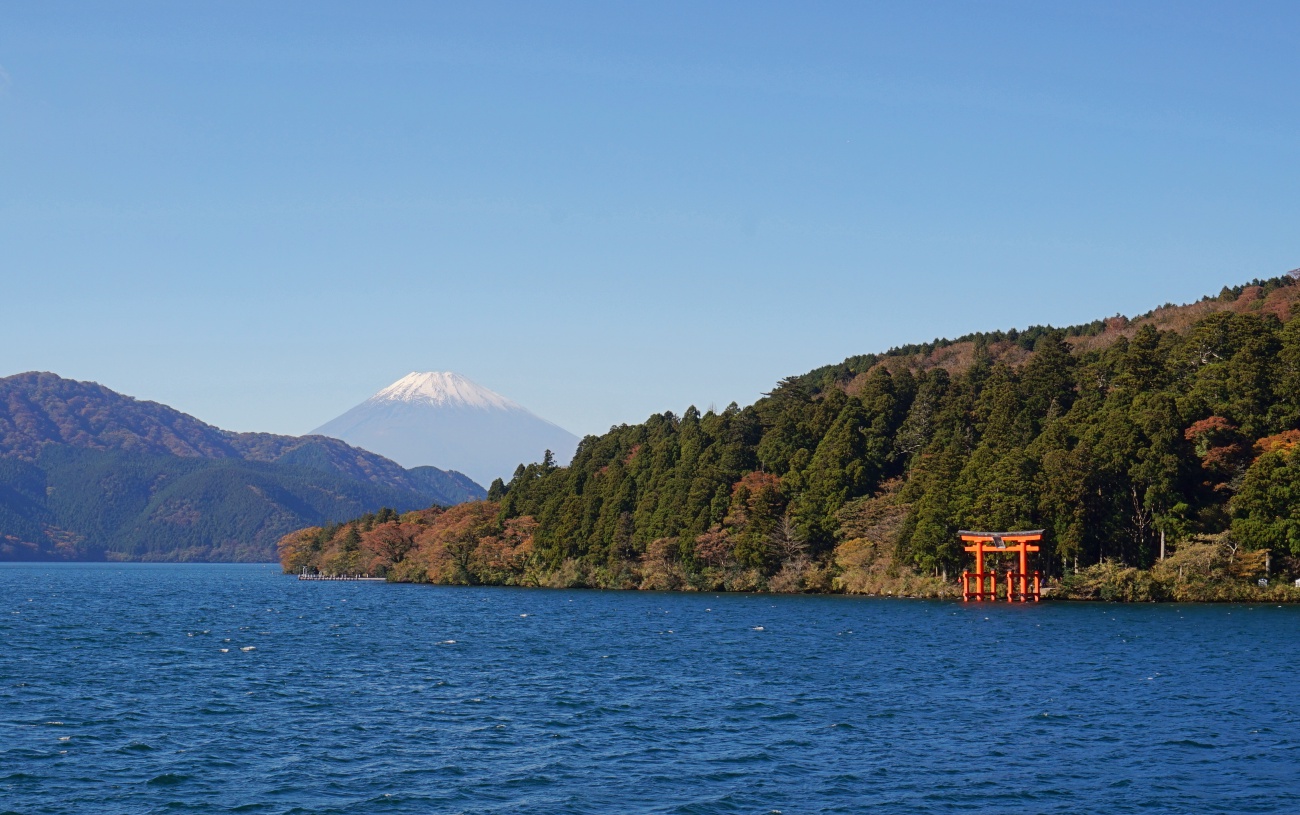 During the cruise, you'll be able to see the red torii gates (*3) of Hakone-jinja shrine with Mount Fuji in the background like pictured above. Get off the ship at Motohakone-ko (OH67).
Hakone Sightseeing Cruise
https://www.hakonenavi.jp/international/en/spot/105
*3 Torii: a gate-like structure at the entrance of a shrine.
13:10 – Savor Wakasagi Fish Near Lake Ashi
Next is lunch on the shore of Lake Ashi! Hakone Kohanso Eatery Sakura Honjin is in about a 5 minutes' walk from Motohakone-ko.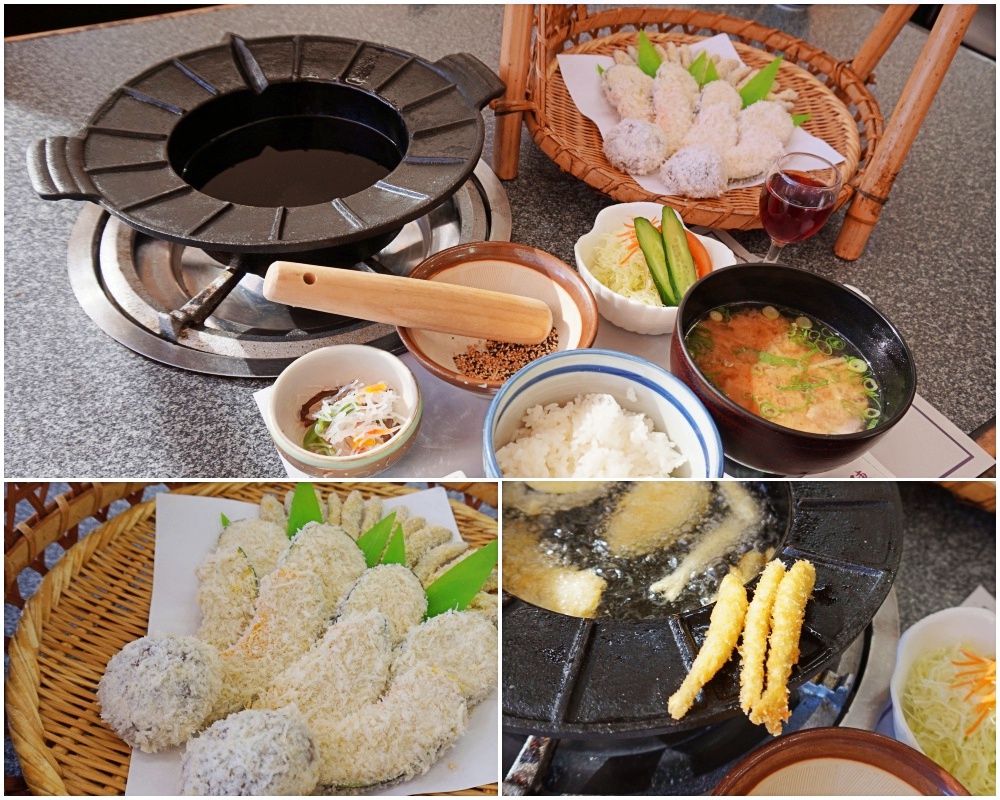 A popular dish here is wakasagi, a small fish caught in Lake Ashi. The Wakasagi Fish Gozenage is a set styled so that you fry the wakasagi and vegetables yourself. It is priced at 2,200 yen per person, including tax(can be ordered by parties of two people or more).
The aromatic, deep-fried wakasagi has a crispy coating while the meat is soft and tender. It is a set that also comes with rice, salad, famous local miso soup (kumosuke soup), and grape juice.
Hakone Kohanso Eatery Sakura Honjin
https://www.hakonenavi.jp/international/en/spot/715
14:30 – Pray for Love at Hakone-jinja shrine!
Next, we'll be going to Hakone-jinja shrine. Upon exiting Hakone Kohanso Eatery, walk along the street and a staircase along a large cedar avenue, torii gates, and bright vermillion toro (*4) will come into view.
Hakone-jinja shrine is a historic shrine famous throughout Japan.
*4 Toro: a type of lantern seen at shrines and temples. It is similar to modern street lights.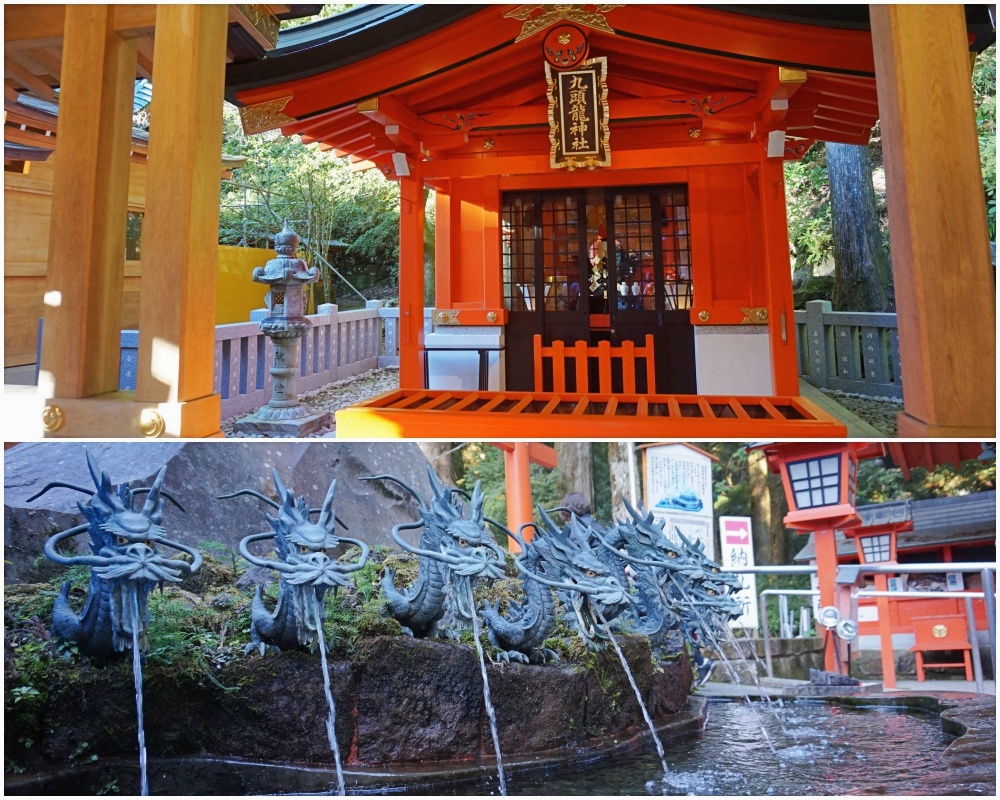 Adjacent to Hakone-jinja shrine is Kuzuryu Shrine Shingu. This shrine is said to be effective at helping people find love. Many Japanese people visit the shrine to pray for future relationships.
The water from Ryujin Suisha, an area where water flows from the mouths of nine dragon heads, is believed to hold spiritual power that purifies impurities. It is valued for its high-quality water that people drink and use for cooking.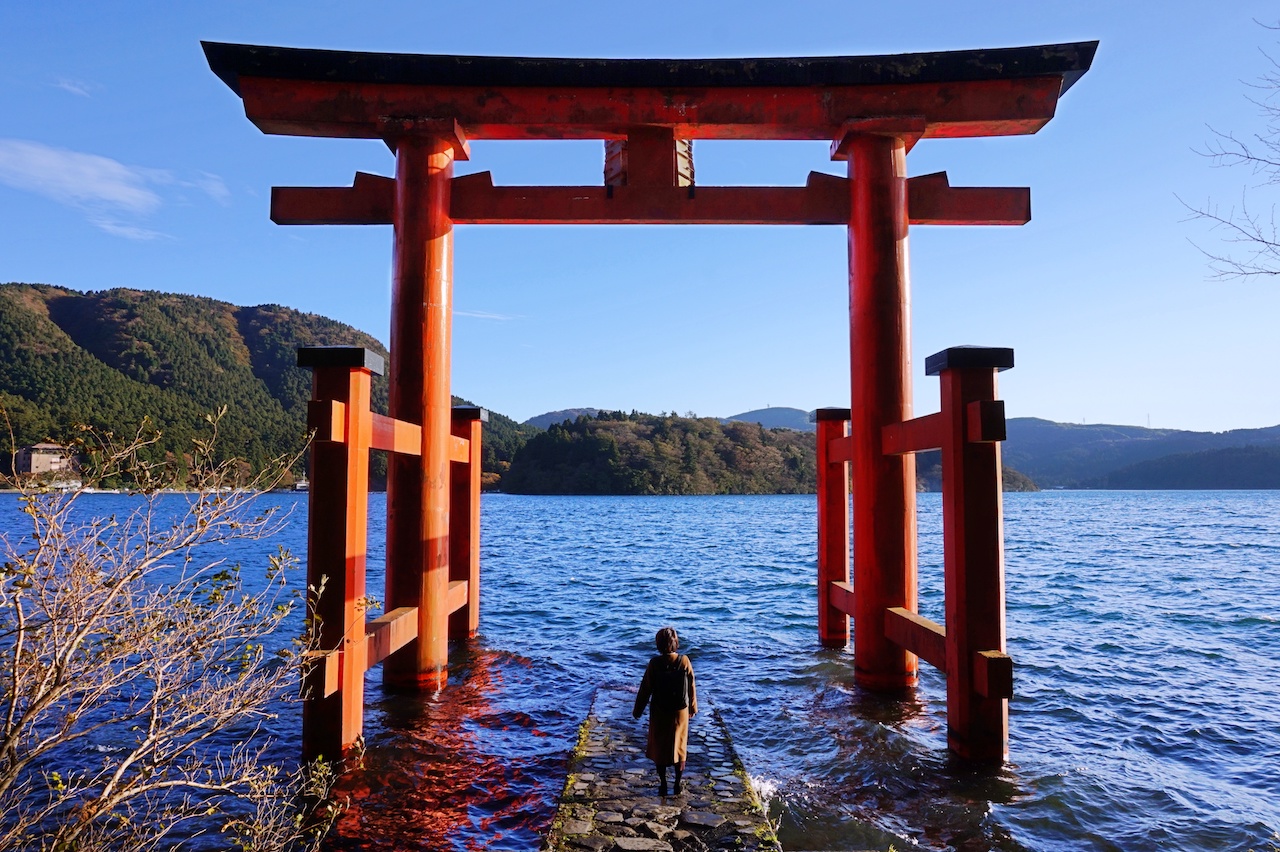 After finishing your shrine visit, go down the steps and walk to the lake shore. There, you will find the Torii Gates of Peace, a popular photo spot that you previously saw from the Hakone Sightseeing Cruise Ship!
Hakone-jinja shrine
https://www.hakonenavi.jp/international/en/spot/105
15:40 – Shopping at Gotemba Premium Outlets®

Take the Hakone Tozan Bus (Route Y) from Motohakone-ko (OH67). Then, transfer at Gora Station (OH57) to a bus (Route M) bound for the Gotemba Premium Outlets®. It will take 90 minutes.
Our last destination, Gotemba Premium Outlets®, is one of the largest shopping outlets in Japan. Be sure to pick up a map when you first arrive.
Time to Recharge! Have Sushi at Numazu Uogashizushi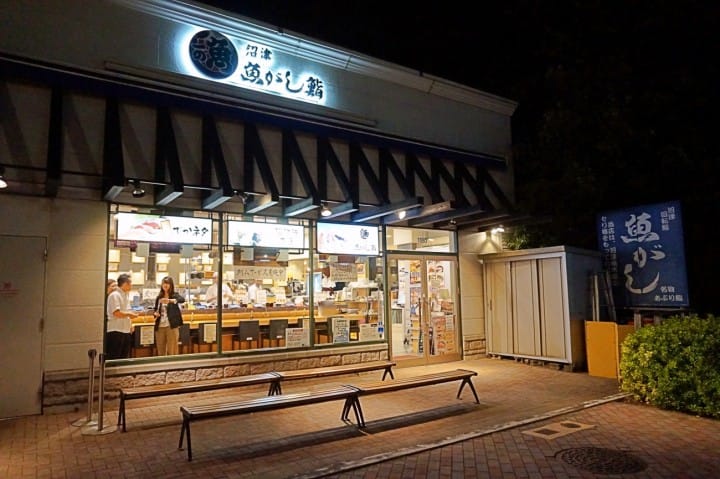 There are also several restaurants in the outlet. Numazu Uogashizushi is a delicious sushi restaurant in the East Zone.
The Special Mount Fuji Nigiri (comes with miso soup for 2,480 yen including tax) is a set served with popular sushi ingredients including chutoro (medium-fatty tuna), salmon, sea urchin, anago (conger eel), and more. There's also the Sungoi Salmon! (734 yen including tax), a dish of salmon piled high on a plate.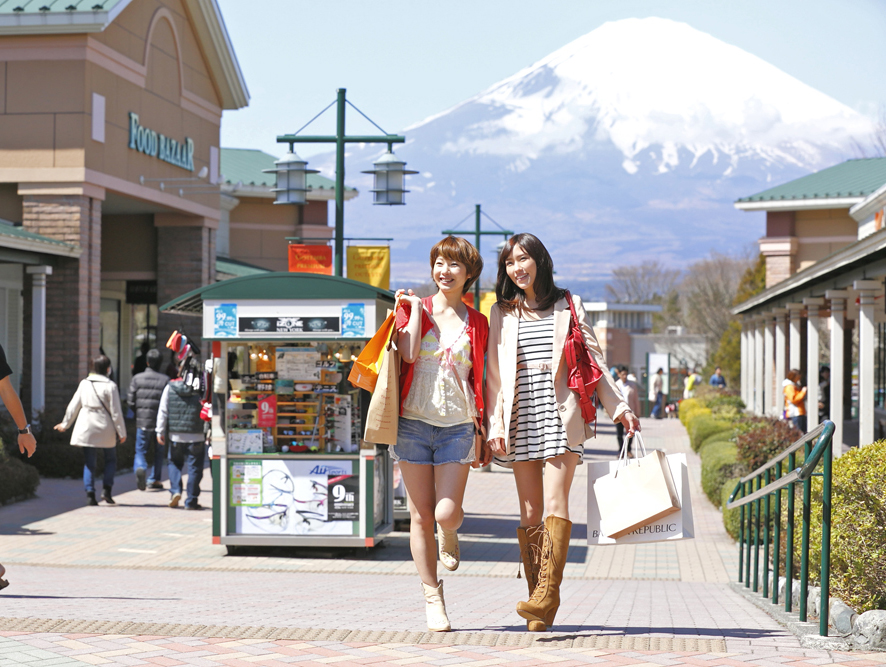 After satisfying your stomach, it's now time to shop! We arrived at night, but the afternoon will look something like the image above. You will be able to see Mount Fuji from the outlets, making the scenery very picturesque.
There are over 200 shops inside the outlet, including world famous brands such as Gucci and Prada, Japanese brands such as G-Shock and Seiko, electrical appliances, cosmetics, hobby goods, sports brands, and more. Of course, there are also tax-free services (depending on the store)!
Gotemba Premium Outlets®
https://www.hakonenavi.jp/international/en/spot/474
19:40 – Return to Shinjuku by Bus from Gotemba Station
To travel home, take the Odakyu Hakone Highway Bus to return to Shinjuku Station from Gotemba Station. There are free buses that travel from the outlets to Gotemba Station that depart four times every hour. It will arrive at the station in about 10 minutes.
It will take up to two hours from Gotemba Station to Shinjuku Station, with the last bus departing at 20:35. Show your Hakone Freepass when purchasing your ticket and you'll be able to purchase the ticket, normally priced at 1,680 yen, for 870 yen (*5).
*5: This option is best for those using the Hakone Freepass that began from Shinjuku like outlined in the course above.
Have Time? Stay Another Night
This is the end of a tour around all of the popular spots in Hakone! The Hakone Freepass is valid for two days, so those that have extra time can enjoy their trip even more by staying another night in Hakone.

** Various information in this article, such as restaurant menus or prices, is subject to change.

https://www.hakonenavi.jp/international/en/

Sponsored by Odakyu Hakone Holdings Inc.

The information presented in this article is based on the time it was written. Note that there may be changes in the merchandise, services, and prices that have occurred after this article was published. Please contact the facility or facilities in this article directly before visiting.