Shunkoin Temple, Kyoto - Experience A Zen Retreat In English
Kyoto's Shunkoin at Myoshinji Temple has Zen meditation courses and tea ceremony workshops in English. This temple also offers evening visits until August 4, 2019, focusing on Japanese art and history. Read to find out about this chance for relaxation and learning.
Shunkoin - Encounter Japan's Buddhist Culture in English
Sit up straight, control your breathing, and focus on the here and now--this is the essence of Zazen. Anyone can practice this traditional form of Zen Buddhist meditation, with many temples across Japan offering classes to the general public.
Entrepreneurs and global business leaders consider Zen meditation to be a great way to reduce stress. Even Apple's founder Steve Jobs found the practice helpful.
Visitors can try this practice for themselves at Shunkoin, located in Kyoto at Japan's largest Zen Buddhist temple, Myoshinji. At Shunkoin, you can experience zazen and sado* in English. Zenryu Kawakami, the deputy head priest, has lived in the United States and leads classes for English-speaking visitors.
Picture courtesy of Hiroshi Homma / ON THE TRIP
The inner temple is not usually open to the public. However, anyone can visit between 17:00 and 21:00 from June 29 to August 4, 2019. Come to the temple to unwind and explore the grounds.
*Sado: Japanese tea ceremony
Try Zen Meditation
Zazen classes are held from 9:30 to 11:00 around four times per week. While reservations are not necessary, up to 30 individuals can participate. When MATCHA's writer visited the temple, around 20 people were present.
The class begins with an explanation on the purpose, history, and methods of Zazen, which lasts around 20 minutes.
During our visit, Kawakami emphasized the importance of asking questions.
We must learn to question the things in our lives that we take for granted. Zazen is the perfect opportunity for introspection, and to directly face any assumptions and preconceived notions we hold unconsciously.
During the meditation session, you will sit up straight and cross-legged on tatami. Chairs are located in the back of the room for those who find the position difficult. It is critical to remember to stay focused on your breathing.
Make sure to breathe in deeply and breathe out slowly. As you continue, you will become more aware of your surroundings, like a breeze from outside and even people's body movements.
With this heightened awareness of your movements and your surroundings, you will begin to find significance in every action you take.
Meditation allows you to separate yourself from the fast past of everyday life and to contemplate the subtle things. Perhaps this is what we need to ease the heart and relieve stress.
You will continue meditating until a bell rings after around twenty minutes. There is time afterwards to ask questions and share your thoughts with Kawakami.
After the class, you will tour the temple and end with matcha and Japanese sweets. The tour also includes guidance in English. It is a great opportunity to learn about Buddhist temples in Japan.
Summer Evenings at Shunkoin - Shed Light on History
Picture courtesy of Hiroshi Homma / ON THE TRIP
During the 1590s, when Shunkoin was founded, candles and chochin lanterns were primary sources of light in Japan.
Unlike fluorescent lamps, these forms of light have a limited area of effect. Due to this, people began to paint fusuma sliding doors gold to allow light reflect off the paint.
Until August 4, 2019, you can tour the temple with an LED candle and get a taste of this lifestyle in the 1590s (900 yen).
Picture courtesy of Hiroshi Homma / ON THE TRIP
According to Reverend Kawakami, the artwork on the fusuma are at eye level of a person sitting down. People spent most of their days sitting on tatami floors during this time. Be sure to take a seat yourself for a more dynamic experience of the art.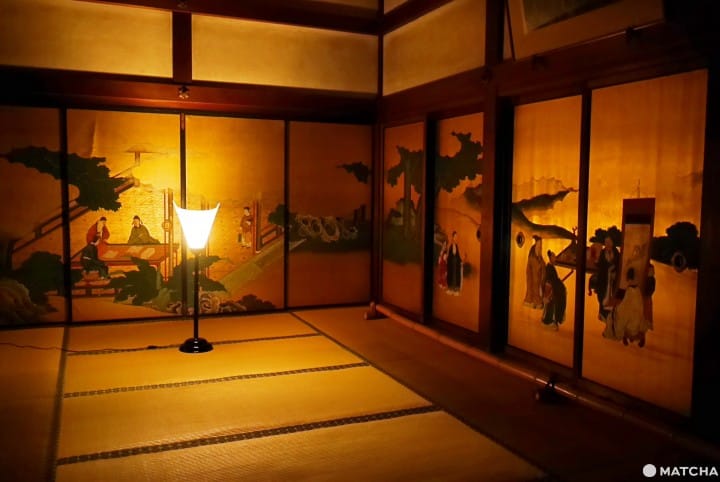 There are three rooms with gold fusuma with artwork said to have been created by the well-known painter Eigaku Kano in the 18th and 19th centuries.
The warm light reflecting off the fusuma creates a fantastical, ethereal atmosphere. The gold melts into the background to bring out the beauty of the art.
Harmonizing Three Religions
Despite being part of a Buddhist temple, the fusuma and garden of Shunkoin contain elements of other religions.
Christianity in a Buddhist Temple? Story Behind the Fusuma
The Kachozu-no-ma, one of the rooms with gold fusuma, portrays the four seasons. However, certain elements in the paintings appear to be out of place.
For example, lilies are painted in the spring section, although they typically bloom in Japan between summer and fall.
One theory suggests Christian influence.
In Christian tradition, the lily symbolizes the purity of St. Mary. According to this theory, lilies were painted in the spring to illustrate the Annunciation in March and Christ's resurrection.
Elements of Christianity are found elsewhere. The Nanbanji Bell, viewable only during special openings of the temple, has crosses and Jesuit symbol embellishments.
Although the bell's casting technology is said to be Japanese, its origins are uncertain. It is widely speculated that the technology was passed onto Shunkoin by other temples. As a bridge between Christianity and Buddhism, the Nanbanji Bell is deemed an Important Cultural Property in Japan.
Shinto Deities in a Buddhist Garden
In front of the gold fusuma rooms is a karesansui garden. Modeled after Ise Jingu Shrine, the area enshrines the Shinto kami (deity) of Ise.
The garden is laid with pebbles called sazare rocks. Since they are hard to see in daylight, spotlights are used to direct the visitor's attention.
The garden also has rocks inspired by the mythological Ama-no-iwato Cave. In Japanese mythology, Ama-no-iwato is where the great sun goddess Amaterasu-omikami hid. However, without the sun goddess, the world became covered in darkness.
Desperate to get her out, the other deities put on a festival outside the cave. Curious what was going on, Amaterasu pokes her head out. The spotlights at the temple garden depict the goddess's shining presence upon leaving the cave.
Tips for Your Shunkoin Visit
Use the ON THE TRIP Audio Guidance
During the nighttime opening, you can use the ON THE TRIP smartphone application for a free audio guidance (Japanese). Audio guidance is available English, Chinese, and Japanese. Use the application to learn more about the fusuma art.
To download the app, scan the QR code at the Shunkoin, or visit the official website (Japanese).
An Unsendable Letter - Write Down Your Inner Thoughts
During the nighttime opening, you can write down your honest feelings and thoughts on a Non-Addressed Letter (300 yen per letter, with tax).
Let your feelings flow on the anonymous letter, which will then be displayed at the temple. If you do not wish to have your letter shown, you can mark the respective box. It will then be disposed of after being commemorated.*
*The commemoration consists of praying in remembrance of a person or object.
Spend the Night at Shunkoin's Guest House
If you want to come to the nighttime opening and attend the morning meditation class, we recommend staying at the Shunkoin guest house. The rooms have tatami flooring and there is a sharedl kitchen.
Unlike traditional shukubo, or temple stays in Japan, this guest house does not include meals. It is also exclusive to visitors to Japan. The cost per night fluctuates, but it is around 7,000 yen a night. If you stay, you will save 50% off the 3,000 yen zazen class. Be sure to check the official website for details.
Find Rest at Shunkoin
Shunkoin is in a peaceful Kyoto neighborhood, ideal for those wanting to take a break from everyday life.
Take time to reflect through meditation and learn Japanese history and culture firsthand at this 500-year-old temple. You will be sure to feel relaxed, and may even discover a different side of yourself.
Shunkoin Information
Hours:
Zazen Meditation (English instruction): 9:30 - 11:30
Until August 4, 2019: 17:00 - 21:00 (reception closes at 20:30)
Credit cards can be used only for lodging and the Japanese tea ceremony class payment.

In cooperation with Shunkoin, ON THE TRIP
Main image courtesy of Hiroshi Homma / ON THE TRIP

The information presented in this article is based on the time it was written. Note that there may be changes in the merchandise, services, and prices that have occurred after this article was published. Please contact the facility or facilities in this article directly before visiting.