3 Kyoto Cafes With Amazing Japanese Parfaits!
Kyoto is known for its temples and shrines, and also boasts cafes and shops with delicious and decadent parfaits. Learn three great spots where you can indulge in unique parfaits including ones filled with gelato, fruit, and matcha. During a travel break, stop in and try some tasty sweets.
Top 3 Recommended Parfait Shops in Kyoto
Parfaits are desserts that excite people of all ages, from children to adults.
During a break on a Kyoto trip, we recommend indulging in a luxurious parfait.
Today we introduce three Kyoto shops where you can enjoy parfaits that taste as great as they look.
1. SUGiTORA - Parfaits for Art Lovers!
Picture courtesy of SUGiTORA
SUGiTORA is a gelato shop on a narrow back street in Kyoto, between the shopping areas of Teramachi Shotengai and Shinkyogoku Shotengai.
It's only six minutes on foot from Hankyu Railway Kyoto Kawaramachi Station.
Picture courtesy of SUGiTORA
SUGiTORA makes seasonal gelato, but they are best-know for their gelato parfaits.
The shop owner, who formerly worked at a famous Tokyo hotel, creates parfaits with exquisite flavors and an artistic appearance, resulting in its popularity.
Picture courtesy of SUGiTORA
The cafe recommends trying the Chocolate Parfait (1,595 yen including tax).
This parfait uses many kinds of gelato including two chocolate varieties, milk, and orange sanguine (blood orange puree). Even the toppings are all made in-house. This parfait dessert will please all with its appearance and flavor!
If you take your time and eat a parfait in the shop's relaxed, hideaway-like atmosphere, you'll experience a special, luxurious kind of feeling.
It would also be a great idea to order the parfait for takeout, then go for a leisurely stroll around Kyoto.
2. KITANO LAB - A Specialty Jam Shop Selling Parfaits
Picture courtesy of KITANO LAB
KITANO LAB is a shop specializing in confiture (a type of jam) and syrup. It's near Kitano Tenmangu, a prominent shrine. It is just six minutes on foot from Kitano-Hakubaicho Station (Keifuku Electric Railroad).
Picture courtesy of KITANO LAB
Picture courtesy of KITANO LAB
Open the retro-style door to be greeted by the shop's calming atmosphere, with bottles of confiture and syrup lining the shelves.
These products use fruit personally selected by the owner patissiers, who actually went and visited many farms throughout Japan in search of high-quality ingredients.
The confitures and syrups are made with nutritious fruit, and offer a flavor sensation not available anywhere else.
Picture courtesy of KITANO LAB
You must try the magnificent and beautiful parfaits made with this high-quality fruit.
Selections include the Fruit Parfait (1,650 yen including tax), which uses lots of fresh fruit, and the Matcha Parfait (1,650 yen including tax) which uses Kyoto's special matcha.
Both of these are worthy of uploading onto social media accounts!
Picture courtesy of KITANO LAB
The autumn recommendation is the Mon Blanc Parfait (1,980 yen including tax), a limited-edition dessert only available in the fall season.
Enjoy an elegant teatime amidst the shop's sophisticated atmosphere as you savor the exquisite flavors of a parfait.
3. FRUIT&PARLOR CRICKET - Parfaits Filled with Fresh Fruit!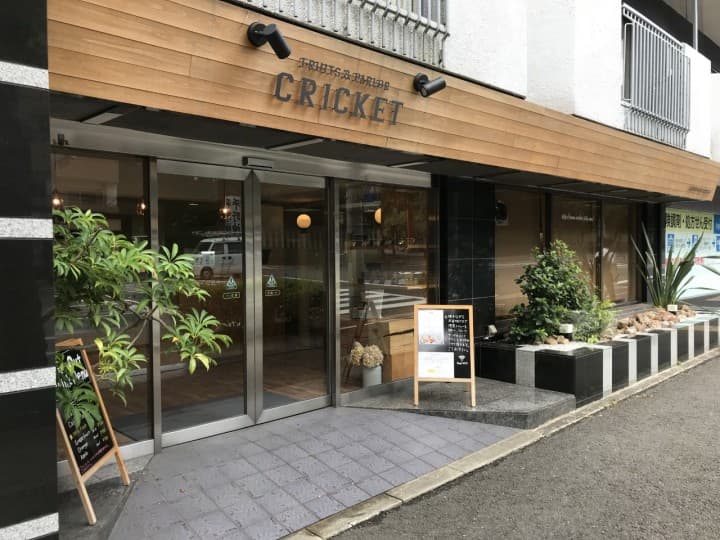 Picture courtesy of FRUIT&PARLOR CRICKET
FRUIT&PARLOR CRICKET is a sweets shop just six minutes away on foot from Keifuku Electric Railroad Kitano Hakubaicho Station.
It's across from Hirano Shrine, popular for its blooming cherry blossoms in the spring.
Picture courtesy of FRUIT&PARLOR CRICKET
This is a long-established Kyoto fruit parlor with an eye-catching, natural-looking exterior.
The owner formerly managed a fruit and vegetable store in the Kyoto Central Wholesale Market and decided to open a parfait shop, which has been popular with locals for many years.
Picture courtesy of FRUIT&PARLOR CRICKET
The shop boasts a full lineup of menu items using their specialty fruit. For example, diners can enjoy jelly filled with whole pieces of fruit, freshly-made fruit sandwiches, and fresh-squeezed juices.
The Fruit Parfait (1,200 yen including tax) is a popular item that allows customers to enjoy the taste of several kinds of fruit in one dessert.
It's a simple parfait filled with fresh cream that features just fruit and ice cream, so this is a treat is ideal for those who really love fruit.
Come visit for a natural taste of fresh fruit at this fruit parlor.
Experience a Moment of True Bliss with a Parfait!
One look at a parfait is sure to put anyone in a happy mood. Eat one of these parfaits while sightseeing in Kyoto for an exceptional taste and memorable dessert experience.

All of today's three featured shops are easy-to-get-to, located near popular sightseeing spots.

These are great places for taking a break during your trip!

The information presented in this article is based on the time it was written. Note that there may be changes in the merchandise, services, and prices that have occurred after this article was published. Please contact the facility or facilities in this article directly before visiting.