3 Days In Kumamoto: See Kumamoto Castle, Aso, And Amakusa
Kumamoto is a prefecture in the Kyushu region of Japan with a variety of sightseeing spots, from lush nature in the Aso area to the historic Christian sites of Amakusa. This article introduces a three-day travel plan around Kumamoto City and the regions of Aso and Amakusa.
Experience Kumamoto's Major Attractions - A 3-Day Travel Itinerary
Kumamoto Prefecture is located in the heart of the Kyushu region. There are many attractions to enjoy here, including the Aso region with its bountiful nature and Mt. Aso. The Amakusa region is famous for its Hidden Christian Sites, certified by UNESCO in 2017.
Since these locations are not close to the city of Kumamoto, we recommend three days to see all that the prefecture has to offer. This article features a travel plan with the first day in Kumamoto, the second day in Aso, and the third spent exploring Amakusa.
As of June 2020, businesses and sightseeing facilities may be closed or have adjusted hours amid the coronavirus pandemic. We advise checking the official websites for additional information.
Day 1: Explore Kumamoto - Suizenji Park, Kumamoto Castle, Kamitori and Shimotori Shopping Arcade
Day one covers Suizenji Park, Kumamoto Castle, and places with delicious local dishes such as Kumamoto ramen.
The flight from Haneda Airport in Tokyo to Aso Kumamoto Airport is approximately an hour and 45 minutes. After landing, take the airport limousine bus to central Kumamoto. If you want to head straight to the city, get off at the Torichosuji bus station near Kamitori and Shimotori, a traditional shopping street. The ride is approximately 40 minutes.
Suizenji Jojuen Garden
Photo by Pixta
If you have some time, why not stop by a beautiful Japanese garden? Simply get off at Suizenji Koen-mae bus stop, which is half an hour from the airport.
Suizenji Jojuen Garden (Japanese), or Suizenji Park, is a beautiful Japanese garden with 400 years of history. The pond in the center is surrounded by a stone bridge, pavilion, and lush greenery.
Kumamoto Castle
Photo by Pixta
After you visit the garden, take the tram and head to Kumamoto Castle: the landmark of the city. You can catch a ride at Suizenji Koen tram station and get off at Kumamotojo-Shiyakusho-mae. It's about a ten-minute ride.
A large portion of the Kumamoto Castle was destroyed in the 2016 Kumamoto Earthquake. Since the building is still undergoing repairs, visitors are not allowed inside, unfortunately. However, you can admire the view of its exterior from Ninomaru Park and the surrounding castle grounds.
Lunch at Kamitori and Shimotori Shopping Arcade
Picture courtesy of Kumamoto Prefecture
If you fly into Kumamoto in the morning, your arrival would be around lunchtime. About a ten-minute walk from Kumamoto Castle are the shopping arcades Kamitori and Shimotori. You will find plenty of places to eat here.
Two of Kumamoto's most famous ramen restaurants are located in Kamitori: Komurasaki (Japanese) and Sansuitei.
The ramen served at Komurasaki is known for its savory umami broth and garlic chips. The noodles are also thick and chewy. One piping hot bowl will surely satiate your hunger. Ramen at Sansuitei, on the other hand, has a refreshing broth with thinner noodles, ideal for those looking for a lighter meal.

While visiting Kamitori, you can stop by the Japanese sweet shop Horaku Manju (Japanese). Their manju (sweet bun) is a local favorite. It's stuffed with either red bean paste or white bean paste made from white kidney beans.

If you head down Shimotori shopping arcade, you will find a host of restaurants serving Italian, French, and international cuisines. At the Chinese restaurant Korantei Shimotori, you can order taipien, a vermicelli soup that is a staple dish of Kumamoto. The fine rice noodles are served in a lightly seasoned broth and topped with lots of vegetables. The restaurant's Shimotori branch reopened on May 21, 2020 after being renovated.
Tsuruya Department Store and KUMAMON Square
After lunch, you can either explore Kamitori and Shimotori shopping arcade or visit Tsuruya Department Store: the only department store in Kumamoto.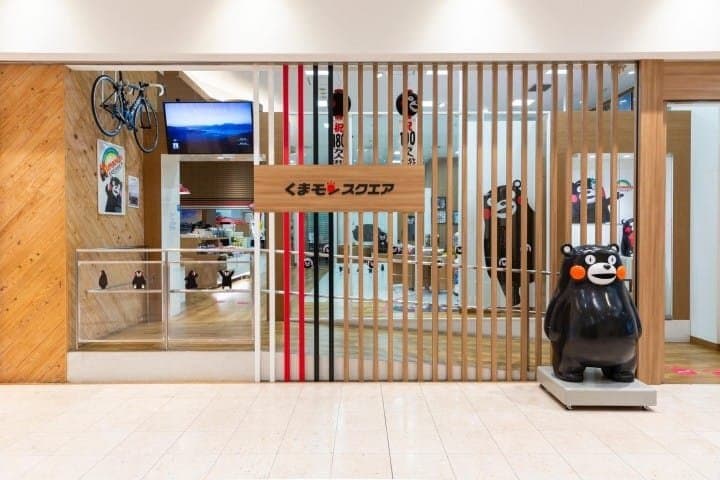 Picture from KUMAMON Square, Kumamoto - Meet A Famous Japanese Mascot!
On the first floor of Tsuruya's East Wing is KUMAMON Square: an information center in the hometown of Kumamoto's adorable mascot, Kumamon. You might even get to see the beloved black bear dance before your eyes! You can purchase souvenirs at the gift shop inside.
Kumamon merchandise is also available at the KUMAMON Shop on the building's sixth floor. The items here range from 500 to 3,000 yen.
It will likely be around sunset after you finish sightseeing and shopping. It's now time to grab dinner in the city and head to your accommodation.
Day 2: See Aso - Kusasenri Plateau, Nakadake Crater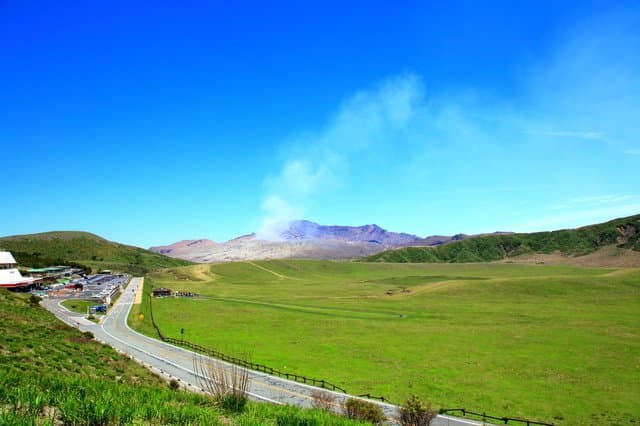 Photo by Pixta
The second day consists of visiting two scenic attractions featured in every Kumamoto travel guide: Kusasenri Plateau and Nakadake Crater.
The Aso region in northwestern Kumamoto is home to the Aso UNESCO Global Geopark. This park is famous for its stunning natural landscape, including Mt. Aso, Nakadake Crater, and the grassland plateau, Kusasenri.
If you are traveling from Kumamoto City, take the Kyushu Odan Bus from either Platform 1 at Kumamoto Station, or Platform 6 at Kumamoto Sakuramachi Bus Terminal. You will get off at Aso Station. The ride is approximately two hours and costs 1,530 yen. After arriving at Aso Station, transfer to the Mt. Aso Crater Line from Platform 8 and offboard at Asosan Nishi Station. The ride from Aso Station takes half an hour and costs 650 yen.
Travel to and around Kumamoto by highway buse and/or overnight bus! Find the lowest prices here
The Majestic Kusasenri Plateau
Photo by Pixta
Walk 30 minutes from Asosan Nishi Station to arrive at the seemingly endless grasslands of Kusasenri Plateau. You can also take a taxi from the station, which takes around ten minutes.
You will find a large pond in the center of the plateau, while cows and horses graze in the surrounding grasslands. When night falls, Kusasenri Plateau becomes a popular stargazing site. If you can stay an extra night, we recommend visiting after sunset. This area is also famous for its golden pampas grass in autumn.
Photo by Pixta
The restaurant inside the Kusasenri Observatory serves Akaushi beef, a premium breed of cattle raised in the Aso region. Fulfill your appetite with an Akaushi beef rice bowl, or a tender red steak meal plate, before heading off for more exploration.
The Impressive Nakadake Crater
Photo by Pixta
The next location is the summit of Nakadake, which is the site of a massive crater. To get here, you will need to return to Asosan Nishi Station. It only takes ten minutes (750 yen one way) via the Mt. Aso Loop Shuttle. If you choose to walk, it will take about 30 minutes. Depending on the volcanic activity in the area, however, visitors may be restricted from entering certain areas. Make sure to check the official website ahead of time. (As of June 2020, the Mt. Aso Loop Shuttle has suspended its service.)
Nearby Attractions: Aso Cuddly Dominion Zoo, and Kurokawa Onsen
Photo by Pixta
It will probably be around sunset by the time you get back to Asosan Nishi Station. If you want to return to central Kumamoto, take the same route you took to getting to the Aso area.
If you have some time, visit the Aso Cuddly Dominion Zoo to interact with bear cubs, cats, and dogs. You can also stay the night at the nearby Kurokawa Onsen, a natual hot springs area.
Day 3: Visit Amakusa - Sakitsu Church, Sakitsu Village
Photo by Pixta
The third day is all about visiting the Hidden Christian Sites—a UNESCO World Cultural Heritage. It is located in Amakusa, an island off the western coast of Kumamoto (near Nagasaki Prefecture). Take the Amakusa-go Bus from Kumamoto Station and get off at Hondo Bus Center. The ride takes approximately two hours and 20 minutes and costs 2,280 yen.
Please note that public transportation to the remains of the Hidden Christian sites in Sakitsu Village is limited at certain times. When visiting, be sure to take the Amakusa Gurruto Shuyu Bus (sightseeing bus) from Hondo Bus Center.
Sakitsu Church and Oe Church: Uncover Hidden Christian History
Photo by Pixta
The World Heritage Site Amakusa Sakitsu Village Course takes visitors around Sakitsu Church with its beautiful gothic architecture, the surrounding Sakitsu Village, and Oe Tenshudo (Oe Church) with its distinguished Romanesque architecture. The sightseeing tour is five hours long. The bus ride costs 1,000 yen, but entrance to each site requires an additional fee.
If you want to participate in the tour, make a reservation from the Kyushu Sanko Tourism website (Japanese) at least two days in advance. In addition to the World Heritage Site tour, you can also go dolphin watching.
Where to Stay in Kumamoto
If you plan on sightseeining mostly in Kumamoto City, we suggest looking for accommodation in the downtown area. You will find a number of hotels, including Toyoko Inn Kumamoto-jyo Toricho Suji, Richmond Hotel Kumamoto Shinshigai, and Dormy Inn Kumamoto Natural Hot Spring.
If you prefer a more luxurious stay, we recommend the historic Kumamoto Hotel Castle or Hotel Nikko Kumamoto.
For those wanting to exclusively visit the Aso and Amakusa regions, or are considering to venture out to neighboring Fukuoka or Oita prefectures, look for a lodging near Kumamoto Station. Some options are Hotel Route Inn Kumamoto Ekimae, Toyoko Inn Kumamoto Ekimae, and ANA Crowne Plaza Kumamoto New Sky.
Kumamoto: Enjoy Spectacular Mountains and Ocean Views
From majestic mountainscapes to ocean views, Kumamoto Prefecture boasts natural landscapes that astonish all who visit. In addition to what we covered in this article, the prefecture has a plethora of places to visit. Since public transportation is limited in certain areas, we recommend renting a car to visit as many attractions on your trip.

Travel to and around Kumamoto by highway bus and/or overnight bus! Find the lowest prices here

Main image by Pixta

The information presented in this article is based on the time it was written. Note that there may be changes in the merchandise, services, and prices that have occurred after this article was published. Please contact the facility or facilities in this article directly before visiting.