KUMAMON Square, Kumamoto - Meet A Famous Japanese Mascot!
Kumamon is a famous and adorable mascot from Kumamoto, Japan. Officially a public servant, Kumamon helps promote Kumamoto Prefecture's publicity. In this article, we visit KUMAMON Square, where guests can meet this iconic character and enjoy shopping and food.
Who Is Kumamon?
Kumamon is a mascot character created in 2011 to improve public relations in Kumamoto.
He is known to be a slight troublemaker, but he charms all who meet him and has helped increase the popularity of Kumamoto. Kumamon works as a prefectural public servant, entrusted with the dual role of sales manager and happiness manager for Kumamoto Prefecture.
Kumamon is extremely busy: in addition to visiting every corner of Japan, he also makes countless trips abroad.
In this article, we introduce Kumamon's workplace, where you can meet this popular character.
KUMAMON Square - Activity Headquarters
KUMAMON Square is in an urban area of Kumamoto City.
In addition to being Kumamon's place of work, there's a cafe and a shop selling original goods, making this a must-visit place for Kumamon lovers! It also is a center where visitors can learn about sightseeing and things to do in Kumamoto.
Now, let's step inside!
Interactive Space and Stage - Meet a Dancing Kumamon!
In the center of KUMAMON Square is a stage with a seating area. On days when Kumamon is in the building, there are live performances featuring Kumamon dancing some pretty sharp moves!
If you want to meet Kumamon in the interactive space, refer to the official homepage beforehand and check for the designated schedule times.
The schedule varies from day to day. For example, shows are sometimes held twice daily, but there are also days when Kumamon is absent. Please be sure to confirm before visiting.
You can still visit KUMAMON Square even if Kumamon is not there, however.
On the day of Kumamon's performance, try to arrive early and wait in front of the stage. There's no reserved seating available, so visitors are encouraged to be polite and accommodating. If there are any children, please encourage them to move to the front so that they can see and enjoy the dances.
Kumamon Makes His Entrance
When it's time for the show to start, Kumamon makes his long-awaited entrance onto the stage! Be sure to welcome him with a round of applause.
On the stage, Kumamon will perform his show, guided by the MC. The show is filled with humor-filled talk.
Meet Kumamon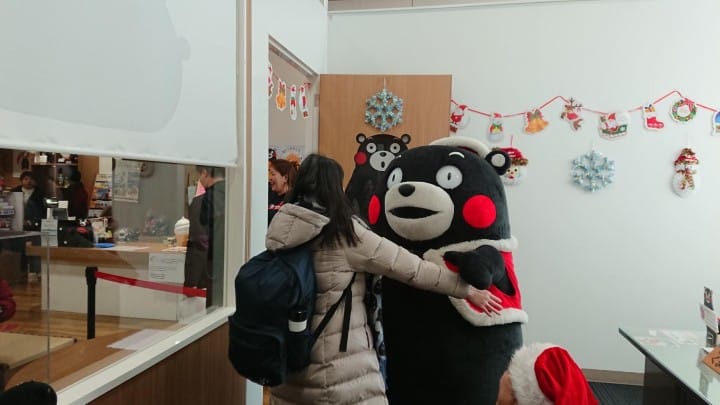 After the stage performance ends, there's an opportunity to interact with Kumamon.
Kumamon takes special care to communicate with each and every one of his fans. For example, when he's meeting children, he'll squat down so that he's at the same eye level as they are. Those meeting him for the first time will undoubtedly be impressed by his kindness.
Many visitors look forward to this chance to meet Kumamon, so be sure to be patient and gracious so that everyone can enjoy the experience.
This precious time with Kumamon also happens at KUMAMON Square in the KUMAMON Sales Manager Office.
You can also give him a high five when he walks down the aisle, going to or coming from the stage area.
A Place Worth Visiting Even When Kumamon is Away
Don't worry if you aren't able to see Kumamon's performances! Below we introduce things to see and do inside the building even when Kumamon is away on business.
Kumamon's Office
Visitors can tour the KUMAMON Sales Manager Office even on days when Kumamon is away from KUMAMON Square.
The inside of Kumamon's office is filled with trophies and commendations that he has received from throughout Japan, and at the many events he has attended. You will also notice photos of his countless friends.
You can also sit in his chair and have your picture taken!
A Cafe Space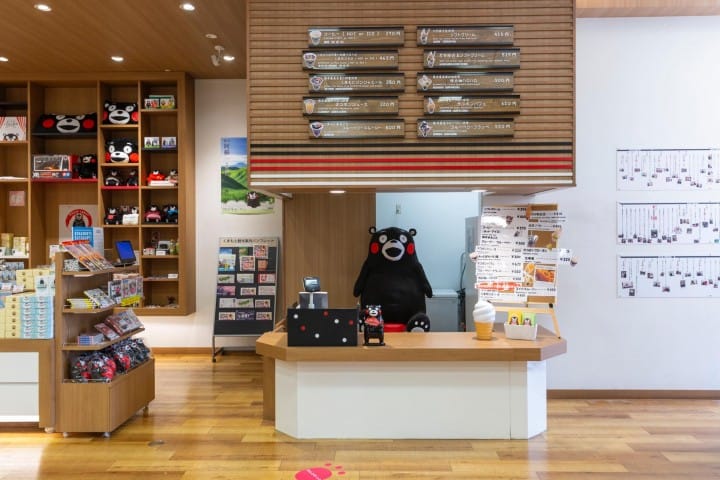 Kumamoto's specialty products and snacks associated with Kumamon are sold in the cafe space. Visitors can also enjoy delicious sweets and refreshing drinks here.
Why not drop in for a break here while waiting for the stage performance to begin?
We recommend the KUMAMON Latte (465 yen including tax), an adorable coffee drink featuring skillful latte art.
Sitting atop the soft and fluffy bubbles is Kumamon's face! It feels like a waste to drink this elaborately designed latte, so it's difficult to take that first sip.
The dekopon parfait (660 yen including tax) uses plenty of dekopon (*1) grown in Kumamoto.
These desserts are simply delectable and very cute! However, please be careful not to indulge too much, or your waistline might expand and you'll start looking like Kumamon!
*1 dekopon: a variety of citrus fruit belonging to the mandarin orange family. About one quarter of all the dekopon in Japan is grown in Kumamoto.
Original Kumamon Goods Shop
You'll see Kumamon goods everywhere you look at the shop inside the facility. Be sure to drop in and pick up some souvenirs.
There are also limited-edition goods that aren't available at any other shop.
On the left side in the above picture are the Kumamon plush toys (3,900 yen including tax) and the specialty T-shirts (1,500 yen including tax). Buy both and dress up a Kumamon plushie in the cute T-shirt.
There are also Kumamon dolls that are already wearing the T-shirts (5,000 yen including tax). When you look closely, it appears as if Kumamon is grinning.
For visitors who would like to remember Kumamon even when after they get home, we recommend the keychains (800 yen including tax). There are many different kinds, including Kumamon singing his theme song, Kumamon dressed up in various seasonal outfits, and Kumamon in cute poses.
Buy one of these delightful souvenirs and Kumamon will be with you forever!
Here they also sell curry made with Akagyu beef (a type of wagyu beef) and Kumamoto tomatoes. You can also find yuzu pepper seasoning and other specialty products that allow you to taste the local flavors of Kumamoto.
This is the ideal place for Kumamoto Prefecture souvenirs!
Kumamon Square - A Must-Visit in Kumamoto
Kumamoto is filled with beautiful and fun sightseeing spot, like the Amakusa region, a designated World Heritage Site, and Aso, a city at the foot of active volcano Mt. Aso, which has one of the world's largest calderas (a volcano's unique crater shape).

After going to these sightseeing spots, make sure to visit KUMAMON Square. Try to meet Kumamon--even if you didn't know about him previously, you'll no doubt be charmed by his warm hospitality.

Kumamon is considered to be one of Japan's most famous mascot. Make a special trip to Kumamoto to meet this charming character.

Pictures courtesy of (C)2010 kumamoto pref.kumamon

In cooperation with KUMAMON SQUARE

The information presented in this article is based on the time it was written. Note that there may be changes in the merchandise, services, and prices that have occurred after this article was published. Please contact the facility or facilities in this article directly before visiting.