Aeon Mall Matsumoto: The Best Place to Enjoy Shopping in Nagano
AEON MALL Matsumoto is Nagano's largest shopping spot and is located in Matsumoto City. You'll find food, souvenirs, outdoor goods, daily necessities, and more! It's also near Matsumoto Station and the Matsumoto City Museum of Art, which features art by Yayoi Kusama.
AEON MALL Matsumoto: Nagano's Largest Shopping Spot!
AEON MALL Matsumoto is home to 170 stores selling food items, fashion, and daily necessities. A visit here will surely be a memorable experience because it is the largest shopping center in Nagano Prefecture and consists of three distinct zones: HARENIWA, SORANIWA, and KAZENIWA.
The mall's main feature is the exterior. The Japanese-style modern building with its jet-black color is symbolic of Nagano's Matsumoto City.
Matsumoto had a thriving silk industry. Part of a wall from one of the silk factories was preserved and incorporated into the shopping center's interior. This unique feature can't be experienced at any other shopping complex.
Now, let's read about the attractive features of AEON MALL Matsumoto!
How to Access AEON MALL Matsumoto
To reach AEON MALL Matsumoto, visitors can take a City Loop Bus called the Town Sneaker (click on "language" for English) departing from the east exit of JR Matsumoto Station. The travel time is about eight minutes.
Take a Town Sneaker bus marked East Route (Nakamachi/Agata no Mori) and get off at the Hindecho bus stop. From there, it's only a minute on foot to the mall.
If you present a receipt with purchases of 2,000 yen or more (with tax) at AEON MALL Matsumoto, you'll receive a complimentary return fare bus ticket (400-yen value) to use on the Town Sneaker Bus.
Note: Only receipts from the day of your visit are accepted.
Click here for AEON MALL Matsumoto's official website
Everything from Daily Necessities to Nagano Souvenirs!
AEON MALL Matsumoto has a wide selection of shops. It's worth visiting for locals and international visitors alike. Inside, there's an impressive selection of Nagano souvenirs, not to mention a lineup of daily necessities.
The AEON STYLE corner, which stocks food products and daily goods, is open until 22:00.
Generally speaking, shops in Matsumoto tend to have shorter business hours and close early. Therefore, a shopping mall that stays open late is very convenient.
AEON STYLE has an extensive selection of Karuizawa and Matsumoto craft beer, an ideal Nagano souvenir. There's also a large selection of wines carefully selected by a wine sommelier.
You can also taste-test various alcohol in the compact bar space. When something catches your eye, feel free to sample it before making your purchase.
The fruit corner is spacious and full of just-delivered produce!
Many of the product packages provide information on the grower. While choosing which product to buy, you can't help but feel a connection with the farmer who grew it.
AEON STYLE features Nagano's famous Shine Muscat grapes alongside local sake, a full selection of curry rice from across Japan, and a spice and condiment corner.
While browsing the store, you'll notice what kind of food Matsumoto residents like to eat. The store also has food products that have become a buzzed-about topic in Japan.
HARENIWA has the most shops among the three zones in AEON MALL Matsumoto. This is where you'll find a restaurant called BISTRO HIKARIYA.
The shop exterior has incorporated part of a former office building belonging to the Katakura Industries Company (see photo above). This was one of Matsumoto's most important buildings during the start of the Showa Period.
How about sampling some items on the chef's bistro menu at this retro-style restaurant?
SM2 keittio: Perfect for Natural Apparel and Miscellaneous Goods
SM2 keittio (Samansa Mos2 keittio) is an apparel brand offering unpretentious, natural fashion styles.
They have a comprehensive selection of items, from simple designs to pieces highlighted by embroidery and lace, which act as beautiful accents. The relaxed silhouette and comfortable fit are their key selling points.
The lineup also includes miscellaneous goods with natural designs perfect for interior decor and accessories.
While one fashionable item can be a welcome addition to your style, we recommend mixing and matching several items to coordinate your sense of style.
SPORTS AUTHORITY: Your One Stop for Sporting and Outdoor Goods
The Matsumoto area in Nagano is known for Kamikochi, an idyllic valley within the scenic Chubu Sangaku National Park.
Visitors can enjoy hiking and mountain trekking in the Kamikochi area. But before heading out on outdoor adventures, please stop by SPORTS AUTHORITY, a specialty shop on AEON MALL's third floor.
The shop boasts a wide selection of sporting and outdoor goods, including mountain climbing items. Among them are items sold at reasonable prices as a service to customers.
You can purchase famous brand-name goods, including THE NORTH FACE.
PARSLEY HOUSE with Dagashi Yumeya: Candies and Snacks Galore!
PARSLEY HOUSE with Dagashi Yumeya often has customers reminiscing about dagashi (old-fashioned candies).
Not only can you find dagashi here, but they also sell a hit product that allows children to make their own sweets.
A visit will feel like you've stepped inside a dagashi candy museum. In this space, surrounded by various candies and confections, you can search for your own nostalgic flavors.
The store also has inexpensive accessories and small items that make perfect gifts or souvenirs.
Nojima: Find Popular Brand-Name Appliances
If you're buying an appliance in Matsumoto, we recommend a shop called Nojima.
It's typical for most appliance retailers in Japan to have salespeople representing a particular manufacturer. At Nojima, however, staff will introduce various products that meet your unique needs.
In addition to Dyson vacuum cleaners and dryers, Nojima handles many popular items that you'll want to purchase.
Enjoy Nagano's Tasty and Inexpensive Local Cuisine!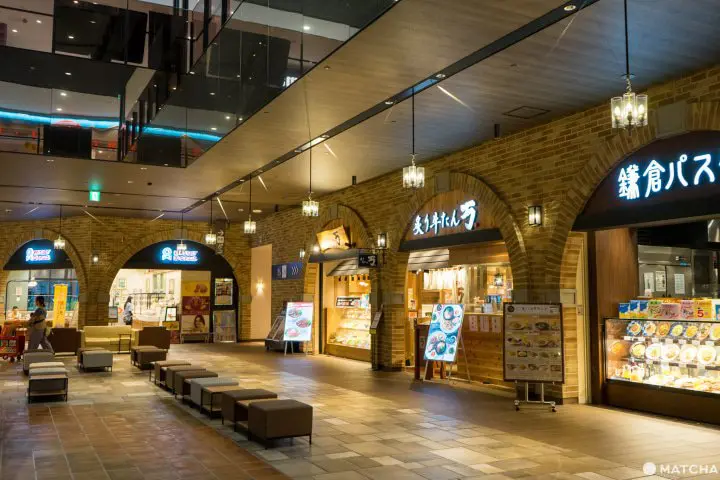 There are two main areas at AEON MALL Matsumoto where visitors can enjoy a tasty meal or snack.
One is called Hikari-no-Restaurant. This restaurant zone feels like a retro-style town featuring ten eating establishments.
The other restaurant zone is called FOOD FOREST and is lined with 14 restaurants. This is a fashionable food court with a retro-modern atmosphere and about 1,000 seats.
While gazing out at scenic mountains from the large picture windows, visitors can enjoy Matsumoto's local specialties in the spacious surroundings.
Soba Ogiso is a shop based in Nagano that has locations throughout Japan.
The restaurant serves Shinshu soba, Nagano's signature soba noodles. Customers can also eat Sanzoku-Yaki Don, a popular Matsumoto rice bowl that's tasty and inexpensive. The juicy breast meat sprinkled with an original spice mix and then deep-fried pairs deliciously with a bowl of rice!
There's also Ryo-Ga IDEA, a ramen chain famous in the Matsumoto area. The shop serves Matsumoto Black Chuka Soba, a popular limited menu item. The wavy noodles easily pick up and absorb the surrounding soup. Moreover, the distinct aromatic taste highlighted by black pepper will whet your appetite.
FRUIT DINING SHUN: A Shop Specializing in Fresh Fruit
FRUIT DINING SHUN is a specialty fruit shop that directly sources fresh produce from Matsumoto City's Regional Public Wholesale Market.
Customers can try sweets made with succulent fruit at the eat-in space. You can also purchase top-quality fresh fruit at reasonable prices.
If you visit Matsumoto during the melon-picking season, you need to try the melon soda, which is only available during the summer.
The carved-out melon is filled with moderately sweet cream soda. When you scoop out the melon with some ice cream, it makes for a fully satisfying treat (see photo above).
The shop also serves seasonal fruit sweets, jelly, and other tasty dishes.
Visitors can eat delicious Matsumoto fruit on the shop premises or order take-out to enjoy in their hotel room.
MIRAIYA SHOTEN: A Bookstore with a Relaxed Atmosphere
At MIRAIYA SHOTEN, the red brick walls are softly illuminated by the light from hanging retro lamps.
The shop has a relaxed atmosphere that will allow you to forget about time. This differs from the clean and brightly lit bookstores in Japan.
If you look closely, you might notice that the wooden seat in front of the store is engraved with a message that reads, "A tree that was here."
Before AEON MALL Matsumoto was built, these grounds were home to a Bio Science Laboratory. Wood and other material from this laboratory were reused for the mall, preserving part of Matsumoto's history for present-day visitors.
AEON MALL Matsumoto: Sightseeing Spots to Visit During Your Trip!
Matsumoto is one of Nagano's most picturesque cities.
A three-minute walk from AEON MALL Matsumoto is the Matsumoto City Museum of Art, which showcases the works of the world-famous artist Yayoi Kusama.
You'll also see retro streetscapes of Matsumoto that existed from the Edo Period to the Taisho Period. With the national treasure Matsumoto Castle, visitors can enjoy the lively atmosphere of this castle town.
Using AEON MALL Matsumoto as a starting point for your Matsumoto sightseeing excursion, why not take a stroll through the local town while shopping to your heart's content?

Sponsored by AEON MALL
Written by Lin

The information presented in this article is based on the time it was written. Note that there may be changes in the merchandise, services, and prices that have occurred after this article was published. Please contact the facility or facilities in this article directly before visiting.