Shibuya, Tokyo's Center of Youth Culture - Just What Is It Like?
Shibuya is a multi-layered town where the majority of Japan's popular youth culture originates. Today we'll take a closer look at what is Shibuya actually like and at some of the things you can experience in this vibrant district of Tokyo.
A famous sight, the Scramble Crossing, also known as Shibuya Crossing, is one of the many landmarks that make up the center of Japanese youth culture, Shibuya. However, Shibuya has many other charms beyond just youth culture, making it a multi-tiered city. Today we will look at just what Shibuya is like and what you can do in this bright city.
Japan's 'Now' - the It Factor
First and foremost, Shibuya is where the latest popular trends get their start; Shibuya is where you will find the majority of pop culture-loving Japanese youth hanging out.
During the 1970s and 80s, fashionable shopping centers such as Shibuya 109 and Shibuya Parco opened here one after another, cementing Shibuya in as the place for style-loving youth to hang out.
Soon afterwards, Shibuya Center-gai the main shopping street in Shibuya, became home to a number of CD shops and arcades, further making Shibuya into a city of young people. This history is relatively new however.
And from the youth that gathered in Shibuya, soon completely new styles and fashions were developed. In the 1990s, "Shibuya-kei" style was born, a total music and fashion movement that has ultimately spread out across the world in one form or another.
For those who want to know more about current trends and youth culture in Japan, then a trip to Shibuya is ideal.
Read also: Shibuya-kei: The Forefront of Fashion!
See the Faces of Old Japan in Shibuya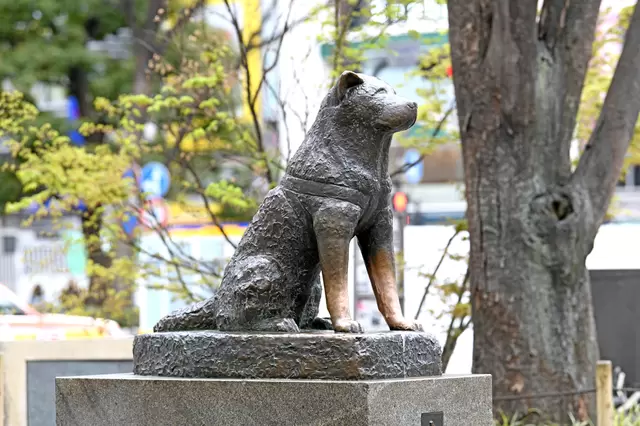 When written in Japanese, Shibuya uses two characters - 渋谷, the second of which may be read as 'ya' or 'tani', both meaning 'valley'. Just as the name implies, Shibuya is a city within a valley. The main areas of Shibuya - the scramble crpssomg, the statue of the loyal dog Hachi - are located in the bottom of the valley.
In order to better explain the streets and areas of Shibuya, we need to refer to the hills Dōgenzaka and Miyamasuzaka among other hills surrounding the central area.
During the times of the samurai, Shibuya was known as Shibuyamura, and was an area full of rice fields, farms and samurai residences, with some parts of it being used as a post-station town.
When this era ended, Shibuyamura quickly developed into a railway station town and then rapidly expanded from there. Then, when pleasure quarters such as Maruyamachō and Hanamachi sprang up and restaurants serving high class Japanese cuisine came about, Shibuya evolved into a town where numerous geisha worked.
Even today at restaurants like Ryōtei Sanchō and Yoshiki you can enjoy traditional Japanese dishes, and every September watch the Konnō Hachimangū Annual Festival where you can see the remains of this old city come to life. Shibuya is an excellent place to find old Japan.
Artistic Shibuya - A Center for Galleries, Live Houses and Clubs
Shibuya is also known as a center for the arts.
Museums featuring unique exhibitions such as the Bunkamura or Shoto Museum of Art, porcelain displays from artisans across Japan at the Toguri Museum of Art, exhibits by young artists at Tokyo Wonder Site Shibuya, and even art galleries for the blind like Gallery TOM and others are gathered all across Shibuya.
If you would like to see Japanese contemporary arts, then Shibuya is the place to go.
There are also many live houses and theaters that cater to fans of live music here. There are also many places that do not require tickets in advance. Popular with visitors, some of the top clubs in Shibuya are WOMB, Club Asia and ATOM TOKYO.
Ever Changing Shibuya
As stated earlier, Shibuya is a constantly evolving city; this holds true even today. For example, in 2012 the shopping complex Shibuya Hikarie opened; this center is designed with young professionals in mind.
Even now Shibuya station itself is undergoing a massive redevelopment in order to make the station more user-friendly and convenient by the 2020 Tokyo Olympics; numerous shops and services are slowly being introduced in this station complex.
Just what Shibuya will look like in the future is anyone's guess - no one can really say for certain what it will evolve into. Shibuya, with its future-forward mindset and traces of the past is truly a city of change. As a result, no matter when you visit, no matter how many times you visit, there is always something new and exciting to discover about this fabulous city.
Information
JR Shibuya Station
Address: Tokyo, Shibuya, Dōgenzaka 1
First Train: JR Yamanote line 04:37 (towards Shinjuku/Ikebukuro)
Last Train: JR Yamanote line 01:07 (towards Shinagawa)
Phone Number: JR Lost & Found - 050-2016-1601
Non-Japanese Inquiries (English/Chinese/Korean) - 050-2016-1603
Website: JR Shibuya Station
All pictures from PIXTA

The information presented in this article is based on the time it was written. Note that there may be changes in the merchandise, services, and prices that have occurred after this article was published. Please contact the facility or facilities in this article directly before visiting.