Osaka's Top 4 Observatories: Get Awe-Inspiring Views of Japan's Iconic City
Osaka is one of Japan's most vibrant and character-rich cities, and its views are nothing short of iconic. Below we list 4 of the top spots to enjoy spectacular vistas of this Osaka: Umeda Sky Building, Abeno Harukas, Tsutenkaku Tower, and Sakishima Cosmo Tower, as well as free observatories!
Osaka: Breathtaking City Views
One of Japan's most lively, colorful, and exciting cities, Osaka truly has a character all of its own. Brimming with nightlife, culture, and cuisine, the city should be a stopover on any visitor's list while in the country.
Book the 2-day Osaka Amazing Pass for unlimited subway rides and admission to the city's attractions! (US$ 20.65)
Below we list four of Osaka's best observatories to enjoy a bird's eye view of the city. Whether you're searching for sights of Osaka's neon night glow, or want to get a different view of famous landmarks such as Osaka Castle, these observatories offer an unforgettable view of the city.
Book the JR Pass to save on transportation expenses in Japan, or the JR Kansai Wide Area Pass (5 Days) to explore Osaka, Kyoto, and other areas in western Japan!
Special offer until June 30!
Click here to get a 5% discount on any KLOOK purchase!
Top 4 Osaka Observatories
1. Umeda Sky Building: The Floating Garden Observatory
2. Abeno Harukas: Harukas 300 Observatory
3. Tsutenkaku Tower Observatory
4. Sakishima Cosmo Tower Observatory
5. Other Tips: HEP FIVE Ferris Wheel, Bars with City Views, and More
1. Umeda Sky Building: The Floating Garden Observatory
Photo by Pixta
Located in Osaka's bustling shopping and entertainment area Umeda, the awe-inspiring Umeda Sky Building is considered a true marvel of modern architecture. Made up of two colossal towers connected by a dizzying aerial walkway, it has become an iconic Osaka landmark in its own right.
The building's Kuchu Teien Observatory (the Floating Garden Observatory), located at a height of over 170 meters, offers an incredible, open-air, 360-degree panoramic view of the city stretching as far as neighboring Hyogo Prefecture's Awaji Island.
Photo by Pixta
The escalator ride alone is an experience in itself. The Sky Building's long, surreal glass tunnel of an escalator is the world's tallest, and it affords visitors incredible views before even reaching the main observatory. At night the futuristic escalator is lit up, and riding it almost feels as though you are being transported into space.
Photo by Pixta
The Floating Garden Observatory's floor also lights up at night, giving off a distinctive, eerie glow reminiscent of the cosmos.
Those who venture down into the basement of the Umeda Sky Building will find the unique Takimi Koji, a gourmet and entertainment street modeled on Showa-era Japan of the 1920s. In contrast to the building's futuristic upper floors, a trip to Takimi Koji will make you feel as though you've stepped back in time.
Ⓒ Osaka Convention & Tourism Bureau
The Umeda area itself is also not to be missed out on! The hugely popular entertainment district is easily accessed via JR, Hankyu, and subway lines, and is home to a wealth of shopping malls, attractions, and great dining options. These include the trendy HEP FIVE shopping mall (complete with its very own Ferris wheel and colossal red whale sculpture!) as well as the expansive Grand Front Osaka shopping and dining complex.
Though not the tallest structure in Osaka, the Umeda Sky Building still offers one of the most outstanding views of the city and is well worth the visit!
Book your Umeda Sky Building & Kuchu Teien Observatory Ticket in Osaka (US$ 11.29)
Read also
2. Abeno Harukas: Harukas 300 Observatory
Photo by Pixta
Those searching for a city view from Osaka's highest observatory need look no further! Completed in 2014, Abeno Harukas is currently Osaka's tallest structure, and the building's 300-meter-high observatory undoubtedly offers the best bird's eye view of the city.
The massive complex is not only the tallest skyscraper in Osaka, but is actually Japan's tallest building not classified as a tower.
Photo by Pixta
The building's Harukas 300 observation deck is located on the 58th, 59th, and 60th floors, and the views it offers are truly breathtaking. The observation deck's highest floor is surrounded by a massive floor-to-ceiling glass wall, allowing for a 360-degree, panoramic view of the city.
Visitors can enjoy views of some of Osaka's most famous sites such as Osaka Castle and Tsutenkaku, and can even see Hyogo Prefecture's massive Akashi Kaikyo Bridge, the world'd largest suspension bridge.
The 58th floor features the Garden of the Sky deck area and SKY GARDEN 300 cafe, and gift shops are located on the 59th floor.
Incredible views from Osaka's highest building are not the only thing on offer there, and adrenaline junkies will be thrilled by the hair-raising EDGE THE HARUKAS experience. It involves being strapped into a harness and walking along a tiny, vertigo-inducing platform at the very top of the building--not for the faint of heart!
As well as the observation deck, Harukas houses a huge department store, hotel, and museum, and offers visitors a wide range of shops and dining options.
The building is located in the Tennoji area, which is home to Shitennoji Temple, one of the country's oldest. Tennoji is also close to Osaka's famous Tsutenkaku Tower and Shinsekai area.
Book your Harukas 300 Observatory ticket in Osaka (US$ 11.05)
3. Tsutenkaku Tower Observatory
Photo by Pixta
The next entry on our list may not be the highest observatory, but it is the oldest and arguably the most iconic!
Located in Osaka's lively and character-filled Shinsekai area, Tsutenkaku Tower is one of Osaka's most beloved landmarks and has a relatively long history compared to other towers and tall buildings.
Modeled on the Eiffel Tower, the first Tsutenkaku was built in 1912, and at the time was the tallest structure in all of Asia. The original tower was mostly destroyed in a fire in 1943 and was subsequently demolished. Due to its incredible popularity and lobbying by the public, the current Tsutenkaku was constructed on the same site in 1953.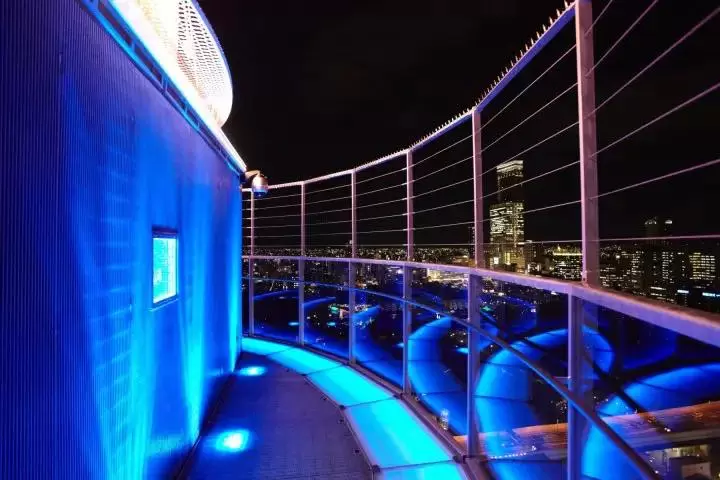 Picture courtesy of Tsutenkaku Kanko Co., Ltd.
The distinctive structure has an observatory on its top floor, where visitors can get an impressive view of the city. There are both indoor and outdoor observation decks, as well as TIP THE TSUTENKAKU, a transparent outdoor platform that extends from the tower.
Tsutenkaku also houses the Tower Slider, a thrilling 60-meter slide and fun addition to the famous landmark!
Also located within the tower is a statue of Billiken, an Osaka icon considered a deity of happiness. Billiken surprisingly traces his origins all the way to the US, where the original character was created by artist Florence Pretz after apparently seeing him in a dream.
Tsutenkaku is a true icon of Osaka, and the Shinsekai area offers what is considered to be a particularly authentic experience of Osaka's atmosphere. In contrast to Tokyo, Kansai's famed city is considered to be somewhat rougher around the edges and brimming with character, traits which are clearly reflected in the area.
Those seeking Kansai cuisine will enjoy any of the sheer numbers of eateries that offer delicious Osaka favorites such as kushikatsu at incredibly reasonable prices! Visitors be charmed by the retro atmosphere of the Janjan Yokocho shopping arcade, and the entire Shinsekai area as a whole feels as though it's a remnant from another time.
Shinsekai is also home to Spa World, a huge public bathhouse facility with an incredible and entertaining range of baths themed after both Europe and Asia. The venue combines the ideal amount of tackiness and luxury, and is surprisingly cheap to enter!
Though Tsutenkaku doesn't offer Osaka's highest view, it still affords an excellent vista of the entire city, as well as an unforgettable taste of Osaka's truly fascinating history and culture.
Book your Osaka Tsutenkaku Tower Ticket (US$ 5.89)
4. Sakishima Cosmo Tower Observatory
Compared to the other observatories on the list, the observatory within the Sakishima Cosmo Tower could be considered somewhat of a hidden gem. Despite being somewhat lesser known, the towering 256-meter building is actually the fifth tallest skyscraper in Japan and is the second tallest in Osaka.
Located on the building's 55th floor, the Sakishima Cosmo Tower Observatory affords incredible views of the city, including stunning night vistas of nearby Osaka Bay and the colorfully illuminated Tempozan Ferris Wheel. The panoramic view stretches as far as Akashi Kaikyo Bridge and Awaji Island.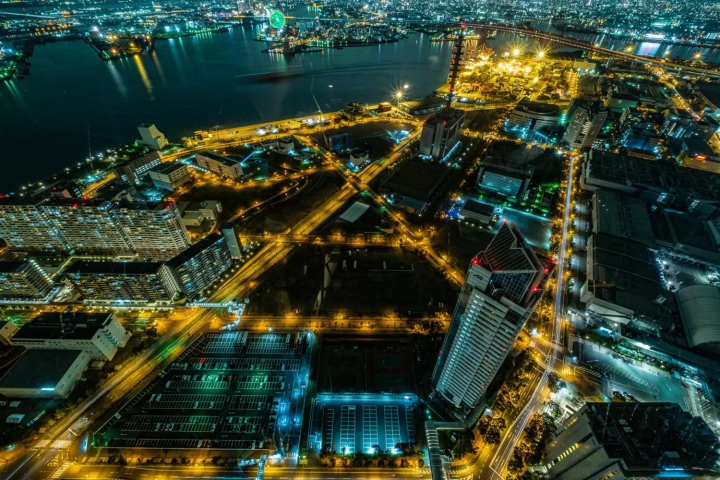 The building's glass elevator zips up beyond the 50th floor in a little over a minute, and also offers great views. The modern, stylish building is also home to a luxury hotel.
Sakishima Cosmo Tower is located in Cosmo Square, in the Osaka Bay Area. The area is quite unique, and its atmosphere certainly sets it apart from any other place in the city. In contrast to most of Osaka's tightly-packed buildings and hustle and bustle, Cosmo Square is quiet, filled with green spaces, and has a real sense of openness about it.
Nearby visitors can find the unique, dome-shaped Osaka Maritime Museum as well as the Asia and Pacific Trade Center (ATC), a unique waterfront shopping complex and exhibition space. The ATC's Umie-ru Ground is lined with palm trees and spectacularly illuminated at night.
The ATC is directly connected to the Sunflower Ferry Terminal, which offers ferry connections between the Kansai region and Japan's southern Kyushu island. An exciting overnight ferry trip from the terminal is a great option for those wanting to experience the hot springs of Beppu or the stunning natural scenery of Kagoshima.
Sakishima Cosmo Tower is also close to the Tempozan Harbor Village, a leisure area centered around its massive Ferris wheel and famed Kaiyukan Aquarium.
Book your Sakishima Cosmo Tower Observatory Ticket (US$ 5.89)
Other Tips: Enjoy Incredible Views of Osaka!
Viewing points are certainly not limited to the above list, and Osaka has a wealth of great places to get stunning city views!
Fun-loving visitors can get great sights of the city from one of Osaka's many famous Ferris wheels; these include the 112-meter-tall Tempozan Ferris Wheel (once the world's largest), the famous red HEP FIVE Ferris wheel, or even the distinctively shaped Don Quijote Ferris wheel, located right next to the iconic Dotombori Canal!
For those wanting to enjoy a touch of class along with their view, why not get dinner or a cocktail at either the Breeze Breeze Building's 33 Tea & Bar Terrace (located on the 33rd floor), or the Conrad Hotel's 40 Sky Bar (located on the 40th floor). Both feature massive floor-to-ceiling windows as well as great ambiance and stunning decor.
View from Satsukiyama Park. Photo by Pixta

Those on a budget may favor one of the city's many free views - notable among these are Higashiosaka City Hall's 22nd-floor observatory and Sakai City Hall's 21st-floor observation lobby.

Whatever location you decide on, we can't recommend enough getting an unforgettable glimpse of one of Japan's most lively and iconic cities from one of its many excellent observation points!

Book the 2-day Osaka Amazing Pass for unlimited subway rides and admission to the city's attractions! (US$ 20.65)

Main image by Pixta

The information presented in this article is based on the time it was written. Note that there may be changes in the merchandise, services, and prices that have occurred after this article was published. Please contact the facility or facilities in this article directly before visiting.