Yanaka Ginza: Retro Shopping Streets And A Famous Red Sunset
Yanaka Ginza is an old-fashioned area in Tokyo with a traditional shopping street where you can find delicious Japanese snacks and drinks and bargain-friendly souvenir shopping. Stay for the evening to take in a brilliant sunset and meet lots of friendly neighborhood cats too.
Snacks and Shopping in Yanaka Ginza, a Historic Tokyo Neighborhood
Photo by Pixta
Yanaka Ginza is part of Tokyo's historic shitamachi area, known for its traditional Showa-period townscape, and delicious and inexpensive food. This shopping street is a three-minute walk from the west exit of JR Nippori Station and is close to Tokyo Metro Sendagi Station. It is also within walking distance of Ueno Park. Located near residential areas, Yanaka Ginza has a much more relaxed atmosphere to it than what you will find in Shibuya or Shinjuku.
If you would like to see some uniquely Japanese sights and try delicious treats, a trip here is a must. Read below to find out what you can discover in this charming neighborhood.
Delicious Street Food along Yanaka Ginza
Yanak Ginza is a 200-meter long shopping street with over sixty different stores to see.
Here is a deli, selling different fried Japanese foods. You can pick up some croquettes here for as little as 30 yen each at this shop.
There are greengrocers, fishmongers, butchers and other specialty food stores running along both sides of the street. Sometimes, these shops will sell things to-go, from wagashi, like manju dumplings, to rice crackers, allowing you to enjoy Japanese street food and snacks.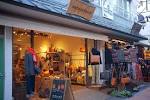 This isn't just a great place to find Japanese food though, there are also many little boutique stores tucked in along the way as well, such as this shop selling high-quality leather bags.
Yanaka Ginza's Famous Yuyake Dandan Stairs
At the one end of the shopping street you will see a flight of stairs. Known as Yuyake Dandan, the top of these steps offers a magnificent view of the sunset, which colors the area a vivid crimson on clear days. This is a famous photography spot, and you will find numerous people with their cameras here any day of the year.
This view of the street from the staircase attracts many local photographers and travelers. The evenings, in particular, are gorgeous, and the reason behind this staircase's Japanese name ("yuyake" means sunset).
Cats of Yanaka Ginza
All around the Yuyake Dandan you will find a number of cats. These friendly felines, some of which are strays, spend all their time relaxing and visiting those that come to these steps, so please say hello to them too! Be sure to be careful and respectful of the animals, though.
If you would like to try some delicious Japanese food, see unique little boutiques, an amazing sunset and lots of friendly cats, a trip to the Yanaka Ginza shopping street is perfect for you. Close to Yanaka Ginza are other charming areas, like Nezu, famous for the lovely, flower-filled Nezu Shrine. Make this a part of your trip to Tokyo––you won't regret it.
Main image by Pixta

The information presented in this article is based on the time it was written. Note that there may be changes in the merchandise, services, and prices that have occurred after this article was published. Please contact the facility or facilities in this article directly before visiting.