The 20 Tastiest And Most Popular Souvenirs From Japan
Would you like to buy food souvenirs from Japan? Please refer to this detailed list of recommended products that are light to carry, very delicious and representative of Japanese cuisine when looking for souvenirs for friends, family and co-workers.
5. Youkan
Sensoji, Asakusa: Top 6 Food Selections
Price: 300-500 yen
Youkan is a confectionery where sugar and beans are mixed together into a paste that goes well with green tea. Ones that are not made with beans and instead with sweet potato are called Imo youkan. A shop in Asakusa called Funawa is well known for their Imo youkan.
6. Senbei Crackers
From Make Rice Crackers At Yamako Senbei's "Soka Senbei Garden" In Saitama!
Price: 300-500 yen
You can find senbei rice crackers outside of Japan, but the ones you can find in Japan are slightly larger and come in many flavors such as soy sauce, green tea or sugar. The crispy texture is the addictive trait of this snack.
If you buy senbei rice crackers in Japan, you may be surprised at how different they are.
7. Dorayaki
From The Best Dorayaki in Japan! Usagiya in Ueno
Price: 100-300 yen
Dorayaki is a Japanese confectionery where anko red bean paste is sandwiched between two pancakes. It is a delightful treat that goes well with green tea and coffee.
The pancake used for the dorayaki is fluffier than standard pancakes. Depending on the shop, the red bean and pancakes can be different, so it would be nice to find a shop with your favorite kind of flavor and texture.
Read also:
8. Karinto
From "Karin Karin" Sweets Store: More than 20 Kinds of Flavors
Price: 300-500 yen
Karinto is a snack made from fried dough that has been coated in brown sugar and dried. It is a very crispy snack that goes well with tea or coffee.
9. Wasanbon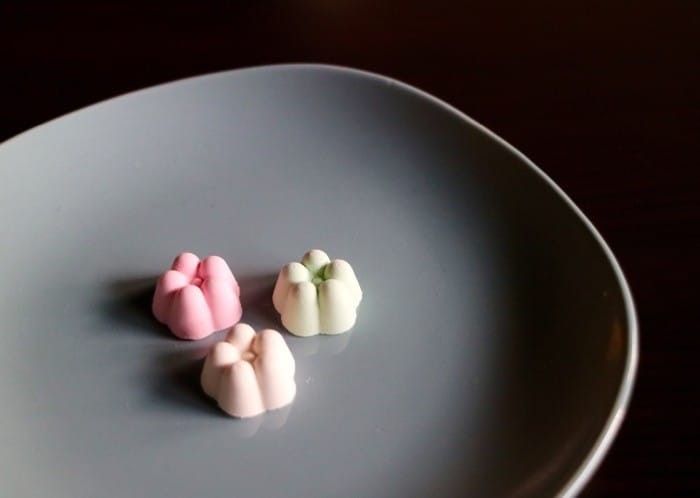 From Five Souvenirs To Check Out At The Kanazawa Station Mall
Price: 500-1000 yen
Wasanbon is a sweet confectionery using the high-quality wasanbon sugar that has been solidified into shapes of flowers and fans.
This candy-like confectionery is not only pretty, but it has a gentle sweetness, the confectionery almost melts right in your mouth. At times they are even served during tea ceremonies.
Wasanbon can be purchased at Japanese confectionery stores in department stores.