All You Can Drink Fruit Liqueurs! Japanese Drinks At SHUGAR MARKET In Tokyo
We introduce a shop in Shibuya, Tokyo with all-you-can-drink plum wine and fruit liqueur! The liqueur flavors here are special, varying on the brewer and ingredients. Enjoy sipping on different Japanese beverages in the heart of Tokyo!
All-You-Can-Drink Plum Wine and Fruit Liqueur with No Time Limit
SHUGAR MARKET (SHUGAR) is a plum wine (umeshu (*1) and fruit liqueur specialty shop located a five-minute walk from Shibuya, Tokyo.
Here you can drink as much as you want without worrying about time in a wonderful, relaxing space, while enjoying unique alcoholic beverages selected by expert buyers. Unique alcohol brewed in collaboration with kuramoto (*2) can also be found here. In addition, SHUGAR allows customers to bring their own food into the store.
In this article, we introduce some recommended beverages and how to enjoy a visit at SHUGAR!
*1 Umeshu: a fruit liqueur made by soaking plum fruits and sugar in shochu (Japanese liquors).
*2 Kuramoto: the people that manufacture and sell alcohol.
How to Order
SHUGAR is located just a little way into the main street in Shibuya. The location may be slightly difficult to understand, but you go up the stairs to the third floor of the building.
First, we introduce the system at SHUGAR. The first thing you will do is decide on a course and pay.
There are three courses.
| | |
| --- | --- |
| Course | Fee (before tax) |
| 30 Minute Course | 1,000 yen |
| 90 Minute Course | 2,000 yen |
| Unlimited Time Course | 3,000 yen |
Once you've paid, have the back of your hand stamped. You are free to leave and enter the shop as you like, so be sure to show this stamp when re-entering the shop.
The staff will explain the system to you once you've taken your seat.
You'll be worry-free as English-speaking staff are available along with an English manual.
There are unbelievably 100 different types of umeshu and fruit liqueurs available in the refrigerator. Interested in one of the drinks? You are free to pour as much as you want into the glass you receive from SHUGAR. It might even by fun to make your own blend.
Each person is only given one glass at the Shibuya location, so be sure to fill your glass, keeping in mind your drinking tolerance! (The Yokohama and Fukuoka Tenjin (Japanese) locations are three glasses per person) Please exercise caution to avoid drinking too much.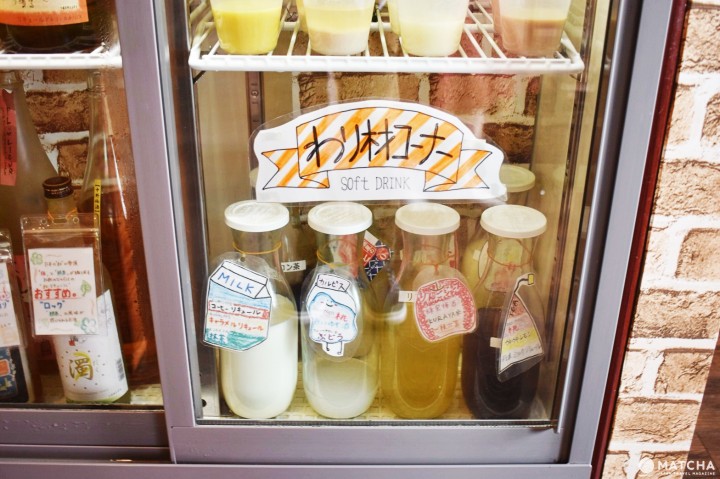 Drinks including oolong tea, black tea, soy milk, orange juice, apple juice, Calpis (*3), milk, amazake (*4), and soda are also available. Feel free to use them with the liqueurs to make your own original drinks.
*3 Calpis: a fermented milk-based drink with a refreshing flavor (called Calpico in North America).
*4 Amazake: a sweet drink made by fermenting rice. It can also refer to a sweet drink made from sake lees (leftovers) and sugar.
If you are a feeling lost about what goes well together with the many types of alcohol and mixers, the employees are happy to give advice. Please feel free to ask for their help.
The recommended way to drink each liqueur is written on a sign in Japanese around each bottle. Be sure to refer to these signs and search for your favorite blend.
Procedure Summary
Here is a summary of the procedures that we've introduced so far.
1. Decide on a course and pay
2. Have the back of your hand be stamped
3. Sit at the seat you are led to and receive an explanation on the shop's system from the staff
4. With the glass provided to you by the staff in hand, pour yourself a drink from the refrigerator
It is completely fine to leave your emptied glass on the table.
Popular Beverages
Let's go and have some drinks!
There are several delicious alcohol options, but the most popular choices include:
1. Hyakunen Umeshu – A Standard Favorite
This is a richly flavored, brandy-based umeshu (plum wine), matured for over five years. This brand became the top umeshu in Japan in the National Umeshu Competition in 2008. Here you can drink as much of Japan's number one umeshu as you want at SHUGAR.
2. Cold Press Fruit Liqueur
If you want to enjoy fruity flavors, we suggest the Cold Press Collection. This is a staple liqueur here, made by extracting the nutrients from fruits using the cold press method, then blending the juice with Japanese alcohol.
It is not common to leave fruit pulp to pickle in alcohol and extracting fruit essence from it. However, this alcohol has so much pulp contained in it that you'll be able to chew it and it'll feel as if you're drinking fresh juice.
The alcoholic content is 6% and especially tasty over ice.
Recommended Beverages
Next, we'll introduce the beverages highly recommended by the store manager, Nagata-san.
1. Noto Umeshu
Noto Umeshu is a liqueur that uses from plums from Noto, a peninsula in Ishikawa, with a junmaishu (*5) base made from Noto-produced rice. Its flavors are well-balanced and the acidity of the drink goes pairs well with black tea.
*5 Junmaishu: an alcohol made with only rice, koji (malted rice), and water.
2. Tamba Milk Liqueur
Tamba Milk Liqueur and Tamba Milk Liqueur Anco are novel liqueurs developed collaboratively with sake brewers. These liqueurs are specially made without the use of preservatives and color additives.
Tamba Milk Liqueur is the world's first natural milk liqueur and has a refreshing taste similar to drinking fresh milk. The term "natural milk liqueur" means the liqueur was made with fresh milk without the use of preservatives, coloring pigments, and additives.
Tamba Milk Liqueur Anco is a liqueur we'd like you to try that is made by matching alcohol together with anko (red bean paste). It's very easy to drink.
Other Recommended Services
Vanilla ice cream, cocktail shakers, toppings, and miso soup are available for you to use for free at SHUGAR. The ice cream is also all you can eat!
Drinking your liqueur with ice cream on top is also delicious! The picture above features KURAYA Matcha topped with vanilla ice cream. These vanilla and liquer are a perfect flavor match, so definitely give this combination a try for yourself.
Toppings include Oreos, granola, caramel, and other flavorings. You'll be able to create your own original liqueur and ice cream using as many of these ingredients as you want.
Bring in Your Own Food and Come and Go As You Please
SHUGAR MARKET specializes in alcohol, so there is basically no food menu. Instead, you are free to bring whatever food and treats you want into the shop! Be sure to buy and bring your favorite snacks with you.
This time, we bought some snacks at the nearby 7-Eleven and Seijo Ishii!
At the 7-Eleven near Shibuya Station, we bought PRETZ (*6), mandarin orange jelly, dry-cured ham, butter cookies, and tsukemono. At Seijo Ishii, a supermarket in the basement of Shibuya Station, we purchased canned fruit and cheese.
*6 PRETZ: a light, salt-flavored snack.
First, we put the mandarin orange jelly we bought into a glass...
Then we poured the Whole Satsuma Mandarin Orange fruit liqueur on top. The result is a drink with jelly inside!
We ate this creation with a spoon. With plenty of mandarin orange flavor and a slight alcoholic fragrance, it is like an adult-version of jelly. What we made was extremely delicious, so please feel free to test it out with other fruits!
We then wrapped the PRETZ with dry-cured ham, making a snack to go perfectly with our drinks! It may seem simple, but it goes quite well with alcohol.
You can also order delivery pizza or sushi and have it delivered.
As you are free to enter and leave as you please, you can also go out shopping in the middle of your beverage tasting. Stylish plates, forks, and utensils are always on hand at SHUGAR, so we suggest bringing in snacks or side dishes to share with everyone.
When you are tired from drinking, there is a refreshment corner containing miso soup with clam, wakame seaweed, and other ingredients. Jasmine tea is also available. How about using this area to take a break from drinking?
Visit SHUGAR's Sister Shop for All-You-Can-Drink Sake
KURAND SAKE MARKET, SHUGAR MARKET's sister shop that specializes in Japanese sake, is located about a 30-second walk from SHUGAR in Shibuya. This shop also follows the same system as this location and offers all you can drink Japanese sake.
Believe it or not, you can enter both SHUGAR MARKET and KURAND SAKE MARKET by paying the entry fee once at either shop!
There are also several branch stores of Japanese sake and fruit liqueur brands in Shinjuku. HAVESPI, a shochu (distilled Japanese spirit) specialty, is one such shop that follows the same system, so you can even visit all three shops on the same day. Go to each store and get your fill of adult beverages!
These stores may be full on the weekends, so we recommend making a reservation beforehand. Please check the official website listed below in the information for details.
** There may be instances where you may not be able to enter these shops during peak hours on the weekends and other days.


The information presented in this article is based on the time it was written. Note that there may be changes in the merchandise, services, and prices that have occurred after this article was published. Please contact the facility or facilities in this article directly before visiting.