5 Haneda Airport Limited Souvenirs You Should Try
If you forgot to buy souvenirs or have some extra time at Haneda you should check out some of the limited edition items the airport has to offer. We introduce you to five examples including an exclusive Tokyo Banana flavor and Gold Leaf Castella
Charming Airport Limited Souvenirs
If you're someone who doesn't have time to buy souvenirs during your trip or doesn't carry them with you during your trip, then how about buying airport limited products instead? 
Here are our five recommended products that can only be purchased at Haneda Airport. These include special Tokyo Bananas, a staple Tokyo souvenir, and other limited edition products made in collaboration between the airport and brands.
1. Tokyo Banana Honey Flavor
Tokyo Bananas are a product with a lasting popularity as a Tokyo souvenir. A honey flavor version is only sold at Haneda Airport! Printed at the bottom left of the box in Japanese is "Haneda Airport Limited" with a drawing of a small airplane flying into the air. This emphasizes the fact that you only purchased it at the airport.
The sponge cake is patterned with three lines and filled with honey custard. Each sponge cake is individually wrapped, making them a perfect souvenir to hand out to multiple friends.
The honey flavor is faint. There is a sufficient amount of sweetness, so it will go well with tea or coffee. It would even be more delicious eaten chilled.
Flying Tokyo Banana Honey Flavor
Price (tax included):
4 pieces: 560 yen
8 pieces: 1,080 yen
12 pieces: 1,595 yen
2. Shiseido Parlour's Haneda La Ganache "petit"
Shiseido is mainly famous for their cosmetics. However, the souvenirs sold at the Shiseido Parlour, the brand's sweets café and restaurant, are also immensely popular.
Haneda La Ganache petit is a Haneda Airport limited souvenir sold at Shiseido Parlour.
Designed with rose illustrations in black and red, the product has a refined ambiance. When you open the packaging, the chocolate crunch will pop out like a small lipstick. It's a high-class souvenir that might make you feel as if you're at the flagship restaurant in Ginza.
There are two flavors, café au lait and chocolate strawberry. Each crunchy chocolate is individually wrapped. This chocolate has an interesting texture and is fun to eat.
Haneda La Ganache petit
Price (tax included):
16 pieces: 1,080 yen
32 pieces: 2,160 yen
3. Mameya Kanazawa Bankyu's Gold Castella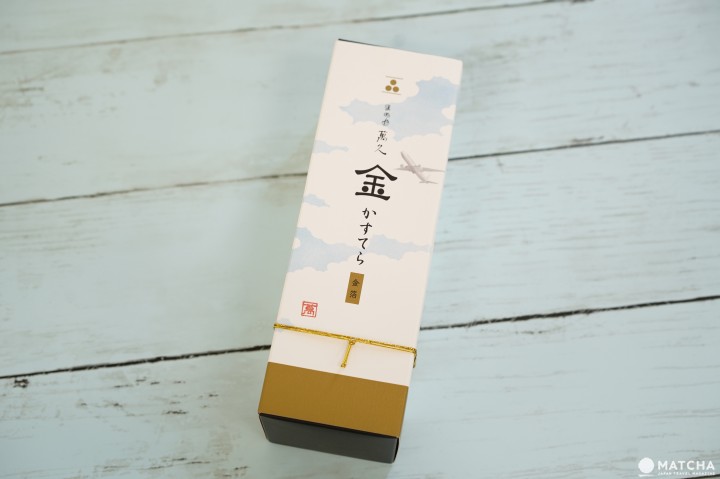 Gold Castella, made using high-quality egg yolks and topped with an extravagant gold leaf layer, is a famous Kanazawa souvenir. The packaging portrays an airplane in the blue sky surrounded by white clouds. It is enveloped in a Haneda Airport limited gold paper. This gives the product a refined Japanese appearance.
The Gold Castella pictured is an airplane-shaped version that can only be purchased at Haneda Airport. Once you open the box, you'll find a castella luxuriously affixed with gold leaf on one side.
If you look at it from above you'll see the airplane shapes hidden in the castella. Though it's okay to eat the pieces whole, the shape has been cut in order to be taken out. It might be a fun to challenge to see whether or not you'll be able to cleanly take out the airplane. Instructions are printed on the inside of the packaging.
Our writer took out the thin bottom paper to eat the castella. He had overturned the castella and the gold leaf ended up entirely sticking to the paper! The gold leaf cannot be removed once it is stuck on the paper, so please be very careful.
The castella itself has just the right softness and sweetness. Honey is used instead of sugar. The more you chew, the more you'll be able to experience its fragrance and sweetness. It will be even more delicious when eaten together with Japanese tea.
Gold Castella Airplane
Price (tax included): 1,350 yen
4. Cloud-Shaped Dorayaki
If you are a Doraemon fan, don't you feel like bringing home dorayaki (*1)? A slightly unique dorayaki is being sold at Haneda Airport! Dorayaki is usually round. This product has been folded in half to create a "dorayaki cloud". It even has a cloud illustration on its surface.
*1 Dorayaki: a Japanese dessert consisting of red bean paste sandwiched between a soft and sweet pancake batter.
Dorayaki Hanegumo is a collaboration product between Japan Airport Terminal Co., Ltd., the company that operates Haneda Airport, and Kano Shojuan, an established wagashi shop in the Shiga Prefecture. This product is delicious and has a pleasant texture.
Its springy dough is slightly different from other dorayaki. Packed in between the dough as soft as a cloud is an ample amount of azuki beans produced in Hokkaido. The red bean paste has a moderate sweetness that will be even more delicious when eaten together with either coffee or tea.
Fuwamochi Dorayaki Hanegumo
Price (tax included):
5 pieces: 1,080 yen
10 pieces: 2,160 yen
5. Maple Langue de Chat
Inside this simply designed package are chocolate cookies in three flavors topped with additional seasonings. This confectionery was developed by Mr. Hidemasa Yamamoto, a former executive chef in charge of the inauguration dinners of former presidents of the United States, and Japan Airport Terminal Co., Ltd.
The matcha green tea chocolate, white chocolate, and yogurt chocolates have all been respectively flavored with unusual seasonings in the form of Maldon sea salt, sansho peppers, and fennel seeds. This gives the cookies an interesting change in flavor.
The subtle flavor of the matcha green tea chocolate cookies is enhanced with sansho pepper seeds, giving it a Japanese taste. The white chocolate cookie is topped with Maldon sea salt. It is the perfect combination of sweet and slightly salty. The yogurt and fennel seed combination is rather interesting as well.
Maple Langue de Chat
Price (tax included):
6 cookies: 1,080 yen
9 cookies: 1,620 yen
18 cookies: 3,240 yen
Precautions to Purchasing Airport Souvenirs
When buying souvenirs at the airport, please be aware of the following three points:
1. If purchasing anything before entering immigration, be sure to put any liquids into your check-in luggage. Liquids exceeding 100 milliliters cannot be brought onto the aircraft.
2. Some souvenirs sold at the airport may have a short shelf live, so be sure to check the expiration date. You may also have the staff check the date for you when paying at the counter if you can't find it.
3. Make sure to purchase a cooler bag for chocolates or souvenirs that require refrigeration.
Get Some Souvenirs Before your Flight
The Haneda Airport limited souvenirs introduced above can all be purchased at the International Terminal duty-free shops at Haneda Airport.
The next time you fly from Haneda Airport, don't forget to check out some of the popular souvenirs we've introduced in this article!
** This article was translated and revised from an article originally in Chinese.

The information presented in this article is based on the time it was written. Note that there may be changes in the merchandise, services, and prices that have occurred after this article was published. Please contact the facility or facilities in this article directly before visiting.