How To Enjoy Oden, Everyone's Favorite Winter Dish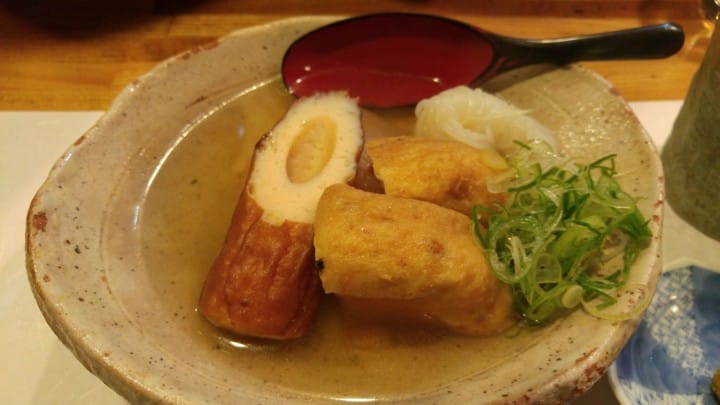 Oden is a warm and an amazingly savory dish, loved by both locals and travelers during the cold season. We introduce here the common ingredients in oden, as well a the cooking recipe and even how to buy it at convenience stores!
A trip to Japan in winter can be a very enjoyable experience, especially if you get to taste the seasonal cuisine. Even harsh winters become more bearable with the popular dish called oden. Everyone's winter dish, oden is available everywhere, from izakayas and oden restaurants to food stalls (yatai) and convenience stores. Let's see what oden contains and how it can be enjoyed.
Warm and Tasty, Oden Is Everyone's Favorite Winter Dish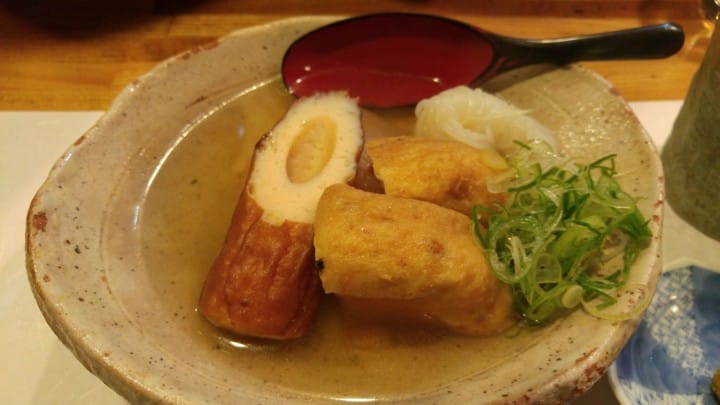 Oden is a traditional Japanese dish, enjoyed warm on days with cold weather. It is a very simple stew made by simmering fish cakes, fried tofu and vegetables in a kelp-based stock for a few hours. It has become a feature of winter in Japan, as it is a type of hot pot cuisine. The individual components in a pot of oden are all very distinct, and the best part is to choose your favorite ingredients piece by piece, although standard assortments may also be available.
Typical ingredients include big chunks of stewed daikon (white radish), boiled potatoes, hard-boiled eggs, transparent konnyaku pieces and rolled-up sheets of konbu (kelp) tied into knots. The dish includes tofu products like fukuro (fried tofu pouches stuffed with mushrooms and noodles), ganmo (fried tofu patties with vegetable bits) and atsu-age (fried tofu pieces). Doesn't it sound delicious?
Essentially just a variety of foods served in a light, soy-flavored hot broth, oden is a hugely popular winter dish in Japan. It usually appears in stores around September or October depending on the region. Warm, filling and tasty, it surely makes the winter more enjoyable.
Oden fans appreciate the subtle flavors of a good long-simmered broth and the contrasting textures and flavors of the various fish cakes, especially when accompanied by sake or beer. In addition to being delicious, oden is healthy and fat free! Ingredients such as shirataki (a type of noodles), which help digestion, calcium absorption, decreasing cholesterol and preventing high BP, make oden a nutritious and wholesome dish.
Common Ingredients Used in Oden
Daikon Radish
Daikon is one of the most loved ingredient in the oden. It soaks up the oden broth, becoming soft and even more delicious.
Yaki chikuwa
Another essential oden ingredient, chikuwa are tube-shaped fish-paste cakes. Chikuwa's consistency is somewhere between cooked meat and tofu. It is soft and spongy but won't fall apart between the chopsticks. It is usually made by molding fish paste around a bamboo stick into a tube shape, steaming it and then grilling it.
Mochiiri Kinchaku - Fried Tofu Filled with Rice Cake
These are small pouches made from deep-fried tofu. Inside there is a thick mochi rice cake that is a favorite of many people.
Yude Tamago - Boiled Egg
These are hard-boiled eggs which have been left in the stock long enough to change color and pick up a delightful amount of salty flavor. They are a tasty and filling treat!
Konnyaku Jelly Pieces
Konnyaku jelly is made from a special kind of potato and features in many Japanese dishes. When soaked in the oden broth, it tastes genuinely delicious.
Shirataki
Shirataki are a bundle of noodles made from konnyaku, tied up with a thick band of the same ingredient. They are pleasantly chewy, nutritious and a fun addition to your bowl of oden.
Atsuage - Fried Tofu Pieces
Atsuage is literally a thick slice of fried tofu. There are numerous other varieties to try, but the thin "aburaage" and the thick "atsuage" are most common.
Chikuwabu
Made from thick flour-paste, these tube-shaped snacks are one of the filling, consistent oden ingredients.
Tsukune - Meatloaves
Tsukune are meatloaves usually made from ground chicken meat and shaped into small balls. Meat lovers have another chance to enjoy it even in oden.
Recipe to Make Oden at Home
Making oden at home is a wonderful experience. Enjoying oden with one's family around a kotatsu (traditional room heater) is what the Japanese winters is all about. Here is the recipe for making oden at home.
Ingredients required:
5 cups of Dashi stock
2 tbs. sake
4 tbs. light soya sauce
1 tsp. sugar
100g boneless chicken meat
6 fried tofu puffs
6 Chinese cabbage leaves, scalded
A few lengths spring onion, scalded
1 daikon radish, peeled
2 potatoes, peeled
2 carrots, peeled
4 hardboiled eggs, peeled
1 block konnyaku
1 piece of Japanese fried tofu
2 kinds of Japanese fish cakes
Yellow hot mustard
How to Cook:
1. To make the dashi stock from scratch, boil dried kombu and bonito flakes with water. Strain into a large pot. Add sake, soy sauce, sugar and leave aside. Ready-made dashi stock can also be bought at supermarkets.
2. Remove the cooked kombu and cut the pieces lengthwise so that they can be tied into knots.
3. Season the chicken pieces with light soya sauce and sake.
4. Make a slit in each tofu puff and stuff it with pieces of chicken. Tie up to make a small parcel using a length of the softened spring onion.
5. Roll up the scalded and softened cabbage. Secure roll with spring onion and keep aside. All these ingredients can be prepared beforehand and left in the fridge till needed.
6. Keep a pot on gas burner with dashi stock and allow it to boil for a few minutes. Cut potato, radish and carrot and add to the pot.
7. After half an hour, add kombu knots, tofu parcels, cabbage rolls and the other items, cut into smaller pieces if necessary. Simmer the soup for at least 30 minutes more. Add the hardboiled eggs.
8. Add more water if needed. Season with soy sauce if you like, and serve with mustard on the side.
Note: The longer it is stewed, the more intense becomes the flavor.
During the winter season, "Oden sets" can be found at supermarkets. An oden set contains all the ingredients necessary to prepare oden at home.
Buying Oden from Convenience Stores
Oden is one of the staple dishes that can be bought at convenience stores in the cold season. Oden is a versatile dish and can be enjoyed for lunch or dinner. Let's see how exactly we can buy oden at convenience stores.
1. Almost all convenience stores (ex. Lawson, Family Mart, Seven Eleven) offer oden in Japan. When you enter a konbini, just look around the counter and you will spot the oden stand.
2. The price of each piece is displayed near the stand. The ingredients range from 108 yen to 400 yen, or more. Take one of the special bowls, pour in some broth and a dab of strong mustard. You can also take other flavoring sauces such as miso sauce or yuzu pepper.
3. The next step is to take a plastic container kept beside the table and choose the ingredients one by one. When you choose the ingredients, we recommend you first try ingredients that take a long time to cook such as daikon or konnyaku. They are flavorful and the soup tastes great.
4. Take the bowl to the cashier at the counter. The cashier will check what ingredients you picked and apply the rate. You can enjoy the oden right there in the convenience store, or have it on the go.
In Conclusion
For oden there are many types of soup stock and ingredients, which differ depending on the region or household, but the dish is delicious in every way. The most common way to eat oden is by placing a bit of mustard or miso on the daikon, fish cakes and boiled eggs that have been simmered in dashi.

Did you enjoy it? We hope to hear your impressions of this wonderful Japanese winter dish!!

The information presented in this article is based on the time it was written. Note that there may be changes in the merchandise, services, and prices that have occurred after this article was published. Please contact the facility or facilities in this article directly before visiting.