Savor Local Dishes! A Trip On The Orange Restaurant Express Train In Kagoshima
Many unique sightseeing trains travel through the Kyushu area, and one that everyone should try is the Orange Restaurant Express, on which you enjoy regional dishes as you watch the stunning scenery of Kagoshima go by.
Japan's Kyushu region is where a number of the unique and tasteful sightseeing trains, such as the Seven Stars and Aru Ressha run.
In this article, we will introduce another of these trains, the Orange Restaurant Express, managed by the Orange Railways company.
What's the Orange Restaurant Express Train?
The Orange Restaurant Express is a sightseeing train that comes equipped with a proper dining car.
It is known as a restaurant train because it has worked in collaboration with local businesses along the train line itself in order to provide the freshest seasonal ingredients and dishes available in the region. But it isn't solely about the food. From the train windows you can relax and enjoy the seasonal landscapes as well as views of the ocean along the west coast of Kyushu too.
Today we'll take a short journey on the Orange Restaurant Express from Shin-Yatsushiro Station in Kumamoto prefecture to Sendai Station in Kagoshima prefecture and introduce some of the features of this train.
Ocean Facing Seats Command Superb Views
This time our starting station was Shin-Yatsushiro Station in Kumamoto prefecture. Here you can see the interior of the lead car. When the Orange Restaurant Express passes along the ocean side, you can take in the views of the sea from seats such as this. There are also curtained off window seats available as well.
Before the departure, we took a brief look around inside the train. There is a bar inside, where you can order both alcoholic and standard beverages as well.
Let's Go!!
After we'd boarded and looked about, it was time for the train to depart. No sooner had we left the station, than these small sweets were given out. Throughout the journey, the passengers in these seats will be provided with many of the yummy regional treats found along the train line.
Stunning views of the scenery around you can be enjoyed to your heart's content via the large windows in the last car of the train.
There are also small seats prepared for children, which makes this a great way to travel for families as well.
After passing over the bridge, we were served chikuwa. Hinagu chikuwa is a specialty of Hinagu Onsen Station; the springy texture and simple flavor of this dish is quite appealing.
Next we passed by Yashiro Station, and were given souvenir iguza coasters (woven rush coasters). Kumamoto is the largest producer of rushes in all of Japan, and Yashiro in particular has a high output of these plants. From this coaster you can really smell the pleasant aroma of the rushes.
Incidentally, these rushes are the main component in an important part of Japanese houses: tatami.
Stopover at Sashiki Station
En route there is a brief stopover at Sashiki Station. The train stops for about fifteen minutes, giving the passengers plenty of time to look about the station.
Actually, when you purchase your ticket for the Orange Restaurant Express, you will receive a set of coupons such as this. There are several sheets of coupons that may be exchanged for famous local products at each of the stopover stations on the route. Hmm, what could this coupon be exchanged for at Sashiki Station...?
Oh, we got the city's famous curry buns! These buns are made from local beef and onions, and have a deliciously crunchy exterior with a soft, flavorful curry center that is sure to satisfy.
These exchange coupons change seasonally as do the famous products available along the train route.
Then it was time to depart once more. After Sashiki Station, next came Tsunagi Station. Here you can see Hi no Akebono,a famoous 100% pure fruit juice made from kinari mikan oranges (*1) given by the city of Tsunagimachi. The combination of moderate sourness and rich sweetness make this an amazing juice.
*1 Kinari: a form of cultivation wherein the fruit is left to ripe and mature on the tree until right before it is harvested and processed.
Next was Minamata Station, where we stopped for about twenty minutes. You can purchase Minamata fruits and confections inside the station building.
Passing from Kumamoto To Kagoshima
After about two hours on the train, you will notice that the train seems to slow down as you draw nearer to the prefectural border between Kumamoto and Kagoshima.
The leftside of the bridge is Higo Province (the old name for Kumamoto prefecture), and to the right is Satsuma Province (the old name for Kagoshima prefecture).
Stopping at Izumi Station for a Special Lunch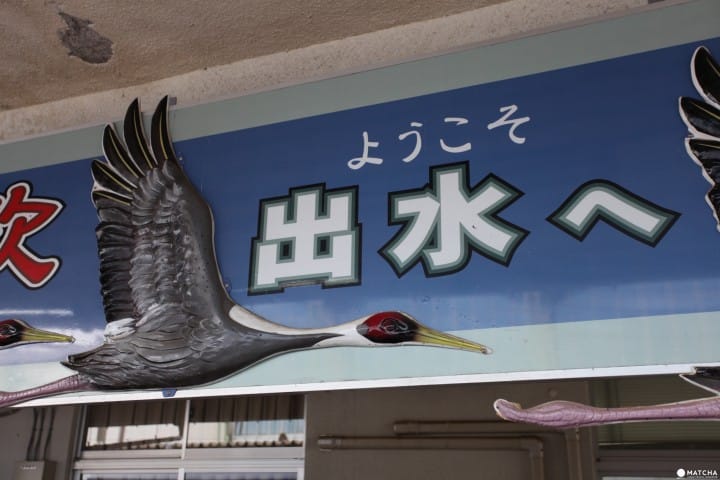 The first station that you stop at after entering Kagoshima prefecture is Izumi Station. Izumi city in Kagoshima prefecture is home to the world's largest population of cranes. It is said that there are about 10,000 cranes in Izumi Heiya from October to March every year.
There is a special exchange coupon to use here as well.
When speaking of Kagoshima, pork-based cuisine immediately comes to mind. Here is the popular regional cuisine, boiled pork cartilage.
In the station, you can purchase specialties from Izumi city, as well as copies of the mugs used on the Orange Restaurant Express.
Then it was time for our long-awaited lunch. Although we have enjoyed plenty of delicious treats up until this point, now it was time for our main event. Lunch was a lovely course meal prepared by Mikura, a popular restaurant in Izumi city.
First was chawanmushi, a savory steamed egg custard that featured Akune sea urchin and Takaebi shrimp .
From left to right, Izumi city's famous roast chicken with a mature persimmon vinegar dressing, boiled Akune konbumaki and local vegetables, and flame broiled eggplant with pork miso dressing.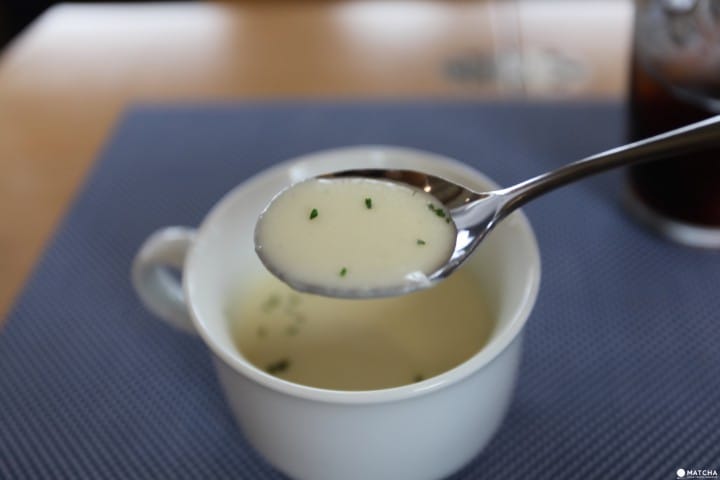 And, potage soup made from sweet potatoes from Nagashima.
Nagashima's deep friend and marinated sea bream.
Wagyu steak from Kagoshima.
And with a slice of chocolate roll cake and custard pudding for dessert, this completely satisfying lunch came to an end.
See the Station Created by the Seven Star Designer
Akune Station was remodeled into Nigiwai Koryu Akune Station (Bustling Exchange Akune Station) on May 3rd, 2014.
The station itself was designed by Eiji Mitooka, the designer behind the Seven Stars in Kyushu luxury train. As the Akune region is rich in trees, local lumber was exclusively used in the construction of the new station, giving it a very warm and inviting atmosphere. Within the building there is a library room, kids' room, a multi-purpose event space and many other facilities wherein local residents and travelers can meet one another.
As the train stops for twenty minutes at Akune Station, visitors are able to leisurely enjoy their time at the station.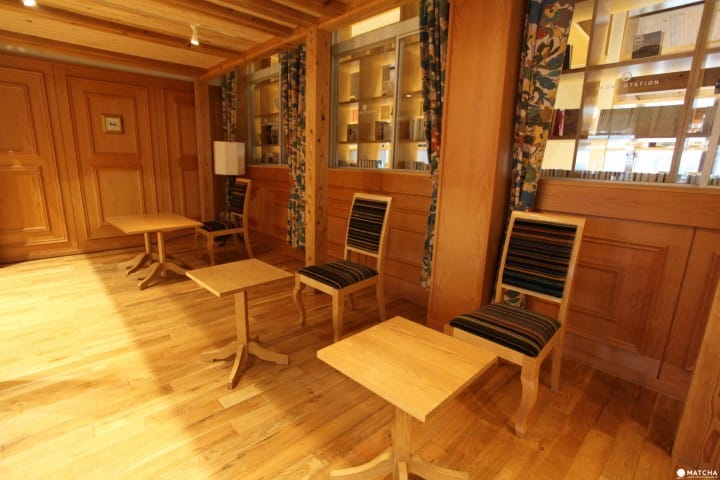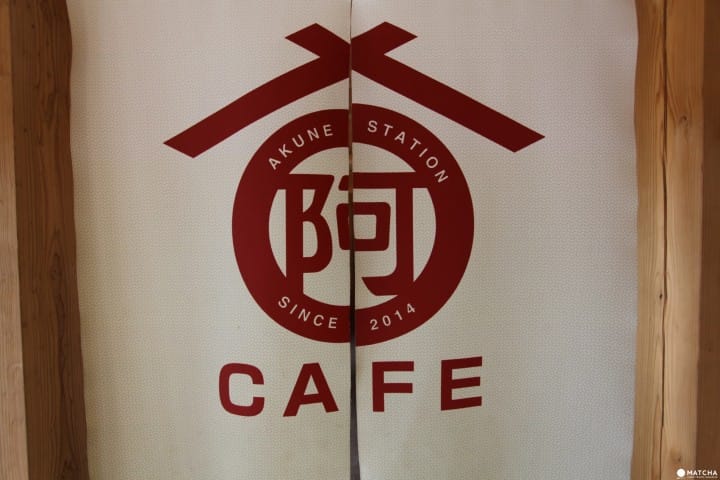 The waiting room is also used as a concert hall, which means that you might be able to see a small concert while stopped at the station as well.
Heading to Satsumataki Station
The next stop is Satsumataki Station, where Japanese sardines have been freshly grilled at the station and are waiting for you.
The train will stop for another twenty minutes here so if you would like, you can take a quick walk to the ocean, as it is located right by the station itself.
In Conclusion
What did you think of the journey? In our trip we only mentioned up to Satsumataki Station, but the final stop of the Orange Restaurant Express is actually the next station, Sendai Station.
If you would like to experience the local specialties and tranquil landscapes of both Kumamoto and Kagoshima prefectures as you travel on your way through Kyushu, then a train journey on the Orange Restaurant Express is exactly the route for you.

Reservations for this train made be made one month prior to the departure date of the train. Online reservations are not available, those wishing to book tickets for this train must call the Orange Restaurant Express Reservation Center (0996-63-6861), any of the Hisatsu line Orange Railways stations (except for Higo-Tano-Ura Station), travel centers at principal stations for JR Kyushu, or contracted travel agents.

Sponsored by Kagoshima Tourism Federation

The information presented in this article is based on the time it was written. Note that there may be changes in the merchandise, services, and prices that have occurred after this article was published. Please contact the facility or facilities in this article directly before visiting.