Featured In The MICHELIN Guide Tokyo 2019! Onigiri Asakusa Yadoroku
Onigiri Asakusa Yadoroku is Tokyo's oldest rice ball shop and is featured in the MICHELIN Guide 2019. Located behind Sensoji Temple in Asakusa, the delicious, fresh onigiri here are made carefully by expert hands, showing uniquely-Japanese friendliness.
Onigiri Asakusa Yadoroku: Tokyo's Oldest Rice Ball Shop
Behind Sensoji Temple in Asakusa, the old downtown area of Tokyo, there is a shopping street lined with stores that boast a long tradition. Among a stretch of modern buildings, you'll notice a Japanese-style hisashi (*1) and noren (shop curtain). What will we find here?
*1 Hisashi: a small roof that protects the building from rain and sunlight.
This is Onigiri Asakusa Yadoroku. It is considered to be the oldest onigiri (rice ball) shop in Tokyo and is featured in the "MICHELIN Guide Tokyo 2019." Jun Matsumoto, a member of the famous Japanese music group, Arashi, has also visited the restaurant.
Opened in 1954, Onigiri Asakusa Yadoroku is over 60 years old. The business has been passed down within the family and is currently jointly operated by the second and third-generation owners.
"Yadoroku" – All Play, No Work
The word "yadoroku" is a colloquial Japanese expression used during the Edo period that meant "a man who played and did no work." Onigiri Asakusa Yadoroku was opened by the first proprietress as her husband did nothing but fool around all day.
The shop was originally meant to be operated as a means to finance the family's living expenses. The family surely couldn't have imagined that they would continue running the shop for over 60 years.
Mr. Yosuke Miura – The Third-Generation Owner
This is Yosuke Miura, the shop's third-generation owner. He once worked as a professional flutist. Currently, he works at the restaurant while doing music-related work on the side. During the day, Yosuke handles the shop, and his mother, the second-generation owner, runs it in the evenings.
Mr. Yosuke replied while laughing that customers are split into two groups, based on the onigiri made by their favorite chef.
Enjoy Homemade Taste Made-to-Order
There's another reason why customers are split about the rice balls. This is due to the shaping of the onigiri, which is done by hand. The shape, texture, and temperature of the onigiri changes slightly depending who makes it.
Onigiri Asakusa Yadoroku has a counter with a glass case at the counter, similar to the ones found in sushi shops. Customers can see the ingredients and watch the chef prepare their order by hand.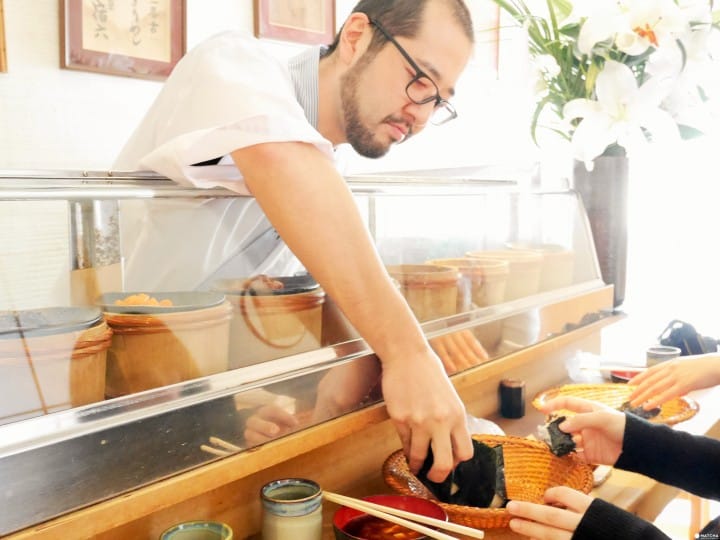 When you order at the counter, the chef will immediately make it and directly serve it to you. This way, the onigiri can be eaten in its most fresh and warmest state.
A Flavor Passed Down for 60 Years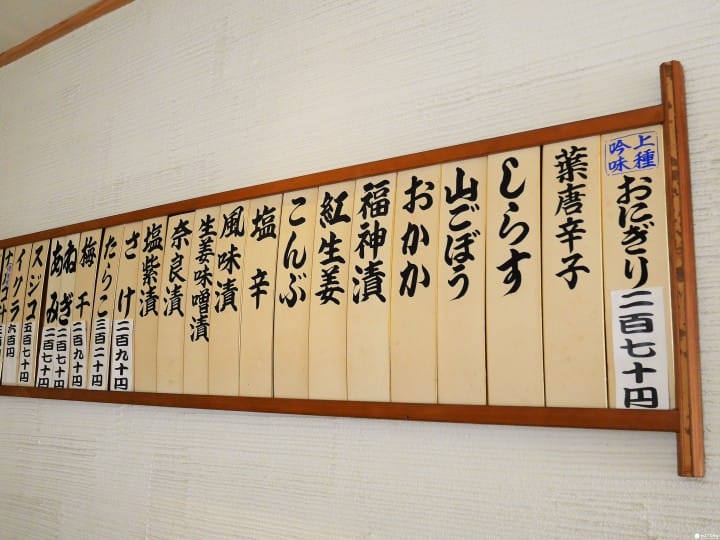 Their menu has remained focused on onigiri for 60 years. The counter at the restaurant has been used since the shop's establishment.
The menu has pictures and English explanations. International guests can easily understand the menu and order what they want to try. The owners made both the menu and the website entirely by themselves.
The Onigiri Set – Simple and Delicious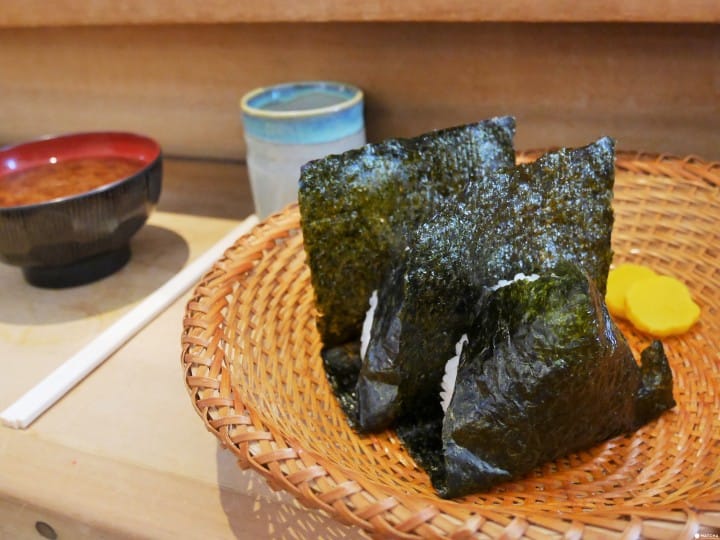 A la carte items and sets are available during lunchtime. A set comes with two or three pieces of onigiri, miso soup, tea, and takuan (*2). Customers choose the flavor of the onigii for the sets.
Onigiri Set (2-Piece): 690 yen and up, including tax
Onigiri Set (3-Piece): 930 yen and up including tax
*2 Takuan: a type of pickled vegetable consisting of daikon radish thoroughly pickled in salt and rice-bran.
A First Time Customer? Try Ami
There are 20 types of ingredients available for onigiri, but the ingredient the owner recommends to people visiting the shop for the first time is ami. Ami are small shrimp pickled in salt and soy sauce that pair well with the onigiri's slightly sweet rice from Niigata and the unsalted laver from Chiba.
The first bite is unforgettably delicious, with the texture of the crispy seaweed wrapping around the soft rice, and the sweetness of the rice, followed by the salty flavor and texture of the tiny shrimp.
Ami Onigiri: 280 yen including tax per piece
Our Recommendation is Kombu
The ingredient our writer recommends is the kombu kelp. This onigiri contains several pieces of thick kombu kelp, giving it a soft texture that makes it a typical Japanese flavor.
Kombu Onigiri: 280 yen including tax per piece
Onigiri Trivia
The onigiri at Onigiri Asakusa Yadoroku is made with one side of the laver unfolded and sitting up. Yosuke does this because it looks unique and adds a special flair.
Yosuka also told us, "The origin of onigiri dates back to the Yayoi period of Japan (300 BCE - 300 CE). It can be considered one of Japan's oldest foods."
In general, there are no restrictions for the shape and making of onigiri. Due to this, Onigiri Asakusa Yadoroku serves rice balls arranged in different ways to their customers.
Umeboshi (pickled plum) is a very well-known ingredient for onigiri in Japan. However, Yosuke says that he is reluctant to recommend it to international customers. The pickled plum is very sour to people who aren't used to it, and many customers hesitate to try it.
Yosuke added, "Umeboshi isn't the most common flavor of onigiri! It just often appears as an ingredient in comics because it's easy to draw" Our writer laughed at his words.
A Place With Personal Connections
What draws people to Onigiri Asakusa Yadoroku is not only their delicious onigiri but personal interactions. The shop is small and there aren't many seats. As a result, the person working behind the counter is able to attend to all of the customers. The employees take not only orders but also communicate with customers.
Yosuke has always watched over this shop since he was young. He is also emotionally attached to the shop, and always thought about returning to make onigiri after doing other jobs.
Although Yosuke continues to pursue music while working at the shop, he is passionate about the restaurant and travels around the world to spread onigiri culture. He himself laughs as he calls himself the third-generation "yadoroku," but he is actually a very earnest, musically-talented shop owner.
Sit Back and Relax with Japanese Onigiri
Onigiri is a common sight at the convenience store in Japan. However, venture slightly behind the bustling tourist area of Asakusa and you'll be able to eat homemade onigiri, drink tea, and have fun conversations with locals.
The onigiri at this shop is filled with natural, delicious flavor from the delicious ingredients. Yosuke is funny and passionate and will chat and communicate with customers in Japanese, English, and through body language.
Eat onigiri as you experience the friendliness of Tokyo's traditional downtown area!
View Information
Onigiri Asakusa Yadoroku
Address
Tokyo, Taito, Asakusa 3-9-10
Business Time
Lunchtime: from 11:30 ~
Dinnertime: from 18:00 ~ (will close once the rice runs out)
Fixed holidays
Lunchtime: Sundays
Dinnertime: Tuesdays, Wednesdays
WiFi
Not Available
Accepted Credit Cards
Not Available
Languages
Japanese
Menu/Pamphlets in Other Languages
Japanese, English
Nearest station
Tokyo Metro Ginza Line Asakusa Station, Tsukuba Express Asakusa Station
Access
10 ~ 15 minute walk from Exit 1 at Tokyo Metro Ginza Line Asakusa Station
5 minute walk from Exit A at Tsukuba Express Asakusa Station
Price
270 yen and up
Telephone number
03-3874-1615
Website
http://onigiriyadoroku.com/english.html
In cooperation with Onigiri Asakusa Yadoroku
The information presented in this article is based on the time it was written. Note that there may be changes in the merchandise, services, and prices that have occurred after this article was published. Please contact the facility or facilities in this article directly before visiting.