ARASHI Fans, Rejoice! 10 Tokyo Dishes Recommended By The Idol Group
The popular Japanese idol group ARASHI has introduced more than one hundred restaurants on their TV shows. This article introduces ten highly recommended restaurants to drop by after an exhilarating ARASHI concert in Tokyo.
ARASHI Fans Will Love These Tokyo Restaurants!
The Japanese idol group ARASHI announced in 2019 that they will be taking a hiatus from their show business activities, leaving their fans shocked by the news.
The J-pop group's popularity, however, has never wavered. "Arashi ni Shiyagare" is a popular TV show that allows the members to show another side of themselves to their fans. More than a hundred restaurants have been featured on this variety show. Of course, the five members have visited many restaurants for other TV shows, too.
This article features 10 restaurants to drop by after attending an ARASHI concert in Tokyo. How about visiting a dining place recommended by this popular idol group?
Contents
1. Ginza - Hanayama Udon
2. Asakusa - Juhachiban
3. Asakusa - Sato Yosuke
4. Shinjuku - Cutlet Yotsuya Takeda
5. Asakusa - Onigiri Asakusa Yadoroku
6. Nippori - Risaku
7. Nippori - Sushi Noike
8. Tsukiji Jogai - Tsukiji Yoshino Kichiya
9. Asakusa - Pelican
10. Harajuku - Fresh Cream Speciality Store Milk
1. Ginza - Hanayama Udon
Hanayama Udon, which has over 120 years of history, appeared in the variety show "Arashi ni Shiyagare." The restaurant was awarded the top prize for three consecutive years in an annual udon contest that ended in 2017.
Masaki Aiba ate "Onihimokawa Udon" served in a cute, tanuki (racoon dog)-shaped bowl. The light soup is made with Gunma pork, which produces a deeply flavorful dashi. The noodle, which is five centimeters wide, is firm to the bite (a bit like al dente pasta) and can be addictive.

2. Asakusa - Juhachiban
Juhachiban was introduced by Jun Matsumoto, who appeared on the Fuji TV variety show "Tunnels no Minna-san no Okage Desu."
Their sanratan-men (noodles in hot and sour soup)—a dish that, in fact, is not listed on the menu—was showcased in the program section titled "Kitanashuran." The fresh tomatoes give the dish its sweet and sour taste. You'll surely want to come back and sample this irresistible noodle soup.

3. Asakusa - Sato Yosuke
Sato Yosuke, a restaurant that started in Akita, serves Inaniwa udon: a variety of wheat noodles that are thin and have a smooth texture. The store also has locations in Ginza and Hibiya, too.
The "Thai Curry Futa-aji (Two Flavor) Set," which was introduced in the show, can be ordered at the Ginza store. At the Asakusa location, customers can eat Inaniwa udon accompanied by a side of crispy tempura.

4. Shinjuku - Katsuretsu Yotsuya Takeda
This restaurant is located one station away from Shinjuku. Oysters fried in butter, which was introduced on the show, is a limited time dish at Katsuretsu Yotsuya Takeda. It is served annually between November and early April.
Aside from this limited time dish, there are plenty of highly recommended items on the menu. The Special Mochibuta Roast Cutlet Set, served with demi-glace sauce and cheese, is made with "mochibuta": a breed of Japanese pork produced in Gunma.
The freshly fried cutlet is juicy yet has a soft texture that pairs well with the fragrant cheese. The pork meat and fat also has a delicious sweet taste.

5. Asakusa - Onigiri Asakusa Yadoroku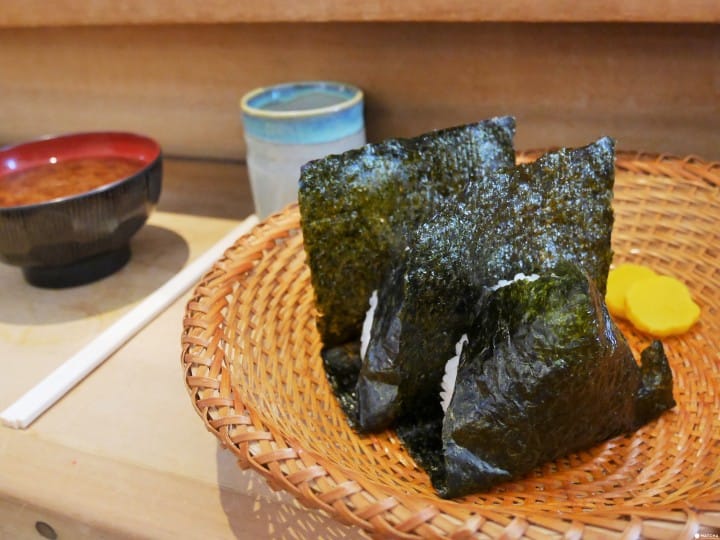 Onigiri Asakusa Yadoroku, the oldest onigiri (rice ball) restaurant in Tokyo, which, apparently, Jun Matsumoto frequently visited incognito, has been listed on the MICHELIN Guide Tokyo 2019.
While there are more than 20 ingredients, first-time customers should try the "ami": shrimps preserved in salt and soy sauce. It goes very well with the premier Koshihikari rice and nori seaweed sheets, which are made in Chiba. Enjoy these Michelin-star chewy rice balls wrapped in crispy nori.

6. Nippori - Risaku
When Sho Sakurai answered a quiz in the TV show, he was awarded "tamagokake gohan" (raw egg mixed with hot steamed rice) provided by Risaku. The restaurant's appetizing weekly lunch set—served with warm rice balls wrapped in fragrant nori—is another recommended dish. Priced at 800 yen with tax, the set includes seaweed-wrapped brown rice onigiri with three side dishes.
You can choose from 32 types of ingredients. For an additional 200 yen, you can order Risaku's miso soup. This menu definitely has a high cost performance.

7. Nippori - Sushi Noike
Originally appearing in a souvenir contest on "Arashi ni Shiyagare," the anago (conger eel) sushi by Sushi Noike is a popular menu to purchase as a gift. The sauce, which is made by simmering the anago, is truly a treat for your tastebuds.

8. Tsukiji Jogai - Tsukiji Yoshino Kichiya
Masaki Aiba introduced Tsukiji Yoshino Kichiya, which is located in the outer area of Tsukiji Fish Market, on "Ichigen-san," a TV show that featured various members of Johnny & Associates. Tsukiji Yoshino Kichiya's specialty is the "Bakashiai," a rice bowl topped with both fried and boiled anago.
The smell and appearance uncannily resembles unagi (Japanese eel). It might be wise to visit on a weekday when the restaurant is less crowded because this dish is very popular among restaurant-goers.

9. Asakusa - Pelican
Pelican is a bakery located in Asakusa with more than 75 years of history. They offer plain, simple tasting bread that is adored by a large number of fans.
The bakery also operates a cafe that had its simple toast featured on a TV program. If you wish to purchase a loaf of bread, it's advised to make a reservation either by phone or directly visiting the bakery.

10. Harajuku - Fresh Cream Speciality Store Milk
Milk is a fresh cream speciality store located at Harajuku. The store blends two kinds of fresh cream made in Hokkaido with a special technique that adds air to the product, which creates smoothly whipped cream.
Although Sho Sakurai ate the store's chiffon cake after answering a quiz on the show, Milk offers a wide variety of sweets such as parfaits, milkshakes, and lattes.

Enjoyed Meals Recommended by ARASHI!
ARASHI has established itself as a beloved idol group in Japan. Fans are sure to enjoy visiting the same restaurants as their idols while reminiscing about the TV shows they appeared in.
The ten restaurants featured in this article all offer mouthwatering dishes. MATCHA hopes the guide will be useful to ARASHI fans who embark on a food tour in Tokyo.

The information presented in this article is based on the time it was written. Note that there may be changes in the merchandise, services, and prices that have occurred after this article was published. Please contact the facility or facilities in this article directly before visiting.