Delifucious In Nakameguro - Where Sushi Artisans Make Burger-Art!
Take a 7-minute walk from Nakameguro Station in Tokyo to discover a place where you can eat extraordinary and delicious fish burgers! At Delifucious, sushi artisans make original fish burgers using special techniques and the safest ingredients.
Welcome to Nakameguro, a part of Tokyo where you're likely to see plenty of fancy-looking stores and restaurants. After a seven-minute walk from the station, there stands a fish burger-only restaurant, famous for its steadfast devotion to using fish instead of meat in their Japanese-style burgers. This is the Delifucious Fish Burger restaurant.
What Kind of a Restaurant Is Delifucious?
Let us first tell you about the unusual name of this restaurant – it originates from two English words, "delicious" and "fucking", forming a new, unique word with the meaning of something "extremely tasty".
A sushi artisan, who worked at a famous Michelin 2-star restaurant, got an idea to "create a place" where he could "make use of his earned experience" – and that is where it all started. What sets this restaurant apart from others is that they put a lot of effort and devotion into choosing the safest ingredients possible so that everyone can eat here without fear, as well as into having a diverse and unparalleled menu. There you can try out many of their Japanese-cuisine style "delifucious" burgers, such as the Kobujiime Burger, whose formula for great taste is in keeping the fish sandwiched between two slices of kombu (kelp), to bring forth its delicious flavor. Another representative dish is the Kyoto-style Grilled Fish Burger (saikyo yaki in Japanese), made from fish thoroughly pickled with miso-based seasoning.
Burgers "Right From the Oven"!
The order is made at the outside counter, and you can either take out your order to go or eat it at the store.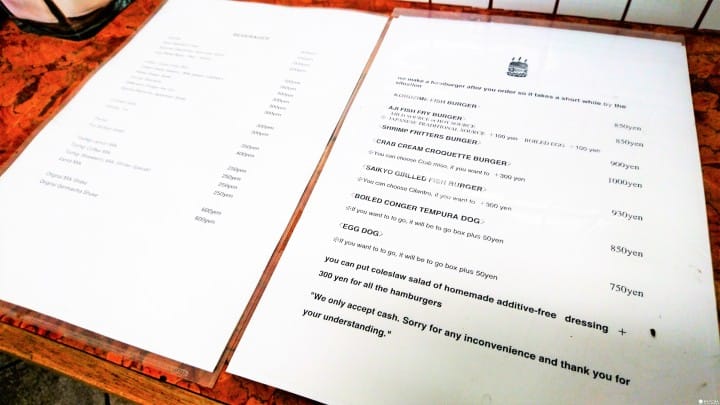 For the people who aren't confident in their Japanese skills, they have a menu in English as well, so don't worry about ordering – they've got you covered! One of the most popular dishes is the Ikejimeni Anago Tempura-Dog, with a long name and a special way of preparing the fish. First, they drain the blood from the anago fish to keep it fresh, then they deep-fry it and finally, put it in the partially sliced bread – and there you go, a very special tempura-fish-dog!
And you can count on it being right-from-the-oven fresh every time since they only make it after you've ordered! You can also watch it being prepared in front of you in the restaurant's open kitchen, which is a delightful sight to witness, considering the fact that you'll be the one to eat it. The atmosphere will keep you on the edge of your seat for sure – oh, the anticipation of your amazing burger!

The information presented in this article is based on the time it was written. Note that there may be changes in the merchandise, services, and prices that have occurred after this article was published. Please contact the facility or facilities in this article directly before visiting.