Cat Apartment Coffee In Kyoto - A Fashionable Cafe Full Of Cats
13 cats are living a slow and peaceful life at Cat Apartment Coffee, a cat cafe based in a 100-year-old Japanese house in Kyoto. Here you will find a lovely, relaxing and stress-free atmosphere perfect for enjoying with these popular cats.
A House for the Cats of Kyoto
The Nishijin area in Kyoto city flourished as a textile manufacturing town. A cat cafe called 'Cat Apartment Coffee' built using a one hundred-year-old kyomachiya (*1) house opened in April 2015 on a corner of this quiet artisan town. Since then, it has become a popular shop visited by many cat fans from across Japan and the world.
*1 Kyomachiya: Traditional wooden townhouses built in Kyoto before 1950. Usually they have both a residential space and a shop space inside the same structure.
If you go west from Ichijo street across Horikawa street, stretching north to south in the town, you will find a lamp and a noren curtain acting as the signs of this shop on the south side. Let's go inside.
Please refer to the information section at the end of this article for more details.
Down the Kyoto-like narrow street, you will find the shop entrance. There are well-maintained Japanese plants lining both sides of the street. You will be welcomed by azaleas in early spring and Japanese maples in fall.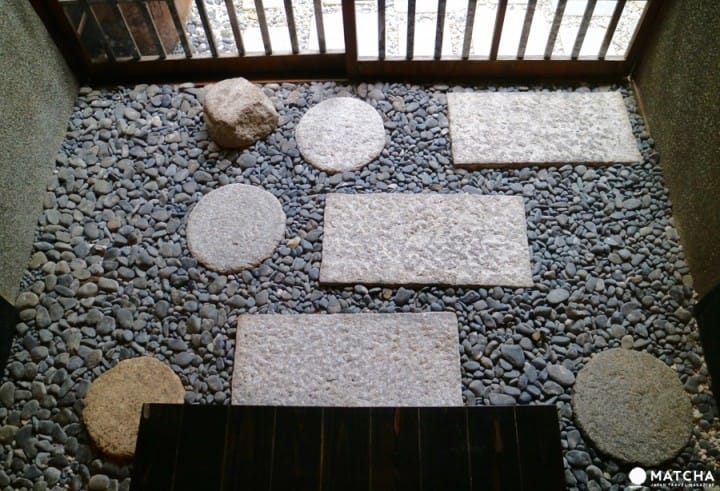 When you step into the entrance, the interior has a simple, modern art feel to it. This is where you take off your shoes, called tataki in Japanese. Please take off your shoes and wear socks here.
The lovely space with a chic interior welcomes you. They don't take reservations, so please wait here on the 1st floor if it's a busy hour. You can take a look at the souvenirs on sale, or read magazines available there as you wait for your turn.
Time to Meet the Cats on the 2F
You can meet the cats on the 2nd floor of the building. The floor has a capacity of 10, so you can only go upstairs when your turn comes.
Sanitizing your hands is the first thing to do. Wash your hands very well before you touch the cats. If it's your first time, don't worry, the cafe owners, Mr. and Mrs. Manno, will carefully tell you about the roles of this cafe in Japanese or English.
The cats are having an easy and free time in this little house with dim lighting. To avoid making the cats feel stress or anxiety, the cafe prohibits customers from trying to touch the cats first, but you can softly stroke them when they come to you or lay on your knees by themselves.
The rules sound strict, but every cat is very calm here and reaches will reach out to you if your follow this approach.

The information presented in this article is based on the time it was written. Note that there may be changes in the merchandise, services, and prices that have occurred after this article was published. Please contact the facility or facilities in this article directly before visiting.