Hakutoya - A Romantic Miscellaneous Goods Shop In Sasayama!
In Hyogo prefecture's Sasayama city, there's an old wooden structure with a warm and romantic feeling. Hakutoya, the shop inside the building, carries interesting products from all parts of the world! This is a must visit for lovers of variety goods.
Sasayama - Where Old Homes Have Been Preserved
In Hyogo prefecture's Sasayama city, many old buildings that have been thoroughly preserved and still remain today, are currently being used as retail shops.
Today we'll introduce you to a miscellaneous goods shop that was previously a traditional home. The shop's wooden structure and the handmade goods on display inside are a perfect match, resulting in a store that can only be found here!
Hakutoya - A Shop Located in a Historic Shopping Area
Sasayama city's Kawaramachi Tsumairi Shoka district (*1), is a shotengai (shopping street) roughly five hundred meters in length, located east of the Sasayama Castle. The historic homes lining the street date back as far as the Edo Period (1603 - 1868).
As a result of Sasayama city's efforts to preserve these old homes, the traditional atmosphere of the area has been maintained, and many of the houses are being reborn as stylish shops. Hakutoya, a miscellaneous goods store which has breathed new life into an old structure, is one of them.
*1 Kawaramachi Tsumairi Shoka-gun is a street running east to west where traditional houses have been preserved, and many have been converted into shops. Most of the homes were built in the characteristic Tsumairi style (gable construction). In 2004, the area was designated a National Traditional Architectural Preservation District.
This is how Hakutoya looks from the outside. Its official name is Utsuwa to Kurashi no Dogu Hakutoya.
An Encounter Between an Old Building and a Woman
The shop owner is Yuko Ichinose, a native of Kobe city with a very cheerful personality.
Yuko-san, who formerly worked in the fashion industry, happened to meet someone from Sasayama city by a stroke of good luck, and was asked by this person if she would be interested in opening up a shop here.
However, due to the geographical distance separating Kobe and Sasayama, Yuko-san apparently turned down the initial invitation. But as fate would have it, Yuko-san's thinking changed after this person gave her a tour of the Kawaramachi Tsumairi Shoka-gun area.
"The instant I saw the building, I fell in love with it", said Yuko-san as she recalled the incident with a big smile on her face.
This is a wooden structure with a two hundred year history.
I heard that the first time Yuko-san came here, she soon conjured up an image of the present-day shop in her head. She then decided to make good use of the building's beautiful structure, and opened up her miscellaneous goods shop.
I was told that her daily commute takes roughly three hours in total.
Romantic Items From Around the World
Mug Cups That Exude Warmth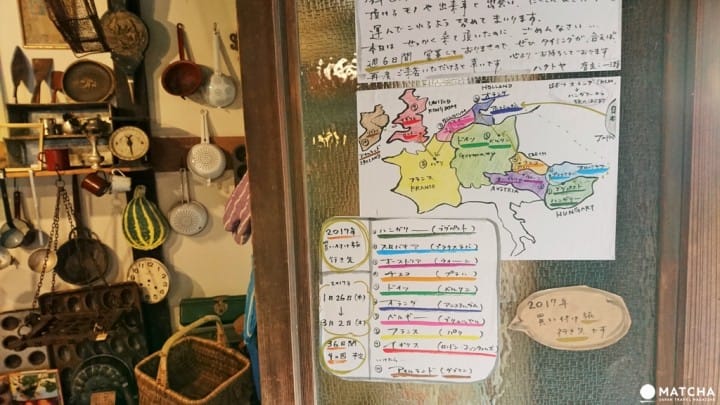 Utilizing her previous experience as a clothing and accessories purchaser, Yuko-san brings in goods and products from all parts of the world.
Products from Europe, Africa, and America, and of course craftworks from every region of Japan line the shop's shelves, and among them is, of course, Sasayama's famous Tanba pottery.
Yuko-san recommends the coffee cups that are decorated with swallow motifs. I also really like them. While simple in design, the swallows have been elaborately and delicately painted on the cups.
There were also goods with a Japanese bell flower (kikyo) design, and I'm sure all of you readers will also like them.
In addition to the Tanba pottery, there are also pottery pieces on display from many parts of the world.
Most of these pieces are coffee mugs, and there's such a large collection of them, that customers will probably need some time to find just the right one.
Handmade Bamboo Baskets
Yuko-san also recommends the large selection of brightly colored bags. The hand woven bags from Africa are so beautiful and colorful, that just taking one look at them will put you into a cheerful mood.
But that's not all. The bags ordered from Morocco are woven from medium-sized strips of bamboo, and are truly beautiful products that look similar to Kyoto brand SOU・SOU.
Sophisticated Clothing and Accessories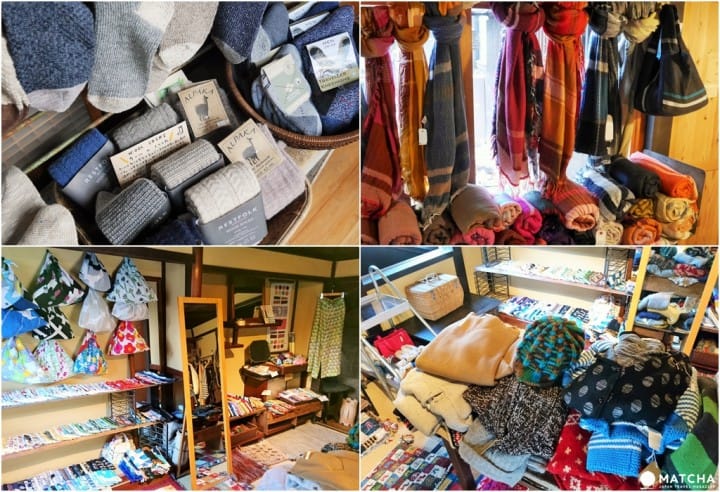 And of course clothing and accessories, Yuko-san's field of expertise, are also on display. There are socks woven from Alpaca hair, pure wool scarves, and different kinds of outer wear, to name just some of the items. These are all products that you'll soon want to buy.
Influenced by Yuko-san's conscientious explanation, your curiosity and interest will be aroused more and more.
Stationery Goods With a Playful Spirit
There's also no shortage of stationery goods. They have tape, postcards, stamping blocks, 1960s postage stamps, and handmade accessories and small items that will make you chuckle. Regardless of the item, you'll soon want to start collecting them.
Fans of Miscellaneous Goods Can't Afford to Miss This!
Every year in February, Yuko-san travels the world in search of new products, then brings them back to her warm and romantic wooden framed shop.
Decorated beautifully with dried flowers, the shop's interior attracts all those who stop in for a visit, and charms and fascinates them with its extensive collection of miscellaneous goods.
So if you're ever in the Sasayama area, by all means don't miss out on your chance to visit the amazing shop called Hakutoya!
To learn more about Sasayama please refer to this website: https://visit.sasayama.jp/
*This article was originally written in traditional Chinese, then translated and edited first into Japanese, then subsequently into English.

The information presented in this article is based on the time it was written. Note that there may be changes in the merchandise, services, and prices that have occurred after this article was published. Please contact the facility or facilities in this article directly before visiting.