Felissimo Neko-Bu Goods - Love For Cats Uniting The World!
This service includes sponsored advertisements.
Felissimo Neko-Bu is a place that makes and sells cat related goods and supports the happy co-existing between humans and cats through many activities such as charity and fundraising.
The time has come to welcome another blooming trend in Japan – the so-called neko-boom (neko = cat), with cat cafes and cat-themed goods popping up all over the country. Perhaps this trend's vast popularity is best depicted via the recently emerged and widely used word "nekonomics", denoting all the economic profit that was made thanks to the neko-boom. This trend has spread not only throughout the nation but to the other countries, as well.
Now, if you are a cat-lover and are at loss with where to go to get yourself some adorable neko-goods in this fast-spreading neko-trend, we have just the website to recommend you. Its name is Felissimo, and it is a "neko-lovers' community" online shopping channel, where the world of neko-goods is waiting for any neko-holic. Curious as we are, we went all the way to Kobe in Hyogo prefecture, to the company's head office and store.
What are the Original Felissimo Neko-Goods?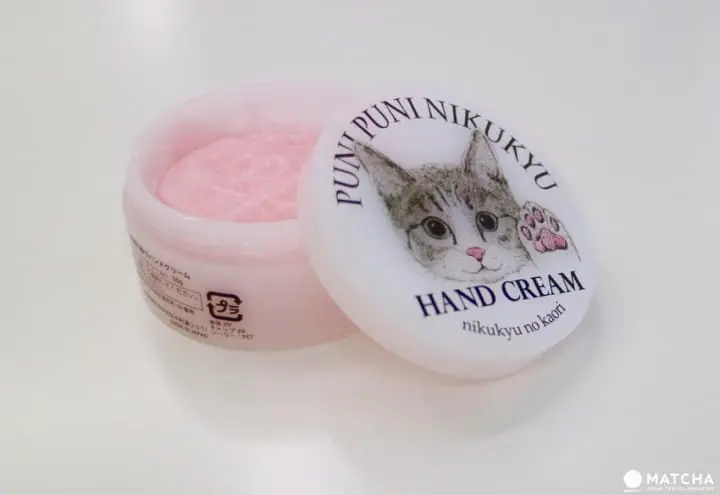 The first thing that caught our eye was a hand cream in a lovely packaging. It seemed like any other hand cream you'd find everywhere, but only at first sight! When we took another look at what was written on the case, we saw that its scent was supposed to be "cat's paw aroma"! Just what kind of an aroma is that?! It is quite difficult to imagine, but, by the sound of it, we are expecting something extremely lovable!
This product is Cat Tongue Oil-Absorbing Sheets (a set of 2 packs with 30 papers each, for 701 yen after tax). Abura-torikami, or oil-absorbing sheets (*1), are an absolute necessity in Japan, where both temperature and humidity levels are very high. Even if you aren't really happy needing to have that kind of item always at hand, if it were to be this cute you'd probably go around bragging about it and showing it to your friends, now, wouldn't you?
At Felissimo Cat Department (Felissimo Neko-Bu) you can expect to find numerous exquisite and one-of-a-kind products related to the cat-world. But, what kind of a company is it? What about the people who created this world? What were their desires, what were they aspiring to achieve? Don't you want to know a bit more about them and their company? Just in case you are intrigued by this peculiar site and the company, we decided to pay them a visit, and ask some questions to their department's chief, Mr. Matsumoto.
* 1 Aburatori-gami: a thin paper that absorbs (facial and other) skin's oil when applied to it. Widely used as a cosmetics product.
The Interview with the Head of Felissimo Cat Department
The chief of Cats' Department, Mr. Matsumoto, is a cat-holic himself. He said that this Cat Department started off as a company's club in 2010, with only six members at the very beginning.
The main drive behind starting the club, and then expanding it to become an enterprise, was the wish to "partially use the profit earned by designing and selling cat-related products, in order to lessen the practice of eliminating and abandoning cats". There was an undeniable passion to "protect or save the cats that live in unfavorable circumstances".
Their business activities include production and sale of their original products (via an online and usual stores), managing their official webpage, as well as their blog. Other than that, they also try their best to support the cat foster care system by actively searching for cat caregivers, and to collect funds to support NPO organizations such as the JSPCA (Japan Society for the Prevention of Cruelty to Animals).
As for the fund raising activity, by using some of the profits gained from product sales as well as receiving a monthly 100 yen donation from the Felissimo Wan-Nyan Fund and via other means of fund-collecting, it is said that by May 2017, they've managed to raise an impressive sum of 2 billion and 30 million yen for charity.
They also honor their customers' opinions and wishes, so they investigate their thoughts through various questionnaires, in order to create new items. They believe in products that come from mutual collaboration and understanding.

For example, the previously mentioned hand cream (1131 yen after tax) came to be after a questionnaire was distributed via SNS about the scent of cats' paws, when most of the people questioned said that it reminds them of "flavorful popcorn" – so they put their minds, souls, and hard work into developing a similar scent, which they finally succeeded at doing.
Take a look at this cute cat futon (blanket; 3879 yen after tax) – isn't it just perfect for showing off your adorable sleeping cat?
According to Mr. Matsumoto, when designing their new products, they try to always keep in mind and incorporate the "love for cats, the cat-ism, and the cat-style" into their products. However, it wasn't only Japan that caught cat-fever, it spread overseas, too – in fact, the Manga Exhibition that opened in Taiwan in 2016, was completely flooded with neko-lovers.
Felissimo Neko Department also offers a Facebook page in Chinese, and has made it possible for their international customers to purchase their items via the Felissimo's E-commercial website. (Chinese).
The co-sleeping pillow cover with Ms.Gizmo drawn waiting – the Famous Cat Ms. Gizmo Pillow Cover (2370 yen after tax)
These days, Felissimo Cat Department has been getting worldwide attention, through various international purchase inquiries (such as from Belarus) and making an appearance in the digital version of world-famous magazine "Time" (thanks to their extraordinary fabric water with the scent of a cat's forehead). We sure are looking forward to their further developments and the distribution of their love for cats to the rest of the world!
If you're currently in Japan, you can get your lovable cats-for-life products at Felissimo Cat Department Shop. In case you were wondering where you can get your paws (pardon, hands) on those irresistible items we mentioned above, here is your answer – head to Osaka in Hyogo prefecture!
Eki Marche Osaka Shop
Since it is located in the Eki Marche shopping area inside of Osaka Station, this shop is constantly buzzing with people coming back from work, tourists, and other types of voyagers. Of course, another trait which makes it a great place to drop by, is its working hours – it is open until 22:00.
Although the shop isn't of exceptionally big, it is beautifully overflowing with rows of Felissimo original products. This is a sight that any neko-lover out there is sure to drool over. It is said that almost one third of their customers come from China, Taiwan, and other Asian countries, although that depends on the season. There are even cat-lovers who purchase over a dozen of souvenir-to-be products at one go!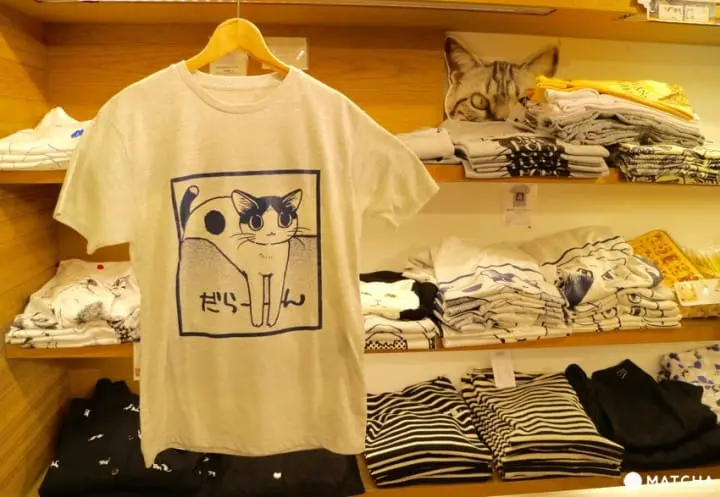 This is one of the most adored products, a T-shirt with illustrations by Japan's renowned manga artist Ms. RinRin Yamano. It comes in various designs and it can be yours for 3124 yen (after tax).
It might be easier to do your purchasing via an online store, but you will be able to feel the fabric and double-check the size only by visiting one of the "mortar and brick" stores.
Hankyu Nishinomiya Gardens Shop
Another significantly important shop (or the most important) is located in Nishinomiya city, lying between Osaka and Kobe. It is their one and only flagship store in Japan, and you can find it on the 1st floor of Hankyu Nishinomiya Gardens shopping center. Numerous customers from all over the world come to this very shop, after looking it up and reading useful information about its merchandise on the internet.
It is quite a large store with a charming wooden structure above the cashier area. Since everyone's allowed to take pictures freely here, you can take this great opportunity and capture those lovable cat products – but, do take extra care not to disturb other visitors while on your photography spree!
These are Tongue-Sticking Cat Food Storage Bags with Gusset, for 808 yen (after tax). The two colors you can see in the picture above can be found only at the shops (not on the online shop website).
Other products that are greatly loved by overseas customers are the consumable ones that can't be found in the online shop because of their limited expiration dates. One such item is a dessert called Mini Wagashi Style Nyashmallows (Hozui). Hiding inside each of these cute little gems is white bean paste, and the surrounding marshmallow is hardened with some kanten (agar-agar). But be warned – you might find it a bit saddening to eat such cute little fellows! You can buy them for 1239 yen (after tax).
Look out for these temporary shops popping up throughout the country as well (Japanese).
Fluffy Cat Face Pouch (1239 yen after tax)
Felissimo Cat Department aims to create a world where cats and people could live harmoniously and happily side by side, all while providing us with cute-beyond-words items for cat-holics. It makes us wonder if they will continue getting involved in many other cat-loving and cat-caring activities from now on and makes us cheer for them even more. Don't miss the chance to bring some adorable cat-filled atmosphere into your itinerary, and pay Felissimo Neko-Bu a visit while in Japan!
Written by
日本文化、特に絵画や工芸品が好き。福岡、京都、大阪、ベルギー、アメリカを経て現在は神戸在住。座右の銘は「住めば都」。

The information presented in this article is based on the time it was written. Note that there may be changes in the merchandise, services, and prices that have occurred after this article was published. Please contact the facility or facilities in this article directly before visiting. Some of our articles contain affiliate links. We kindly ask our readers to exercise careful judgement when making a purchase or booking a service online.