5 Essential Ways To Celebrate Halloween In Japan!
Halloween and Japan... You might think that these two topics don't suit one another - but Halloween in Japan is a fun-filled, spooky holiday that just gets bigger and better every year. Here are the 5 best ways to celebrate Halloween in Japan!
Halloween is one of the most popular Western holidays around - for many, Christmas is only a close second to this day filled with spooky stories, costumes and candy.
Halloween didn't really start to catch on in Japan until around 2006, but the Japanese have been steadily becoming more and more fascinated with the holiday each year.
Here are some of the best ways you can get in on the Japanese way of celebrating this holiday.
1. Dress Like Your Favorite Character and Head to Tokyo Disneyland!
From: Disney Halloween - Tokyo Disney Resort's Autumn 2017 Special Event!
Both Tokyo Disneyland and DisneySea have their own special events, decorations, dishes and souvenirs to offer during the fall/Halloween season. These grand scale shows and limited edition photo and souvenir opportunities are a must for any Disney fan!
From: Dress Like Your Favorite Character At Disney Resorts This Halloween!
Plus, during their special Halloween festivities, guests to the Disney Resorts are encouraged to dress up like their favorite characters and visit. Can you imagine dressing up and meeting your favorite character in the park? It looks like a lot of fun!
2. Learn to Make Your Own Halloween Crafts!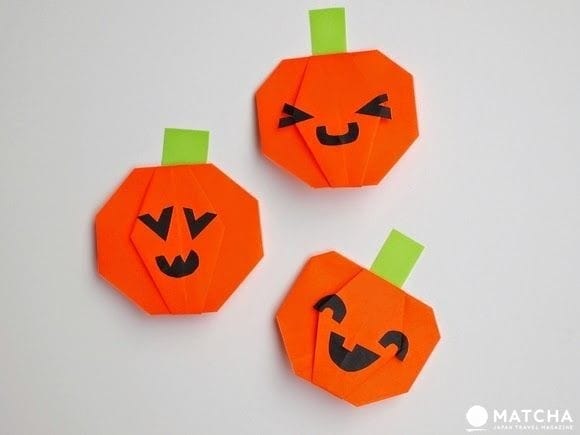 From: Japanese Halloween Crafts (1) - How To Make An Origami Pumpkin
If you are more the crafty type, then you may want to visit your nearest variety goods or 100 yen store to pick up some supplies. There are many different crafts you can make for Halloween, like origami Jack o' Lanterns...
From: Japanese Halloween Crafts (2) - How To Make Felt Bats
felt bats....
and even different kinds of ghosts and decorated Halloween treats!
3. Find Your Favorite Japanese Halloween Candy
From: Japan's Halloween Treats: Grab A Scary Snack To Satisfy Your Sweet Tooth
While candy corn, mini chocolate bars and bags of chips are the mainstays of Halloween candy overseas, in Japan you can find a great number of different snacks and treats to indulge in. There's everything from gourmet cupcakes decorated with ghosts to sweet potato chocolates, and more!
4. Scare Yourself With Japanese Ghost Stories
From: In Spooky Japan - Scare Yourself And See Ghosts Around The Country!
While Obon in July/August is the official time for Japanese ghost stories and horror related art exhibitions, there are some galleries and event spaces that hold limited time events for Halloween too, as well as restaurants and bars that have special Halloween parties. Or you can head out of Tokyo and visit other places, like the Hell Onsen Tour in Beppu, Oita prefecture, or at the Oga Namahage museum in Akita.
5. Hit the Town - Celebrate Halloween at Shibuya's Scramble Crossing!
From: Shibuya At Halloween - Costumes Galore During Japan's Biggest Halloween Event!
Hundreds, if not thousands of people flock to Shibuya at Halloween. Thanks to its status as a hub of youth culture and to the numerous bars, izakayas, restaurants, and clubs that fill its streets, Shibuya has become the place to be for Halloween. Here you'll see people in some of the most elaborate group costumes around, and everyone seems to be having the time of their lives here.
There are also Halloween celebrations held in Kawasaki, Kanagawa prefecture, and special events like the VAMPS HALLOWEEN PARTY in Makuhari Messe Hall, in Chiba prefecture, too to enjoy, which you can learn more about in Ghosts And Zombie School Uniforms!? Celebrate Halloween In Japan!
Enjoy Halloween in Japan!
If you are planning to come and see the fall leaves in Japan, you might want to schedule your travel plans to coincide with Halloween too - you're sure to have double the fun when you combine the sight of red maple leaves and temples with cute Halloween costumes and spooky treats!

The information presented in this article is based on the time it was written. Note that there may be changes in the merchandise, services, and prices that have occurred after this article was published. Please contact the facility or facilities in this article directly before visiting.