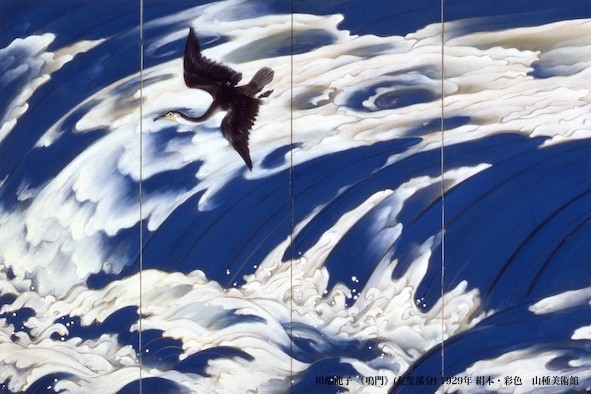 Yamatane Museum of Art - A Refined Japanese Art Experience In The Heart Of Tokyo
Yamatane Museum of Art, close to Shibuya and Ebisu, houses a large collection of modern Japanese paintings and ukiyo-e prints. This article includes the museum director's commentary on Japanese art and introduces a cafe with one-of-a-kind desserts.
An Art Museum Featuring Japanese Paintings, Minutes from Shibuya and Ebisu
Picture courtesy of: Yamatane Museum of Art
Can you picture a quiet gallery space where you can take your time looking at artwork, perhaps with a cafe where you can eat delicious Japanese desserts?
If this sounds appealing to you, visit Yamatane Museum of Art, a facility offering its visitors a superb Japanese cultural experience, a short walk from Shibuya and Ebisu in the heart of Tokyo.
©️Koike Norio 2009/Picture courtesy of: Yamatane Museum of Art
Coming into view just before a street lined with Ginkgo trees, is a building with a quiet and refined atmosphere.
Yamatane Museum of Art is a museum specializing in nihonga, or Japanese-style paintings. The museum has a total of about 1800 nihonga works in its collection, with a focus on modern and contemporary art pieces.
The collection has works by Yokoyama Taikan and Okumura Togyu, two painters representative of the modern art movement, and also pieces of art by Toshusai Sharaku, Utagawa Hiroshige, and other well known ukiyo-e print designers.
What is Nihonga?
Hayami Gyoshu - Suitairyokushi (Emerald Mosses and Verdant Turf ), right section of artwork, 1928, color on gold-leafed paper, Yamatane Museum of Art
What exactly are nihonga-style paintings in the first place?
The main characteristic of nihonga are the materials used in the paintings. Fundamentally, nihonga utilizes materials such as sumi ink, seashells, and iwa-enogu.
These materials are used to paint on silk and also Japanese washi paper surfaces.
Iwa-enogu is a paint material made from natural mineral pigments.
Taeko Yamazaki, director at Yamatane Museum of Art, comments that "this material (iwa-enogu) is one of the most attractive features of nihonga painting."
Yamazaki-san goes on to say, "The tint and deepness of iwa-enogu colors can only be derived from natural minerals. If you look closely at a nihonga painting, you'll quickly see that iwa-enogu, which is applied in layers, has a sparkling effect and a rough texture similar to sand."
Thanks to this natural paint (enogu), nihonga are highly delicate and refined, profound pieces of work.
Yamazaki-san says, "Paintings are full of expression. Depending on the lighting in the room and on the position from where the artwork is viewed, that expression can change. A copy or print, and the original piece of work are completely different. I'd like everyone to see originals."
Today as a special feature, we present director Yamazaki-san's commentary, which highlights two works currently on display at the Yamatane Museum of Art. Pay special attention to the colors of each painting for both pieces.
Hayami Gyosu-Enbu (Dancing in the Flames)
Hayami Gyoshu - Dancing in the Flames (a designated Important Cultural Property), 1925, color on silk, Yamatane Museum of Art
This piece of art features raging flames and moths swarming around inside. One look at the mystical beauty of Dancing in the Flames (Enbu), and your breath will be taken away.
Not only a masterpiece of modern nihonga, it's also been officially designated as a Japanese Important Cultural Property
From one glance visitors can see just how realistic the picture is. A traditional technique borrowed from butsuga (*1) is used for the flames. The butsuga-style of art is used as the basis for this work, and the faint and blurry contours painted on to make the flickering flames look all the more realistic.
Hayami Gyoshu (1894-1935), broke new ground as a nihonga painter using various expressions, fulfilling an important role in the modern Japanese art world. This work was painted in 1925.
In that the summer of the same year, Hayami stayed in Karuizawa in Nagano Prefecture, where he built a bonfire every night, gazing intently at the flames and observing the moths gathering around the light.
*1 butsuga: a genre of artwork in which Buddhist narratives or Buddhist priests are painted.
One section of Dancing in the Flames
There's no light in the mountains, and a deep darkness spreads out behind the burning flames.
Museum director Yamazaki-san goes on to explain, "I think that it's from within that deep darkness that Hayami tried to paint this picture. The depth of this darkness can only be understood by looking at the actual painting. In a photograph the darkness looks like a black color, however, in the painting, the actual color more closely resembles a deep purple. Apparently, this color came about by accident, and Hayami himself said 'If asked to paint it again, it is a color I could not achieve a second time.' "
The flames in the painting are so lifelike that when Hayami's family first saw it, they apparently screamed, "There's a fire!" and panicked. This is a work we suggest everyone see in-person, and is planned to be on display starting from the spring of 2019.
Kawabata Ryushi - Maelstroms at Naruto
Kawabata Ryushi - Maelstroms at Naruto, 1929, color on silk, Yamatane Museum of Art
Looking as though one might get sucked into them, the swelling waves in this painting are depicted dynamically with a brilliant blue color.
Kawabata Ryushi (1885-1966) is a painter known for his bold brushstrokes and colors, and large-scale works of art that overflow with energy.
He originally belonged to an organization called Inten (Japan Art Institute), but a desire to create lively, inspiring, and appealing works of art led him to form a new art group.
Maelstroms at Naruto was a piece of work that Hayami painted for the group's first exhibition.
One section of Maelstroms at Naruto
The painting's characteristic blue color uses an iwa-enogu called ultramarine.
Costing tens of thousands of yen per one hundred grams, this is an extremely expensive painting material. "Maelstroms at Naruto" uses around 3.6 kilograms of it.
To create the painting's white, foaming waves, "gofun," a white pigment made from pulverized oyster shells, is used.
"The vivid ultramarine color stands out prominently in the exhibition space, and the white color of the gofun, creates an extremely bold and brilliant contrast. This piece shows Ryushi's enthusiasm and desire for wanting to create a new kind of nihonga," comments director Yamazaki-san.
The actual painting is more than eight meters in length. You definitely need to see the actual version of this masterpiece. This painting will be on display as part of an exhibition called, Depicting Water -Hiroshige's Rain, Gyokudo's Brooks, and Togyu's Maelstroms from July 14th to September 6th, 2018.
Exquisite Works of Art
At Yamatane Museum of Art, there are no permanent exhibition spaces. Instead, special exhibits are held five or six times a year.
For example, the museum will put on exhibits allowing its guests to feel Japan's four seasons, such as sakura cherry blossom-themed displays, events focusing on fashion, and humorous Kawaii (Japanese for cute) exhibits collections of paintings of adorable people and animals.
Each exhibit showcases nihonga from a different approach.
On display at the time of this interview was a collection of works from a school of painting called Rimpa. This special exhibition was called "The Rimpa School from Tawaraya Sotatsu to Tanaka Ikko," and ran until July 8th, 2018.
If you look closely at the pieces of art, you'll understand the ingenuity of the multi-layered paint application, or how the colors are gently filled in by delicate brushstrokes.
It's almost as if you can even hear the breathing of the painters who created these artworks.
Close attention was also paid to creating an atmosphere ideal for viewing paintings. Lighting is set up individually, so that each piece of art is illuminated in a way that ensures it will be observed under the most gentle and beautiful conditions.
We were also told that the museum selected flooring in order to minimize the sound of shoe heels and other distracting noises.
In addition, the main works are accompanied by a written English commentary.
English pamphlets are also distributed at the reception desk, allowing English-speakers to supplement their experience and heighten their interest in the art.
Picture courtesy of: Yamatane Museum of Art (excluding upper left corner photo)
After looking through the exhibit, be sure to stop in at the museum shop.
Here they have exclusive exhibit goods as well as Yamatane Museum of Art original merchandise. Also lining the shop shelves are cute but practical items chosen by the museum director and staff, such as accessory pouches, tenugui, and other similar items.
*Shop items change according to the current museum exhibit.
Traditional Japanese Sweets Modeled After Art Pieces!
You can't afford to miss visiting Cafe Tsubaki, located right by the entrance.
Here they offer a wagashi (traditional Japanese sweets) and matcha green tea set (1100 yen with tax).
New wagashi are specially made for each exhibit, and are exclusive treats that can only be enjoyed here!
For every exhibit, the museum and a wagashi shop join forces to develop a new dessert that's tailored to one of the artworks on display.
Hayami Gyoshu - Suitairyokushi (Emerald Mosses and Verdant Turf ), left section of artwork, 1928, color on gold-leafed paper, Yamatane Museum of Art
This time, the dessert that I was lucky enough to receive was the Midorinokage, modeled after the painting Emerald Mosses and Verdant Turf (see above picture).
The rabbit, hydrangea flowers, and the green lawn depicted in Hayami's painting have been transformed into wagashi sweets. And just like in the painting, they are charming and adorable in appearance.
After taking just one bite, the natural sweetness of the anko (red bean paste) and the apricot's refreshing acidity slowly spread throughout my mouth (Midorinokage was available until July 8th, 2018)!
An Art Museum Where You Can Experience Nihonga
Yamatane Museum of Art, filled with ingenuity and creativity, is a space where visitors can encounter the charms of Japanese nihonga from different perspectives.
We hope you take the chance to take a look yourself at authentic nihonga and experience this deep and profound world.
In cooperation with Yamatane Museum of Art
The information presented in this article is based on the time it was written. Note that there may be changes in the merchandise, services, and prices that have occurred after this article was published. Please contact the facility or facilities in this article directly before visiting.