Budget-Friendly Travel! Overnight Bus For Saving Time And Money
The overnight bus in Japan is ideal for travelers who want to save on transportation. Learn how to buy tickets and tips for making the most of the night bus ride, so that you can have a memorable and wallet-friendly journey.
Overseas visitors are often surprised at the transportation costs they can accumulate while sightseeing in Japan. By riding an overnight bus, you can reduce these fees, travel efficiently, and save on lodging expenses, too.
What Is an Overnight Bus?
Willer Express: https://willerexpress.com/en
As suggested by the name, an overnight bus is a long-distance bus service that operates during the night. It departs late in the evening and arrives at its destination the next morning.
Types of Night Buses in Japan
Due to the long travel time, overnight buses are designed to make passengers as comfortable as possible.
The photo below is a standard four-seater.
Interior of the Kirakira Bus (Japanese)
This three-seat configuration is a bit more spacious.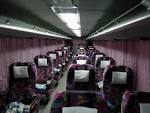 The buses all have restrooms. Some types are equipped with an outlet for charging cell phones or with blankets for sleeping.
Ticket Fare for Overnight Buses in Japan
The cost of boarding an overnight bus varies by company. It also depends on seat type and travel date.
Typically, the fare is low on weekdays. It may become higher on weekends, national holidays, summer vacation, and Golden Week (from late April to early May). Additionally, three-seaters are more expensive than the four-seat types.
The current fare for an overnight bus from Tokyo to Osaka is about 4,000 yen on weekdays. You can travel at one-third the cost of a shinkansen ticket.
Although the travel time is longer, you can sleep during the ride. Your time will not only be well-spent, but you'll also save on accommodation expenses.
Where to Buy Night Bus Tickets
Tickets can either be bought in-person at a ticket counter or purchased online.
Ticket Counter
While there is a limited number of ticket counters, you'll be able to directly ask questions here when you buy tickets.
There are large ticket counters manned by clerks at JR Tokyo Station and JR Shinjuku Station. The photo above is the counter located at the South Yaesu Entrance of the JR Tokyo Station.
Online
Many companies operate overnight buses, like Willer Express. You can quickly compare prices by browsing various sites. It's also easier to search bus routes via the Internet.
Willer Express: https://willerexpress.com/en
Let's look at how to find tickets and make bus reservations.
1. Select Your Route
The website of each overnight bus company has a search window to look for your preferred bus route.
You'll need to type in the itinerary (one-way or round trip), point of departure and destination, date of departure, and the number of passengers.
The following is an example of a one-way reservation for one person from Tokyo to Osaka on December 25.
2. Selecting the Bus
Because many buses depart every day, look for the company and route that best suits your schedule and budget. Click "Select" after deciding on the bus.
3. Choosing Where to Board, Where to Get Off, and the Number of Passengers
Most overnight buses have multiple stops for boarding and alighting, so you should choose them according to your travel plan. You won't be able to change the selected stops, so be careful before making your purchase.
Next, travelers must enter the number of passengers and their gender. This step is necessary for those who prefer sitting next to passengers of the same sex. If you're interested in women-only services, check which bus companies offer this type of booking.
4. Apply Discounts
There are companies that offer discounts for early reservations. You can find student discounts as well. Look at all of the reduced reservation options that fit your travel plans before making your purchase.
5. Making Reservations
Click "Add to Shopping cart" once you've checked all of your options. It's important to double-check because changes cannot be made to the reservation once it's finalized. The easiest method of payment is by credit card, but you can also pay at a convenience store. Either way, you'll need to pay on time.
Below are two overnight bus companies with online support in multiple languages:
Willer Express
VIP Liner
Pros and Cons of the Night Bus
Pros
・The cost is relatively low.
・It also covers your lodging for one night.
・You can make use of your time on the bus. (However, you will have to keep relatively quiet while riding, so bring a pair of headphoe..

Cons
・The ride is long, and you won't be able to lie down in your seat.
・Compared to train stations or airports, bus stops may be difficult to find, and their locations differ by companies or route. It would help if you arrived at the bus stop with time to spare.

The overnight bus is a low-cost, convenient way to travel. Give it a try on your next trip!

The information presented in this article is based on the time it was written. Note that there may be changes in the merchandise, services, and prices that have occurred after this article was published. Please contact the facility or facilities in this article directly before visiting.