Kamakura Tour - Zen Meditation, Shrines, And Local Treats
Kamakura, the ancient capital of Japan, around one hour from Tokyo, is a popular sightseeing spot with its Great Buddha statue, shrines, and temples. On a local guided tour, you can learn about the rich history and culture, practice meditation, and explore the nature of Kamakura.
Kamakura - Explore Temples and Shrines Close to Tokyo
Kamakura, the ancient capital of Japan during the Kamakura Period (1185 - 1333), is a popular travel site one hour via train from Tokyo known for its temples, Daibutsu (Great Buddha Statue), and historical atmosphere.
However, with so much to do and see in Kamakura, it can be difficult to decide where to go. For repeat visitors and people wanting to experience a different side of Kamakura, step off the conventional path for a guided tour to make the best of your time in the ancient capital.
Get to Know Kamakura - Guided Tour with Meditation, Shrines, and Hiking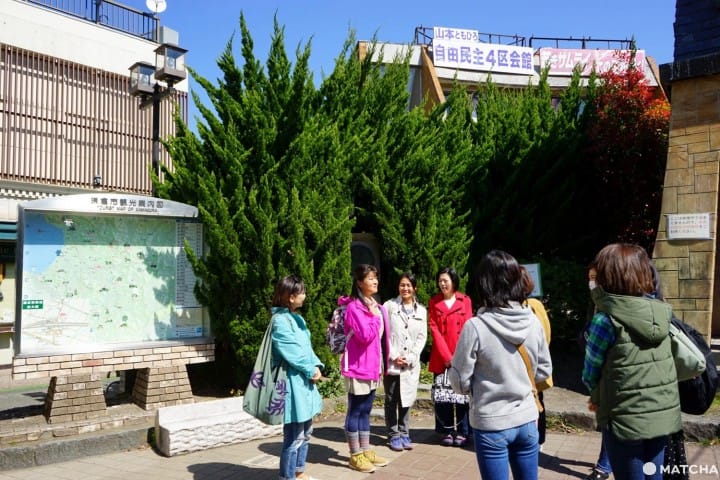 With around over 100 shrines and temples, traveling with a guide in Kamakura makes things simple. Miho, a local guide with 18 years of experience and special knowledge about the Kamakura and Shonan areas, leads walking tours with light hiking, zen meditation, and cultural activities. Her tours allow participants to visit lesser-known parts of Kamakura and learn about the history of the area.
The content and lengths of tours vary by what activities and places the participants want to see. The tour featured in this article lasts around 6 hours, with Zen meditation, shrine visits, local lunch, and traditional Japanese sweets. The meeting spot is outside the west exit of JR Kamakura Station, where Miho will meet you and start the tour.
How to Reserve a Kamakura Guided Tour
Miho's tours focus on the shrines, temples, and local businesses in Kamakura. In addition to Zen meditation, she also can arrange tea ceremony visits and workshops. She also leads hikes to the Daibutsu that are particularly popular.
Miho will adjust the tour if participants want to visit a specific spot in Kamakura or want to try an activity. The length of the tour can also be modified to fit your schedule to a half day or a full day.
Tours are held in the spring and fall when the weather is most suitable for walking and sightseeing. For certain activities, such as Zen meditation, a reservation of 4 or more people is needed, making this a suitable option if you are traveling with friends in a group.
Please note that although basic English is understood, it is highly recommended to invite a friend with an advanced command of Japanese to allow you to better enjoy the tour. This is because English may not be spoken by the staff members depending on the facilities you visit. Be sure to consult directly about creating a tour to best fit your interests and comfort with Japanese.
In general, tours range from around 5,500 yen, but fees can change based on the length of the tour and the activities. Be sure to consult directly with Miho about your preferred budget.
To contact Miho directly about making a tour, please send an email to the following address: mihomiho.k.m@gmail.com
To learn more about tours offered in the past, see her website: https://mirakurumiho.amebaownd.com/ (Japanese)
Miho's Daibutsu Hiking Course: https://mirakurumiho.amebaownd.com/posts/5577102 (Japanese)
10:00 - Zen Meditation at Hokaiji Temple
The tour first stops at Hokaiji Temple for Zen meditation (zazen). Zen meditation is a Zen Buddhism practice of relaxing your mind in a sitting posture. All participants are welcome to try this rare opportunity to practice--you do not have to be Buddhist to join.
The Zen meditation experience lasts for around one hour and takes place inside the main temple building. First, a priest will lead you in warmup exercises for breathing and sitting posture. It is very relaxing and worth trying at least once if you've never experienced it before. If you are concerned with your sitting position or have any health concerns, you are free to modify your position.
After the relaxing mediation, be sure to enjoy the temple grounds. In late April, the cherry blossoms were still in bloom, which looked spectacular from the main building.
11:30 - Explore Kamakura's Nature on a Hike
While there are trains and buses in Kamakura, you can discover much on foot. The guided tour includes hiking through different parts of Kamakura with gorgeous natural scenery. On this tour, we walked from Hokaiji Temple through Genjiyama Park.
Be sure to take pictures, as the hiking paths are lined with lush greenery and flowers in the spring. The hike was not strenuous, but some parts do require climbing up stairs, so be sure to bring appropriate shoes.
The hike led us to the next destination: the nature-surrounded Kuzuharaoka Shrine.
12:30 - Make a Wish at Kuzuharaoka Shrine
Kuzuharaoka Shrine is a Shinto shrine. The deities enshrined here are thought to help visitors make connections in love and friendship. On the tour, a priestess of the shrine talked to us, explaining the history and importance of the shrine. It is stunning, encircled by greenery.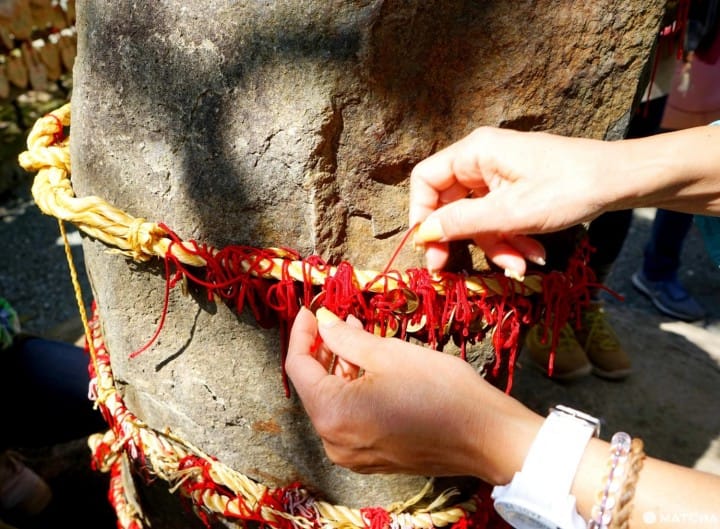 If you are wishing to find or strengthen a connection, be sure to tie a 5-yen coin around the boulder pictured above. Miho will teach you how to tie it properly and make your wish.
13:00 - Enjoy Lunch and Improve Your Money Luck at Zeniarai Benten Shrine
After walking around in the morning, you will take a break for food. Lunch is at a small shop on the grounds of Zeniarai Benten Shrine, a well-known Kamakura shrine where many wash their money in hopes of increasing their wealth.
The option for lunch was inari zushi, sushi rice wrapped with sweetened, fried tofu skin. The shop here is known for its particularly delicious inari zushi. Cooked konyaku (a type of potato) covered with a homemade savory and sweet miso glaze is another specialty and comes on the side.
After refueling with a meal, you will learn how to properly wash your money and make an offering to the Shinto deities at Zeniarai Benten Shrine. It is a very popular shrine, but few visitors go through all the necessary steps during the shrine visit. Miho will guide you along and help you make the appropriate offerings in the correct order.
After going to all the different shrines, you will walk into the covered area to wash your yen. After washing and drying off the bill, put it in your wallet in a special place. It is okay to use the money after it's washed, but it is advised to use it for something worthwhile to you.

14:00 - Walk Under Vermillion Torii Gates at Sasuke Inari Shrine
The final shrine to visit in Kamakura is about an 8-minute walk from Zeniarai Benten Shrine. Visually stunning with its procession of red torii, Sasuke Inari Shrine is said to have been built based off a dream Minamoto no Yoritomo had when he was trying to establish his reign. Visitors often come here when they are in need of success in business or professional endeavors.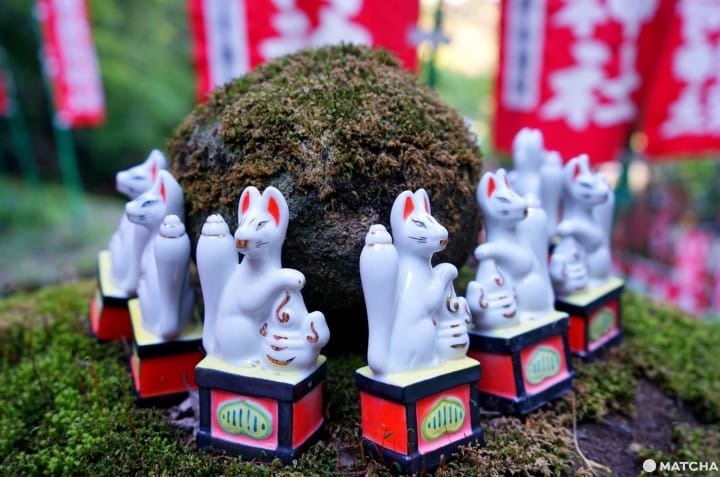 The shrine grounds have a fairytale-like atmosphere that you will want to explore. As this is an Inari shrine, similar to Kyoto's Fushimi Inari Shrine, the god Inari is enshrined here, meaning that fox figures (pictured above), acting as guardians for the shrine, can be found everywhere.
15:00 - Relax with Japanese Dessert and a Tea Break
After visiting and learning about the shrines and temples in Kamakura, the last stop on the guided tour was to Kirara, a cozy traditional sweets cafe popular for its shiratama, or rice flour dumplings.
The Uji matcha shiratama cream anmitsu is a popular choice, filled with green tea flavor and different textures, like shiratama and fruit. Each dessert is beautifully presented with a flower and palate refreshers. You will also receive roasted green tea at the end of the dessert.
Another option is the rice flour dumplings with kinako (roasted soybean powder), which comes with syrup on the side as a sweetener. The kinako is finely ground and very fragrant.
Go on a Tour and Discover a Different Side of Kamakura
Miho's tours of Kamakura reveal a lesser-known part of Japan's ancient capital, beyond the major shrines and typical tourist attractions, taking people to places they wouldn't visit on their own and teaching little-known facts. If you want to experience more of what Kamakura has to offer and step into the abundant nature here, be sure to consider a guided tour.

To learn more about tours offered in the past, see her website: https://mirakurumiho.amebaownd.com/ (Japanese)

Miho's Daibutsu Hiking Course: https://mirakurumiho.amebaownd.com/posts/5577102 (Japanese)

Contact Miho at this email address: mihomiho.k.m@gmail.com

Made in cooperation with Miho Uchida

The information presented in this article is based on the time it was written. Note that there may be changes in the merchandise, services, and prices that have occurred after this article was published. Please contact the facility or facilities in this article directly before visiting.