Rare and Beautifully Crafted! 8 Good Luck Charms Found Only in Tokyo
Lucky charms (omamori) make excellent souvenirs from shrines and temples. We introduce beautifully crafted talismans that can only be found in Tokyo, from the adorable lily-of-the-valley charm of Tokyo Daijingu to the rare Kisho Shrine talisman inspired by the hit anime movie "Weathering With You."
Shrine Charm Basics
At most Japanese shrines, visitors can purchase an omamori (amulet, or lucky charm) by paying a small fee called hatsuho-ryo (ceremony fee). Since these charms have been blessed by Shinto rituals, they are said to ward off evil and bring good fortune.
The omamori charms are blessings from the enshrined deities, so they are handled at a special amulet office. Some of the amulets feature stylish designs, making them ideal souvenirs. This article introduces nine rare and beautifully crafted omamori charms only found in Tokyo!
This article was originally published in 2019. For the latest information, please check each shrine's website.
1. For Luck in Love! Lily of the Valley Charms at Tokyo Daijingu
From Special Amulets for the New Year
The first shinzen-style shrine wedding in Japan was held at Tokyo Daijingu. This shrine attracts many visitors who want to pray for good luck in relationships.
During the Meiji Period (1868-1912), a shrine called Hibiya Daijingu was built as a branch shrine of Ise Jingu in the Yurakucho area of Tokyo. After it was severely damaged during the Great Kanto Earthquake in 1923, the shrine was relocated to Iidabashi and renamed Tokyo Daijingu.
From Special Amulets for the New Year in 2019 (Traditional Chinese)
While there are various talismans available at Tokyo Daijungu, the most popular is the Suzuran Beads Mamori. Suzuran is the Japanese word for "lily of the valley" and symbolizes happiness. The charm is designed with beads that give it an air of elegance.
From Tokyo's Most Popular Shrine: Tokyo Daijungu (Traditional Chinese)
Another popular talisman is the Enmusubi Suzuran Mamori, a charm for those who wish for a happy and fulfilling relationship, featuring an adorable design of a lily of the valley blooms.
2. A Charm Bracelet: Kan-musubi at Asagaya Shinmeigu
Yamato Takeru, a legendary hero in Japanese mythology, is said to have rested in Asagaya upon returning from an expedition in the east. The villagers built a shrine in his honor, which later became Asagaya Shinmeigu.
In the twelfth century, a local influential man had a revelation while visiting Ise Jingu. He also brought back a sacred stone to be enshrined in Shinmeigu. The stone continues to be enshrined at the back of the main shrine.
The Kan-musubi is the shrine's popular charm, designed as a bracelet. It is said to bring good fortune by creating a bond between the wearer and the shrine deity. Showcasing intricate weaving and elegant color variations, these talismans also make great accessories for your mobile phone or bag.
With such a wide variety of choices, visitors may have a hard time choosing!
There are also limited edition versions. The left one shown in the photograph is the rare Yozakura Kan-musubi, which can only be purchased during the cherry blossom season in March.

3. Beautiful and Practical! Hime-mamori at Nogi Shrine
Nogi Shrine located in Tokyo's Minato Ward enshrines Nogi Maresuke, a general in the Imperial Japanese Army of the Meiji Period.
After committing ritual suicide together with his wife Shizuko following the Meiji Emperor's passing, he became a symbol of loyalty. This shrine was built to worship the married couple.
The general was skilled in both literary and military arts. Therefore, the shrine is said to bless those who want to attain success in academics or competitions. As he was also a happily married man, Nogi Shrine is known for its blessing of marital harmony, matchmaking, and fulfilling relationships.
The most popular talisman at Nogi Shrine is the adorable Hime-mamori, a small brocade pouch that contains a piece of paper and a card. The holder writes his/her wishes on the paper, puts it in the pouch along with the card, and carries it around with them. After their wishes are fulfilled, they return the paper and card back to the shrine.
The pouch can be used as an accessory case afterward. This amulet is both well-designed and practical!

4. Bells of Good Fortune! Hanafuku-suzu at Akasaka Hikawa Shrine
Akasaka Hikawa Shrine is located near Roppongi, a trendsetting district in Tokyo. The shrine was founded over a thousand years ago, and the current building was built in the Edo Period. It has miraculously survived the Kanto Earthquake in 1923 and WWII.
Akasaka Hikawa Shrine is designated as an important cultural asset by the Tokyo Metropolitan Government.
Susanoo-no-Mikoto, a legendary hero of Japanese mythology, Kushiinadahime-no-mikoto, his wife, and Ohkuninushi-no-mikoto, a deity of matchmaking, are worshipped at this shrine. No wonder it's famed for blessing visitors with good relationships!
Hanafuku-suzu is an earthen bell (suzu) with an illustration of flowers. The design changes each month, reflecting the season. It sounds as if happiness itself is ringing the doorbell!
The Yakan-suzu, shaped like a kettle (yakan), is based on the concept of "making yourself happy and spreading that happiness." The idea came from a Shinto belief of creating joy, and sharing it with others. It is said that pairing this omamori with the Hanafuku-suzu blesses one with good relationships.
There's a tall ginkgo tree that's over 400 years old and has survived both earthquakes and air raids on the shrine grounds. You can also purchase a talisman inspired by this tree called the Icho-mamori.

5. Dove Symbolism at Hatonomori Hachiman Shrine
Hatonomori Hachiman Shrine is located in Sendagaya. On the grounds, you'll find a small mound representing Mt. Fuji. The mound is designated as a tangible folk cultural asset by the Tokyo Metropolitan Government.
As the name suggests, the shrine's symbol is the dove or "hato" in Japanese. You can find dove-shaped fortunes tied to cords all over the grounds.
Both the Hana-mamori and Enmusubi Magatama-mamori are intricately designed. They are also the perfect accessory for your mobile phone or bag.

6. For Bright, Clear Days! Teru teru-mamori at Kisho Shrine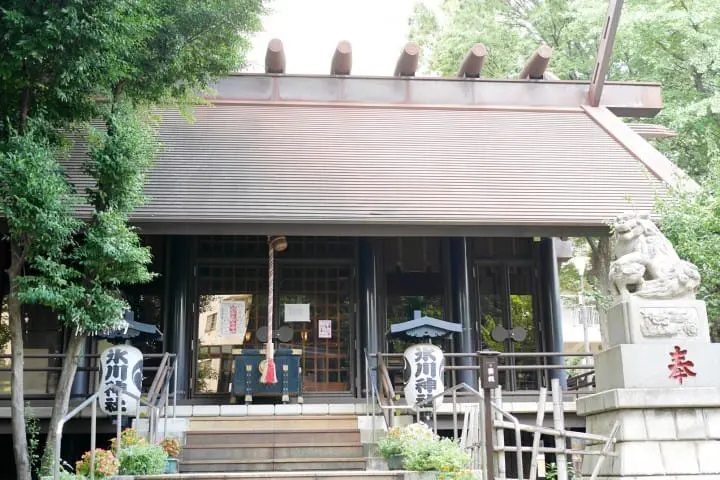 Koenji Hikawa Shrine can be reached in about five minutes on foot from the south gate of Koenji Station. Kisho Shrine, the only sanctuary in Japan dedicated to the weather, is located in its grounds.
According to Japanese mythology, Yagokoro Omoikane-no-Mikoto, who is worshipped at Kisho Shrine, brought Amaterasu Omikami back from a cave. Yagokoro Omoikane-no-Mikoto is a deity of wisdom and controls weather conditions, including rain, shine, and cloudy days.
After the anime "Weathering With You" became a hit in 2019, fans have flocked to the shrine as a sacred pilgrimage site.
Hare-mamori, shown on the left side of the photo, is a popular charm here. Our MATCHA writer traveled with this talisman for ten days, and felt its powers firsthand. It only rained once, along with one cloudy day. Another omamori is the Teru teru-mamori, which is shaped like a teru teru bozu (a sun summoner, or paper doll made to wish for sunny days).
These talismans can also be used to blow away dark clouds from your life.


7. Kannagi Mizuhiki-mamori at Asakusa Shrine
Kannagi Mizuhiki-mamori is an extremely rare omamori from Asakusa Shrine, located next to Sensoji Temple. Made with mizuhiki (*1), traditional Japanese paper cords, it is said to bless the holder with positive relationships.
Only one hundred talismans—one per person—are available from 9:00 on the first day of the month. The motifs change every month and include cherry blossoms (April), lotus (July), and maple leaves (November).
Over 20 people were already present when our writer lined up at 9:00 on a Monday. If this talisman piques your interest, you should visit the shrine and be ready to line up.
*1: A ceremonial string that is used to wrap gifts.

8. Completely Out of the Ordinary! A Shibuya-Themed Charm
The last talisman that we want to introduce here is the unique Shibuya Omamori, a charm with a different origin story. Created by the Shibuya Tourism Association and the Tokyo Lottery Service, it is embroidered with Shibuya scramble crossing on one side, and the "Faithful Dog Hachi" on the other.
Even though half a million people use the scramble crossing every day, there have never been accidents. Both companies hope that this talisman keeps accidents away from those who possess it.
To purchase the Shibuya Omamori, visit a lottery ticket store near the scramble crossing. A ticket worth one billion yen was sold at one of the stores, so perhaps this fortune will be bestowed on you!
Lottery Stores near the Scramble Crossing
Shibuya Station Hachiko Square Takarakuji Store (MAP)
Inokashira Line Shibuya Station Takarakuji Store (MAP)
Takarakuji Loto-house Shibuya Inokashira Store (MAP)
Inokashira Line Shibuya Station West Gate Takarakuji Store (MAP)

Collect Lucky Charms on Your Next Visit to Tokyo!
The talismans mentioned above are not only good for relationships and warding off evil, but also make great daily accessories.

If you have a chance to visit Tokyo, be sure to check them all out and usher in some good luck!

This article was originally written in traditional Chinese characters and published on September 19, 2019.


The information presented in this article is based on the time it was written. Note that there may be changes in the merchandise, services, and prices that have occurred after this article was published. Please contact the facility or facilities in this article directly before visiting.