Taizoin Temple, Kyoto - Try 7-Minute Zen Meditation With Candy
Taizoin Temple in Kyoto is renowned for its ink wash painting and garden of seasonal flowers. The temple also offers a unique Zen meditation workshop with candy, accessible to all guests. Read to find out about more about how to relax and enter the world of Zen while savoring something sweet.
Experience Short and Sweet Zen Meditation in Kyoto
Whether we're eating while watching TV, streaming music during our commute to work, or using our phones while walking, multitasking has become part of our everyday lives.
The Buddhist term gyojuzaga refers to a person's daily routine, such as the habitual movements of walking and sitting. In particular, the world of Zen (*1) teaches that each action we take is considered a discipline, and hence we are to focus on walking when walking, and sitting when sitting.
*1 Zen: a school of Buddhism in Japan.
Located inside Kyoto's Zen temple Myoshinji, Taizoin offers a Zen meditation session that uses candy. You will focus on the candy in your mouth for roughly seven minutes until it dissolves. The experience is a beginner-friendly introduction into the world of Zen.
While Seated in Front of Nature, Set Your Focus on One Thing
Once you enter the temple grounds, follow the pathway to the main hall of Taizoin. Here you will find a spacious engawa. Pots of lotus plants color the front garden with lush greenery. This is where you will experience "a drop of Zen" with a piece of candy.
The "Drop of Zen" meditation follows the gyojuzaga concept of Zen Buddhism, in which you must solely focus on one action to become aware in the moment. Walk out on to the engawa to purchase a meditation packet (300 yen), which includes an overview pamphlet, instructions, and one piece of candy. The instructions are also written in English.
Face the garden and sit upright. Make sure your back is straight and your legs are relaxed. Breathe in and out slowly at a pace of four to five cycles in one minute. Once you have silenced your mind, place the candy in your mouth and try focusing on only eating the confection.
The candy's ingredients include citron oil, made from the temple's yuzu (Japanese citron), and gotu kola, an herb that is reputed to help with meditation. The center of the candy also contains cedar powder. When you first start eating the confection, you will taste the citron's tartness. After a while, the flavor is replaced by a grittiness that comes from the powder until it all dissolves in your mouth.
As your mind focuses on the candy, the sights and sounds around you will begin to fade. All that will remain is the breeze kissing your skin and the leaves rustling.
The Buddhist concept of furyumonji also teaches us to value experience above words.
This article can only convey what was seen and experienced during the interview. It is ultimately up to you to discover what you will get out of this experience. We recommend visiting the temple to experience the world of Zen for yourself.
Explore the Temple Grounds with a Free Audio Guide
Before visiting Taizoin, we recommend installing the app ON THE TRIP for a free audio guide. The narration is done by Daiko Matsuyama and is offered in English, Chinese, and Japanese. You will get to hear various stories on Taizoin, including the "Drop of Zen" meditation.
"Hyonenzu" - A National Treasure Ink Wash Painting
In Zen training, when the teacher gives a koan (a question), zazen (*2) meditation is practiced to reach a kenge (an answer). Only the teacher possesses the true answer, and priests in training must continually meditate on the question until they figure it out.
*2 Zazen: a form of discipline involving sitting up straight and focusing on a given subject.
"Hyonenzu," an ink wash painting created by the artist-monk Josetsu in the 15th century, depicts a man trying to catch a catfish with a gourd.
This painting is a visualization of the koan that asks, "How do you catch a slippery catfish using a smooth gourd?" The top half of the painting shows kenges by thirty-one of Kyoto's most renowned Zen priests.
Using a gourd to catch a catfish makes little logical sense. However, all of the priests thought outside of the box to come up with answers to the prompt. Filled with Buddhist wisdom, this ink wash painting is designated a national treasure.
Since around the 18th century, koans and kenges are no longer disclosed to the public. This is because discernment does not come from knowing the answer. Rather, following the concept of furyumonji, the purpose is to ponder and come to your own conclusion.
Gardens of Impermanence and Eternal Beauty
Picture courtesy of Taizoin Temple
Picture courtesy of Taizoin Temple
Another highlight of Taizoin is its various Japanese gardens. From weeping cherry blossoms in spring to autumn leaves in fall, the gardens are embellished with stunning colors year-round.
At the Yokoen Garden, located at the far end of the temple grounds, is the gourd-shaped Hyotan (Japanese for gourd) Pond. It is said that a pair of catfishes swim in its waters—a nod to the plot of "Hyonenzu."
The seasonal flowers change the appearance of Yokoen Garden throughout the year. Meanwhile, Motonobu-no-Niwa Garden, a karesansui garden open only during cherry blossom season, maintains a constant appearance. This is based on the Buddhist philosophy for the beauty of evanescence.
Impermanence and permanence. At Taizoin, you can witness these opposing states come together in harmony.
Savor Tea and Sweets in the Tea Room
If you decide to take a break in the garden, you can purchase a tea and wagashi set for 500 yen and enjoy it at the Daikyuan. The wagashi, shaped as a gourd and catfish, has seasonal dried fruits inside to give it a tart, refreshing taste. This original menu is served exclusively at Taizoin.
If you sit near the windows, you can enjoy the view of Yokoen Garden. At the time of this interview in June, the trees were bright green and the sound of water was soothing to the ears.
A Wide Selection of Exclusive Souvenirs
Taizoin sells some exclusive items for you to take home as souvenirs or gifts.
Adorable Catfish Charm Straps
The first item is a catfish charm strap carved out of wood (800 yen each). As an added attention to detail, strings are used to depict the catfish's whisker-like barbels. Each catfish has a unique expression, so select one that speaks to you.
Solid Perfumes with Japanese Scents
Solid perfume: 800 yen each
The solid perfumes are sold in two fragrances: cherry blossom and green tea. Since every perfume has been offered an incantation (*5), you can carry them as good luck charms. They can also be used to add scent to small pieces of paper to place inside a letter, which is referred to as fumiko.
*5 Incantation: a prayer performed during a ritual for blessings and protection from the kami (Japanese deity) and Buddha.
Organic Soaps Made in Kyoto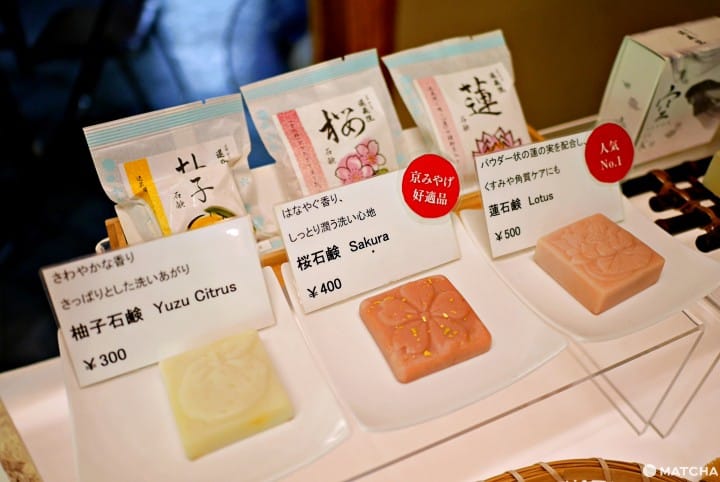 Yuzu soap (300 yen), sakura soap (400 yen), lotus soap (500 yen)
Taizoin sells a selection of soaps made in collaboration with Kyoto Shabonya (Japanese), an organic cosmetics shop in Kyoto. The yuzu and lotus plants that grow on the temple grounds are used in soaps products, while the sakura (cherry blossom) scent has been inspired by the weeping cherry blossom trees.
Lastly, you can find other exclusive gifts, such as cute catfish t-shirts and calligraphy pieces created by the temple's abbot.
Get a A Taste of Zen
Reverend Matsuyama states, "By focusing on the taste of a candy drop or the meal in front of you, you begin to appreciate the sweetness of the candy or flavors in each dish. When we place our focus on each action in the present, we begin to recognize the value in things we take for granted."
By confronting our behavior, we will begin to better understand ourselves. Why not get a taste of this Zen philosophy through a candy drop at Taizoin Temple.
Information
Entrance fee: 600 yen for adults; 300 yen for elementary or middle school children.


In cooperation with Taizoin Temple, ON THE TRIP

The information presented in this article is based on the time it was written. Note that there may be changes in the merchandise, services, and prices that have occurred after this article was published. Please contact the facility or facilities in this article directly before visiting.