Sky Duck - See The Best Of Yokohama On Land And Sea!
There are many sightseeing spots in Yokohama's Minato Mirai area. If you ride the Sky Duck, you'll be able to see the Yokohama Red Brick Warehouse and Landmark Tower from both land and sea. This article introduces what you can see on this amphibious bus tour, and where and how to buy tickets.
Sky Duck: A Bus that Navigates on Land and Water
Sky Duck is an amphibious sightseeing bus that operates in Tokyo's Odaiba and Yokohama's Minato Mirai area. This unique vehicle gives visitors a one-of-a-kind tour around the water and land.
Because you can embark on a drive and cruise in one tour, it is highly popular among travelers who want to cover all the sightseeing areas on a single trip.
On this occasion, our writer hopped onboard the Sky Duck Yokohama, which services the coastal Minato Mirai area of Yokohama. Read for more on what to expect on the Sky Duck's and recommendations to enjoy the tour even more.
1. Enjoy the Best of Yokohama's Land and Sea
Photo by Pixta
Sky Duck Yokohama conducts tours around Minato Mirai, Bashamichi, and other sightseeing spots in the Yokohama area.
The Minato High Collar Course operates in this area during the afternoon while the Twilight Cruise follows the same route and allows passengers to enjoy the cityscape at night. Prices for both courses are 3,500 yen for adults and 1,700 yen for children (tax included).
This writer selected the Minato High Collar Course, which departs from a spot near Nippon Maru Memorial Park. This embarkation point is directly beside the Yokohama Landmark Tower.
Picture courtesy of Hinomaru Limousine Co. Ltd.
After hopping aboard, the Sky Duck travels as a bus for the first ten minutes or so. The passenger seats are located 3.8 meters above the ground.
Compared to a car, passengers sit up high in the bus and can take in magnificent views of the Kanagawa Prefectural Government Office, Yokohama Red Brick Warehouse, Yokohama Cosmo World, and other famous sightseeing spots from here.
Picture courtesy of Hinomaru Limousine Co. Ltd.
When the drive is complete, the bus will dive into the sea and convert into a sightseeing boat.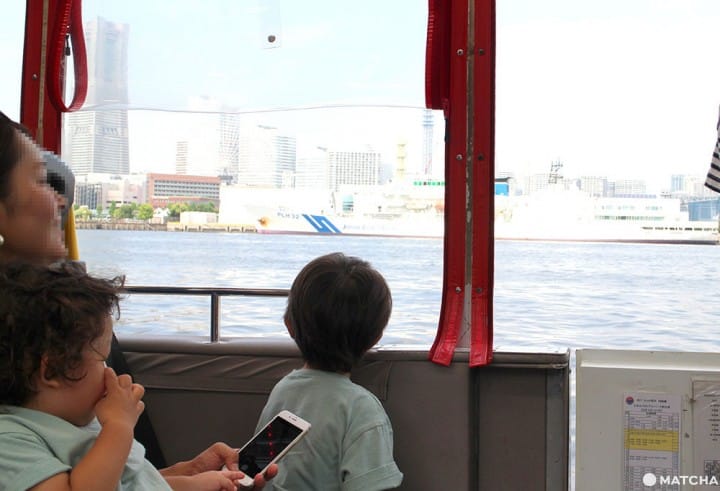 While floating on the water, you'll be able to travel around a handful of beloved sightseeing spots such as the Red Brick Warehouse, Osanbashi Pier, and Yokohama Landmark Tower.
As you can see buildings and parts structures that aren't easily visible from land, tour-goers can enjoy close-up views of uncommon scenery, like the back of bridges. The sightseeing cruise lasts about 50 minutes.
There are numerous tour buses and pleasure boats in Yokohama. If you're wondering which one to choose, we recommend the Sky Duck because it allows tourists to embark on both types of sightseeing on a single trip!
2. Splash into the Water
Picture courtesy of Hinomaru Limousine Co. Ltd.
Passengers on the sightseeing tour become overwhelmed with excitement when the Sky Duck splashes into the ocean.
After a short drive on land, the tour guide will let out a shout before the Sky Duck dives into the water! As a result, the sea spray from the waves will splash almost as far up to the windows. Both children and adults alike will break into cheers and shouts of joy!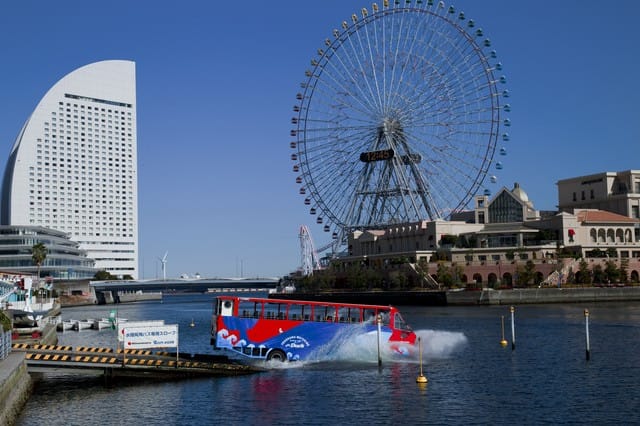 Photo by Pixta
The water spray only lasts for an instant, so we suggest capturing the moment on video instead of a photo.
Sky Duck's windows remain open and uncovered so that the outside wind can flow through the boat. While water rarely comes inside, please be aware that passengers sitting in the front row might get wet depending on the wind's direction.
3. Yokohama Tour Guides - Listen to Stories Even Locals Have Never Heard
Introducing sightseeing information on Yokohama, Sky Duck's well-informed tour guides share stories unfamiliar even to some locals. The guides give their presentations in Japanese, so international visitors without language skills should come with a Japanese friend to make it more enjoyable.
On the day our writer joined the tour, the guides told an interesting story concerning three historic Yokohama buildings: the Kanagawa Prefectural Government Office, Yokohama Customs, and Yokohama Port Opening Memorial Hall.
The Port Opening Memorial Hall, one of the Yokohama Santo (Yokohama Three Towers) Photo by Pixta
These buildings are referred to as the Yokohama Santo, or Yokohama Three Towers.
As the story goes, sailors departing from the harbor would often look back at the three towers and pray for everyone's safe return back to Yokohama. It is said that if you look at the three towers simultaneously, your wishes will be granted!
Sky Duck currently has a team of 15 tour guides (as of August 2019) who each do their own unique and original sightseeing presentation. They often present their information in conjunction with the four seasons and ongoing local events. The tour is guaranteed to be both informative and enjoyable no matter how many times you ride.
Ride the 10:00 Sky Duck and Enjoy Yokohama Sightseeing
The Minato High Collar Course operates three or four tours from 10:00–16:00 every day, and the Twilight Cruise is offered once daily starting at 17:00.
Tour times can sometimes change depending on the day, so we recommend checking the official homepage (Japanese) for the latest information and updates.
As far as time schedules go, we recommend taking the tour that departs at 10:00. Even during the summer, the sun's rays won't be too intense in the morning, allowing you to enjoy your sightseeing pleasantly.
Also, if you discover a spot that particularly interests you, it's easy to return after disembarking and do some additional exploring on your own. For visitors who wish to make the best use of their time, the 10:00 course is highly recommended.
How to Make Sky Duck Reservations and Buy Tickets
Lastly, we'll explain how to purchase a Sky Duck ticket. You can either buy a same-day ticket or make a reservation ahead of time on the official homepage.
Purchasing Same-Day Tickets at the Counter
Tickets can be purchased at the ticket counter located near Sky Duck's departure point.
The closest station to the ticket counter is JR Sakuragicho Station.
From Sakuragicho Station's south ticket gate, leave the station from the east exit and go in the direction of the giant Ferris wheel and the Landmark Tower building. You'll see a building decorated with the design of a whale's tail. This is the ticket counter for Sky Duck.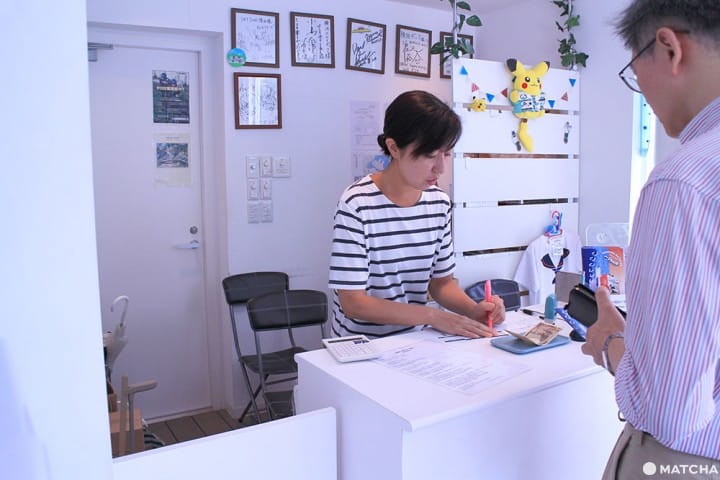 Inside the building, there's a ticket counter adjoining a waiting area. Here you can purchase your ticket. International staff also work here, so depending on the day you can also have service provided in English.
For those interested, you can pick up an English map showing the sightseeing routes on this tour! The starting point for the bus tour is directly in front of the ticket counter. After purchasing your ticket, please wait nearby for the trip to begin.
Reserving Tickets Ahead of Time on the Official Homepage
Sky Duck can sometimes be fully booked on Saturdays, Sundays, holidays, and when events are being held in Minato Mirai. When buying same-day tickets, it might be difficult to get your preferred boarding time.
If you've decided on your desired day and time, it's best to make reservations ahead of time on the official homepage.
The reservations page is in Japanese, so we suggest asking a Japanese friend to either assist you or use Google translation.
Ten minutes before departure, you'll need to check-in at the ticket counter mentioned above. This check-in is a required procedure for all passengers, so please make sure not to miss this.
Take in Yokohama From Aboard the Sky Duck
Photo by Pixta

Being able to enjoy the sights from both a bus and boat is unique to the Sky Duck. Please board the Sky Duck and enjoy an exciting day of Yokohama sightseeing!

Main image by Pixta

The information presented in this article is based on the time it was written. Note that there may be changes in the merchandise, services, and prices that have occurred after this article was published. Please contact the facility or facilities in this article directly before visiting.