Japan's Seasons In Photos: October - Harvest And Cosmos Flowers
October is the best month to go fruit picking or join a cosmos flower festival in Japan. It's an exciting season that inspires us to feel grateful toward the bounty and beauty of nature.
October - Celebrating the Harvest and Cosmos Flowers
In October, daylight time gets shorter and nights become cooler. Not only does it rain relatively often but also typhoons are quite frequent. In other words, it's the fall season.
October brings the joy of the harvest. It's also the season when the beautiful cosmos flowers bloom inviting everyone out to local festivals.
Kannazuki - The Month without Gods
In the lunar calendar, October was called Kannazuki, "the month without gods." It was believed that all the kami deities in Japan gathered at Izumo Taisha in present day Shimane to discuss matters related to the people's fortune.
For this reason, October was the "month without gods" in Japan, except for Shimane, where the month was called Kamiaritsuki, "the month with gods."
The Seven Gods of Fortune at Numabukuro Hikawa Shrine, Tokyo
Only one deity would never leave for Izumo Taisha, namely Ebisu, one of the Shichifukujin, Seven Gods of Fortune.
According to myth, Ebisu, pictured in the photo above holding a large sea bream, is one of the first children born to the parents of the Japanese archipelago, Izanagi and Izanami.
He is the protector of fishermen and small shopkeepers, and is always depicted smiling. Believed to be deaf, he never leaves with the other gods to Izumo in the tenth month because he can't hear the summons to the gathering.
Harvest Season
October is, first and foremost, harvest season. Travel in the country and you'll see the farmers busy harvesting the rice, vegetables, and fruit.
Many farms in Japan offer fruit picking services. Visitors can pick all the fruit they want within a limited time for a fee. Apples, pears, persimmons, and chestnuts are in season. If you like fruit, how about enjoying a fruit-picking activity?
Cosmos Flower Festivals
The lovely pink cosmos flowers bloom in Japan in October. They are also called akizakura, "fall cherry blossoms."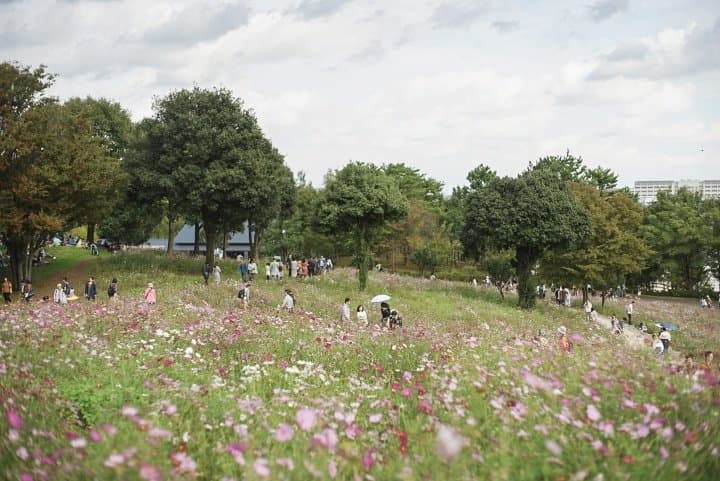 Cosmos matsuri are festivals dedicated to these flowers. Thousands of people gather to view the cosmos fields that spread as far as the eyes can see. The festivals held at the Showa Memorial Park in Tokyo or Kurihama Flower Park in Yokosuka are especially famous.
If you visit Japan in October, join a cosmos festival and marvel at these graceful flowers. They are the last flowers to bloom before the leaves turn red and the cold season begins.

The information presented in this article is based on the time it was written. Note that there may be changes in the merchandise, services, and prices that have occurred after this article was published. Please contact the facility or facilities in this article directly before visiting.